It's that time of year again, and the Caesar's Superdome isn't the only thing brightly lit up in New Orleans—during the holidays coming there's no shortage of light displays around town, including a ton of tried-and-true local favorites.

City Park's Celebration in the Oaks, Lafreniere Park's Holiday Lights, The Miracle on Fulton Street, Audubon's Zoo Lights, and NOLA ChristmasFest (the latter is especially amazing in inclement weather) have all been providing family holiday fun for years, but all, of a sudden, there was a new show in town with the recent revitalization of Canal Street—hotel lobbies.
Families of all ages have made entire evenings of "lobby hopping"—checking out free light displays at some of New Orleans' finest hotels. Here are some don't miss holiday lobbies for 2021: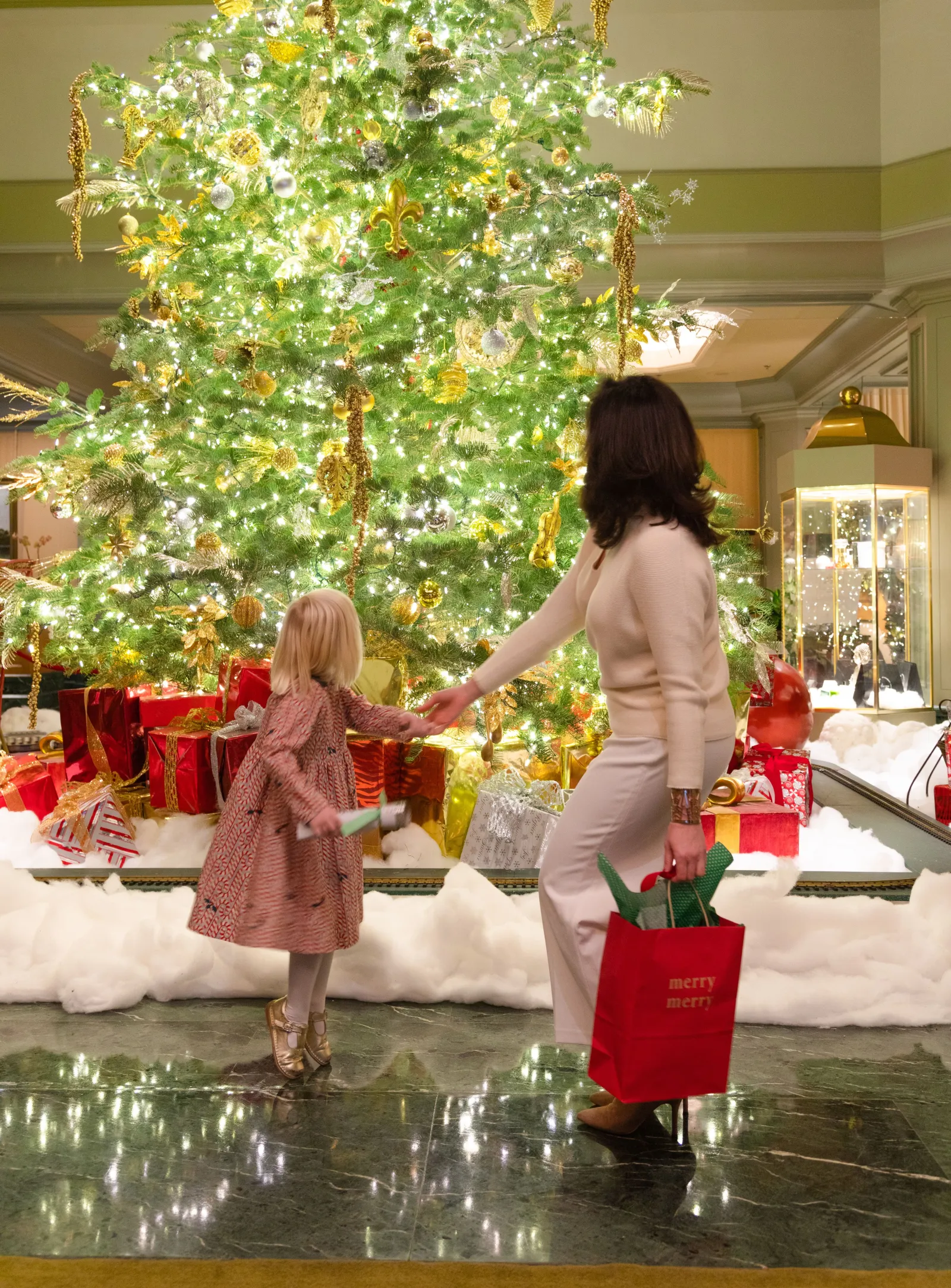 Windsor Court Hotel - The holiday spirit came alive in November with the Windsor Court Hotel's décor by designers at Dunn & Sonnier, including a 19 ½ foot Christmas tree with over 25,000 white lights and a classic toy train around the base. An additional 10 trees with more than 3,000 ornaments and six-foot magnolia wreaths and magnolia garland are also on display in the lobby. Children can write Letters to Santa and deposit in the lobby mailbox, according to Director of Sales & Marketing Megan Uram, and the hotel is encouraging guests and locals of all ages to drop off gift wish lists and take in the sights. This year, guests can view a beautiful Gingerbread House Village designed by Pastry Chef Matt Serkes, and this year's theme is the St. Louis Cathedral. There's even gourmet hot chocolate available for purchase on the weekends, so you can hang out and warm up for a little while.
Something unique about the Windsor Court's display is their Windsor Wishes tree. Guests can write their dreams on one of the complimentary ornaments offered by the hotel and hang their wishes on the tree in the lobby. Those who'd like to make their wishes public can post @WindsorCourt with the hashtag #WindsorWishes, and the hotel will share and repost their favorites.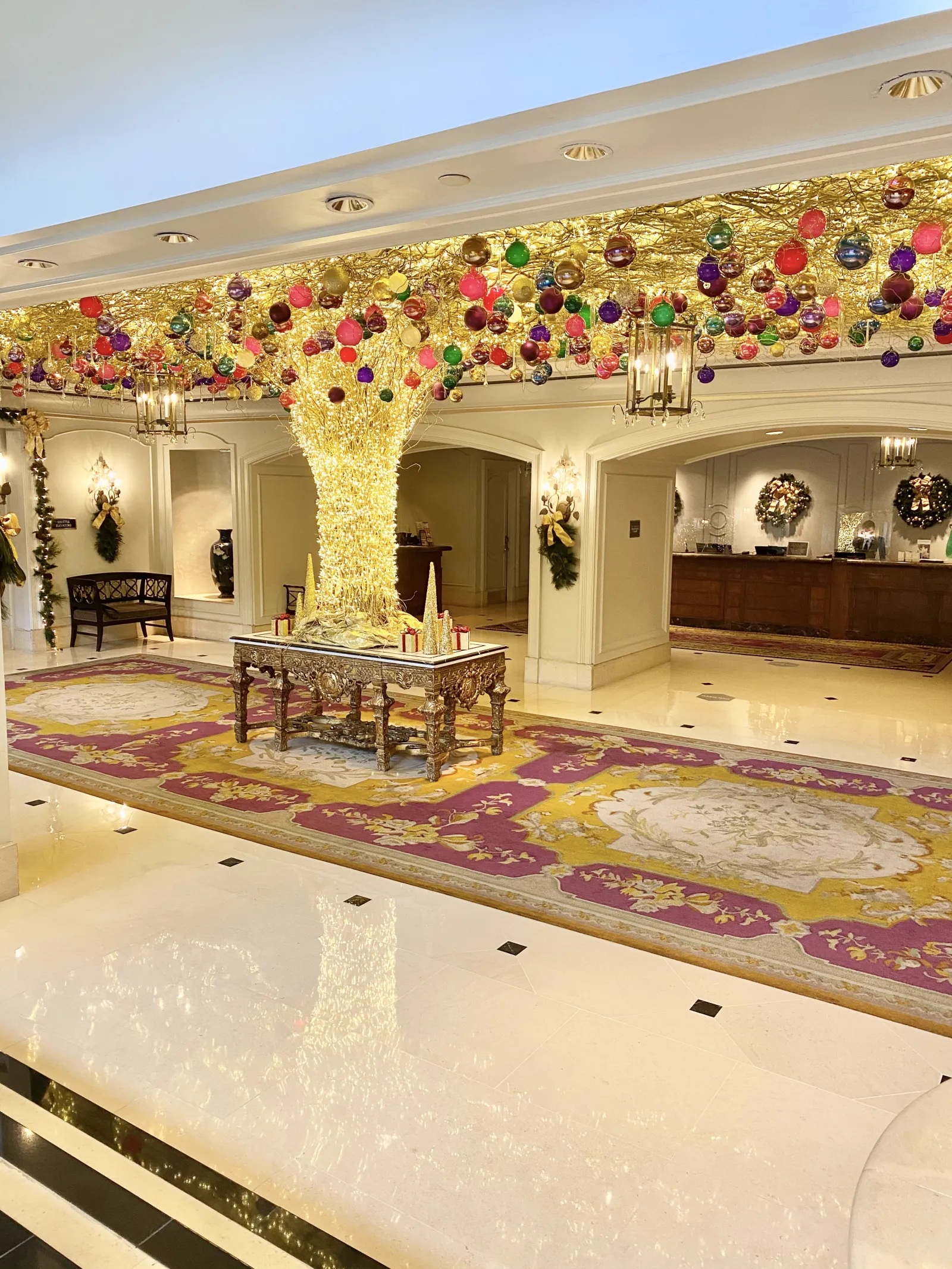 The Ritz-Carlton - Known in recent years for a giant gingerbread creation, the Ritz-Carlton will definitely not be disappointing this year with their presentation of the "S. S. Bingle," a gingerbread tugboat named in honor of the beloved Maison Blanche mascot Mr. Bingle (The Ritz-Carlton is located at the old Maison Blanche building). When you arrive, head on up to the 3rd floor, where you'll see the S. S. Bingle decorated with candy and a sculpture of glass ornaments that's really unique and beautiful, according to Director of Communications Annie Jones. Decorations are all around, including outside on the courtyard (I personally love to take pictures with the lighted snowflakes). If you have children, Jones encourages you to check out the calendar of events online where you'll find other events that promote holiday cheer, including tea with Papa Noel and gingerbread building classes.
The Roosevelt New Orleans - In a tradition that dates back to the 1930s, The Roosevelt New Orleans is known for having one of the best hotel lobbies in town. The gigantic lobby is almost a block long and usually includes over 100,000 twinkling lights, over 2,000 ornaments, and over 40 fully decorated Christmas trees. This is definitely one of the best places to take your Christmas card photo—but don't forget to bring a designated cameraman!
Hotel Monteleone - Adorned with lights and poinsettias throughout the lobby, the Monteleone will be a little extra beautiful at Christmas. Though this holiday display might not be as massive as some of the others, the Hotel Monteleone has one thing the other hotels don't: the Carousel Bar. This year, the Carousel Bar will be participating in Réveillon on the Rocks, where they will be offering some special holiday cocktails. This is an excellent stop to add on to your itinerary if you don't have the kids in tow.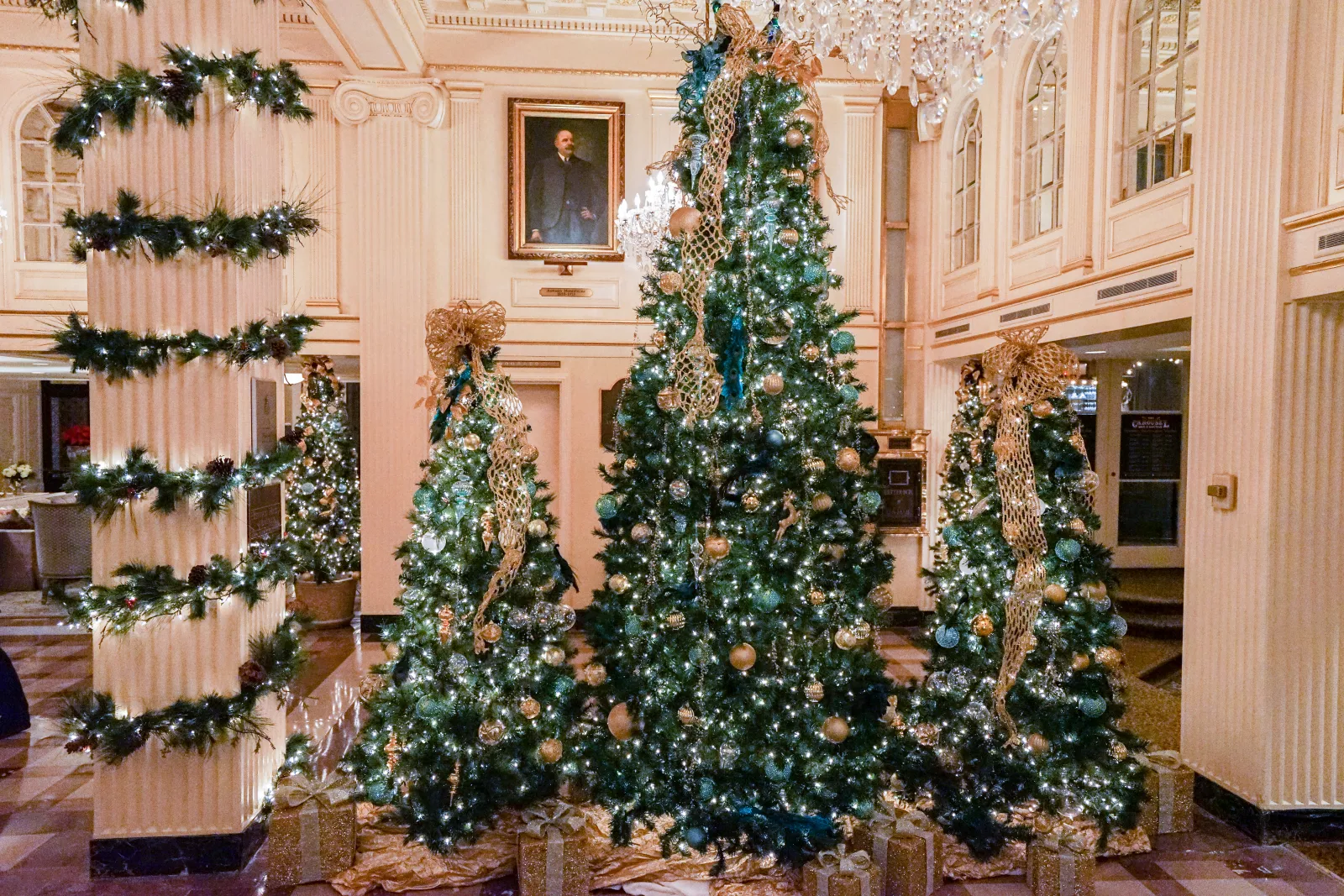 Don't forget to stop at Cafe Du Monde or Cafe Beignet before or after, because it's not a New Orleans holiday event without coffee and beignets! If you have older kids or kids-at-heart, you can start at a local bar and make your way down (and back) via streetcar. Local marketer Stephanie Schneller has the greatest date idea: start at Wit's Inn with a pizza and a cocktail, make your way down on the streetcar, and then rendez-vous back at Wits (or The Rendezvous even) to have a nightcap. Make it extra special with a traditional New Orleans Christmas drink like a Brandy Milk Punch, Grasshopper, or Creole Eggnog.

We've all had kind of a crappy year, so this is truly the best time to make things merry and bright! Don't forget to share your holiday photos with us @WhereYatNOLA!