New Orleans Artist Simon's Passion for the City is Palette-able
Born in the seaside resort town of Cannes, France in 1951, Simon Hardeveld—widely known throughout New Orleans simply as Simon—has literally made his eye-catching mark on New Orleans.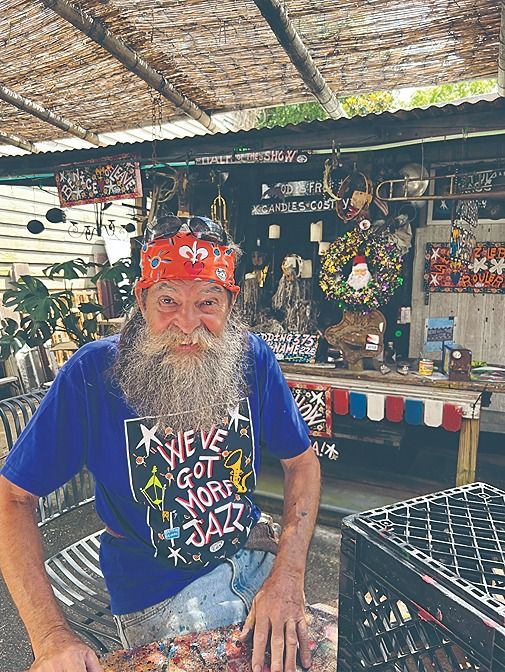 Oui Speak French
Beginning a career as a chef in the classic French tradition, Simon (pronounced See-moan) came to America at age 37, after a divorce. "I got divorced on Tuesday and I was in New York by Saturday. I was married for five years and it should've ended two years earlier, but we had a business." He was a chef in Florida in 1981 where he met then-manager, now-wife, Maria, originally from Mid-City. The couple came to visit Maria's family and experience Mardi Gras in 1994 and it was love at first sight—he effectively "never left."
He found work at Bush Antiques in Metairie, repairing furniture, painting signs in his downtime out of scrap wood to promote food he cooked at Johnny's Bar and Grill. To his surprise, the beer-drinking customers wanted to buy his signs, not the food.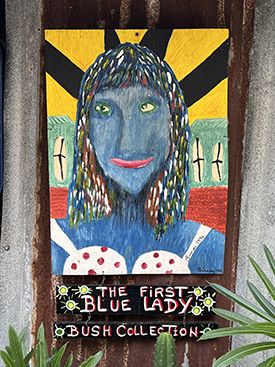 Without any formal art training, Simon unceremoniously ended his culinary career to create his profitably popular signs full time. Maria supported his career change "because the money was good." His first studio was on Constantinople Street by Prytania Street, until they moved to the corner of Jackson and Magazine Streets, where their art and antique businesses adjoin. "We compliment each other, but the antiques is not me."
The first painting he sold was Blue Lady I for Ellen Bush, now displayed in this courtyard gallery. "She just gave it back to me because she is moving out of town and wanted me to have it." In 2010, WGNO commissioned his work to dress their News With a Twist studio, and is still the colorful backdrop on New Orleans Music Playlist. The TV exposure soon had customers clamoring for his art ever since. The onset of social media has only intensified the demand. "I need to go slow with Instagram posts because when a new painting goes up, it gets sold in five minutes. It's unbelievable."
Now 73, he painstakingly paints by hand signs averaging around $400 each, based on size and, sometimes, word count. "I've sold over 15,000 paintings here, around 1,000 per year," Simon says. "They sell as quickly as I paint them. I can't keep up. There's no time. Especially tourists—I tell them, 'Keep it simple; not too long.'" To assist in the workload, he relies on "Liz, who has helped me now for eight years. She is from Georgia, but married to a French guy who lives here."
Be Nice or Leave
Like any successful artist, Simon is not without critics and detractors. Although some think his work is evocative of French artist Benjamin Vautier—similarly known simply as "Ben"—whose work is as prevalent throughout the city of Nice, France as Simon's is throughout New Orleans.
"I've never been back to France," he says, unaware of Ben's work, "but it's not the first time I've heard that."
But similarities in Simon's artistic sensibilities are also seen compared to Bywater artist Robert "Dr. Bob" Shaffer who also fashioned a career by creating hand painted call-to-action art from reclaimed material. Dr. Bob's has claimed copyright infringement over Be Nice or Leave signs, saying he originated the intellectual property, forging an ongoing 25-year rivalry with the Uptown artist.
"Bob understands that he can't copyright a saying like 'Be Nice or Leave,'" Dr. Bob's assistant admitted to WGNO in 2016 in response to the rivalry. "But he resents the fact that Simon recreated his art."
Simon has never staked a claim for rights to the phrases he paints, instead asserting his creative license and American right of free speech, "You can say what you want. It's not copyrighted—I don't stop."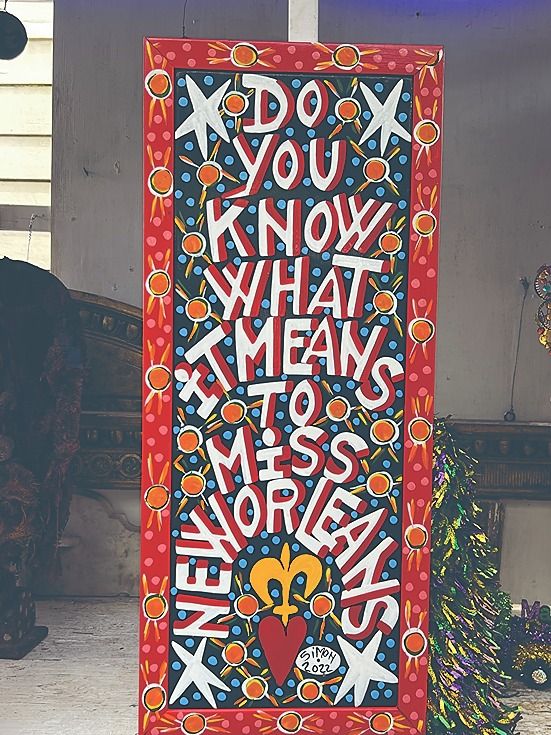 Do you Know What It Means To Miss New Orleans
But the love he has and receives in his adopted city is his muse and continues to inspire Simon. "I like to see my art on the walls of New Orleans. I go to Joey K's to eat. They've had my paintings for over 10 years." But the appreciation from his generational customers means even more. "There is a family that graduated from Tulane and have paintings for graduation presents and then more when they got married. Now they have kids at Tulane, and they come for their graduation."
Simon's most popular pieces swap, edging each other out. "The one that sells the most is sometimes Laissez Les Bon Temps Rouler," he says. In spring and summer, it's "Do You know What it Means To Miss New Orleans—popular for graduation presents." Ironically, Simon never leaves the Crescent City.
"I never leave," he says. "Everything you need is on Magazine Street—except my paint, since Ace Hardware closed. I only paint with enamel gloss, oil-base paints, so I bought a lot before they went out of business."
Friends Don't Let Friends Leave New Orleans
His passion for Louisiana is evident in his paintings. "I love my alligator with tits [like a cow]," he proudly says, rustling out his favorite piece to show. "Most people don't see them, and I don't say anything. It's fun that they don't notice."
But he is also humble about his work. "It's not great art, but it's good, and it makes people smile," he says. "They often put it in their kitchen, and it's the best place because they gather, pour a glass of wine, and talk about it." When art students look to him for advice, he is adamant, "Don't stop—if you like it, do it. Some students are good, but it's about progress. You don't know what you can do until you build on what you do and get better."
And Simon has no intention of stopping. "I know I'm never going to leave."