Reality TV took off in the 2000s, and it shows no signs of slowing down. Though often thought of as trash television, reality shows portray the interesting, unique, and sometimes unsavory aspects of people, their lives, and communities.
Louisiana is a vibrant state with a rich history full of colorful characters, and it's an attractive place to film reality shows. Lt. Gov. Jay Dardenne sponsored the 2002 bill granting tax credits to the film industry. He commented in an interview that Louisiana and its intriguing residents in conjunction with lucrative filming incentives were excellent fodder for reality shows: "It captures this interesting, fascinating, very unique aspect of Louisiana life with its beautiful landscape and a strong streak of adventure. It's not something you're going to find anywhere else. It's indigenous to Louisiana."
Real World
Since the dawn of reality TV, Louisiana has attracted producers for such shows. For the ninth season of MTV's hit reality series The Real World, a cast of seven young adults lived together in the Belfort Mansion in the Garden District as they worked at a public-access TV station in the first half of 2000. The Real World came back to New Orleans for a season in 2010.

In 2004, BET premiered College Hill, a show about students attending historically Black universities around the country and beyond. The first season featured students at Southern University in Baton Rouge.
2009 was an eventful year for Louisiana reality shows, and their quick success may have enticed more show makers to travel down here. A&E premiered Billy The Exterminator and Steven Seagal: Lawman that year. Billy The Exterminator followed the eccentric owner of Vexcon Animal & Pest Control Billy Bretherton as he performed animal and pest control in the Shreveport area. The show was canceled in 2012 after six successful seasons because Billy moved from Louisiana to Illinois following his arrest involving drugs. There was one season of Billy Goes North in 2016 which showcased his new ventures in the northern U.S. Steven Seagal: Lawman surprisingly showed famed actor Steven Seagal working with Jefferson Parish Sheriff's Department as a Reserve Deputy Chief. It was unclear if Steven had any actual authority in his rank, and the show was canceled after three seasons.


The Discovery Channel
The Discovery Channel took over an apartment building in Chalmette to film The Colony in 2010. Ten people were placed in a post-apocalyptic zone by helicopter, and they had to figure out how to create a livable society in a matter of ten weeks. They were required to scavenge for food, create electricity, and find water.
There were some series that only lasted a short time including MTV's Caged (2012) about MMA fighters in the town of Minden, OWN's Blackboard Wars (2013) about John McDonogh High School, History Channel's Big Easy Motors (2016) about a classic car restoration business in New Orleans. Discovery showed the plight of shrimpers in Venice for the show Ragin' Cajuns (2012).
Serial entrepreneur Sidney Torres has been on some reality shows like Trashmen on TLC in 2010 and The Deed on CNBC in 2017. The shows focused on Sidney's various entrepreneurial ventures. Trashmen followed Sydney and his company SDT Waste & Debris as they cleaned up the streets of New Orleans before and after massive events. The Deed documented Sidney and his Chicago-based partner Sean Conlon helping struggling property investors to turn their flips into profit.
Two reality shows about pawn shops aired on different networks. CMT's Swamp Pawn featuring Phillips Seafood in Bayou Pigeon ran for three seasons starting in 2013, and Cajun Pawn Stars on History Channel featuring Silver Dollar Pawn & Jewelry Center in Alexandria also aired for three seasons starting in 2012.
As legendary as Louisiana's cuisine is, it is not a typical focus of our reality shows. However, Cajun Aces on Food Network portrayed husband and wife team Chefs Cody and Samantha Carroll for two seasons starting in 2017 while they worked at their restaurants Hot Tails in New Roads and Sac-a-Lait in New Orleans.
Duck Dynasty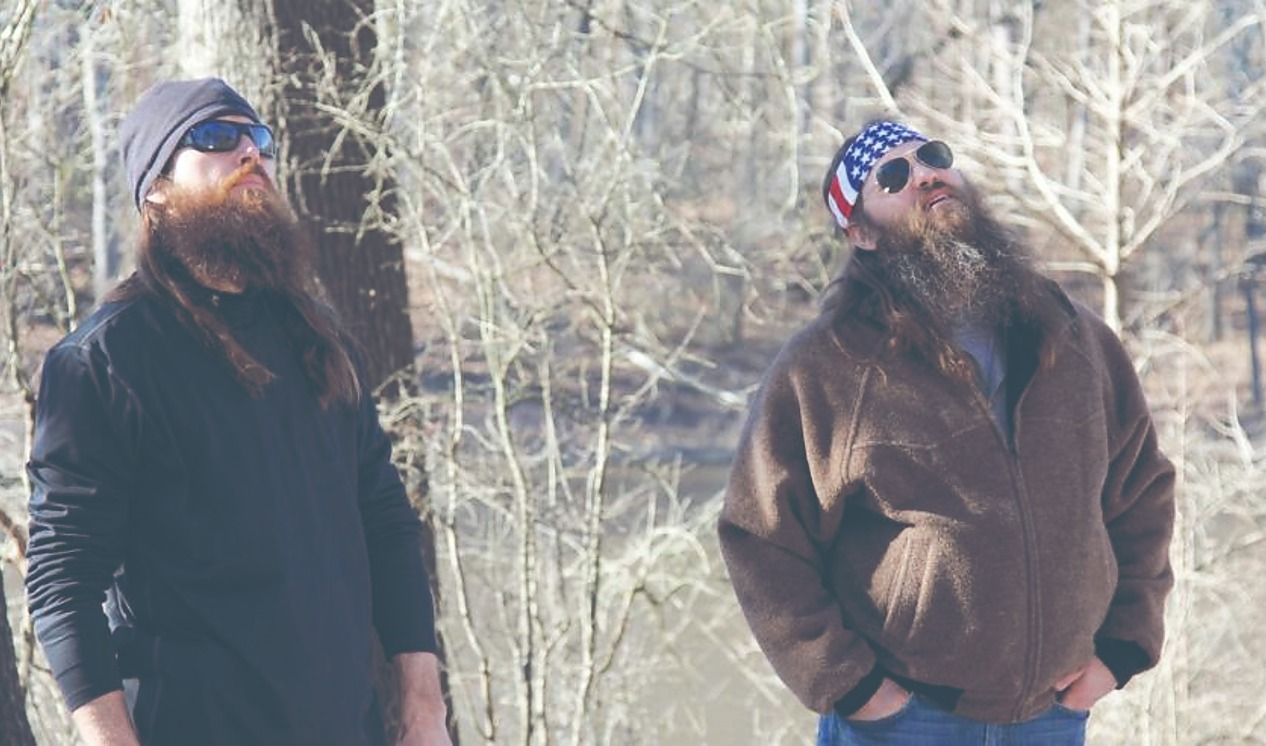 Quite possibly the most successful reality show out of Louisiana that no longer runs is Duck Dynasty on A&E. Duck Dynasty was a hit as soon as it aired in 2012, and it ran for 11 seasons over a handful of years, and it had a few spin-offs. The Robertson Family owned the duck call-making company Duck Commander in West Monroe, and they were beloved for their Christian values and tight-knit family life. However, viewership steeply declined after the family's patriarch Phil Robertson made controversial remarks during interviews about what he considered to be sinful behavior. The show was canceled in 2016.

Despite the number of Louisiana-based reality shows that have come and gone, some are still going strong after several years on the air. The long-running show Pit Bulls & Parolees did not begin in Louisiana. The show centers on the Villalobos Rescue Center, a dog shelter mainly for pit bulls staffed with recent parolees looking for a second chance, which was located in Agua Dulce, California. Due to increasing difficulty finding a suitable new location in California, the rescue's owner Tia Maria Torres decided to move from Villalobos to New Orleans, and the transition from west coast to gulf coast was completed in 2012. The show's last season aired in 2021. Episodes were filmed for a new season, but it is not known whether the show will return due to the network being sold.
Swamp People broke records for The History Channel since its inception in 2010, and it's still going strong after 13 years. The popular show follows alligator hunters throughout Louisiana during the state's month-long alligator season, and some hunters and their teams have been on the show throughout its entire run.
From crawfish to dog rescues to law enforcement, reality TV is full of Louisiana flavor.