Literally translated, the French term plein air means "outdoor art," and this spring, art lovers can enjoy NOLA as an open-air museum!
Works of art—large and small—dot across the city's expansive canvas of parks, boulevards, and soil into neighboring parishes for all to enjoy. These pieces are created to be outside, to reflect nature, complement their surroundings, and be part of the urban experience for art patrons of all levels.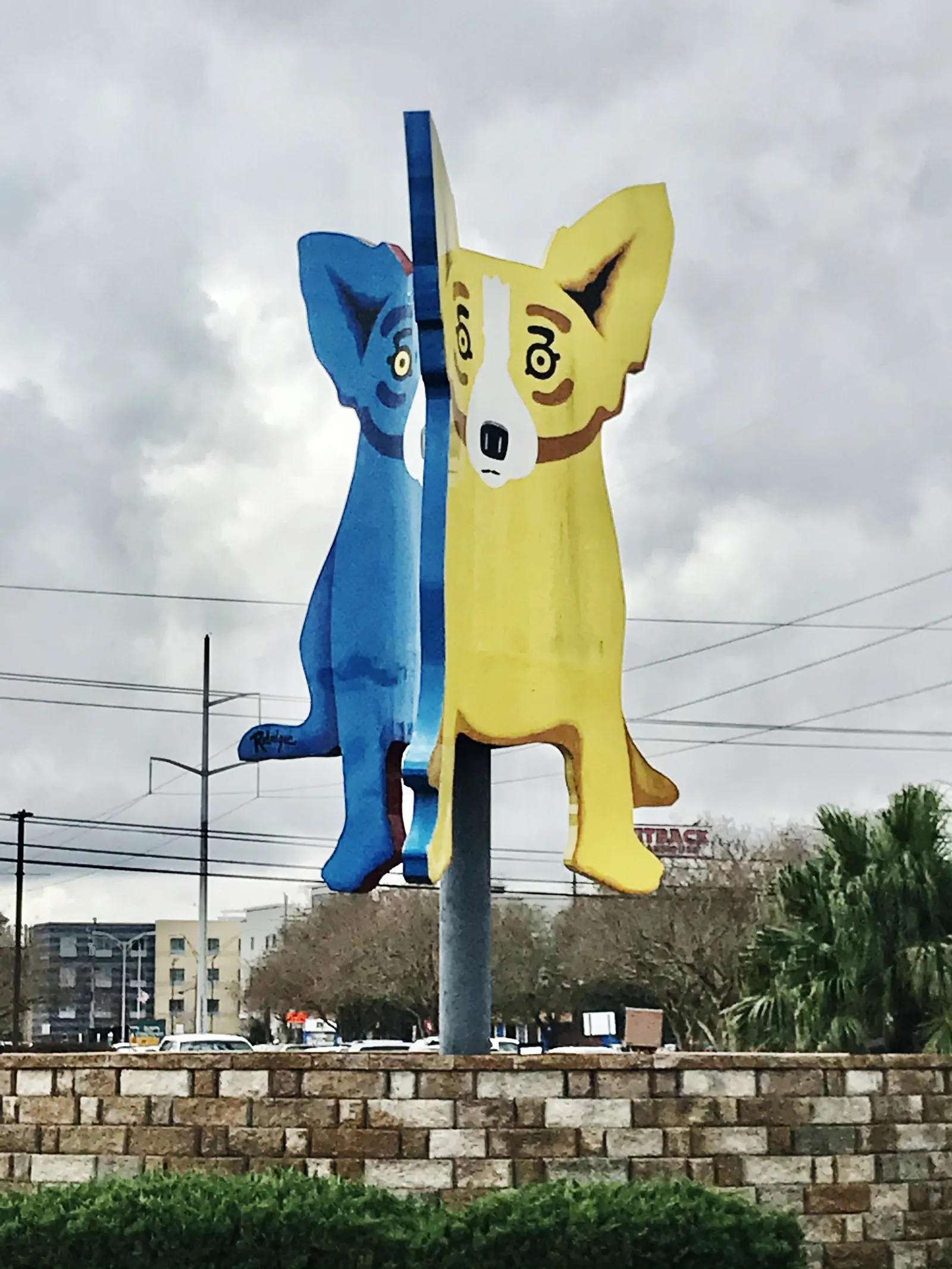 While sculptures in City Park may intrigue fine art afficionados, unexpected modernism provokes romance and thoughtful introspection along the riverbank. New Orleans streetcar installations by local artists still surprise pedestrians wandering the streets. And looming whimsey line CDB streets and Veterans Boulevard, delighting the aesthetic sensibilities of children as much as adults.
"I would say the 'Blue Dog' is the most popular," Bryan Parks, the appropriately named Jefferson Parish Parkways Director, says. Referring to Three In One—the oversized blue canine by the late New Orleans artist George Rodrigue's that seemingly changes to yellow and then to red as art lovers drive by. Parks confirms the famously iconic French-Cajun loup-garou legend is one of 15 works of art on Veterans Boulevard, and over 35 pieces throughout Jefferson Parish.
And if someone perceives this as less than serious art and more as overblown lawn ornaments, consider a 46-inch version of the tri-colored pup on a three-foot pole is listed for $185,000 at the George Rodrigue gallery on Royal Street, and Blue Dog paintings are valued as high as $250,000. Municipalities often announce a call for artist submissions, like the Jefferson Artscapes program, which compensated a dozen artists for their contributions. Other public art is donated or on long-term loan, much like a museum. "We have three pieces on loan from NOMA and many more through private donation." Parks says.
Art installations line the thoroughfares of downtown New Orleans. On Loyola Avenue, Current Watermark stands as a child-like gateway to the stoic Art Deco Union Passenger Terminal. The sculpture was created by artists Steve Kline and Jeremy Jernegan and administered for the Arts Council of New Orleans in 1999 to successfully "reflect the drama and exuberance of New Orleans."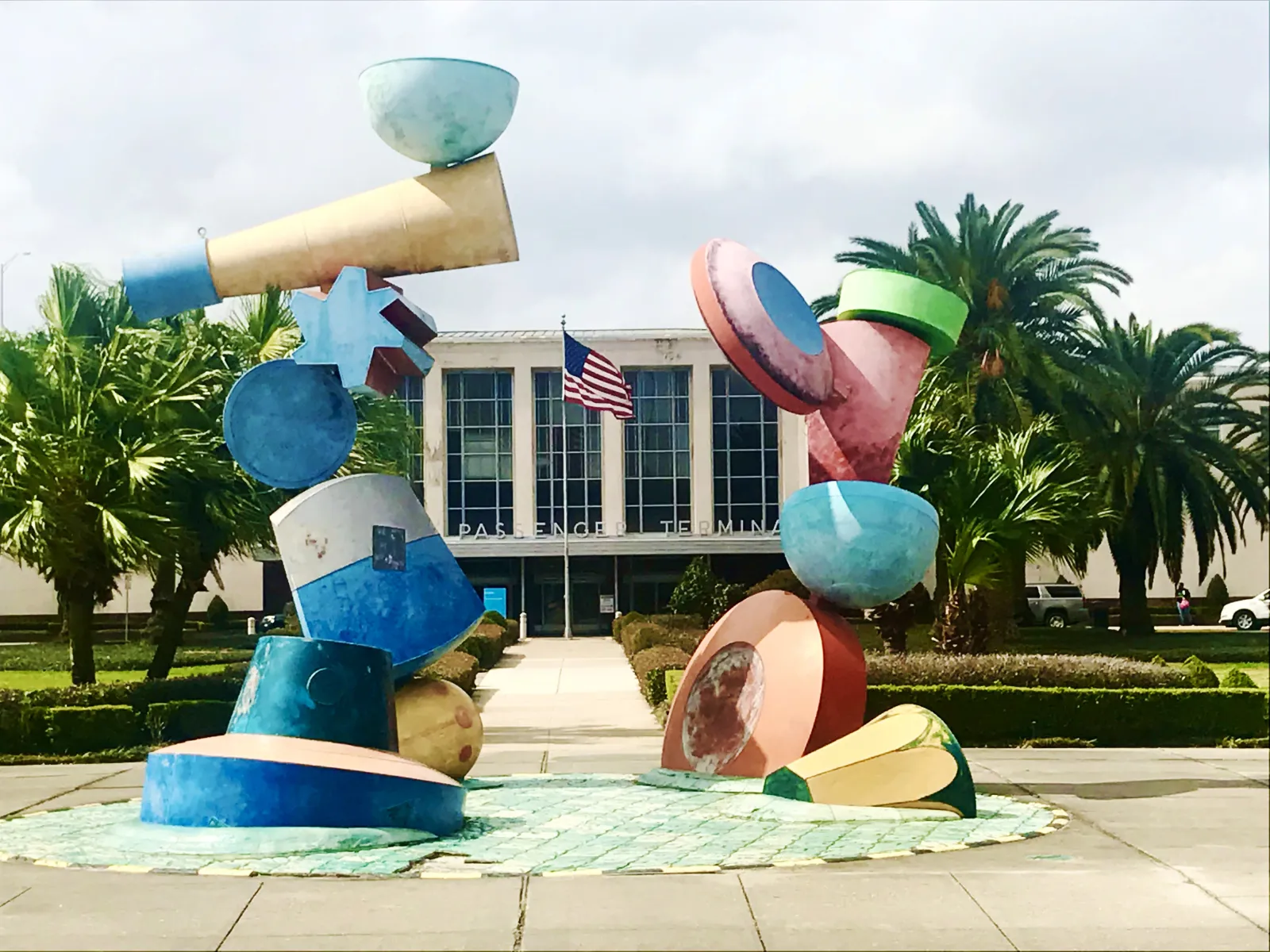 Just up Loyola Avenue in the Central Business District, The Richard and Annette Bloch Cancer Survivors Plaza has a sculpture of a multi-generational group under the gazebo, adorned with the Kids With Cancer Mural. The life-sized figures comprise Cancer…There is Hope, the final work created by world-renowned sculptor Victor Salmones, who noted it was "his finest, the labor of love." The figures pass through a line of shifting doors, representing the stages of cancer treatment, with an older couple and a young child determined to enter. Playfully passing through the doors and exiting successfully are children and adults clearly happy to be through the maze.
Along the riverfront, Woldenberg Park's sculptures present colorful art, both whimsical and thought-provoking. Wind and sound sculptures outside the Audubon Aquarium of the Americas add an entertaining aesthetic to the rolling river. Among these are nine tall obelisks standing in a line, created by leading Israeli artist Yaacov Agam. The panels seem colorfully frivolous fun, each evenly spaced so people can walk around and through them. But as the art is circled, the panels visually compress, and the impact of the bright, but somber, Star of David becomes clear, and the true impact of the New Orleans Holocaust Memorial becomes obvious. The subtlety of his kinetic art, installed in 2003, is innovative and cleverly engages people with a topic that might have otherwise been too uncomfortable to approach during a relaxed stroll along the Mississippi in "The City That Care Forgot."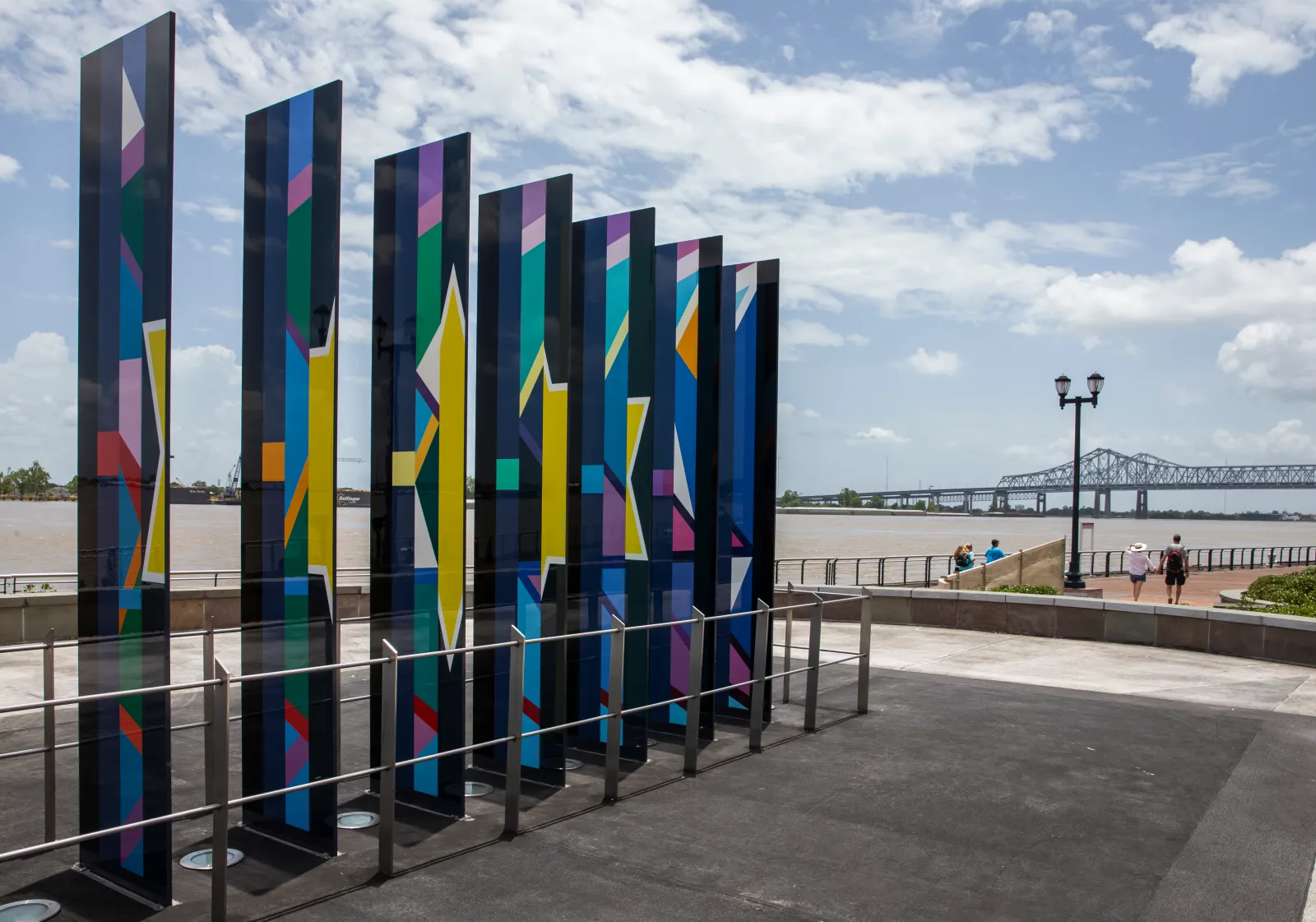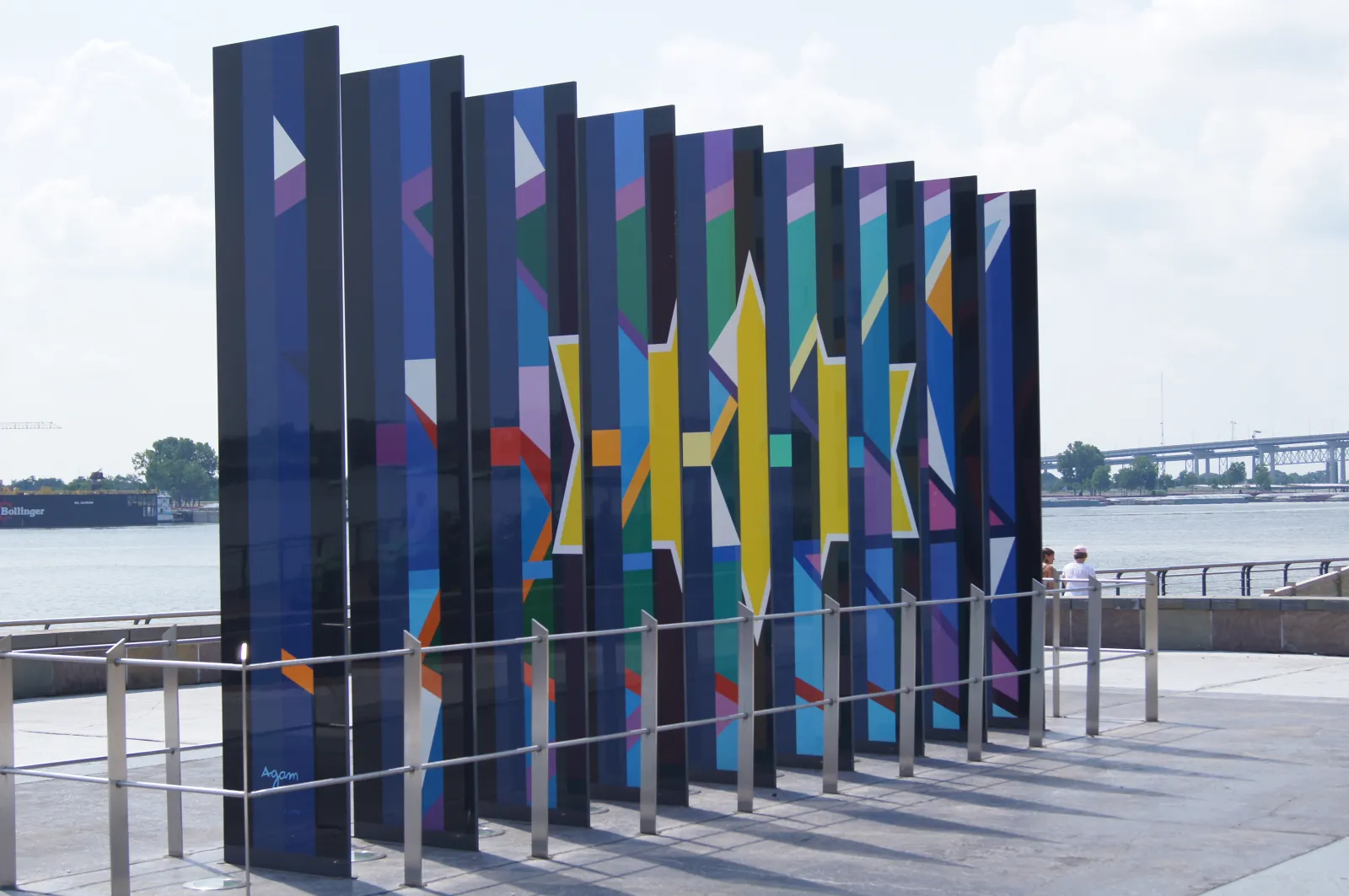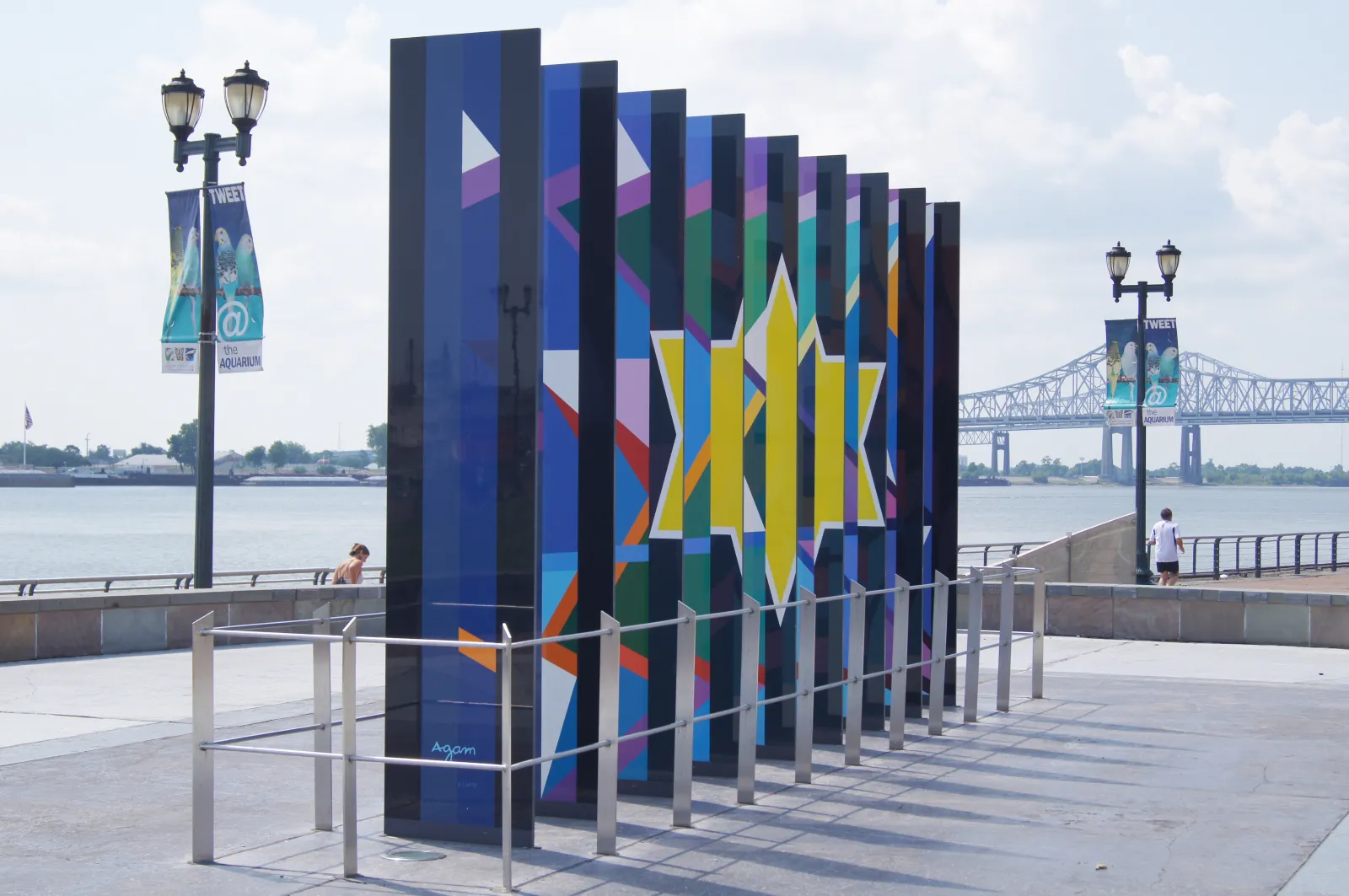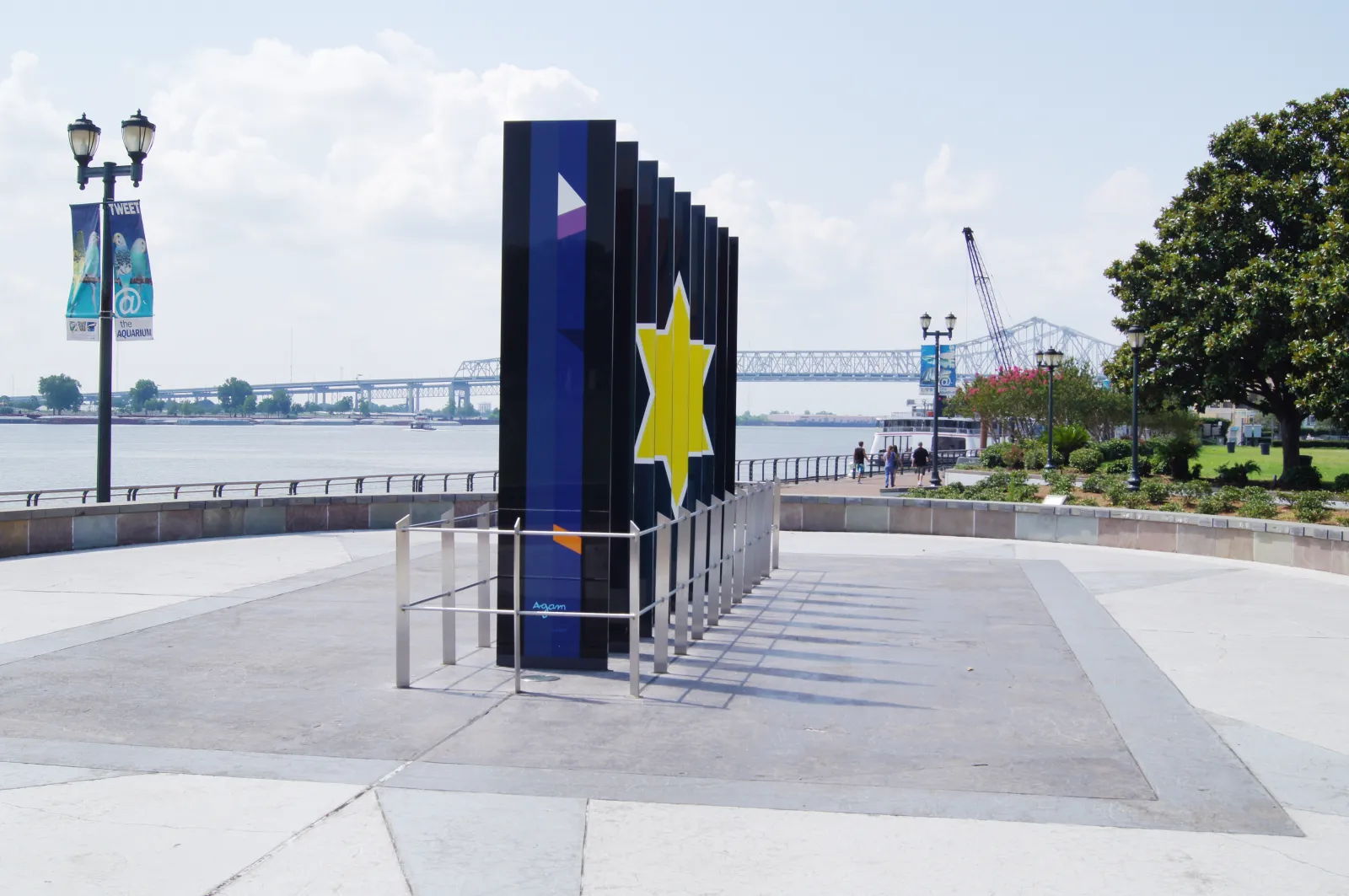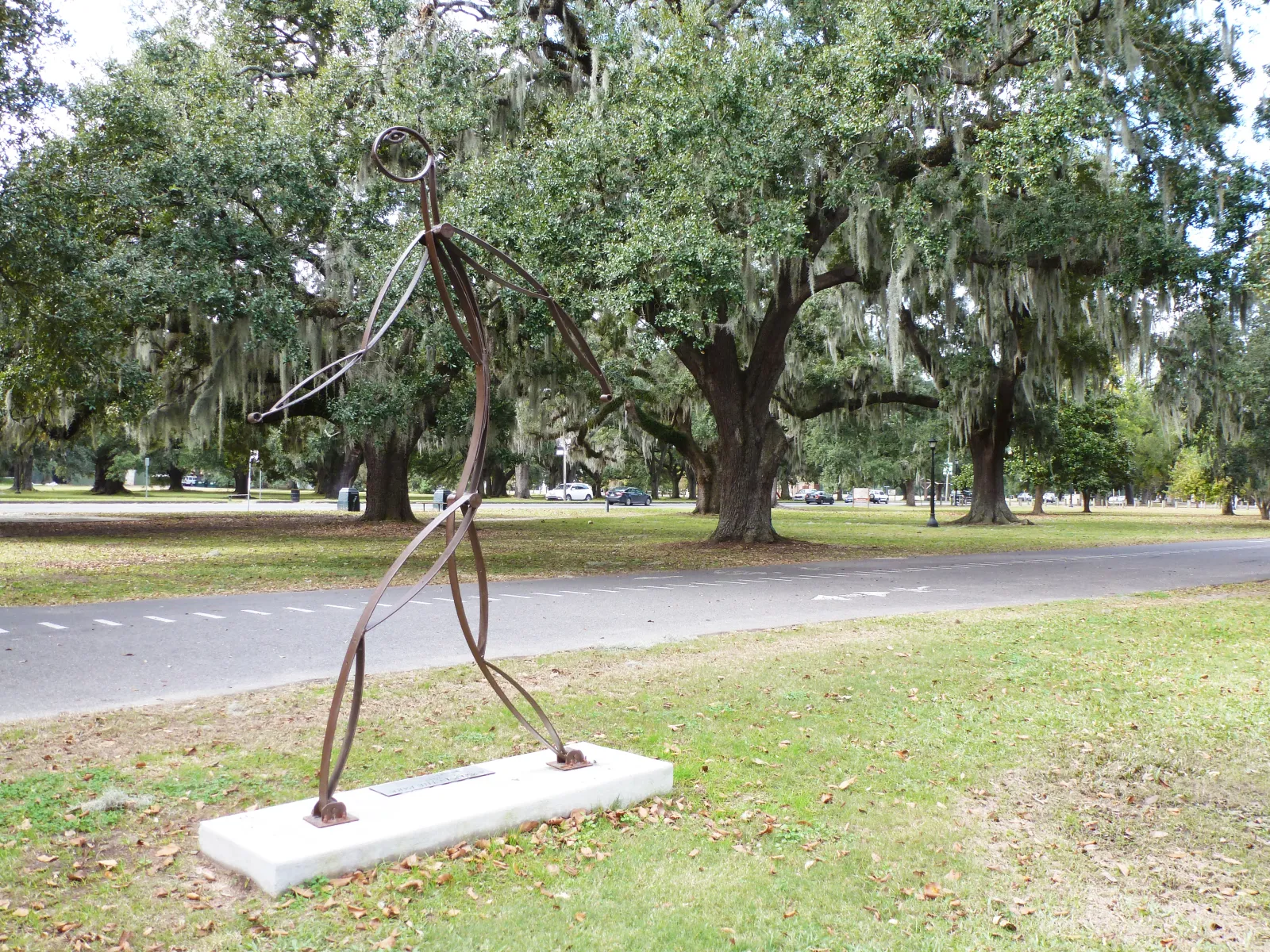 Audubon Park and the Audubon Zoo are a treasure trove of art for patrons enjoying all genres. While pervasive art installations would distract from the Olmsted vision and Audubon's philosophy, a few well-placed pieces throughout the park and zoo enhance cultural sensibilities. Spending a day in nature is complemented with Richard Swenson's A Walk in the Park, in which a metal frame of a person is in midstep along the park's walking path. Next to Olmsted's Lagoon, a large twisting metal circle fans out as a window between the water's edge and the dramatic North Oak Allée. The gateway to the zoo entrance is guarded by a stoic bronze lion, while two cubs romp nearby.Franco Alessandrini's Monument to the Immigrant statute, welcoming foreign ships to our port city, is a powerful reminder of all those who fought against the wind and found their way to New Orleans.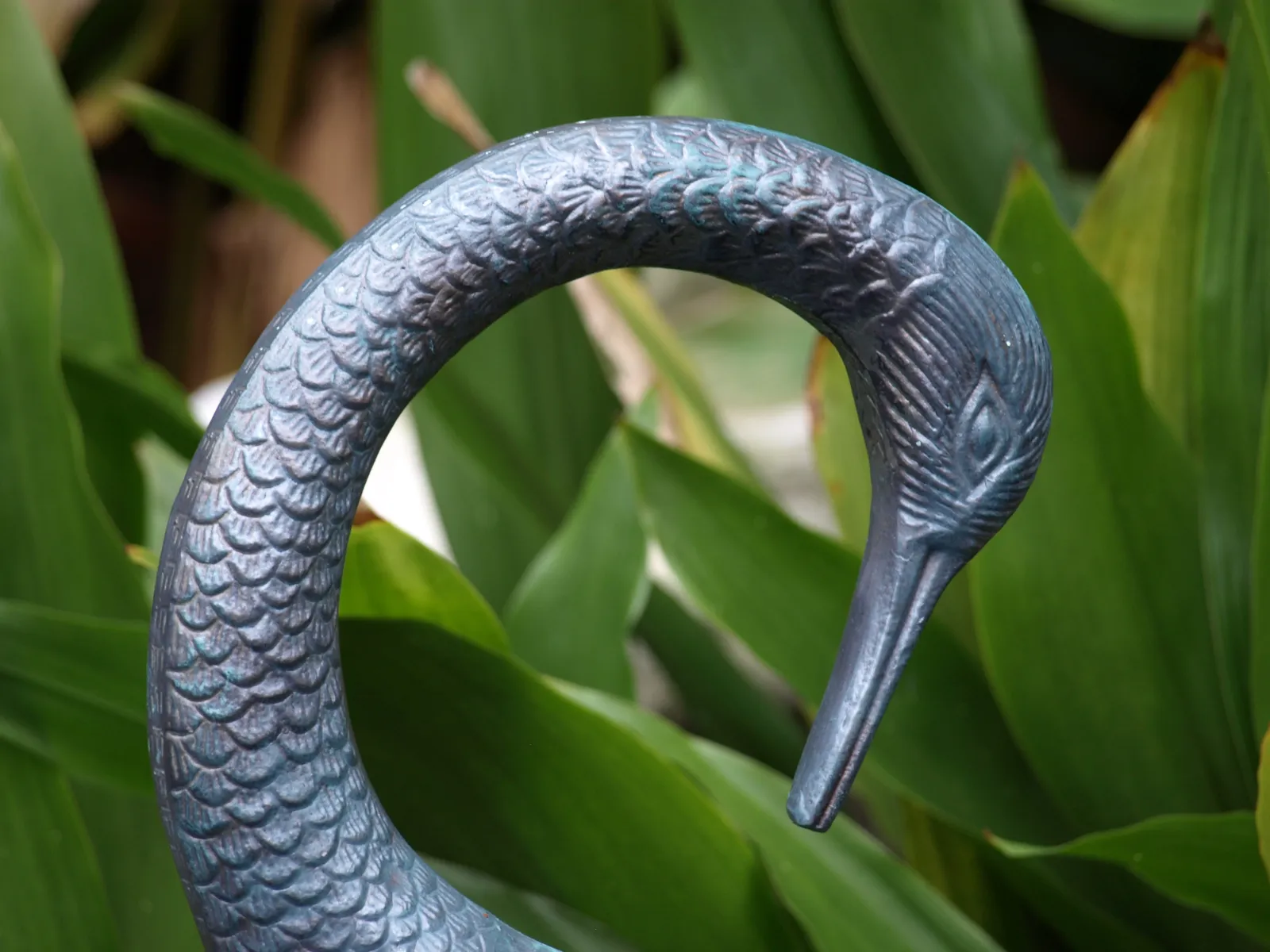 Inside Audubon Zoo, realistic bronze animal sculptures, including gorillas, alligators, iguanas, and elephants, seem to all ask for you (to play on them).
Louis Armstrong Park, across North Rampart Street from the French Quarter, is a gateway to the Treme neighborhood. The park's art is the epicenter of where the city's African American experience is shown, good and bad. Sculptures remember Congo Square's infamous history as a slave trading center, while celebrating the community's significant cultural contribution to the world as ground zero for the musical melting pot that made the city the birthplace of jazz. Statues of second line musicians, notable jazz icons, and, of course, Louis Armstrong himself, steps from his childhood home. Art dances its way around the park, while the square also presents stone reliefs of the people in bondage, trapped in their surroundings.
On the opposite end of Esplanade Avenue, The New Orleans Museum of Art presents a grand thoroughfare into City Park. But even there, some of the finest pieces of art are not indoors. An eclectic collection of masterworks comfortably fill an 11-acre outdoor gallery unto itself at NOMA's Sydney and Walda Besthoff Sculpture Garden. Some famous pieces easily recognizable to neophytes and connoisseurs alike are Modernist Henry Moore's Reclining Mother and Child and Robert Indiana's iconic counter-culture LOVE, Red Blue. But it was Diana by Augustus Saint-Gaudens who changed celebrity culture as we know it.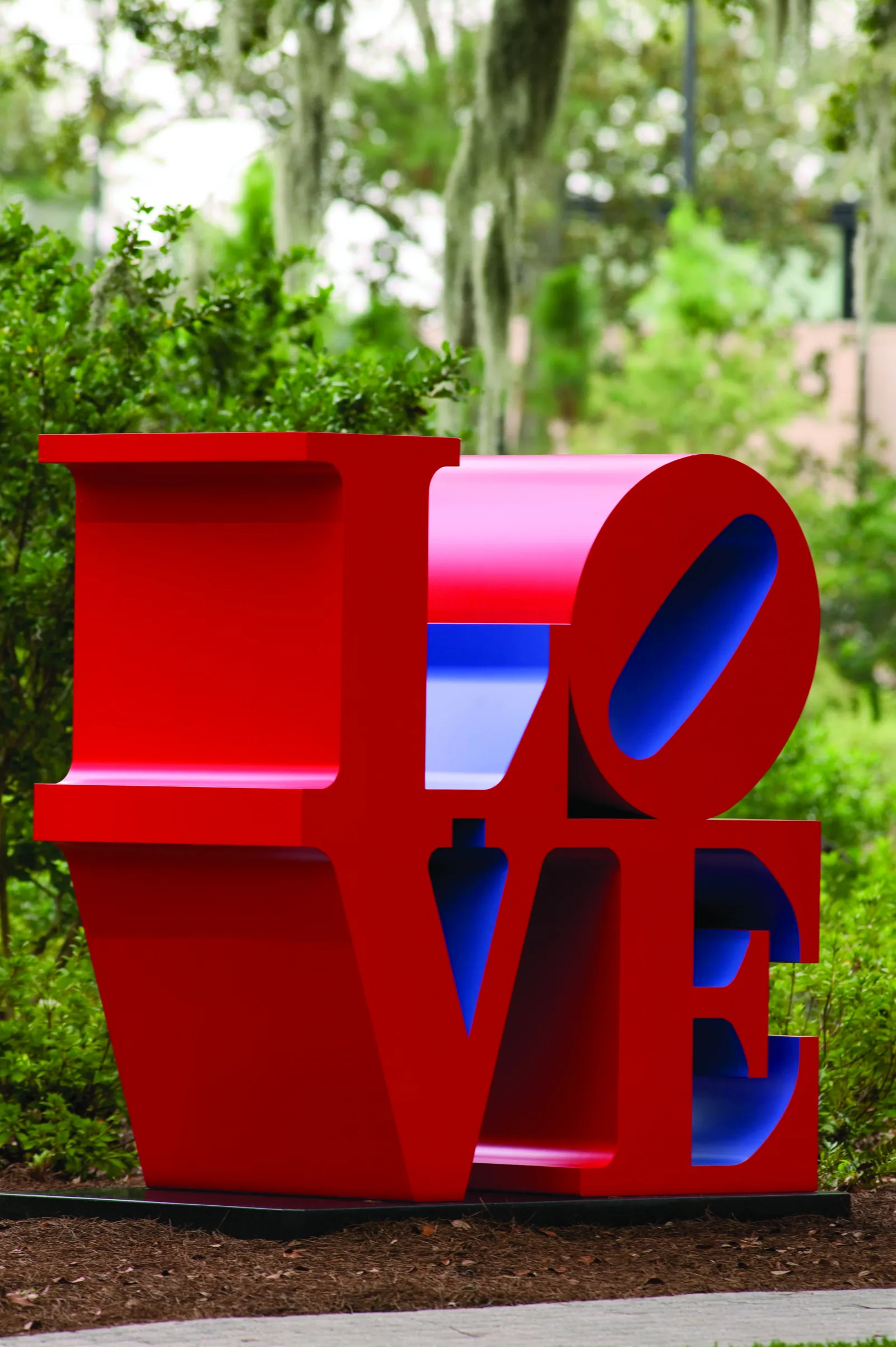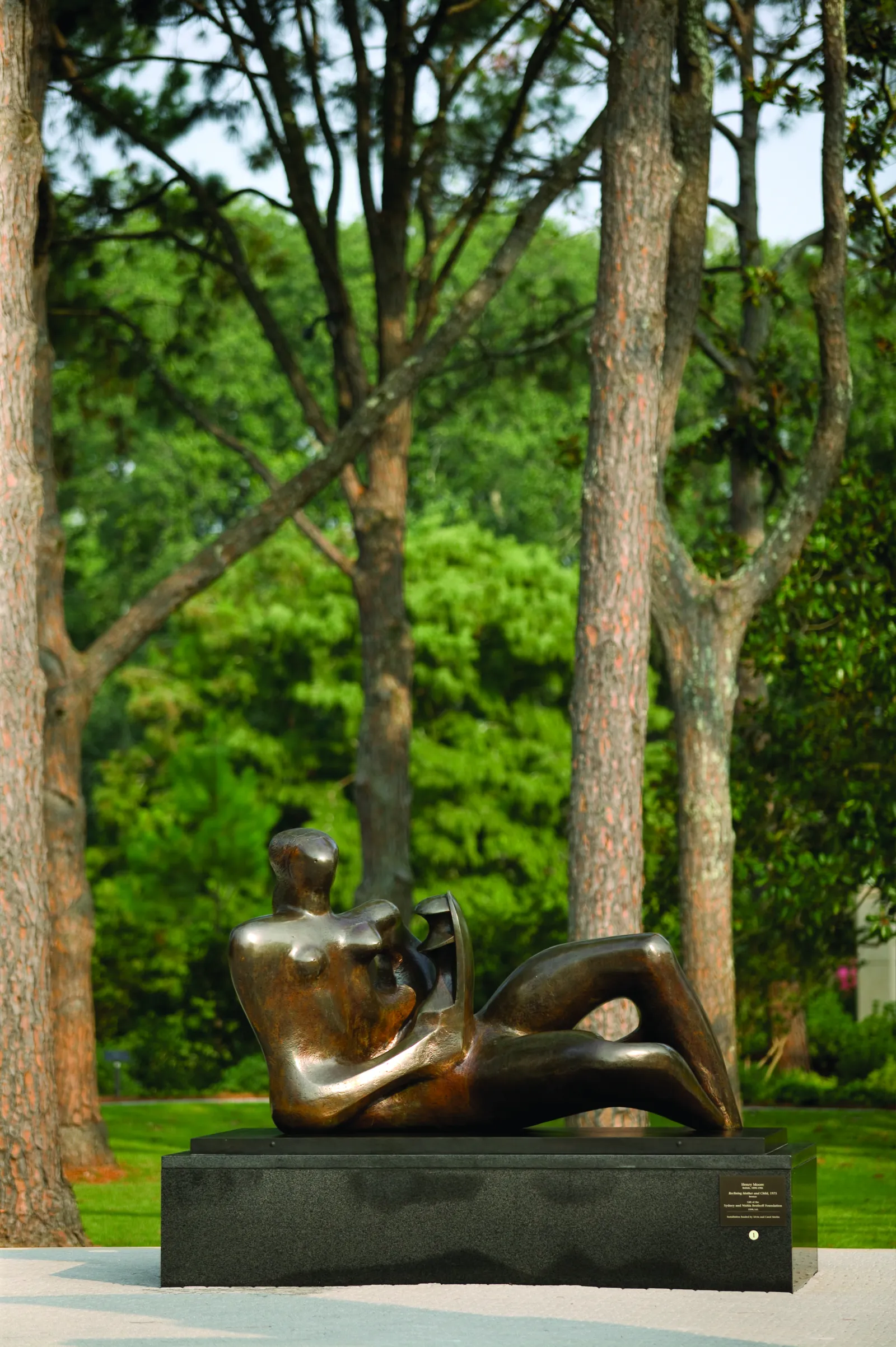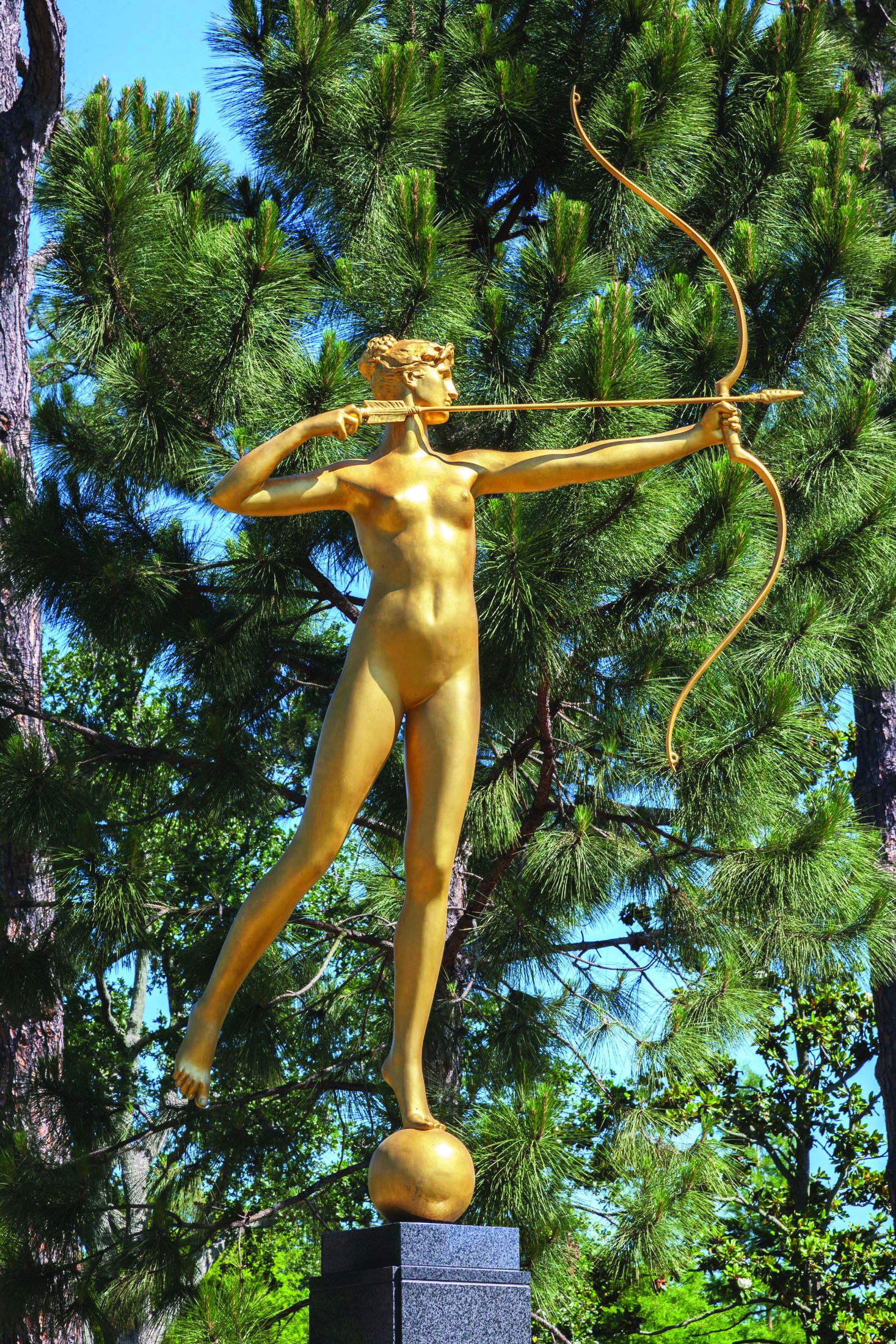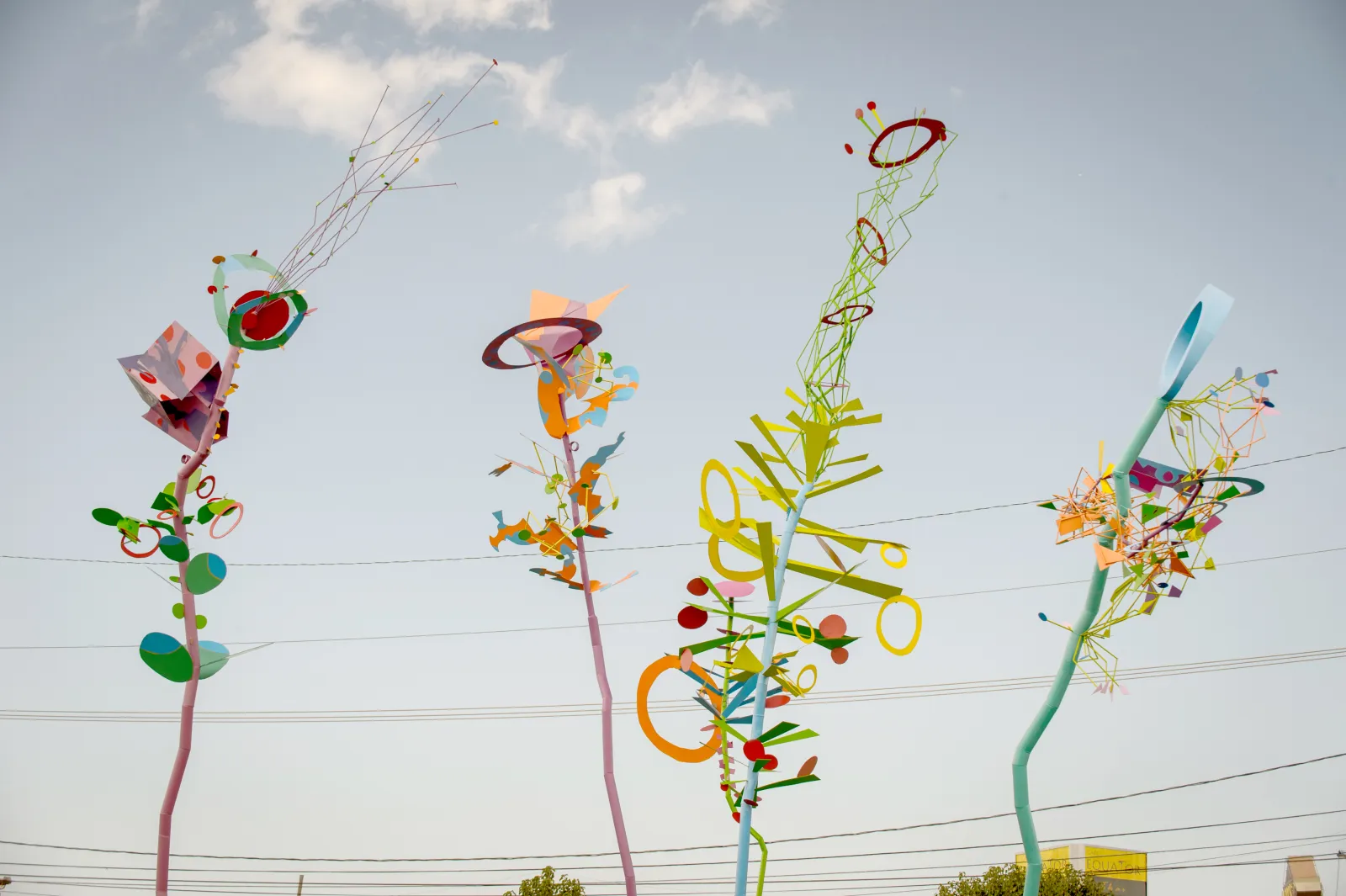 This 1985 reproduction of the gracious nude archer drawing back her bow was from the original 1892 sculpture, which was commissioned by architect Stanford White to top his original Madison Square Garden in Manhattan from 1893 to 1925. The model for the Roman goddess was believed to be White's married mistress, whose jealous and mentally unbalanced husband calmly shot White in the middle of a crowded event. The audacious assassination of the world-famous founder of McKim, Mead & White in 1901 was immediately sensationalized as the "Trial of the Century" by the media.
As engaging as they are, the challenges and upkeep of outdoor art is obvious—stability in the New Orleans weather.
"When possible, the artist assists the city workers with installing their work to ensure stability and proper presentation. In Jefferson, the heaviest piece is Jumping Through Hoops by Steve Klein located on Veterans at Phosphor Avenue," Parks says.
"The piece by James Michalopoulos at Veterans and Severn Avenue has been damaged by hurricanes," Parks acknowledges. Happily, the 40-foot-tall Mother Cluster by Michalopoulos—whose larger paintings are listed in his French Quarter gallery for over $50,000—was valued at $425,000 when damaged in 2012, but "has been easily repaired each time."