Pickleball Comes to NOLA
A hybrid of badminton, pingpong, and tennis, pickleball has soared in popularity. With more than 4.8 million players nationwide, it is America's fastest growing sport, according to a 2022 report from the Sports and Fitness Industry Association.
While most of the core players—those who play pickleball more than 8 times per year—were over the age of 65, the game is getting younger, with a surge among players under 55.
"Pickleball is exploding," said Danny Cooper, a 62-year-old pickleball instructor at the UNO Health and Fitness Center, who has been playing pickleball for 12 years. "It is the only sport where a grandfather can play with his grandson."
What is Pickleball?
Founded in 1965, pickleball is played with a paddle and a plastic wiffle ball as either a singles or a doubles game, though doubles is more popular. "The goal of pickleball is similar to tennis," said Cooper, who teaches beginner pickleball at UNO on Friday mornings at 10 a.m. "You only score when you're serving and you only win with enough rallies to get to 11 points. Also, it is illegal to serve overhand because the net is lower." However, pickleball play is distinctive from tennis because of the rules of the "kitchen." Volleys are not permitted in the "kitchen," which is set seven feet from the net on either side. "If the ball bounces in that 7-foot zone, you cannot come up to the net and smash it. So the kitchen and the underhand serve equalizes the game," said Cooper. "The small size of the court minimizes running, which allows the older players to be just as competitive as the younger. It's more like playing ping pong in front and tennis in the back of the court."
Easy to learn and inexpensive, pickleball is played both indoors or outdoors on a badminton-size court measuring 44 feet long and 20 feet wide, with a slightly modified tennis net. "We started offering pickleball about nine years ago," said Mark Volterre, Director of the Health Club by Hilton located in the Hilton New Orleans Riverside Hotel. "We now have added four pickleball courts, and I would estimate that one third of our members play pickleball. We get no less than three calls per day requesting pickleball."
Local Pickleball Classes & Play
In downtown New Orleans, the Health Club by Hilton has begun to offer classes and plans to install more pickleball courts, gearing up for the upcoming annual Big Easy Pickleball tournament scheduled the first weekend in August. "The Big Easy Tournament is three full days of just pickleball," said Volterre. He expects this year's attendance to topple the number of players who competed in 2022. "Last year, we had 370 participants. This year, we are expecting 400-450 players at the Big Easy Tournament. The sport is growing with more tournaments, more divisions, and increasingly more products like pickleball shorts, shoes, and paddles."
About three years ago, Lakeview resident, Jeanette Thriffiley, a 65-year-old former tennis player, introduced pickleball play at Gernon Brown Recreation Center on Harrison Avenue. "I live around the corner from the gym," said Thriffiley, "My sister who lives in Slidell came over and was talking about pickleball since there are multiple places to play in Slidell. We started with a group of 5 or 6 players and we bought some nets, taped up the basketball floor and set it up. Gernon Brown provided the place to play for free."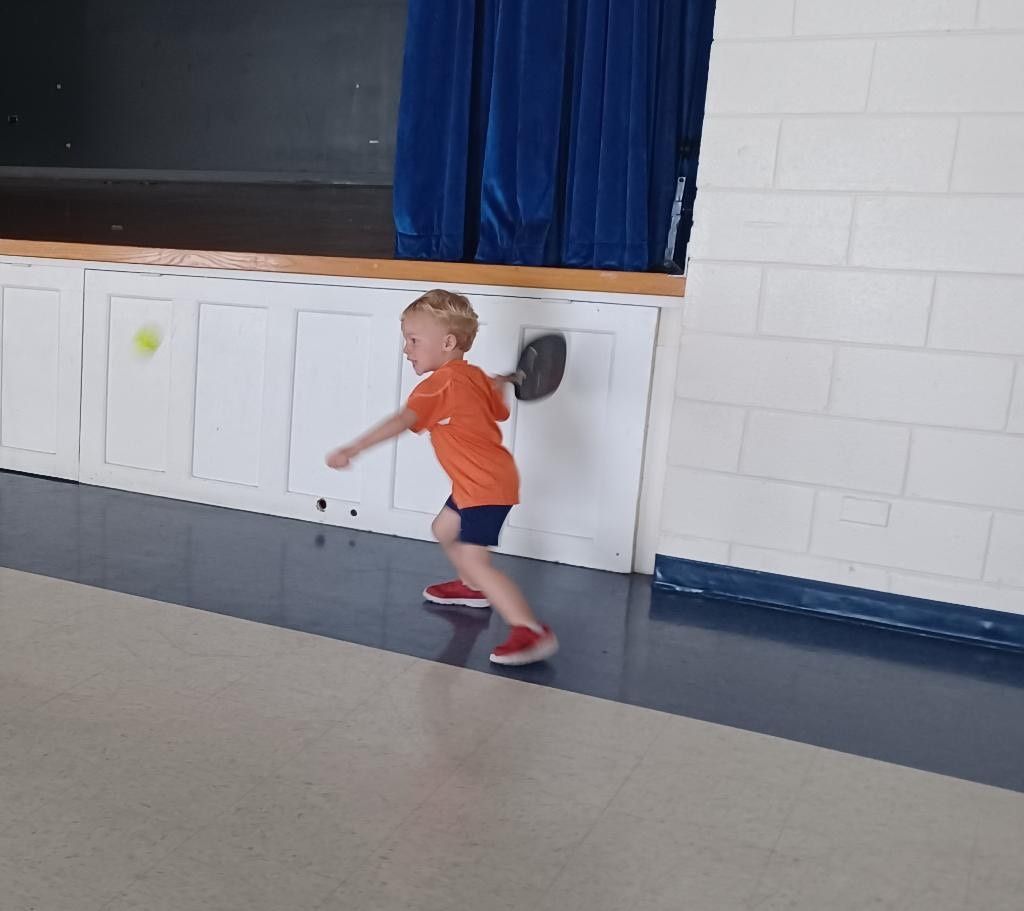 Although her pickleball group tends to appeal to seniors, Thriffiley said that there are more young people joining the game. Gernon Brown offers 3 indoor courts and can accommodate up to 12 players each weekday during the hours of 10:30 a.m. to 1:30 p.m. "It is a pick-up game at Gernon Brown. You just show up," emphasized Thriffiley. "No partners are necessary. We encourage people not to play with the same people over and over again."
Like Gernon Brown, other NORD facilities provide free play for pickleball courts. Joe W. Brown Park on Read Boulevard, offers 2 indoor courts for open pickleball play Monday through Friday 10 a.m. to 1 p.m.
Henry Mayfield, a native of New Orleans and a competitive pickleball player, dedicates at least 3-4 hours per day during the week to practicing his serve, volley and drop shots at Joe Brown Park gym. "I started as a recreational player at the end of 2021, and, over time at the end of 2022, I actually started to play and train competitively," said Mayfield, a 35-year-old former football and basketball player. "I have no tennis or racquet experience, but I fell in love with the game. It has given me a new way to live, taught me to be more patient and transformed my mental focus. Pickleball is physically demanding, but the biggest demand is the mental aspect."
Mayfield also teaches a beginner class at Joe Brown while preparing for the U.S. Open Pickleball Championships in Naples, Florida. "For this tournament, I am playing pickleball with a partner who is in a wheelchair," said Mayfield. "This is a hybrid tournament and the biggest one that I have ever been in. As long as you can move forward and backward with a little lateral movement, anyone can play." Since playing competitively, Mayfield has met pickleball players from all over the country and relishes the social side of pickleball. "I like the camaraderie," said Mayfield. "Everyone is so friendly. You can meet so many people from all different aspects of life."
Thriffiley agreed that pickleball is incredibly social. "This sport brings people together from all walks of life. It's good for the younger and the older people because pickleball focuses on having a good time."
Local Places to Play Pickleball or Go to places2play.org
NORD / Public: offering free play, no reservation required
● Lyons Recreational Center (624 Louisiana Avenue) provides 2 indoor courts, Mon (10 a.m. to 4 p.m.) Wed (10 a.m. to 2 p.m.) Fri (10 a.m. to 12 noon)
● Joe W. Brown Park (5601 Read Boulevard) provides two indoor courts, Mon to Fri
(10 a.m. to 1 p.m.)
● Gernon Brown Recreation Center (1001 Harrison Avenue) provides 3 courts, Mon to Fri (10:30 a.m. to 1:30 p.m.)
● Morris FX Jeff Recreation Center (2529 General Meyer) provides three courts, Tues/ Thurs (11 a.m. to 5 p.m.) Saturday (9 a.m. - 2 p.m.), Mel Ott Park (2301 Belle Chasse Hwy), Tues/ Thurs (5:30 p.m. to 8 p.m.)
Private facilities
● Health Club by Hilton (located in Hilton New Orleans Riverside Hotel) provides 4 indoor courts, must be a member or guest of a member, $15 per person daily fee for hotel guests. Reservations required
● New Orleans JCC (5342 St. Charles Avenue), two indoor courts for beginner and advanced pickleball
Offers beginner pickleball class (Tuesdays & Wednesdays restricted to 4 people per class), Open pick-up pickleball play restricted to 16 people midday M/W/F/ Sat/Sun, Pick up pickleball Tuesday evening (advanced) and Thursday evening (beginner), Must be a JCC member or a guest accompanied by a member. Reservations required
● Goldring-Woldenberg JCC (3747 West Esplanade, Metairie) provides three indoor courts, Offers beginner's pickleball class Wednesday (9 a.m. & 6 p.m.) Friday at 9 a.m. (no charge for members/ $10 for non-members), Intermediate pickleball class Wednesday (9:45 to 10:30 a.m.) Open play follows; Open pickleball is free to all members and guests of members; Scheduled pickleball play times/ open court times
● UNO Recreation & Fitness Center (2000 Lakeshore Drive) provides 4 indoor courts, Special pickleball monthly membership: $25 per month / Daily guest fee $5. Includes Monday/Wednesday 9 a.m.to 12 noon, open play, Beginner's Class offered: Fridays 10 a.m. to 11:30 a.m.