What's new at Capitol Park Museum?
Capitol Park Museum opened two brand new exhibits to the public on Thursday, June 23.

Two local artists, Letitia Huckaby and Katrina Andry, will showcase artistic interpretations of historic and cultural traditions in Louisiana, allowing viewers to imagine history from their perspective.
Holding an MFA in photography from the University of North Texas, Huckaby uses heirloom fabrics, hand-quilting, and photography to showcase the life of her family living on Highway 19 in Baton Rouge. Her exhibit, This Same Dusty Road, also tells the story of the nuns who ran the Sisters of the Holy Family Mother House as well as the family matriarchs who tackled the many injustices in the world, both past and present.
She has presented her work at the McKenna Museum of African American Art, the Galveston Arts Center, and Dallas Contemporary. Her work also sits at the Art Museum of Southeast Texas, the Brandywine Workshop, the Samella Lewis Contemporary Art Collection at Scripps College, and the Library of Congress.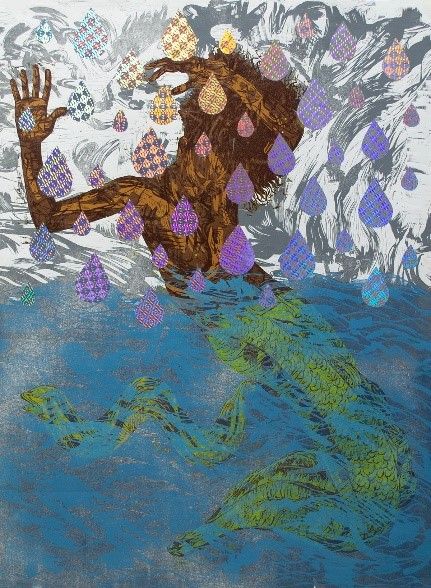 Using large-scale color reduction prints and mixed media for visual storytelling, Andry reimagines life for the men, women, and children thrown overboard during the Middle Passage, a life suggesting perpetual violence against black people. Named The Promise of the Rainbow Never Came, black people who were taken from their homes faced years of slavery and years after their emancipation, segregation. Given the title, the promise of never being harmed again was never kept.
Having received her MFA in printmaking from LSU, Andry has made her mark on New Orleans. She, along with seven artists, was featured in the New Orleans Museum of Art's tricentennial exhibit Changing Course: Reflections on New Orleans Histories. She was also considered one of the top 50 printmakers in the city, according to an Art in Print issue from January-February 2012. She currently resides in New Orleans where she owns a studio.
"We are proud to show the work of these two contemporary Louisiana artists," Lieutenant Governor Billy Nungesser said. "Their works show how artistic interpretations of history and culture can help us see the world in new ways."
Guests have until Saturday, September 17, to view the exhibits. The museum is open Tuesdays through Saturdays from 9 a.m. to 4 p.m.
Call 225-342-5428 or visit louisianastatemuseum.org/museum/capitol-park-museum for more information.