If you aren't local to New Orleans or have never been, you may assume that Mardi Gras is a time for wild decadence. A time for people to let loose as the streets are filled with giant floats and patrons on the hunt for beads. Mardi Gras, also known as Carnival, is much more than that.
Its vast history is rooted in royalty, wealth, and a bit of glamor. But when it comes to that history, there is one key factor to note: Black people were not included in most of the festivities, which left them to create their own Mardi Gras enjoyment.
The Start of Something Grand
This was instantly noticed by a young man named Wiley Knight when he arrived in New Orleans in 1894. Wiley, originally from Tennessee, was working as a pullman porter in Chicago when he was offered a position on a Louisiana railroad in New Orleans. At the time, New Orleans had a rather notable population of middle-class Blacks that had acquired wealth and status. Yet, to Wiley's surprise, there were no Carnival balls created for the Blacks that represented their high-society lifestyle. With this in mind, Wiley opened a dancing school in Uptown New Orleans just a few blocks from his residence. His career as a pullman porter was one that was on the rise, becoming a desired job to have in the Black community. This job allowed Wiley and his friends to advance in society and afforded them to attain many things.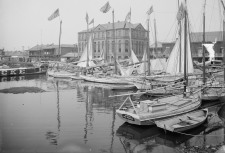 Early into the next year, 1895, their first ball was held at the Globe Hall, a prominent and historic ballroom. The ball was such a success that Wiley and his crew of porter friends and maids decided to name their group the "Illinois Club." The club was eventually renamed the "Original Illinois Club," representing the state where most of the group's members were from. That ball became the first official Black debutante ball.
The Original Illinois Club initiated a lineage of Black excellence that would go on to be replicated not only in New Orleans but across the country. During the following decades, while mostly prominent in the South, these Black debutante balls were being held from Harlem, New York to Los Angeles, California.
A Taste of Royalty
Coming out as a debutante is a long-standing tradition that dates back to Queen Charlotte's ball in Britain, where King George III would honor her birthday. British balls were popular affairs amongst high-society and rapidly spread to America, especially the Southern states. During the 18th and 19th centuries, balls were a place where young women from wealthy families would be introduced to the elites of the world in pursuit of finding a husband. These women would spend their lives learning proper etiquette and manners. They also would learn how to curtsey and waltz. As time progressed, the events became less about obtaining a partner and more of a rite of passage that not only introduced them to the world but also highlighted their achievements and future endeavors. When the Black debutante balls began, many of the older traditions had already become archaic, but some traditions remained.
Today, debutantes are still respected women in society, therefore they should have great manners, and etiquette is important. They typically debut in white gowns and, like the debutantes of the past, they are expected to waltz and perfect their curtseys.
In New Orleans, it is common to see debutantes toting beautiful and elaborate headpieces, which is more a representation of Carnival than debuting.
A Rich History of Krewes and Clubs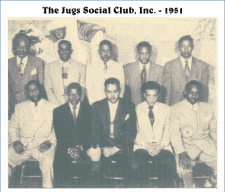 After the first successful Black debutante ball and the success of the Original Illinois Club, several other Black krewes and clubs began to materialize. One of the most recognizable krewes came about after a group of laborers came together and began marching during Mardi Gras. Originally known as "The Tramps," the group later changed their name to the Zulus in 1909, and the rest is history. In 1951, a group called The Jug Social Club came together and, by the late 1960s, they became known as NOMTOC (New Orleans Most Talked Of Club). Both Zulu and NOMTOC hold elaborate debutante Carnival balls but are just as famous for parading.
Zulu opened the door for the working-class Black community, allowing them to not only experience a black-tie affair but also to experience being a debutante.
While Zulu is well known for its contribution to Mardi Gras, there were other clubs that did not parade and remained unseen. Clubs like The Young Men of Illinois Club (birthed from the Original Illinois Club) continued to represent the upper crust of New Orleans Black society in private. Another notable club is The Bunch Club, which is a fraternity-like group of the city's wealthiest people of color that hosts a ball every year on the Friday before Mardi Gras. Like the Original Men of Illinois, these Carnival balls are by invite only and their members are generally the doctors, businessmen, lawyers, or skilled professionals of the city.
Whether with debutantes or without, Carnival balls have become a standard part of the Black culture of Mardi Gras in New Orleans. From the Baby Doll Dancers and Mardi Gras Indians to the Zulu parade and the high-society balls, Black people have certainly created their own Mardi Gras experience.