Heading into Nashville from the west, the landscape turns from easy-going fields to steep valleys and rocky highway shoulders. Brand new residences were being built high above the roadways leading to the famous city skyline. It's easy to see why Nashville's population is soaring right now: gorgeous natural terrain, a world-famous music scene, a rapidly growing spirits-making scene… how could anyone get bored of what's going on here with so much to do and experience?
Musical Museums
I wanted to see the downtown area on a weekday so that I could get to know it without a ton of crowds. The multi-story bars and restaurants were still brimming with people having a great time listening to the live bands on a sunny Monday afternoon. I turned the corner to find The Johnny Cash Museum which was my first official stop. This museum did such a great job at giving every detail of his early life and how he came to find fame after a lot of hard work and determination. Did you know that Johnny Cash was the first person outside of the Soviet Union to learn of Joseph Stalin's death? Air Force Staff Sergeant John Cash was a morse code operator stationed in Landsberg, Germany on March 3, 1953, and he intercepted a message with the news that the Soviet Premier had a fatal heart attack. He was discharged from the service a year later, and then moved to Memphis to pursue his passion for music.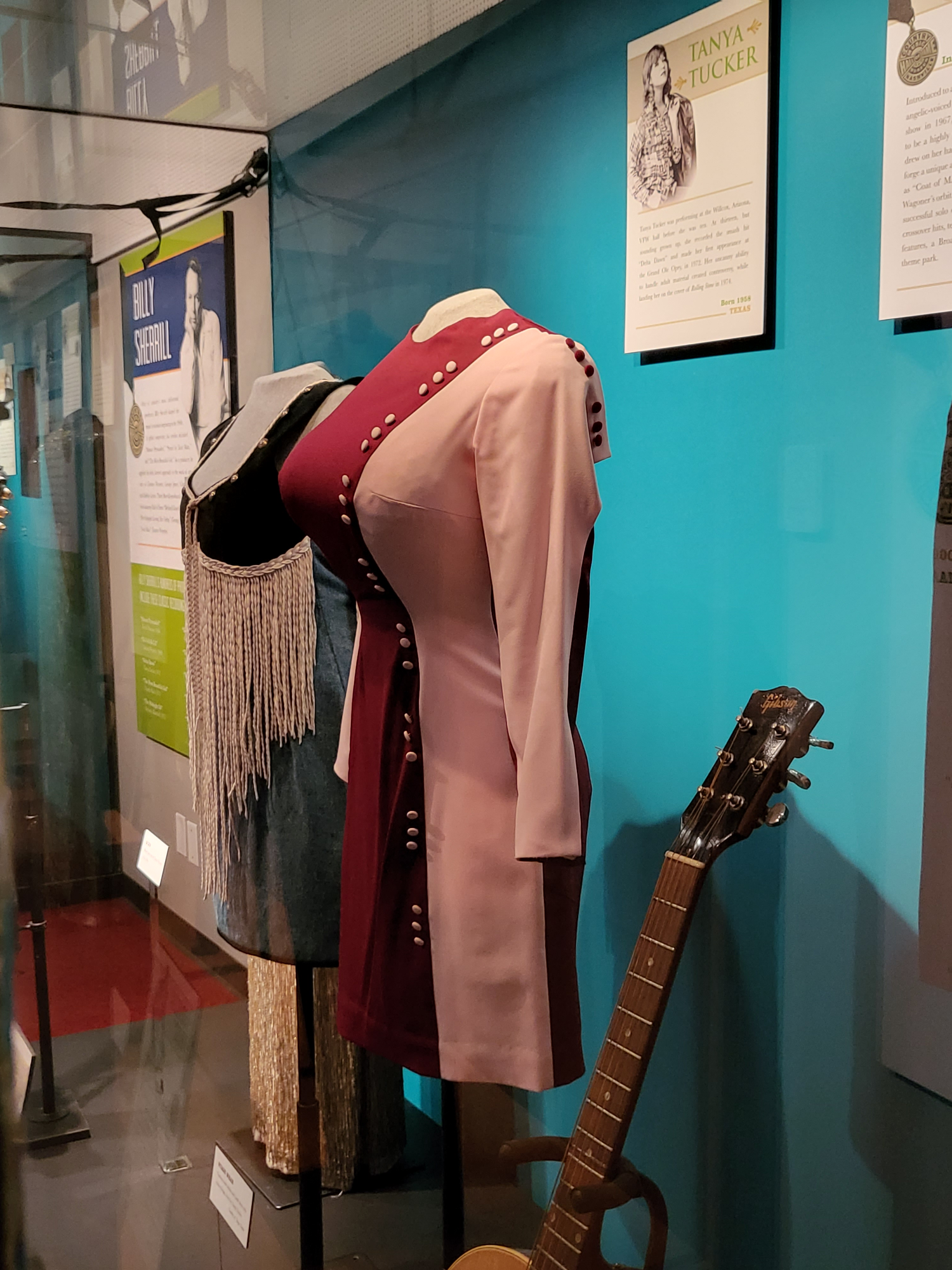 While The Johnny Cash Museum and attached Pasty Cline Museum are humble in size, The Country Music Hall of Fame and Museum is colossal! Through several exhibits on numerous floors, you walk through country music's history from immigrants bringing their beloved instruments from their homeland to the invention of radio to the influence of the Grand Ole Opry to the star-studded landscape of country music today. There is no lack of stage outfits; there must be hundreds of pieces of clothing from every country musician you can think of. I absolutely love seeing Dolly Parton's buxom dress next to dresses of other ladies.
While I'm drawn to the historical narratives presented by museums, I thought that the interactive areas were very engaging and creative. In the American Currents section, you can record your own song, master a song, and create an album cover with your face on it. The museum tour ends at the Hall of Fame Rotunda which is beautiful to see in the sunlight as the rays light up the bronze likenesses of country music's finest performers in the round hall. The intriguing space was designed to resemble the WSM radio tower; WSM is the station that plays the Grand Ole Opry.
West Nashville Day
The next day, I traveled out to the Belle Meade Historic Site & Winery because of the gorgeous weather. The historic home sits on rolling hills along the Richland Creek, and the property was on the heavily-traveled Natchez Trace. John Harding purchased the property in 1807 and erected a cabin next to the Trace in order to set up a forge to service those traveling on it. This enterprise led to a stable which eventually led the Harding Family to enter the race horse-breeding business. The celebrated race horse Bonnie Scotland spent many years here, and some of his offspring have been winners of major races like the Kentucky Derby for decades.
Belle Meade's tour does not hide the fact that slaves were present on the property, and one of the remaining slave homes is open to the public to learn what their lives were like. One of the enslaved men was Robert "Bob" Green who played a huge role in training the winning thoroughbreds, and he was sought after for his expertise. During the Civil War, Bob Greene may have helped hide the horses from being taken by Confederate and Union soldiers to use in the war. The house is meticulously decorated and restored to how it looked just before the Civil War. Even though the family hit difficult financial times and sold off many pieces from within the house, many of the original items or very close replicas have been found thanks to diligent record keeping.
As you walk the property's trails leading to all of the old buildings, yellow leaves slowly cascade over the serene grounds like lazy confetti. It's a wonderful to learn about this house, the people who lived in it, and the family's businesses, but it's also nice to have this moment of peace.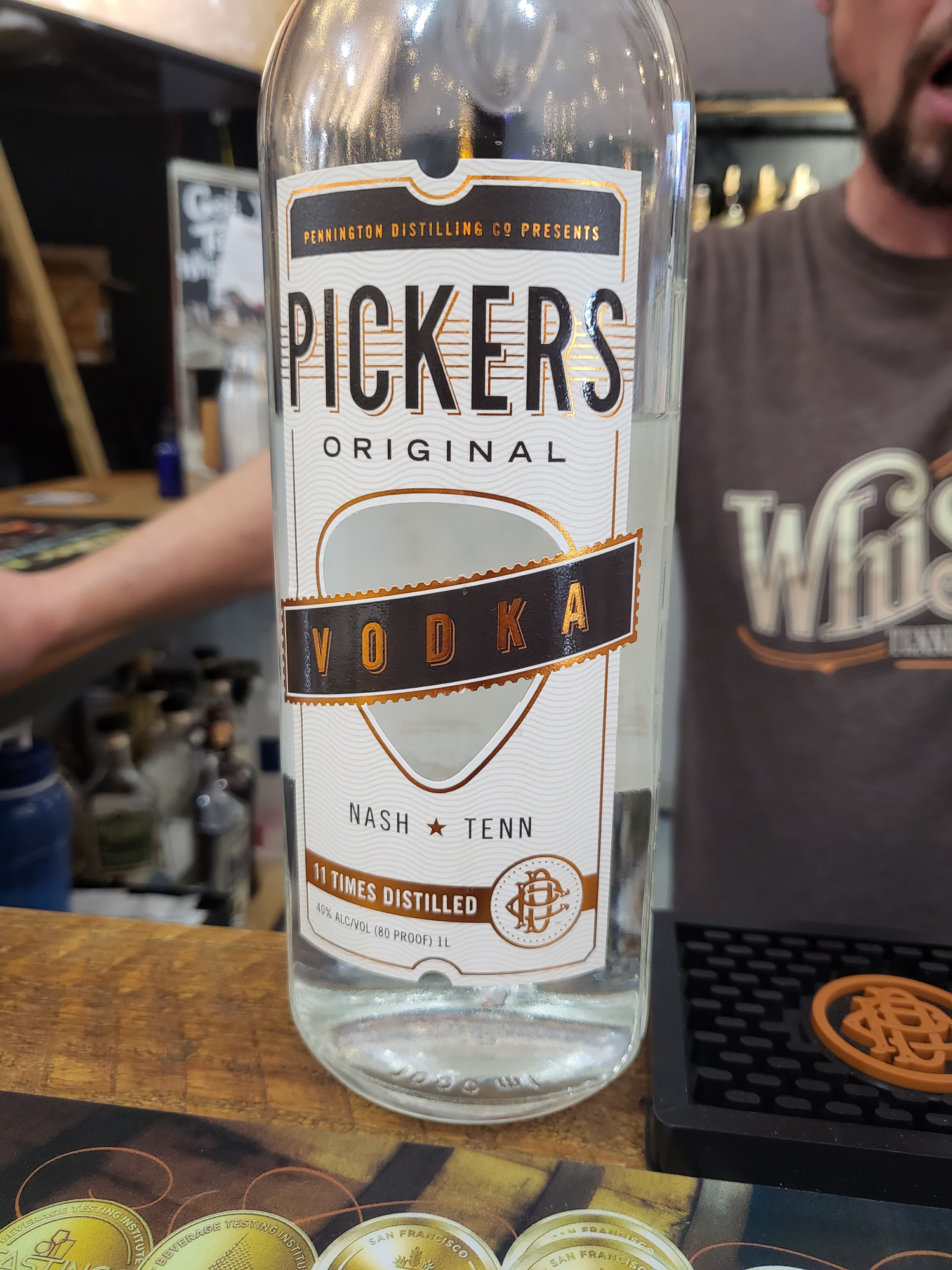 The imposing Parthenon was the next on my list. It sat very high on a hill in Centennial Park and towered above those who walked around it. You enter below it where some galleries of other art greet you. Eventually, a set of stairs allows you to ascend into the gallery of The Parthenon where a 42-foot tall, glistening state of Athena stands. Around her, you can see the replicas of the tympanum pediment sculptures. This is an amazing place to quietly reflect on the monumental achievements of our ancestors or just take a really stunning selfie.
Another art form that has taken hundreds of years to perfect is whiskey-making, and I went straight to Pennington Distilling Co. to learn about it. Pennington Distilling Co. is a small business owned by husband and wife team Jeff and Jenny Pennington with a giant taste. Though they specialize in Davidson Reserve Whiskey now, they had to get creative during the years-long aging process. Pennington proudly boasts of their Whisper Creek Tennessee Sipping Cream, Walton's Finest Vodka, Pickers Crafted Cocktails and Unplugged Vodka Soda, and my personal favorite Pickers Vodka which comes in a bottle with a lot of musical attributes. The Tour and Tasting takes place in the two-room distillery where all of the brewing, distilling, aging, bottling, labeling, and packaging takes place. It's incredible to see how much they get done in such a humble space. Pennington Distilling Co. also has the distinction of making bottled-in-bond whiskeys, a designation finally revived in 2009.
East Nashville Day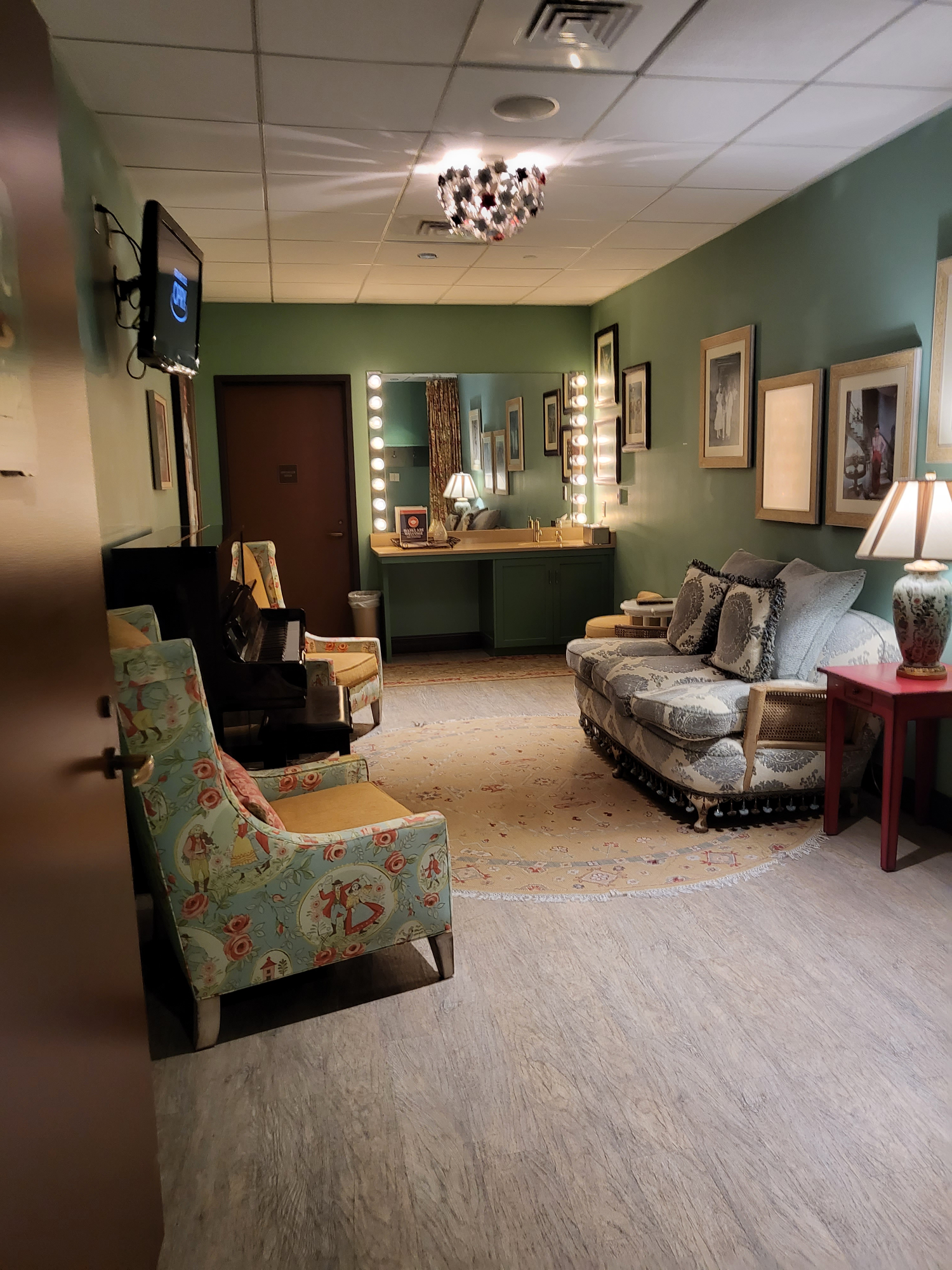 No visit to Nashville is complete without a visit to the Grand Ole Opry, and I opted to get a peek at the inner workings of the storied music hall. The Grand Ole Opry Backstage Tour begins with a short film about the history of The Opry and what it means for an artist to be inducted into The Opry as a member. The film was actually very emotional, and you could sense how it feels for these country superstars to achieve this dream. From there, you are led to the literal backstage areas of the Opry where the musicians who are booked to play enter, where they pass the member board, and into the dressing rooms. The dressing rooms are truly fun to see; each one has a different theme and style. Then you are led to the sound stage where the variety show Hee Haw was filmed before you get to walk onto The Opry's stage and stand in the coveted Circle, the Circle that was taken from the original stage in the Ryman Auditorium when The Grand Ole Opry moved to its current home in 1974.
After that tour, I went just across the street to Opry Mills to get close to the stars at Madame Tussauds. I've seen wax figures before, but I really wasn't prepared for how extensive this collection was and also how realistic they are. Honestly, there were a few moments where I thought it was a real person. This Madame Tussauds tells the history of Nashville's music, the region's music, and popular American music. From hanging out with The Million Dollar Quartet that day in Sun Studio to getting funky with James Brown to sitting next to The Prince of Darkness Ozzy Osbourne, it felt like they left no genre untouched.
Though there were a ton of live shows to choose from, I wanted to see something on the east side of town where there is a smaller town vibe. Jammy rock band LadyCouch was going to perform the entirety of The Rise and Fall of Ziggy Stardust and the Spiders From Mars at Dee's Country Cocktail Lounge. The little outdoor patio did not have a seat open for this special show, but no one seemed upset that they had to stand up and sway to some of David Bowie's best work. And it wasn't so crowded inside the quaint honky tonk that you couldn't get a drink or have a conversation with your friends as the jukebox played.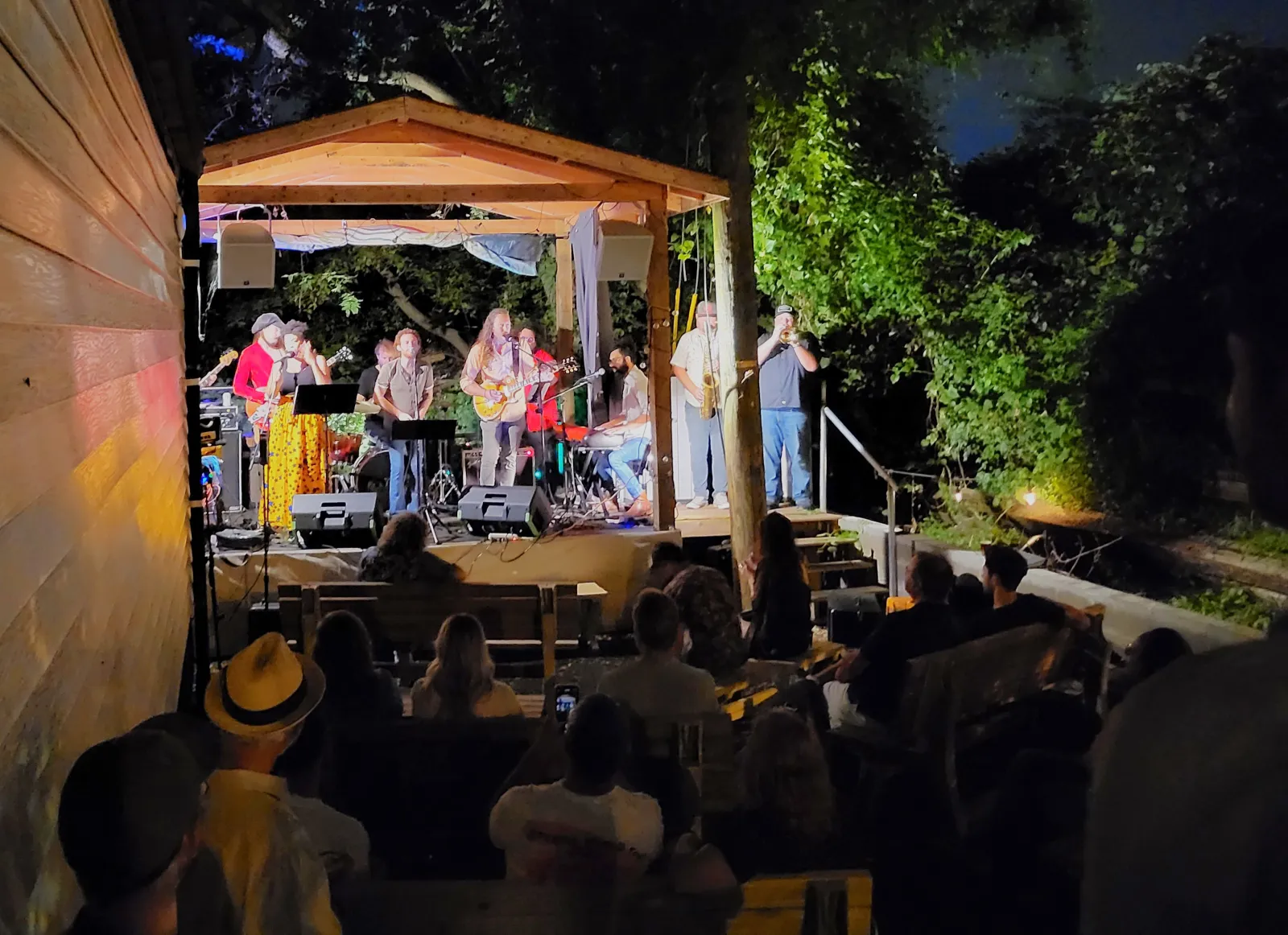 More Museums!
There is no shortage of museums in Nashville! And I had a few more to cross off my list. The Lane Motor Museum is a newer addition as it was opened in 2002. Car enthusiast Jeff Lane put his rare collection of cars in the former Sunbeam Bakery retrofitted to look like an old auto shop. You will see things that you didn't even know could exist. Concept cars, one-wheel electric bikes, and even a bigger-than-life tank. Interestingly, the goal is to keep these strange vehicles in working order.
The Frist Art Museum had an exhibit at the moment that I was extremely interested in: Knights in Armor. I loved perusing the collection of shining armor from Medieval and Renaissance era Europe. The pieces ranged from smaller pieces to full suits and even horse armor. I very much appreciated how the museum arranged the pieces from practical wartime suits to less-concerning jousting suits. The Frist Art Museum itself is a sight to behold. It's housed in a former USPS office built in 1934 that retains its stunning art deco interior.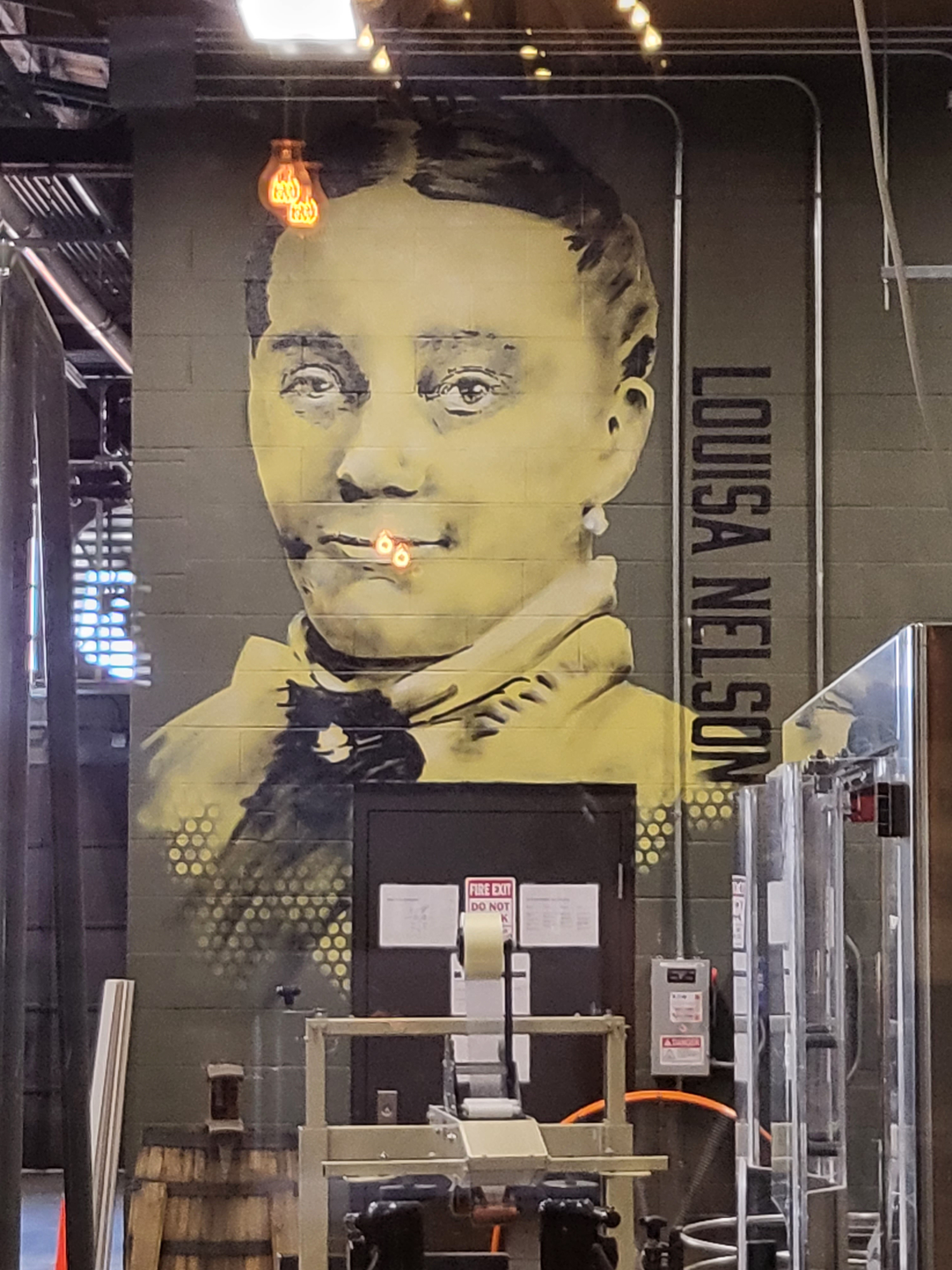 Not only is the Nelson's Green Brier Distillery Tour fun for imbibing purposes, this distillery has one of the best stories I've ever heard. Brothers Charlie and Andy Neslon went with their father to a butcher in Greenbrier, TN. The butcher realized that the trio was kin to Charles Nelson who once owned and operated a nearby distillery and told them to get more information from the Greenbrier Historical Society. This fateful day led the brothers on a journey to learn the art of whiskey-making and reclaim their family's heritage that shuttered with Prohibition.
Today, Green Brier Distillery makes a Tennessee whiskey, bourbon, reserve bourbon, and a pecan liqueur called Louisa's Liqueur. Charles Nelson's wife Louisa grew Green Brier Distillery into one of the largest distilleries in the nation before Prohibition after her husband's death. She still watches over the distillery as a mural painted on the wall.
Quite the departure from LadyCouch at Dee's, I went to the popular EXIT/IN venue where a dozen or more local musicians were playing old-school emo-era hits in a rotating fashion. Though I wasn't familiar with anyone, it felt like a very big family reunion more than a concert. In fact, EXIT/IN likes to connect the attendees with the talent in some interesting ways. On the scaling wall behind the bar and beyond, you can read the names of just some of the bands who have performed here over the years. Hank III, Etta James, Galactic, Crowbar, Dr. John, and Steve Martin… it really goes to show you how a humble building can bring so many different people together.
Cave Explorations
One morning, I left Nashville and the state of Tennessee to take a trip under the ground in Kentucky. An hour drive brought me to the Lost River Cave near Bowling Green. The Lost River Cave Tour begins with a steep walk down a hill to learn about blue holes, then we were led to the mouth of a cave where the temperature dropped from over 80 degrees to about 60. This entry way had been outfitted with mills for many years before a man named Jimmy Stewart opened a nightclub called Cavern Nite Club in it in 1934. The club fell out of favor when rock n' roll took the airwaves and more venues had air-conditioning. People used the cave as a dumping ground for decades after that until the Friends of Lost River non-profit organization and Western Kentucky University came together to clean it up and restore it.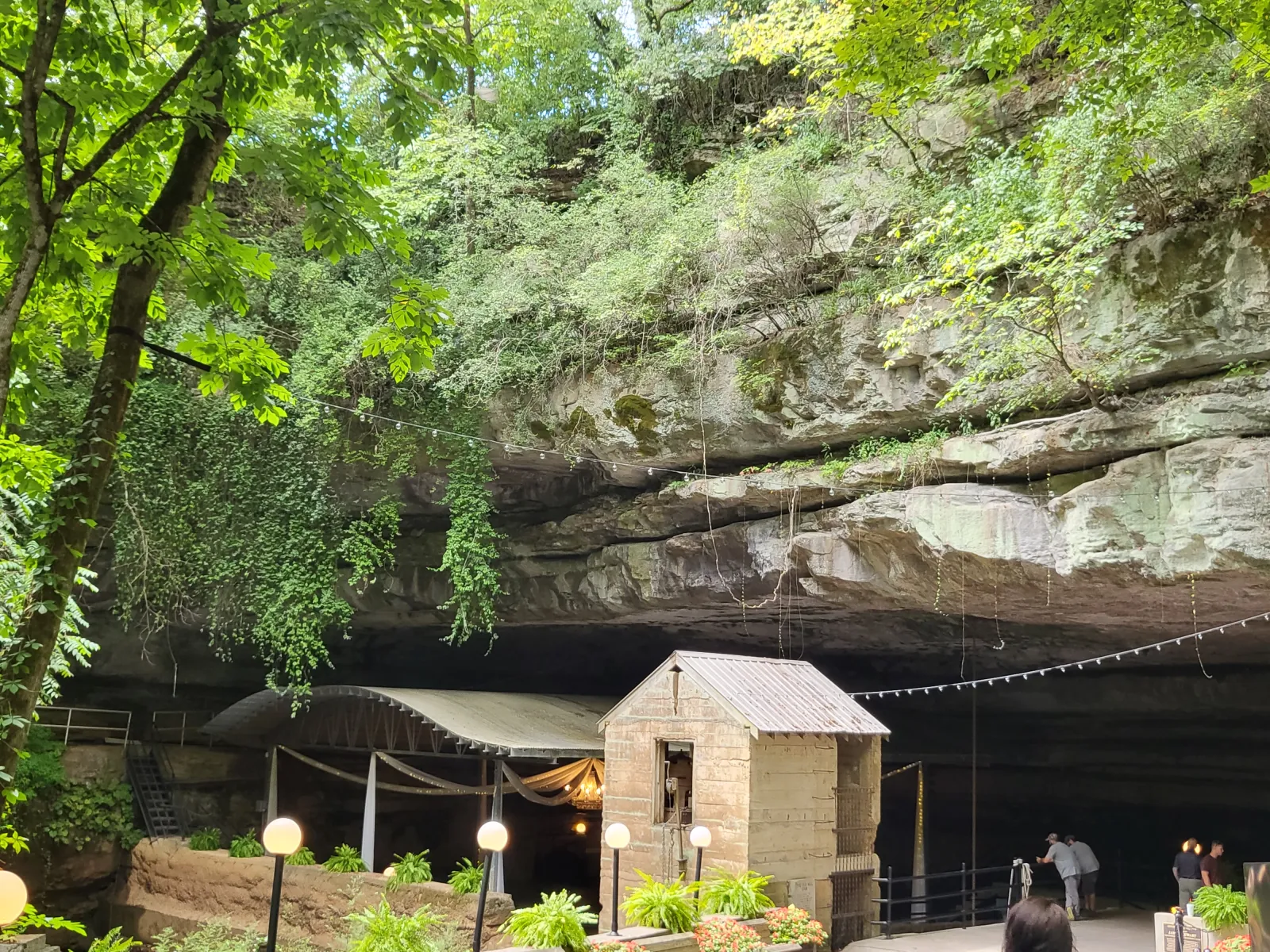 The boat was loaded up and we were told to duck your head to go underneath The Wishing Rock, so called because if you don't duck, you wish you would have! Once inside, the cave opens up into a massive chamber. Our tour guide happily explained how caves like this work, how the former owners used the cave, things that we were looking at, and how human intervention changed some areas of the cave. Infamous outlaw Jesse James may have even used the cave to hide out after robbing the Southern Deposit Bank.
Saturdays Are For Brunch
On Saturday morning, I went to the very hip and happening Gulch area to experience L.A. Jackson's brunch. L.A. Jackson is a swanky, airy restaurant and bar at the top of the Thompson Nashville Hotel. While the indoor area has plenty of contemporary seating with floor to ceiling windows around the long bar, two garage doors open in lovely weather for the inviting patio with tables and lounges. L.A. Jackson offers nearly 360 views of Nashville from the soaring buildings to the hilly treeline.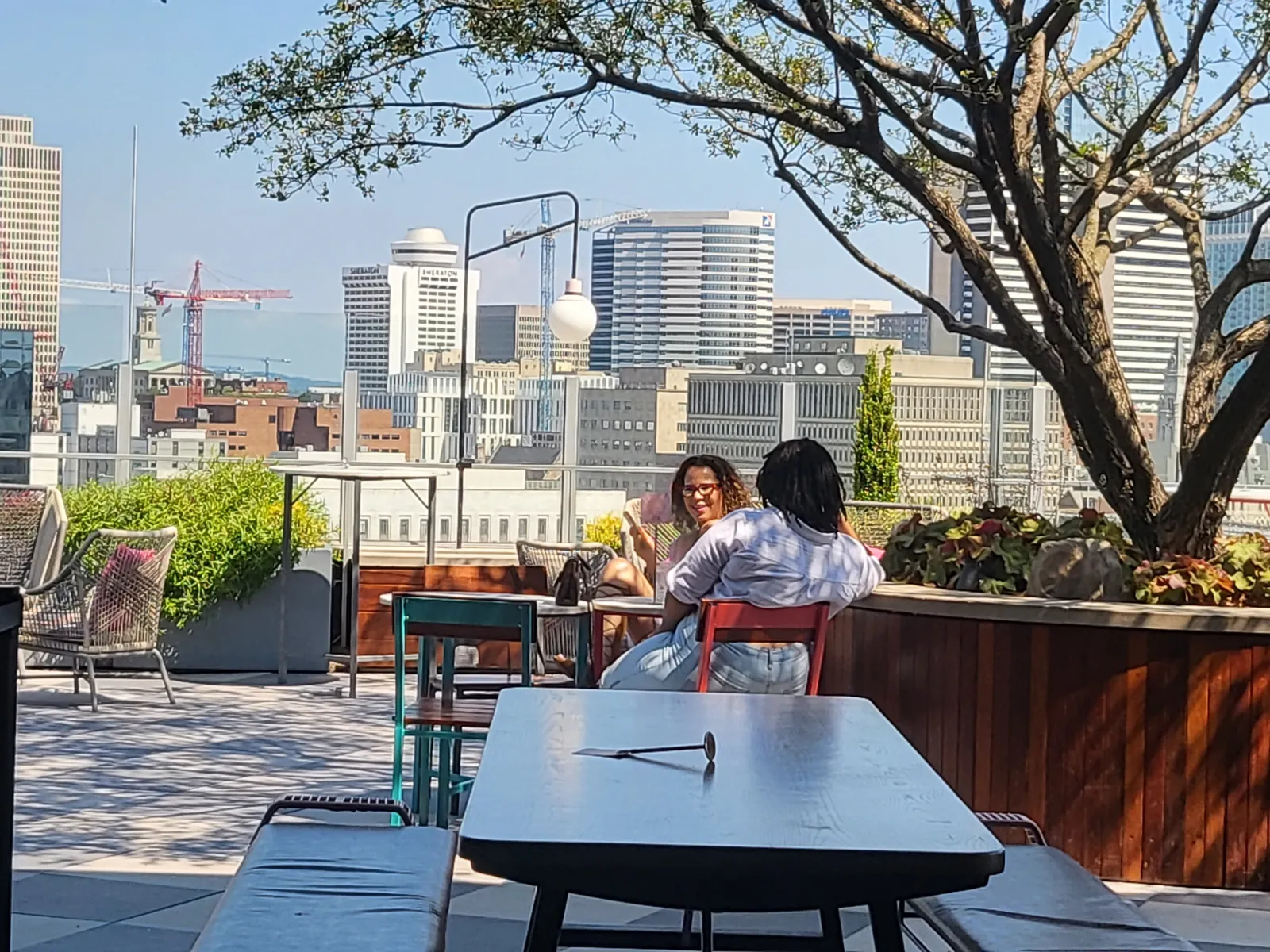 With a pretty pink cocktail in hand, I looked at the yummy brunch menu. I was immediately attracted to the Gravlax Toast, and it did not disappoint. The thick toast was piled with perfect pieces of cured salmon and had lots of fresh dill and capers, just the way I like it. Despite the fact that the toast was fully loaded with fish and dripping with oil, it remained extremely crisp. I also could not resist the Quinoa Bowl which was more savory than I thought that it would be. That was totally fine with me. The fluffy, warm quinoa was the bed for fresh cucumber, tomato, a good amount of avocado, and fresh herbs. You are invited to pour some vinaigrette upon it, and I suggest that you do. Brunch may not be available year-round, but I know that the nighttime eats and drinks are just as sexy as this.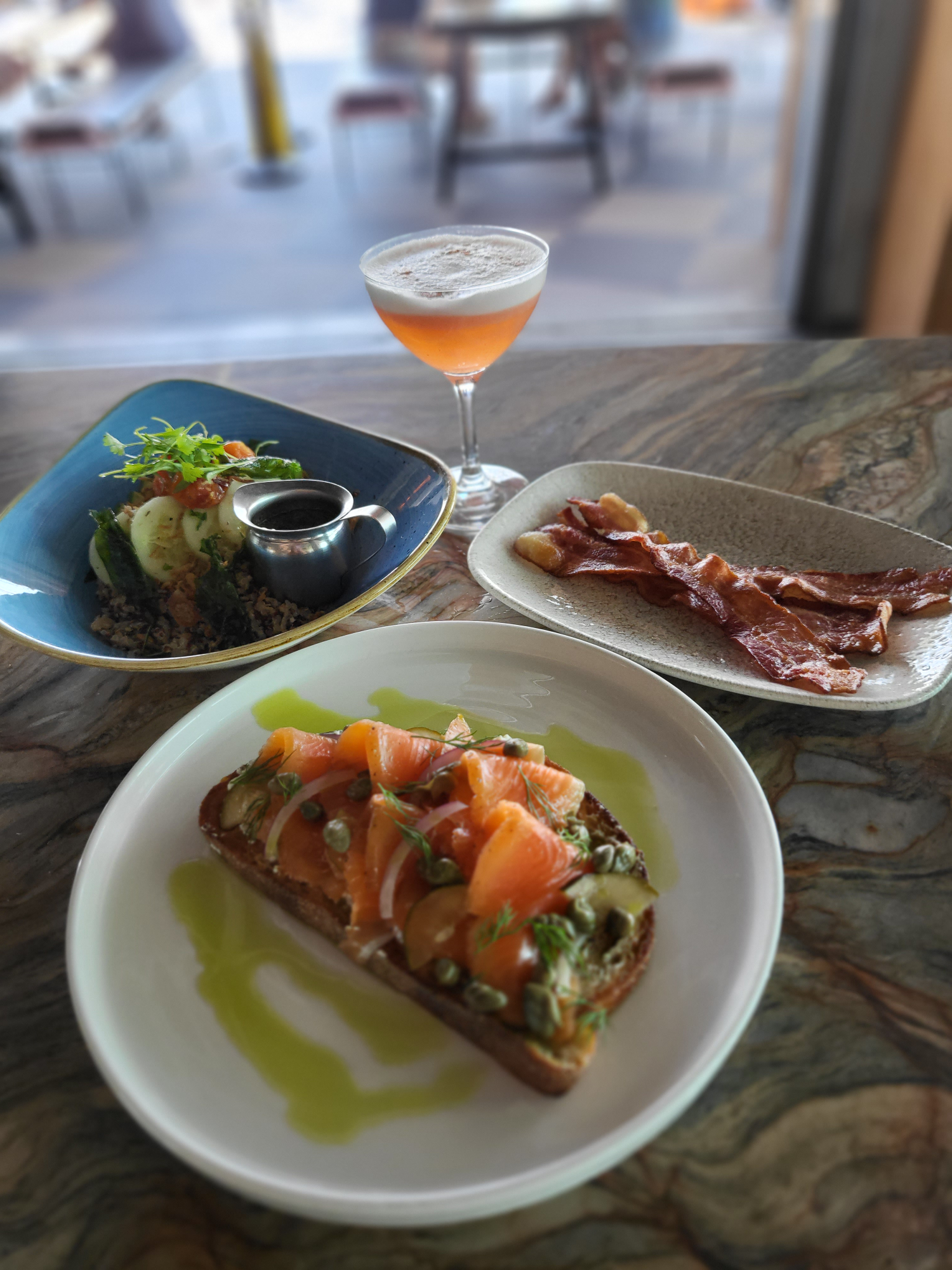 I walked through downtown Nashville which was full of people celebrating, exploring, and having a good time, especially the many bachelorette parties. I went to the very new National Museum of African American Music which kind of felt like a party upon entry thanks to a DJ spinning 90s hip hop and club music. The revelry amazingly could not be heard from the theater that museum goers first walk into for a short film about Black music in America. The exhibitions of the museum took you throughout history explaining gospel music, blues, R&B, hip hop, and beyond. There were so many places where you could really indulge in the history through interactive means: create a Blues song, learn 60s dance moves, and create a rap.
My Friend Jack Daniel
Leaving Nashville, I drove out to the little town of Lynchburg about an hour and a half away to visit the Jack Daniel's Distillery. The visitors center sits in a breath-takingly beautiful hilly area where little creeks wend around you. Visitors taking the walking tour walk up and down these hills to see where all the magic happens, but it's not as big of a place as you would think considering Jack Daniel's very long history and current worldwide market. On the tour, I saw where they burn wood for the charcoal used for mellowing which they just had finished doing. The heat was still radiating from the gigantic oven hood.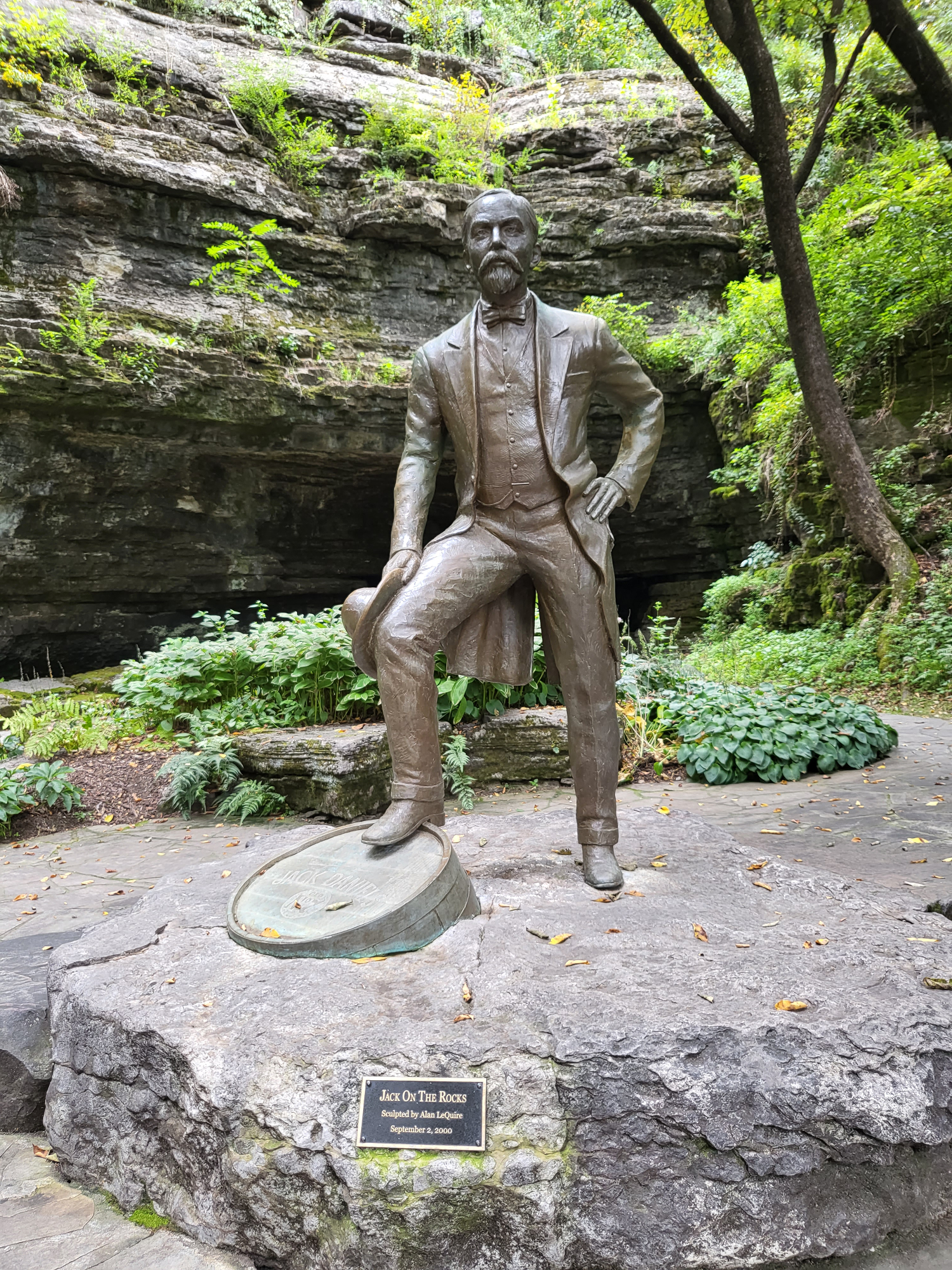 We then went to see the cave where Jack Daniel originally had his distillery. It was here in the cool cave air with Jack's statue just ahead that I learned that he was one of 10 children who ran away from home as a young boy and taken in by a local preacher with a distilling hobby. Jack learned the trade from the preacher and the preacher's distiller and slave Nathan "Nearest" Green. Upon receiving some inheritance from his father's estate, he purchased the land that the distillery currently sits on in 1884. The two most fascinating facts I learned at this time were that Jack Daniel's was only one of two Tennessee distilleries to survive Prohibition and there are descendants of Jack's family and Nearest Green's family working at the distillery as Master Distillers and in other positions.
I was then taken into the actual distillery and got a very intimate look at how the grains are turned into mash, how the mash is fermented, and how the fermented liquid is distilled into liquor. You get to stand next to the tanks, and you may even get to see inside of them. That liquor then undergoes the charcoal mellowing drop by drop (charcoal takes the grain oil out of the liquid). We also toured one of the barrel houses, but there is a total of 93 barrel houses located all around Lynchburg, some of them really high up on bluffs and some of them lower in elevation. All of that can make a difference in how the whiskey tastes when it comes out of the barrel. I enjoyed seeing the happy employees manning the line where every single bottle of Jack Daniel's is checked for quality, labeled, and packaged in one room. Knowing the scale of Jack Daniel's, I was amazed at how personal the operation is. It's such a close look at a well-known brand that you really feel a sense of connection.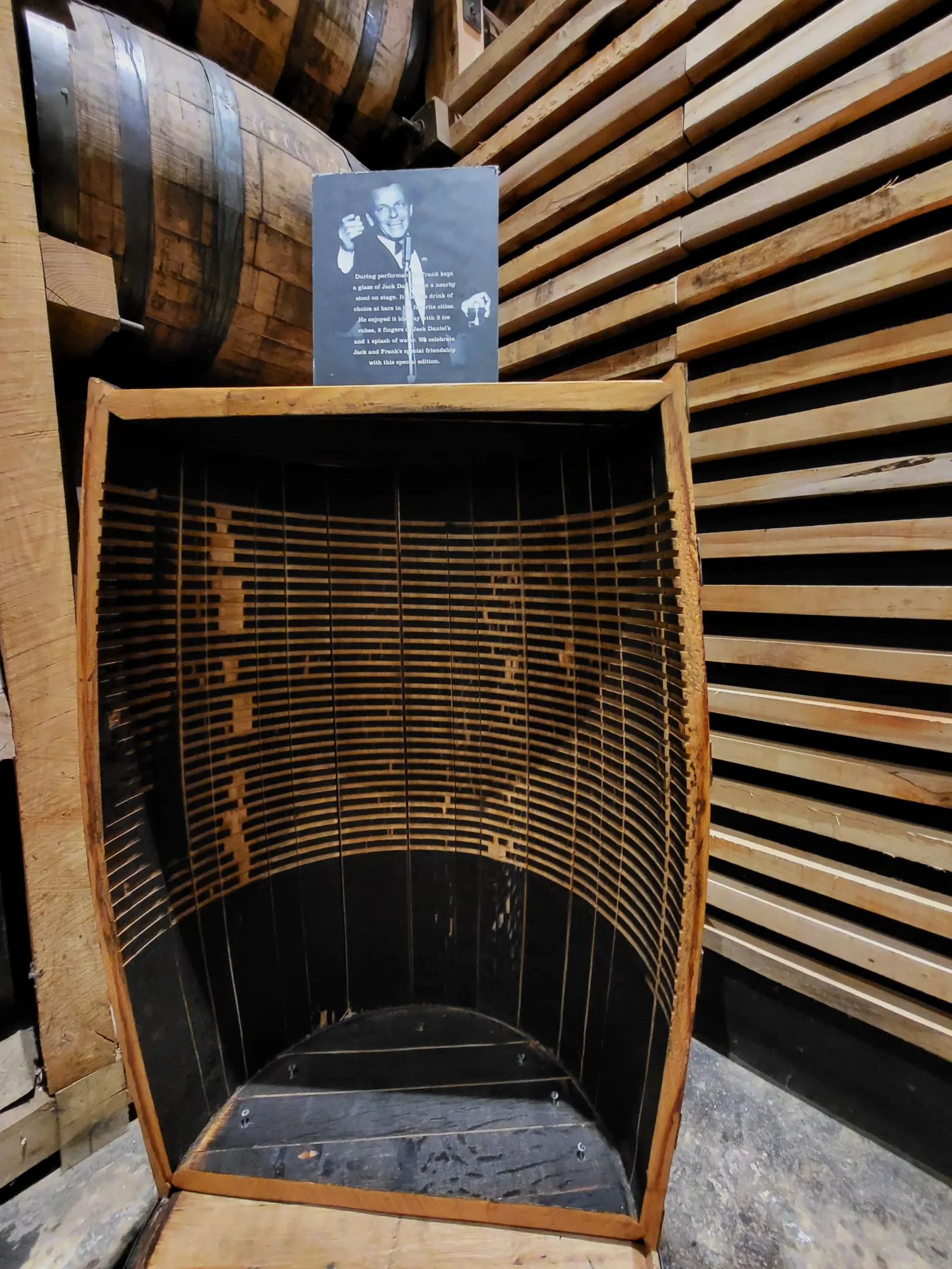 When you see the operation, you realize that nothing really goes to waste here. The distillery has the utmost ethical practices when it comes to their environment: being a company that relies on clean limestone-filtered water for their product, they know about being good environmental stewards. The distillery's products are all recycled: the spent grain is given to farmers for livestock feed, the spent charcoal is dried and sold for barbecues, the spent barrels are sold for use in other aging applications. Tabasco Pepper Sauce proudly uses former Jack Daniel's barrels to age their hot sauce for three years!
The best part of the tour is the tasting. The Jack Daniel's Distillery is located in a dry county, and bottles can only be purchased at the distillery. I have sampled quite a bit of Jack and its varietals in my time, but I was lucky enough to have some kinds that were new to me. I had the old reliable Jack Daniel's Old No. 7 Tennessee Whiskey which tasted just like it always does: a little smokey, a little fiery. It's a contrast to the Sinatra Select, made in honor of crooner Frank Sinatra's adoration of Jack. The process for this whiskey is the same, but the barrels are cut with an extra groove to allow the liquor to be exposed to more oak.
The next three samples were from the Jack Daniel's Single Barrel series. The Single Barrel Select definitely has a robust flavor, but the Single Barrel Barrel Proof definitely packs a punch to it. Because it is the proof of one single barrel, it's up to Mother Nature to decide what that proof is. This bottle was over 100 proof. I must say that the Single Barrel Rye might be my new favorite. It is unassumingly smooth and a bit sweet. It's not like any other rye whiskey I've had, and this is a high rye. The tasting notes include banana, ripe fruits, and mint. When the tour is finished, you won't find any Jack Daniel's merchandise to peruse, other than some bottles of liquor. You are told to venture into Lynchburg's downtown area (just a short block away) to visit their gift shop. Jack Daniel's wants their visitors to get to experience the lovely town as a whole which I find so neighborly.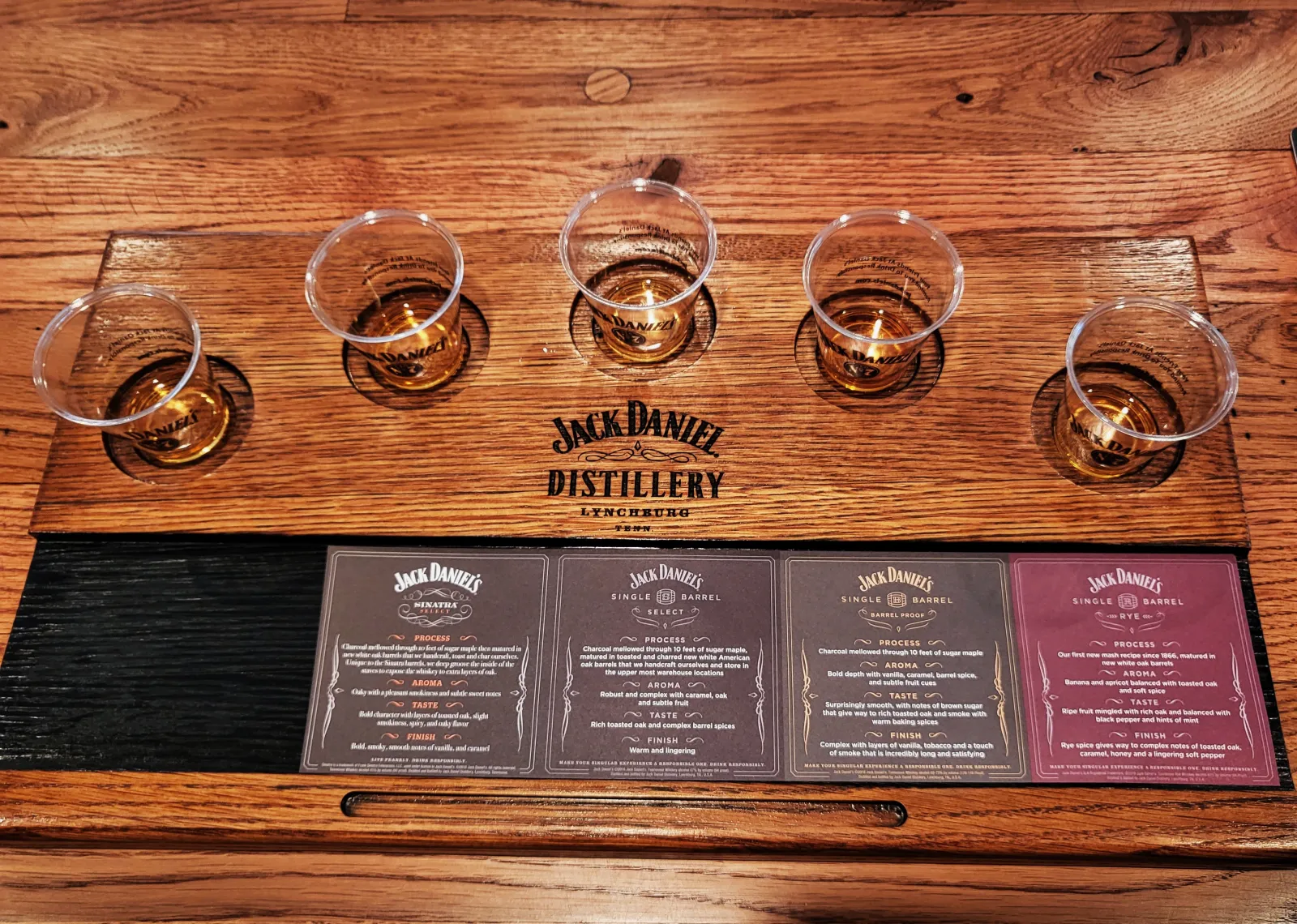 Nashville can be a big city with a lot going on from three-story clubs teeming with giddy bachelorette parties to more museums than you can visit in a year, but if you find the places that are just right for your taste, it can really feel more like Main Street in Any Town, America.