On Sunday, March 6, Mardi Paws will return with the ultimutt theme…80s Pawp Culture! The parade will take place in Downtown Covington, with registration beginning at 12:30 p.m. and the parade rolling at 2 p.m.
They're looking for pups with big hair, big style, and big dreams to celebrate the iconic decade. Think Andy Warhowl and things that take you back to the 80s, with the krewe highlighting their favorite movies, music, TV shows, toys, and fads, plus fave fur-doos!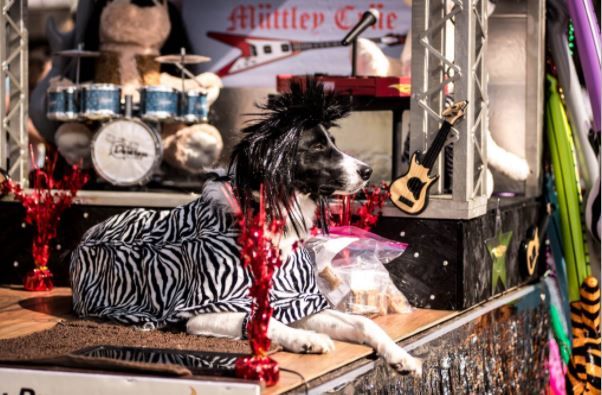 This event is free and family friendly, and Downtown Covington is the paw-fect spot for parades. There is lots of parking all around the parade route, and it's easy to walk to the Covington Trailhead for all the fun before and after the parade. Those interested in registering their pup can even do so online to save time on the day of the event. The registration fee is $25 and includes six free escorts for walking in the parade.
Unlike most Mardi Gras parades, Mardi Paws has a costume contest. Its free to enter, but owners and their dogs must be celebrating the yearly theme to be eligible to win the "poop" trophy along with some other paw-some prizes. Any costumes and levels of creativity are welcomed and encouraged. Judges' top 20 choices are slotted into a grid and winners are chosen based on the number of points each contestant/s is given overall. What judges are looking for is that special combination of uniqueness and creativity, so don't be afraid to think outside the box!
The 28th annual event does more than bring the fun. Mardi Paws brings dog-centric events all year long to help people and pets. Through the all-volunteer based non-profit Scott's Wish, both young and old patients and pets receive aid. Whether it's helping to continue treatment for those suffering from cancer or ALS, or sponsoring service dogs for veterans, Scott's Wish volunteers just want to make a difference in their community where it is needed most. Registering your dogs isn't the only way to support the cause, what with a variety of options for different budgets available to promote your business while supporting the non-profits.
To learn more about the event, register your dog or business, or to get the "poop" on the parade, head to mardipaws.com. The parade map will be uploaded soon.