"Make America What America Must Become," an exhibition of Gulf South artists, is opening this weekend at the Contemporary Arts Center. In this show, 34 artists from Texas, Louisiana, Mississippi, Alabama, Florida, and Bulbancha examine how power works within politics, economics, culture, and ecology.
The CAC began planning the show in February, knowing that it would be on view during election season. Exhibit curator George Scheer says that they wanted to create something "that would be an opportunity for artists throughout the Gulf South to have a voice and respond to this moment." With the pandemic and the protest movements that have developed since the conception of the exhibition, making this a space for artists' responses has felt that much more vital.
The title of the exhibition is a quote from James Baldwin, which guided the curators and jurors as they selected works for the show. The full quote reads, "Great men have done great things here, and will again, and we can make America what America must become." Scheer intended the quote as a prompt for artists, asking, "How do you want to shape the future?" The statement was made in the 1960s and feels just as relevant now; Scheer views it as an "aspirational, urgent—and maybe a little anxious—message."
Over 400 artists submitted work to be considered. The artworks address a range of subjects, including civil rights, immigration, identity, media, memory and memorial, family, and home.Scheer curated the show alongside co-curators Katrina Neumann and Toccarra A. H. Thomas. While deciding which works to showcase, they considered "how all the works would speak together and were seeking balance and a full representation of all sorts of different artistic perspectives." They also wanted to represent a range of mediums; the show will include paintings, sculptures, textiles, and video art.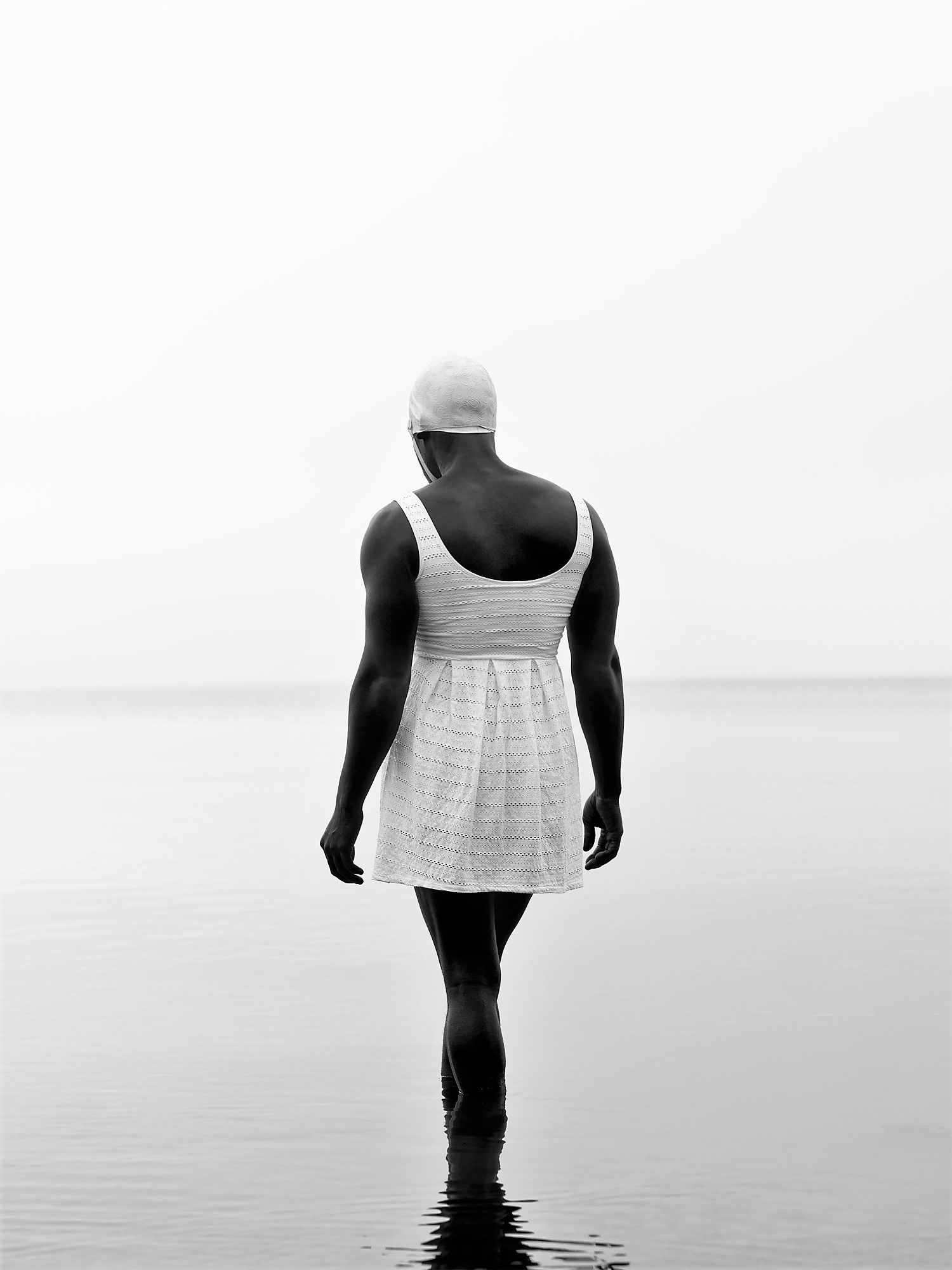 When asked which pieces stood out to him, Scheer mentioned the work shown on the exhibition poster by Derrick Woods-Morrow. There are two photographs: "Twilight at Lincoln Beach" and "Frederick on Lake Pontchartrain."
"It's a reflection of identity and place in New Orleans—Lincoln Beach, of course, was a segregated beach that was around during Jim Crow and then closed very shortly after integration as people shifted to Pontchartrain Beach, so I think that work that you see on the poster is very powerful," Sheer said.
The curators are also excited that the exhibit will include a new series by Luis Cruz Azaceta. Azaceta began as a political pop artist in the 1960s and 70s, and his work has become more abstract as his career has progressed.
"When you see his abstract work today, you could almost mirror it on top of this very figurative, representative political pop aesthetic [of his earlier work]. It's the same composition, it's the same colors, it's the same energy—it's just that it's abstract shapes, not faces and political figures. This is his coronavirus series that he's been painting during the pandemic; one of them is called "CRISIS 2" and one is "Light at the End of the Abyss." I think those two works frame the kind of perspectives that you see in this exhibition," Sheer said.
The show will focus on Southern art because the American political, cultural, economic, and ecological concerns that the show aims to address are specific to and shaped by the region, and because Southern art is often under-represented. The CAC views itself as an institution for artists in Louisiana and the Gulf South and wanted this exhibition to be an opportunity for those artists.
The gallery will be implementing distancing measures and other precautions to create a safe environment for viewers. There will also be an online component of the exhibition so that you can view the artworks from home. This Friday, September 18 will be the CAC members-only preview, and Saturday, September 19 is the general grand opening, which will be free and open to the public.
There will also be a virtual opening night celebration on Saturday night from 7:00 - 8:30 p.m., hosted on Facebook Live and with free admission. The evening's events will include an exhibition walk-through with the show's curators; a conversation with New Orleans artist Brandan "B-mike" Odums; and a panel discussion featuring artists Derrick Woods-Morrow, AnnieLaurie Erickson, Lauren Cardenas, and Jeffery Darensbourg.
You can reserve tickets online in advance at the CAC website. The exhibition will be on view from Friday, September 18, 2020, to Sunday, January 24, 2021.
The Contemporary Arts Center New Orleans: 900 Camp St., (504) 528-3805, cacno.org.
Cover photo: "Light at the End of the Abyss," by Luis Cruz Azaceta