Zony Mash already has a colorful interior, but it was even more psychedelic for this performance. Visuals of 1980s videos games, cartoons, and clips from Subway commercials (featuring a certain disgraced former spokesman) splashed across the beer tanks and walls. A curtain shielded the stage from view as the instruments were set up. It sounded like someone was throat singing "cheeseburger" over and over again to check the mics.
In a fantastic fashion, the curtain dropped. Slayer MacCheeze, Grimalice, and Catburglar launched immediately into "Organic Funeral" with an achingly slow, heavy pace. Ronald Osbourne stumbled out wrapped up in a jolly yellow strait jacket. The Subway commercials turned into McDonald's promos and close-ups of our favorite menu items. After a few hilarious lines, Ronald ripped out of that jacket and lifted his hands to the sky and let out a villainous laugh.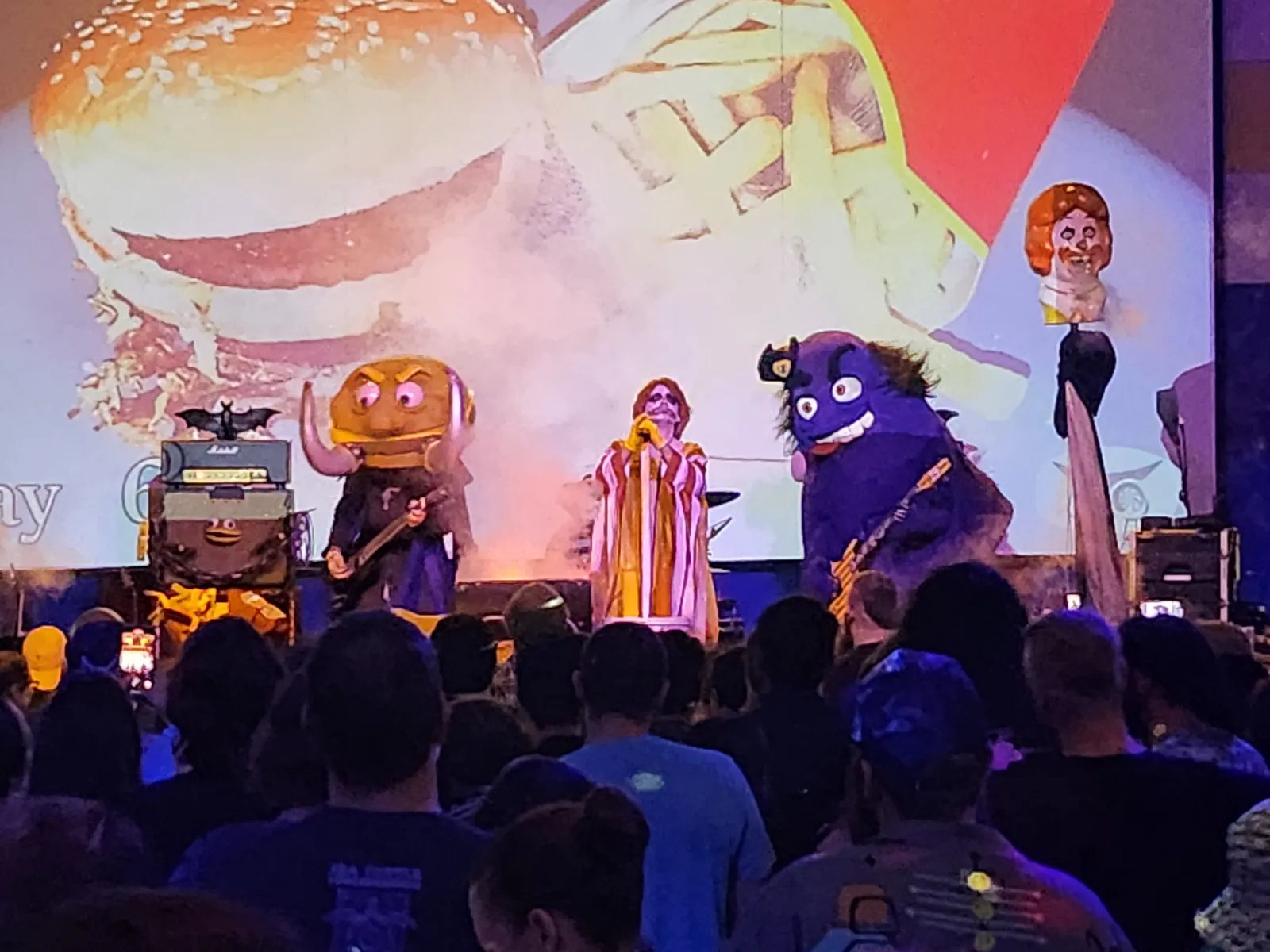 Fogged bellowed around them almost shielding the motley band from view. It may have been a deliberate attempt to momentarily confound the crowd as Ronald grabbed condiment bottles and squirted some lucky fans. "Ugh, that is not sweet tea," he said in his Birminghamburger accent. This revelation was an introduction to "Sweet Tea," an ode to the sweet, delicious drink. Ronald had yet another trick up sleeve that he prepared as he sang about his love of tea. He seemingly filled up a large bucket full of liquid throughout the song, and he picked it up in order to dump it out when the song ended. He ran from corner to corner teasing the big deluge only to throw out dry pieces of confetti, and everyone had a good laugh.
Much of the betwixt song banter was a string of puns combining band names and food chains. The other subjects were Mac Sabbath's origin story in which the band traveled through a wormhole in 1972 to save us from bad food and bad music and how much Mac Sabbath appreciates New Orleans. Ronald expressed, "Of course we found our home in the city that invented turducken!" A lizard person appeared on stage to perform the harmonica piece for "The Lizard," but I'm not sure how that fits into fast food lore. But it was "Grill My Pan" supplied by another NWOBHM band (namely Motorhead) that really got the crowd rocking.
Mac Sabbath was full of puns and brought the fun. Alas, they could only stay the night because there are so many more cities they need to save from mediocre food and tunes.