There's something comfortable about Josephine Estelle, the Italian osteria located in the always-swanky Ace Hotel. The airy room is lined with windows that allow in natural light, and the deco-style palm frond decor almost appears to wave in a breeze as you walk by. Perhaps it's the windows that open the bustling kitchen up to the dining room that make it feel like home. Whatever the magic aspect is, everyone feels welcome here, and the diners slowly enjoy their meal among their friends and family.
Chef-Partners Andy Ticer and Michael Hudman created this Italian classic-filled menu with their grandmothers' kitchens in mind (and the restaurant is named after each of their daughters). Hearty pastas, long-cooked meats, and celebrated southern dishes are the stars of the dinner menu, and I wanted to try them all.
Any great meal begins with a round of cocktails. I tried out the Chamomile Negroni, a refreshing take on the traditionally very boozy drink. It was indeed a bit lighter and more playful on the palate, and it even had a flower frozen into the ice cube!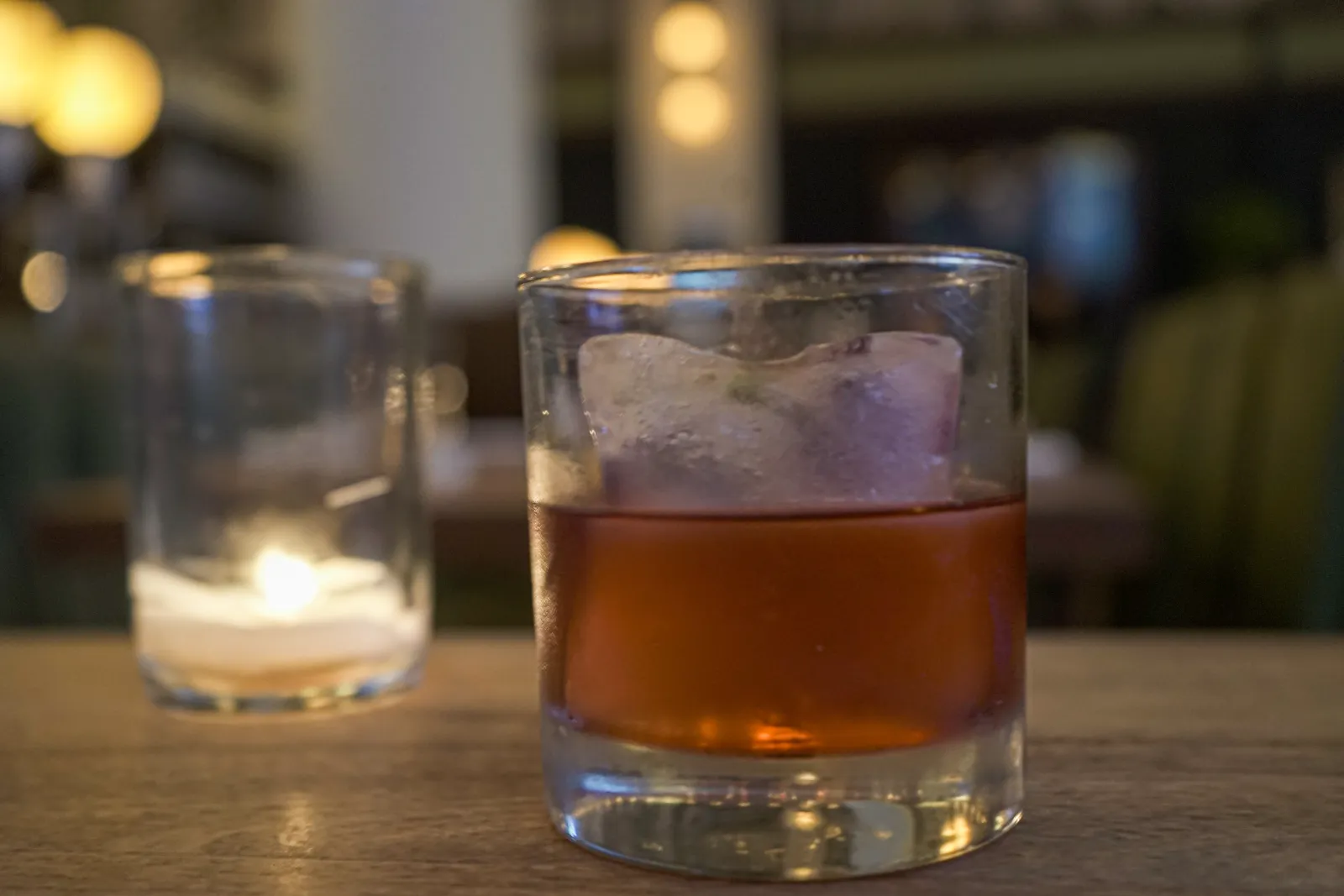 I'm a sucker for burrata cheese, and I started my meal by slicing into a perfect orb of fennel pollen-seasoned burrata drizzled in honey. It effortlessly slid across the crunchy, crispy focaccia bread. I used some of that focaccia in addition to the house-made crackers to pile the Antipasto selections to the sky. The options were fantastic! Peppery salami, fresh berries, some of the best blue cheese that I've ever had, and even some vegetables that I did not recognize but very much enjoyed. It was so much fun to mix and match and create new flavor combinations, kind of like being a kid again and developing your flavor palette. All of this intense and wide-ranging flavor was cleansed between bites with the fresh Romaine Salad made savory with radish, herbs, and a dusting of parmesan cheese.
A Coco Piazza cocktail was a lovely between-course palate-cleanser. This rhapsody in white drink included reposado tequila and coconut mixed to tropical perfection.
When I go to any Italian restaurant, my eyes go right to the pasta section on the menu because that's what I really crave. Pasta and wine! Josephine Estelle has so many to choose from that I could not have just one. I tried the Canestri, Bucatini, and Rigatoni. The Canestri is a simple and elegant cacio e pepe pasta: fresh pasta with a bit of olive oil and high-quality black pepper. This is a great option for someone who wants something a little lighter. The Rigatoni was rich and hearty with "maw maw's gravy" sticking to the long spaghetti noodles dusted with parmesan cheese. But the best of the three to me was the Bucatini: amatriciana sauce flavored with savory, smokey guanciale and spicy chili clung to the tortiglioni pasta and to my ribs. This dish was almost too rich to finish at the table.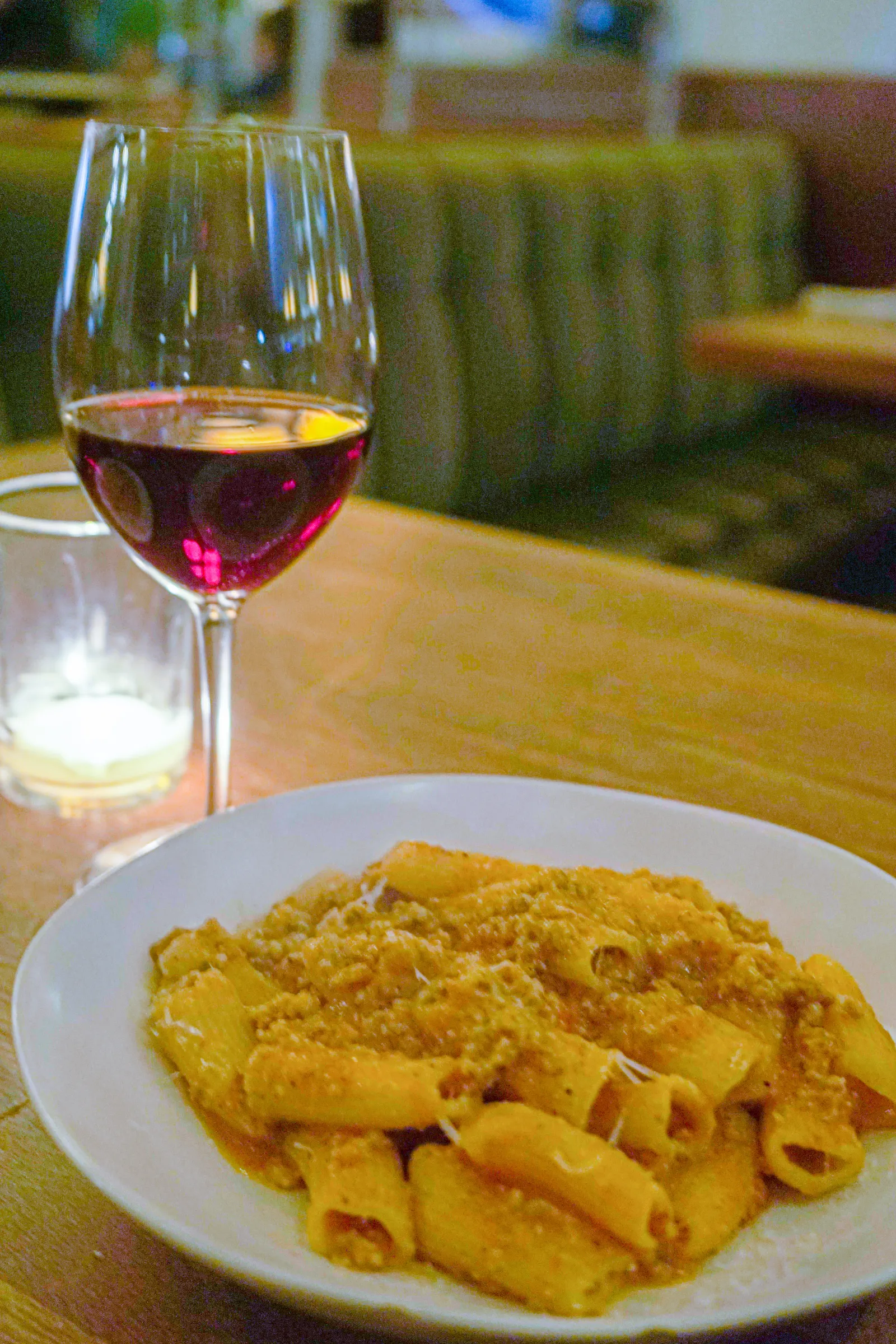 As lovely as the pastas are, you can't ignore the mouth-watering mains. My selection was the Soft Shell Crab fried whole and posing in a plate full of sauteed squash, zucchini, and corn. Even with a thick crust, this crab was oh so tender and melted on the tongue.
Just like grandma's house, you have to have some dessert before you go. And one just wasn't enough. I couldn't decide between the delicate mascarpone with three small scoops of Fior di Latte gelato sitting in a pool of juicy dark berries and the tangy cold lemon tart piled with crunchies and surrounded by fluffy crème fraiche.
Josephine Estelle is happy to have you for breakfast, lunch, dinner, and even brunch. And, just like grandma, they will not let you leave hungry.