TOP PICKS FOR SUNDAY, MAY 1
New Orleans Spiritualettes
11:10 a.m. | Gospel Tent
New Orleans Spiritualettes is the oldest continuous active female Gospel singing group in New Orleans. The Spiritualettes preserve the respected commandments of pure religious vocal harmony singing.
Hot 8 Brass Band
12:45 pm | Congo Square Stage
The Hot 8 Brass Band is a New Orleans band with a huge sound. Playing their brass and entertaining audiences with high-energy concerts, the Grammy-nominated Hot 8 Brass Band combines hip-hop, jazz, and funk in a way that only New Orleans can offer.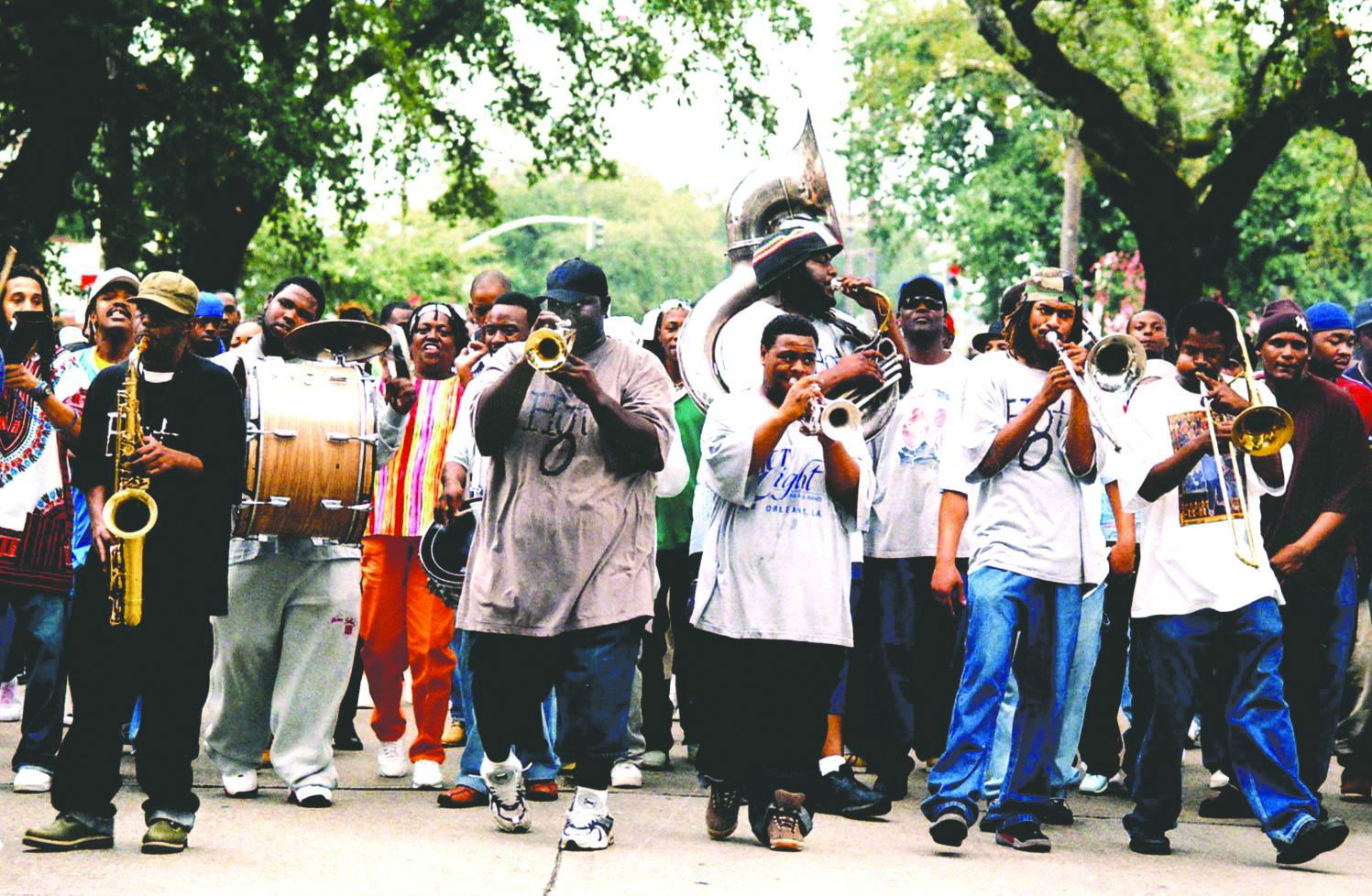 CJ Chenier & the Red Hot Louisiana Band
1:40 p.m. | Blues Tent
CJ Chenier, also known as "The Crown Prince of Zydeco," provides soulful vocals and accordion-driven Zydeco and Blues. CJ and the Red Hot Louisiana Band are ready to party with deep roots in Americana music. Chenier is a Grammy-nominated, world-renowned musician and recording artist.
George French & the New Orleans Storyville Jazz Band
1:45 p.m. | Economy Hall Tent Presented by Louisiana Travel
As George French and the New Orleans Storyville Jazz Band travel the world, they never forget to bless us with their fantastic work on stage in the great city of New Orleans. George French is a singing bassist with a vast and impressive background in New Orleans jazz and rhythm and blues.
Gal Holiday and the Honky Tonk Review
3:00 p.m. | Kids Tent
Called "The Punk Rock Patsy Cline," singer Vanessa Niemann, and the band bring a fun, energetic vibe to their rockabilly country music. Started in 2004, this band always delivers. Their show is a perfect time to practice your two-step.
Vivaz!
4:30 p.m. | Jazz and Heritage Stage
Vivaz! is a New Orleans band playing latin music that includes jazz, Brazilian, and Spanish with a distinctive New Orleans flair. A frequent Jazz Fest act, they offer lively music that's perfect for salsa dancing.
Leroy Jones & New Orleans' Finest
4:35 p.m. | Economy Hall Tent Presented by Louisiana Travel
Leroy Jones, also known to music lovers as the "keeper of the flame," is a legendary jazz trumpeter. He is one of the top musicians for traditional New Orleans jazz music produced in Crescent City. Come check them out.
Red Hot Chili Peppers
5:30 p.m. | Festival Stage
Expect to hear plenty of tributes for the late Foo Fighters drummer Taylor Hawkins. And while Foo Fighters fans are sure to be disappointed by their cancellation, the Red Hot Chili Peppers are more than adequate replacements.
The Avett Brothers
5:40 p.m. | Shell Gentilly Stage
The Avett Brothers are two brothers named Scott and Seth Avett joined by other band members to bring American folk-rock music to life. They have many amazing accomplishments, such as their five-song EP. Now, they travel on tour, playing music that's a fusion of bluegrass, folk, country, and pop, to name a few
Jose & Cecelia Fernandes
Limited Edition Photography , New Orleans, LA | Tent F
Cecelia and Jose are married, native New Orleanians who work out of their home studio in the 7th Ward. Their art explores the social, racial, and economic influences on people and culture.
Gina Castle
Batik on Silk, Slidell, LA | Tent G
Gina Castle does the unique work of Batik, which is an ancient Javanese art form of design on fabric. She uses her creativity as she applies hot wax to cloth and then dyes it.
Crawfish Monica ®
Big River Foods, New Orleans | Food Area 2
Big River Foods cooks delicious dishes with their protected recipes making them famous within the Jazz Fest. They have been doing the Jazz Fest for about 35 years as their food continues to make its mark. The creamy, satisfying signature Crawfish Monica dish is a regular on festival-goers list.