Interesting Characters from the Vieux Carré
Since her birth in 1718, the French Quarter has made her streets home to some of the most eccentric acts and personalities you've ever seen—from clowns to tarot card readers, buskers to chicken tamers—which help make it stand out amongst New Orleans' many neighborhoods.
As time marches on through the years, beloved characters have disappeared from the streets. We remember five exclusive French Quarter street figures of the last 25 years—the souls they were in life and the legacies they left behind.
Perry "Perri the Hobo" Rlickman
Perry David Rlickman (Perri the Hobo) was born in West Virginia in 1951 and gained notoriety for his arguably mischievous routines, such as keeping step with folks on cell phones and mimicking their conversations, removing his clown nose last-minute to plant a kiss on a picture-goers' cheeks, or using a loud referee whistle to disturb other performers' crowds. Rlickman ruffled some feathers with more offbeat antics, such as grabbing women's rear ends, nastily telling people off who didn't give him money, and casting crude comments towards passersby.
On March 22, 2003, at the age of 51, Rlickman was found unresponsive in the basement room in his Boston residence, in his classic clown attire. He was celebrated with a jazz funeral through all his stomping grounds in the Quarter, while a simultaneous tribute was coordinated in Harvard Square.
Jerik Danerson
Jerik Danerson spent 30-plus years in Jackson Square providing tarot card readings for tourists. He was once a young hitchhiking boxcar kid from Hollywood, California, who turned into a master palmist and tarot card reader.
As a boy, Danerson met an elder Wicca practitioner, "who reminded me of Merlin," in a California coffee shop. After a year-long apprenticeship, he went on to write a master's thesis and teach classes on palmistry at community colleges. He found his true calling in Jackson Square, as a well-respected Wiccan High Priest and pagan elder in the Wicca community.
Danerson prided himself on being genuine with others, distinguishing himself from "your average hustler'' by not annoyingly beckoning anyone to his table, never accepting money from those dissatisfied with their readings, and only providing advice to his clients from personal life experiences. As a widower father raising six girls, Danerson earned a reputation of assisting other "street kids" from dysfunctional homes as a parental figure they referred to as "Daddy Bear."
Jerik Danerson left us on March 14, 2009 and was buried in a pauper's grave. His legacy lives on in his daughters, especially Fox, who is a tarot reader herself.
Elliot "Grandpa Elliot" Small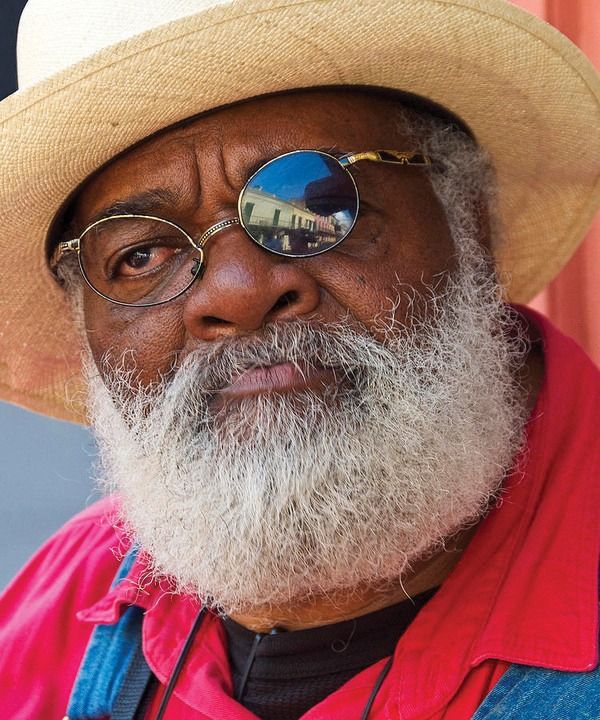 Grandpa Elliot Small was born on July 10, 1944 in New Orleans and raised in the Lafitte housing projects. Small's uncle gifted him a harmonica when he was young, which he'd go on to learn while performing on street corners with a Fred Astaire-style dance routine. Small moved with his mother at age seven to the Big Apple in hopes of performing on Broadway, but he returned to New Orleans when she was killed to live with relatives, who helped hone his talents.
Eventually, Small set up shop on Royal and Toulouse Streets, where he remained for the duration of his life entertaining French Quarter listeners. He donned an iconic straw farmer's hat, a long red shirt and overalls, a pair of glasses, minus one lens, and a harmonica. Small "learned how to trust [the music business] again," becoming the first artist to be signed to Playing for Change Records/Concord Music Group.
In his Grandpa Elliott (aka Uncle Remus) persona, Small delighted Quarter crowds until his passing on March 8, 2022 at the age of 77.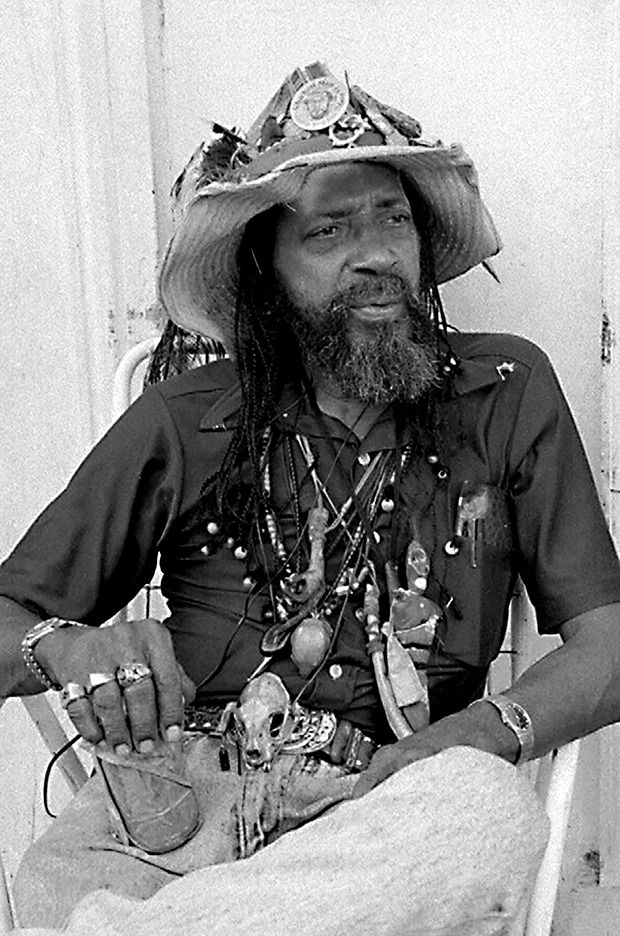 Fred "Chicken Man" Staten
Fred Staten, known as the Chicken Man, was born in 1937 in Haiti and moved to New Orleans in the 70s to start his own Voodoo temple and reinvent himself as "Prince Keeyama" or "The King of New Orleans Voodoo.''
Staten's macabre proclivities included eating fire, handling live snakes, and sticking thin needles into his throat. These acts proved mere child's play in comparison to his most shocking feat—hypnotizing a chicken, biting off its head, and drinking the blood through its neck. While some abhorred the sight, others saw a mystical answer to pressing matters of life, which he'd happily assist with old Voodoo practices from his grandparents of handing over a bag of "gris-gris" containing spiritual trinkets.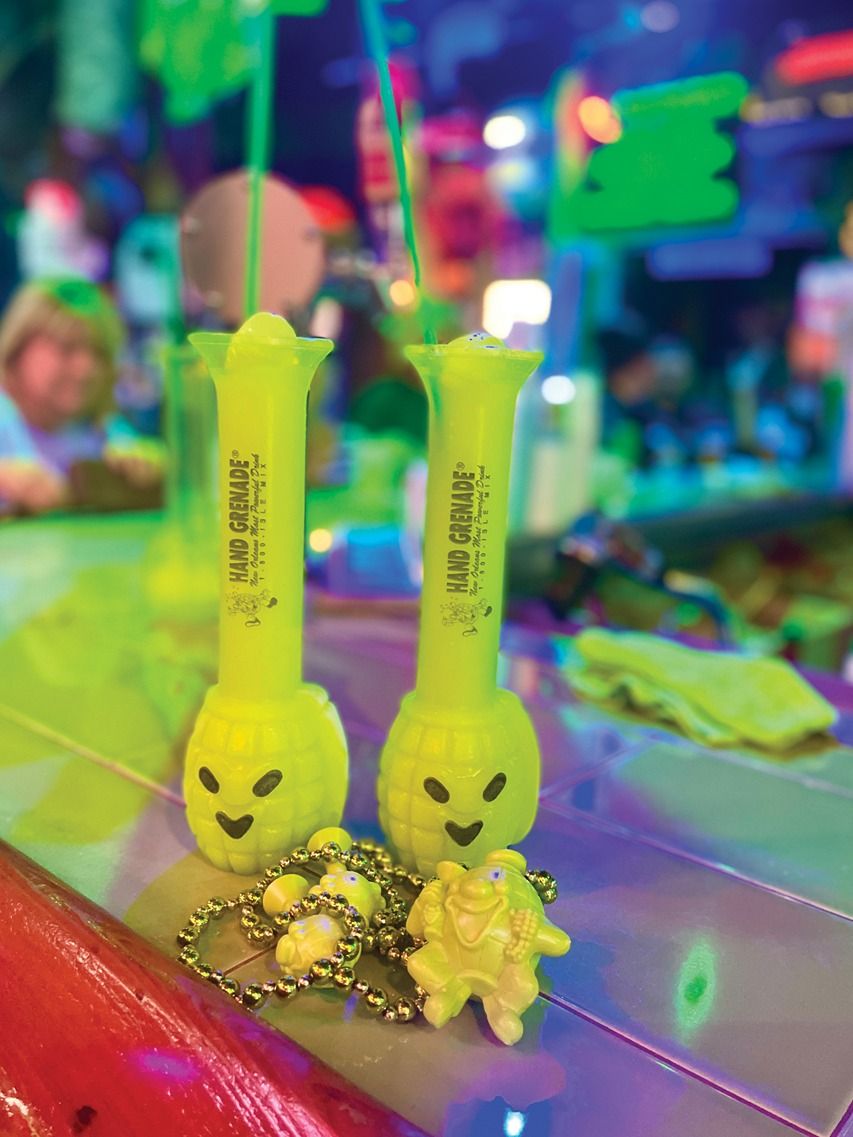 Fred Staten was honored with a jazz funeral, replete with horse-drawn hearse and second line through the French Quarter, when he passed away in December 1998.
Tropical Isle co-owner Earl Barnhardt—who attributed much of his bars' success to the voodoo blessings of Chicken Man—covered expenses for Staten's lavish send-off.
The "proper funeral" was so grand, it drew splashy coverage in the New York Times the next day.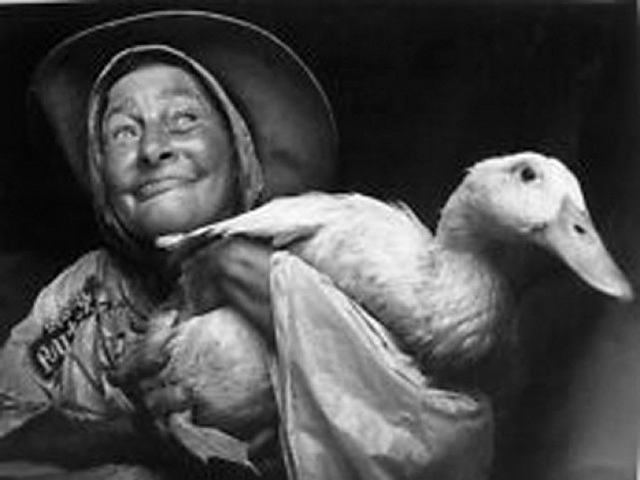 Ruthie "Ruthie the Duck Girl" Moulon
In the New Orleans' street scene, you don't always need to be a performer to put on a show. A worthy example of this was "Duck Girl," Ruth Grace Moulon.
Ruthie was born on January 19, 1934 and became a French Quarter staple notable for cruising from bar to bar adorned in eccentric furs and a wedding dress often on a pair of roller skates, carrying—or being followed—by a team of ducks.
Raising ducks as a child in her family's Royal Street apartment, she would charge people to take her picture with her cherished fowl.
The energy their procession brought to the streets for over almost 50 years was returned tenfold, demonstrated by folks who would buy her favorites: packs of Kool cigarettes ("for later") and Budweiser ("for the ducks"). Locals also took care of her as if she were part of their family.
Ruthie was moved into Our Lady of the Lake Hospital in Baton Rouge in 2005 to escape Hurricane Katrina, and stayed there until her death on September 6, 2008.
French Quarter Icons
We remember the performers our French Quarter has been graced with over the years.We appreciate their talent they bestowed on us and that makes us proud to call this city home.