Devil Moon BBQ is the latest addition to The CBD's roster of lunchtime and early evening restaurants. Sitting on the corner of Loyola and Girod, customers walk in lured by the scent of smoked meats wafting through the air outside.
Devil Moon BBQ may be surrounded by high-rise buildings and busy streets, but the interior is made to look like any barbecue joint in a smaller town with wood paneling along the walls, an open-kitchen where you can watch your meat being sliced, and even family photos to look at while you eat. You will be snapped back into The CBD when you people watch through the floor-to-ceiling windows along Loyola Avenue.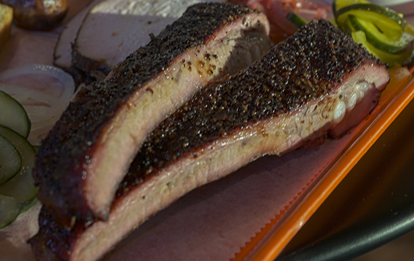 The smokin' kitchen is helmed by the seasoned chef Shannon Bingham known for his work at Blue Oak BBQ and Emmylou's. Saunter up to the counter where you place your order for various smoked meats, snacks, sides, and a daily gumbo. The menu is straight-forward, focusing on barbecue joint regular items with a heavy dose of Cajun and Creole influence.
My plate was a beautiful bevy of meats that glistened in the sunlight streaming through the giant windows. I couldn't wait to try out some boudin which is not the average barbecue staple, at least outside of Louisiana. I made the rookie mistake of trying to cut through it. This boudin is so tender that it crumbled delightfully. The links have a very slow heat that you can really only feel when you're done chewing which is a style that carries through the other meats I tasted.
Getting into the real deal bbq, I headed for the ribs that were just about the slide off the bone. What I liked about the ribs is that the flavor doesn't go too hard in any direction: not too spicy, not too smokey. Because the ribs weren't overpowering, they were a perfect palette to customize the flavor using the three house-made sauces.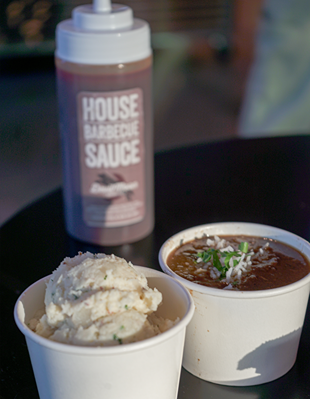 The House Sauce has deep, rich smoke flavor, while the thinner Vinegar Sauce is tangy with heat just on the sides of the tongue. I was happy to alternate bites using both sauces. But as I ate, that deep heat grew and grew slowly. When one rib was completely done, I had to take a moment to let my mouth chill using the pickles on the plate in order to continue on. I found that the sweeter Bread and Butter Pickles were best for the job; the Dill Pickles were particularly salty and exciting.
That steaming cup of gumbo was so enticing, so I grabbed a spoon to dig in just as the spice settled down. It was a Cajun-style gumbo with a deep, dark roux with smokey tones. Not so surprising at this point was that signature slow heat build that got surprisingly hot about half way in.
The best way to cool this off was a big spoonful of potato salad. Admittedly, I'm not the biggest dan of potato salad normally, but I really enjoyed this one because it had a creamier consistency than most. It was almost like mashed potatoes but with a hint of acidic flavor that made it brighter on the palette.
The final meat on the plate, but certainly not the least meat, was juicy turkey breast. This meat is a real winner for being overall well-seasoned, but not too extreme in any direction. There's subtle smokiness and a very low, but not absent spice. These cuts are perfect with a hefty drizzle of the Mustard Barbecue Sauce.
Devil Moon BBQ is a perfect pre-Pelicans game spot to grab a bite. Soon enough, it will also be a great place to grab a beer as the adjoining Brewery Saint X is slated open in spring of this year.