With just under one million citizens, Charlotte would seem like a big, busy, bustling city. Driving into the Westover Hills neighborhood just alongside the Uptown area, it doesn't feel like the 15th most populous city in the U.S. at all. With new smooth roads lined with gorgeous trees, brand new businesses, plentiful parking everywhere, very friendly people, and pristine streets and sidewalks, you'd think that you were in Small Town, USA. Charlotte prides itself on its southern hospitality, and that easy-going attitude works its way into the visitors allowing them to truly unwind and relax.
My quaint host neighborhood was so close to Uptown that I could see every bit of the skyline from my doorstep, but it was so quiet at night that all I could hear from outside were crickets. On my first full day, I drove through rolling hills and tree-shaded avenues to my first official stop.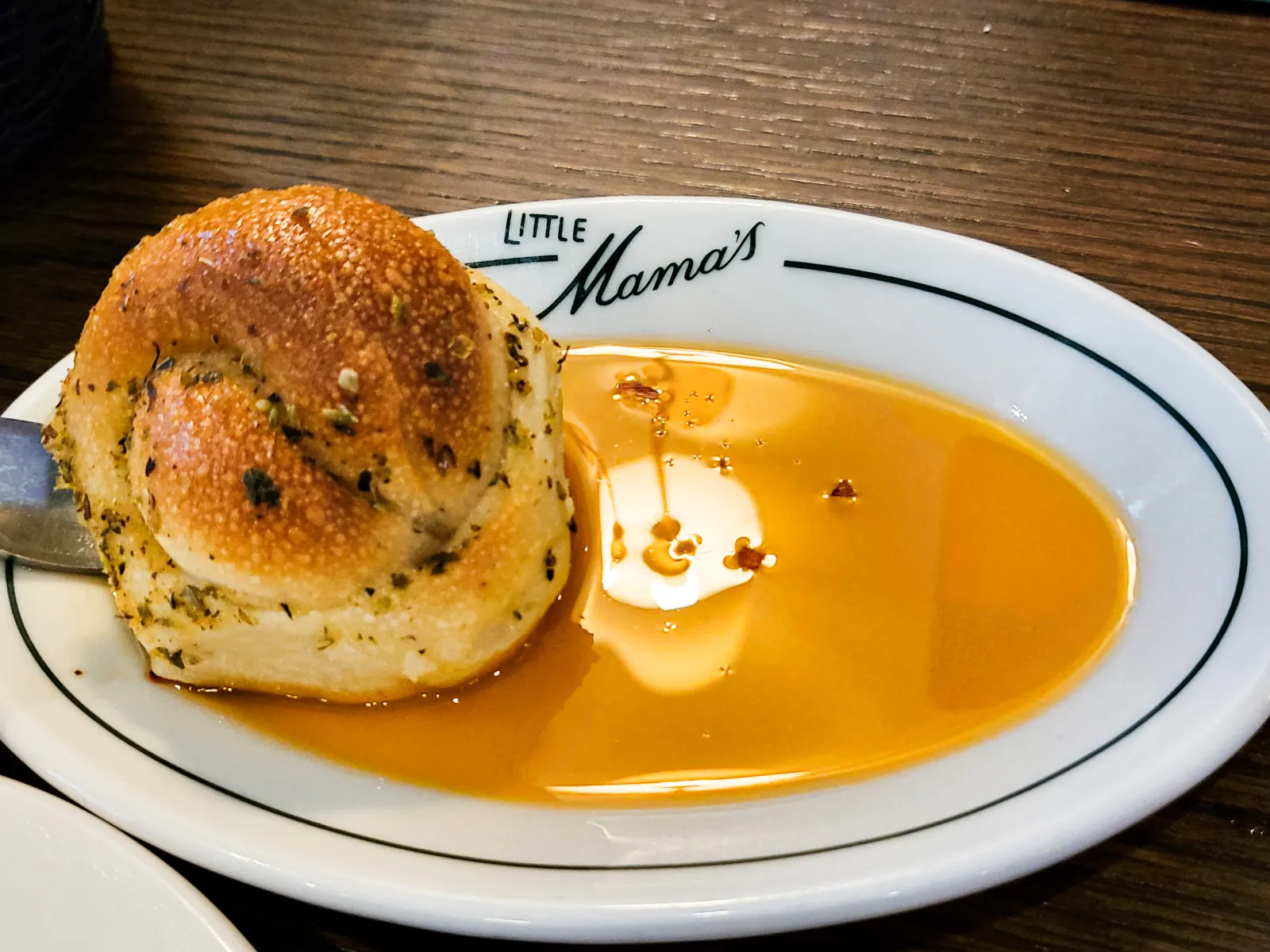 Little Mama's Italian.
You feel just like family here; the waitstaff is so nice and happy to serve. I was very intrigued by the emphasis on mozzarella cheese on the menu, so I had the Mozzarella Presentation with the addition of tomatoes and basil and artichoke hearts. The gooey orb of oily mozzarella was sliced through in a very satisfying manner and topped with the reddest tomato slices I've ever seen. It was so fresh and simple but incredibly filling. I also ordered the Goat Cheese & Mascarpone Dip that was surrounded with large pieces of crunchy seasoned toast. Not to be outdone, I was tempted to try a housemade pasta. My entrée of Penne Alla Vodka came with radiatore pasta instead.
The cute radiator-shaped pastas were so chewy, and they held the sauce in their little coils perfectly. I should have taken that "Serious Portions" warning on the menu seriously, but I did take home lots of food that I enjoyed the next day.
Museum Hopping in Uptown
I headed downtown to walk around and gaze at the gorgeous soaring buildings that glittered in the sun. I stopped at the Bechtler Museum of Modern Art which features a massive ceiling hovering over the plaza on the corner. The museum's four floors featured very different styles. Pop art in vibrant neon hues welcomes visitors at the very top. Andy Warhol's works are plentiful here including portraits of some of the Bechtler family; the namesake art patrons of the museum. I really liked the pieces on the third floor. Swiss sculptor Jean Tinguely was beloved by the Bechtler Family, and they commissioned him to make custom pieces. His strange mechanized creations sat in the middle of the floor and looked like they would fall to pieces at any second. You can watch them come to life through videos that you can access via QR code, but I would have loved to see them turned on.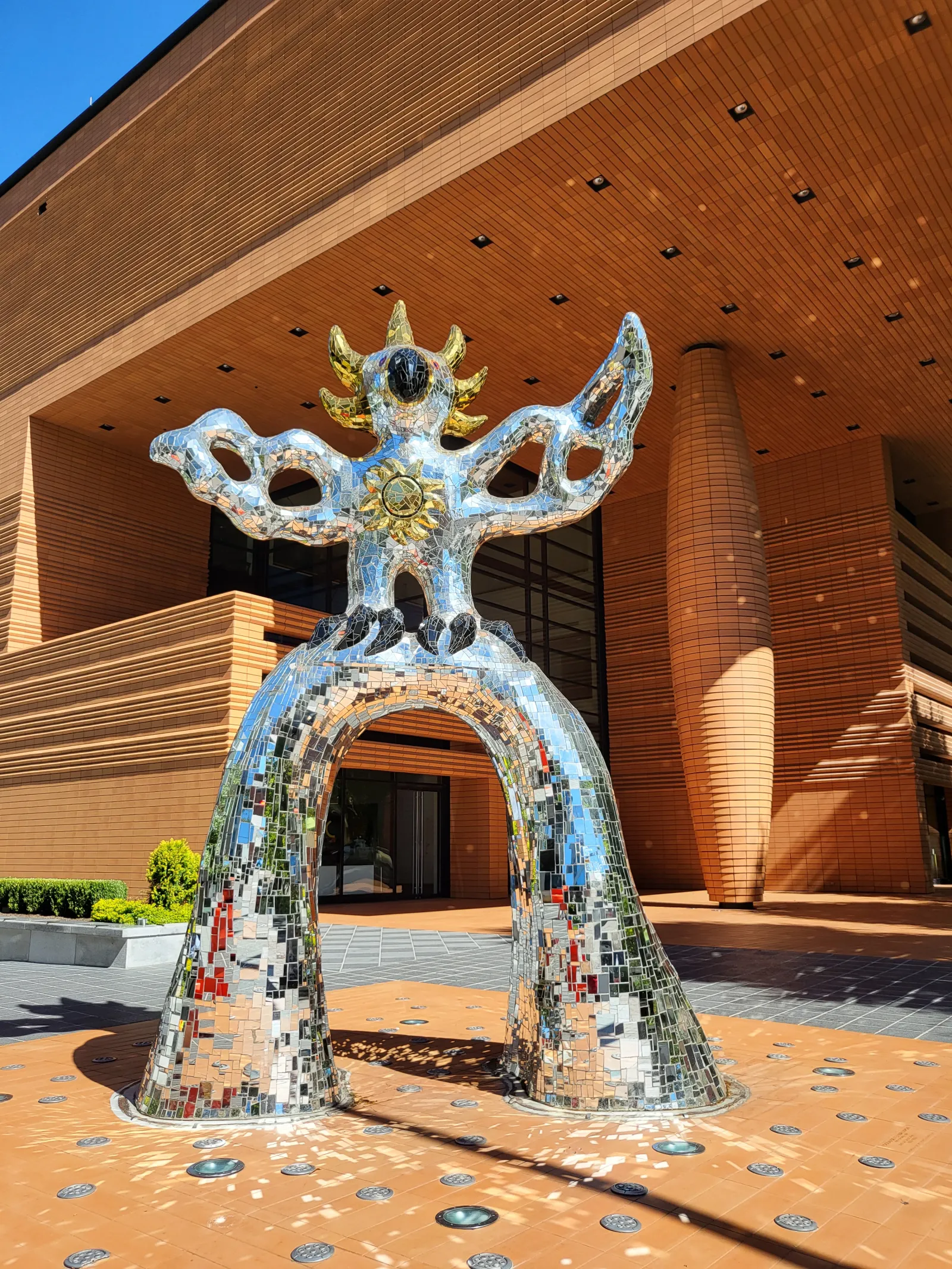 Just across the side street from the Bechtler Museum is the Mint Museum Uptown. I happened in thinking I would just take a quick walk through to see the art, but that wasn't what happened. This museum seemingly never ends! You could easily spend a few hours inside visiting all of the rooms. If you're interested in visiting, you'll want to plan for extra time here. Starting with impressionistic paintings of serene natural views in American Made: Paintings and Sculpture from the DeMell Jacobson Collection and traveling through time to visit Arts of Africa and Art of the Ancient Americas, I felt like I was getting an unprecedented art education.
The Craft + Design area was interesting for its immersive qualities. The rooms were separated by artistic medium (glass, wood, clay…) and you are invited to touch and feel certain things to deepen your experience. The glass exhibit was particularly fascinating to me as the hard substance had been melted and shaped to look like water or trees. The Mint Museum Uptown has the distinction of presenting a Pablo Picasso exhibition beginning in February 2023.
The next stop on my walk led me to the NASCAR Hall of Fame which was hosting the fourth annual Over the Edge fundraiser this day. People rappelled off the side of the neighboring Embassy Suites Hotel in order to raise funds for The NASCAR Hall of Fame Foundation which provides economically-disadvantaged students with learning opportunities. I watched as the brave citizens scaled down the building while I watched from the comfort of the plaza with a complimentary warm cookie.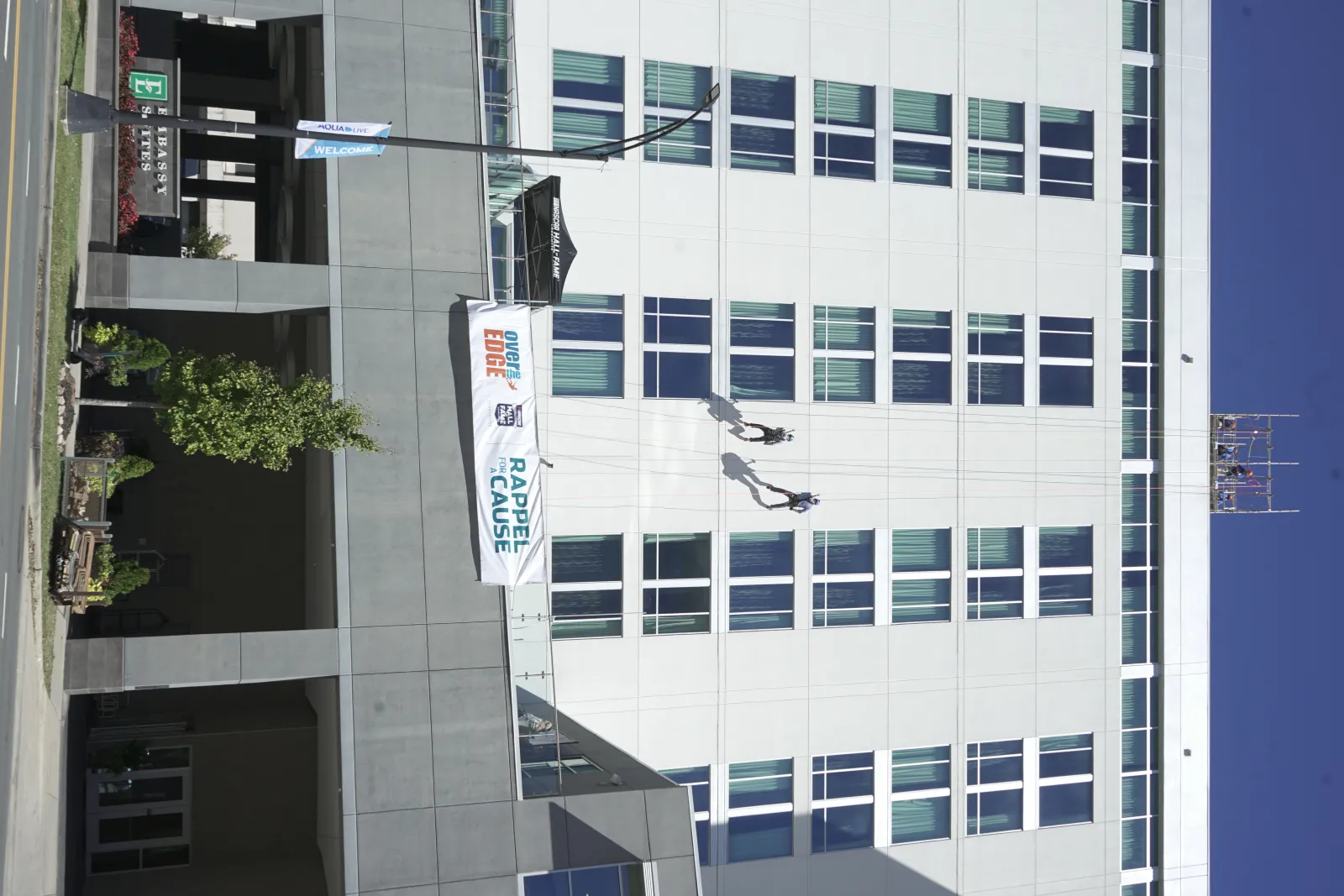 After enjoying the festivities, I went inside to the museum which was bustling with racing fans. Upon entry, everyone is given a "hard card" which you register in order to create a virtual scrapbook throughout your visit that you can view when you get back home. Then you enter into the High Octane Theater where you are given the thorough and thrilling history of NASCAR. I knew that NASCAR started from moonshiners who were trying to outrun the feds during Prohibition, but it was fascinating to see that very early footage of the races and then seeing how those field and beach races turned into the humongous industry that it is now. After the film, you can walk up a track lined with famous vehicles where you can experience a 33 degree angle that the cars drive on. It's more difficult to stand on it than you think! What I thought was really cool was a machine that allows people in wheelchairs to experience the 33 degree angle by tilting the entire wheelchair safely.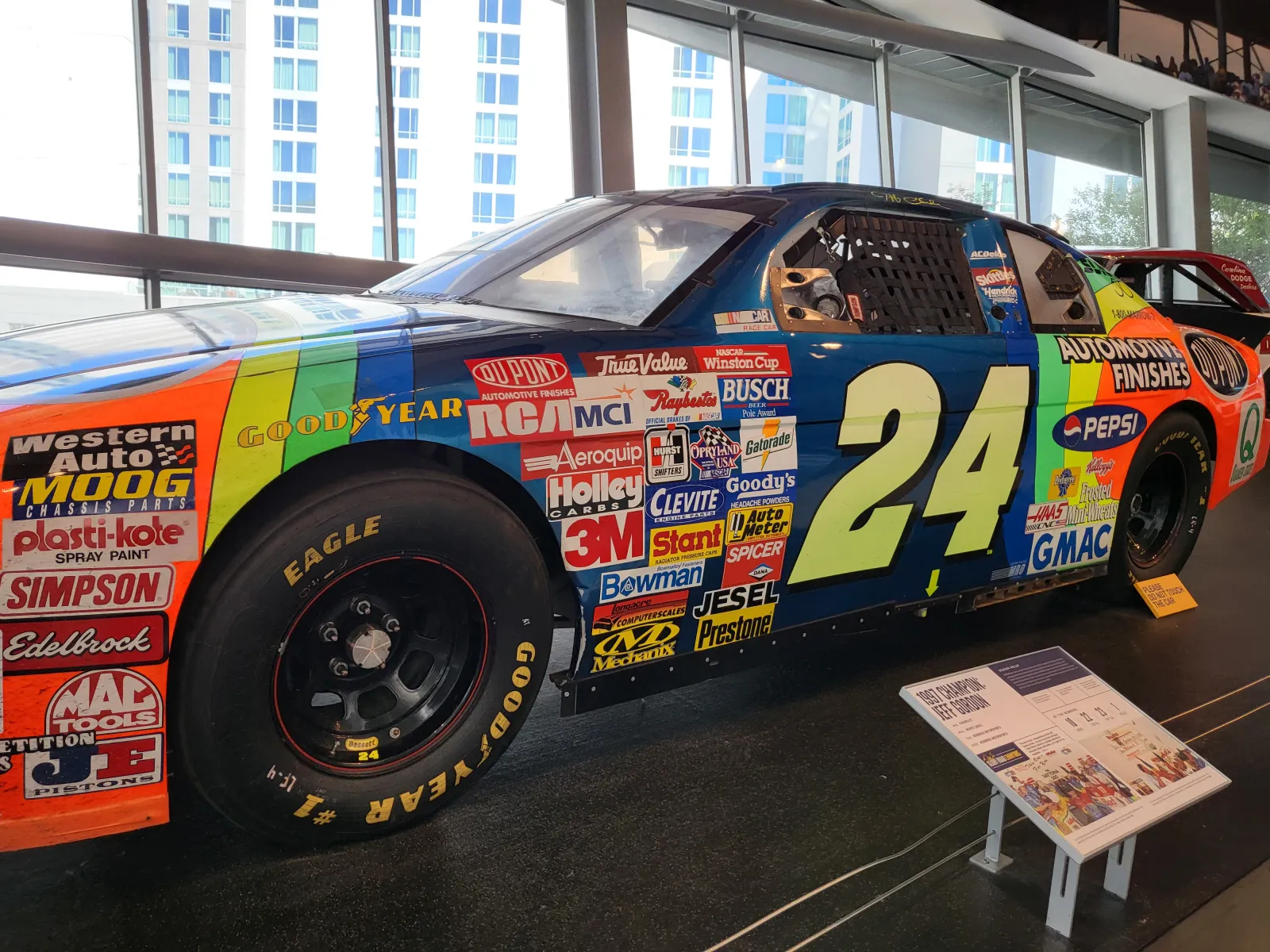 I was surprised at how thorough the museum is in documenting history as well as teaching people about the sport. There's the Hall of Fame where every single winner is given equal homage. You can pick up a listening device on their plaque to hear their story. You can opt to do the race simulator and the pit crew simulators. There are even sections where you learn about everything that goes into the cars: engine parts, car exteriors, gas mixtures, and paint colors. You can even get a close-up look at Junior Johnson's moonshine distillery. I believe that even someone without a license to drive can enjoy this fact-filled museum.
Brews and Views
The pour-over game is strong in Charlotte. My first coffee stop was Backdrop Coffee. This gorgeous coffee shop was flooded with sunlight and smelled so fresh thanks to the in-house roasting operation and the abundance of plants. My pour-over coffee was served in a big carafe; I had hot coffee for quite a while! The everything bagel came already slathered with cream cheese and was toasted just right. The caffeine assistance helped me discover the establishments that I would be visiting later that night.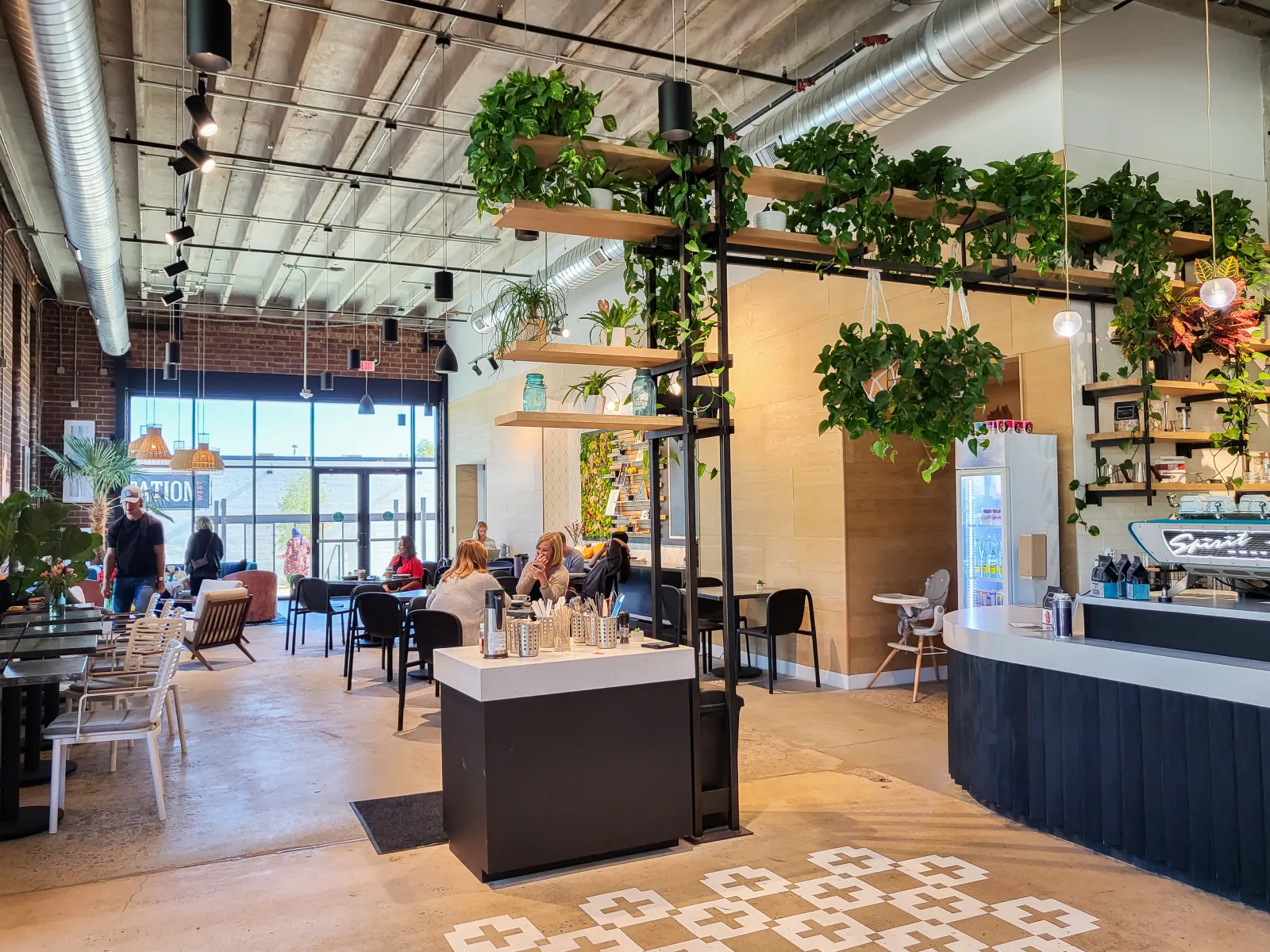 When I'm in any city new to me, I like to visit any nostalgic, strange business I can find. In Charlotte, that was VisArt. Since 1982, VisArt Video has rented out films to the citizens of Charlotte. They still have a massive collections of VHS and DVD, about 30,000 titles. In 2018, the video store transformed into a non-profit in order to better provide Charlotte Mecklenburg Schools and other organization access to films. Beyond that, VisArt holds regular live screenings in their own small theater in the back of the store.
Charlotte is very proud of its world-class brewery scene, and anyone of imbibing age can purchase the Charlotte Brew Badge in order to more fully experience what select area breweries have to offer. I had the 3-Day Brew Badge (but there is a 1-Day Brew Badge available), and it allows the beer-lover to get a $10 voucher at some great breweries.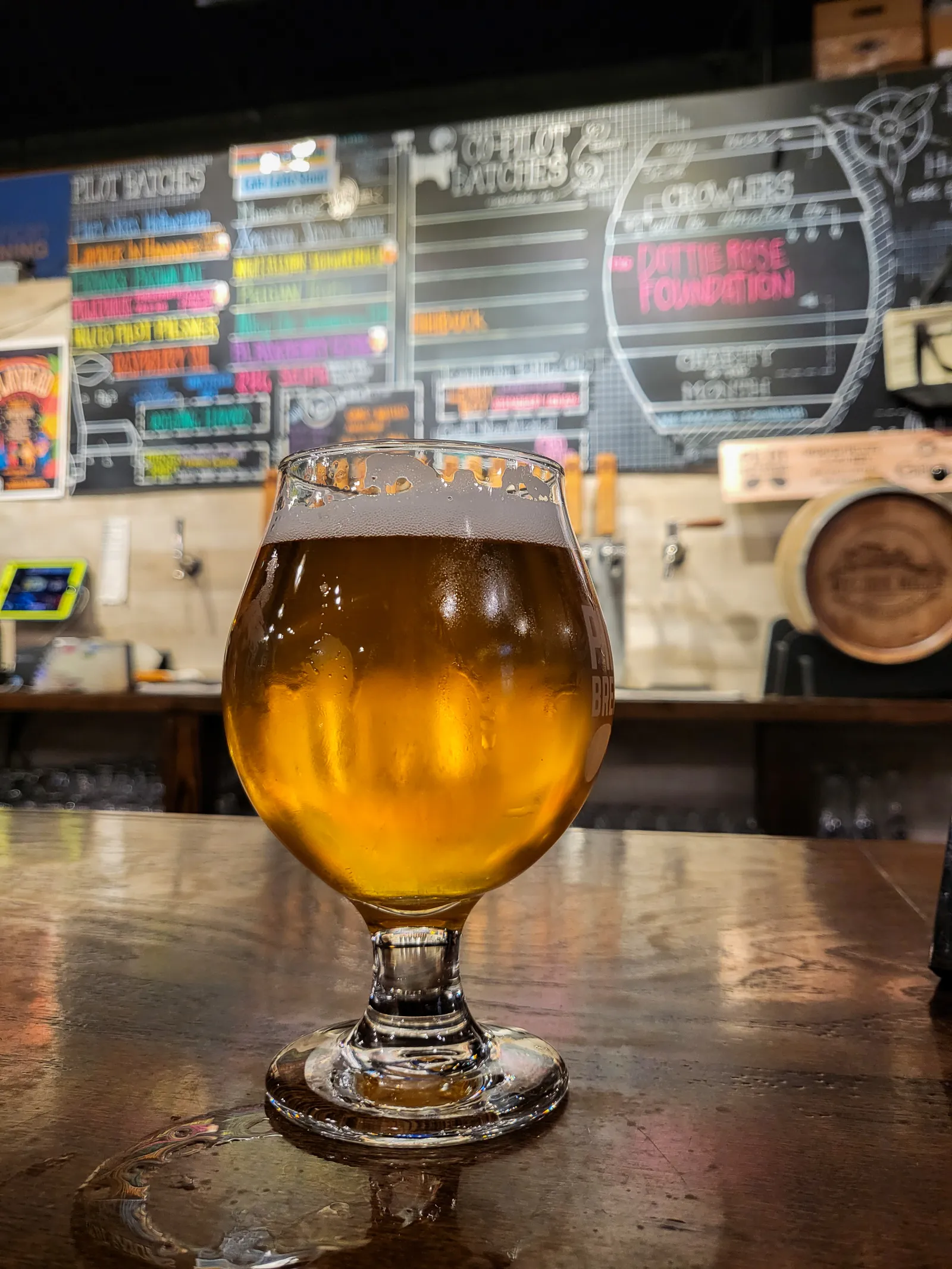 Just a short drive away was the first brewery I'd visit here: Pilot Brewing. Pilot Brewing is so named because Head Brewer/Co-Owner Rachel Hudson focuses on making small batch beer with a 3-barrel Pilot system. I tried out two of the night's selections. The Belgian Tripel clocks in at a high 8.9% ABV, but it was very balanced with a strong Belgian bitterness. The Raspberry Sol Belgian white ale has a lovely, but not overwhelming raspberry flavor to it. I found out later that this particular beer was made to benefit the non-profit Sol Nation which organizers translators to help people understand climate change in their communities.
The Royal Tot Tiki Bar was my last stop of this night, and it was the perfect time to go. Winding down, quiet, and the friendly bartenders had enough time to interact with the patrons and explain the complexity of the tiki drinks. This bar is gorgeous; soft pink walls are lined with dark green palm leaves and punctuated with gold fixtures. The tiki drinks here are stunning visually; they have amazing glassware that you can't help take pictures with. Though the choice was exceedingly difficult, I ordered the Manhattan Island served in a big tiki mug that looks like writer Ernest Hemingway. I think that he would love the Rittenhouse Rye-based cocktail with tiki vermouth, pineapple juice, Angostura Bitters, and a dusting of cinnamon that also sprinkled his cheeks and nose.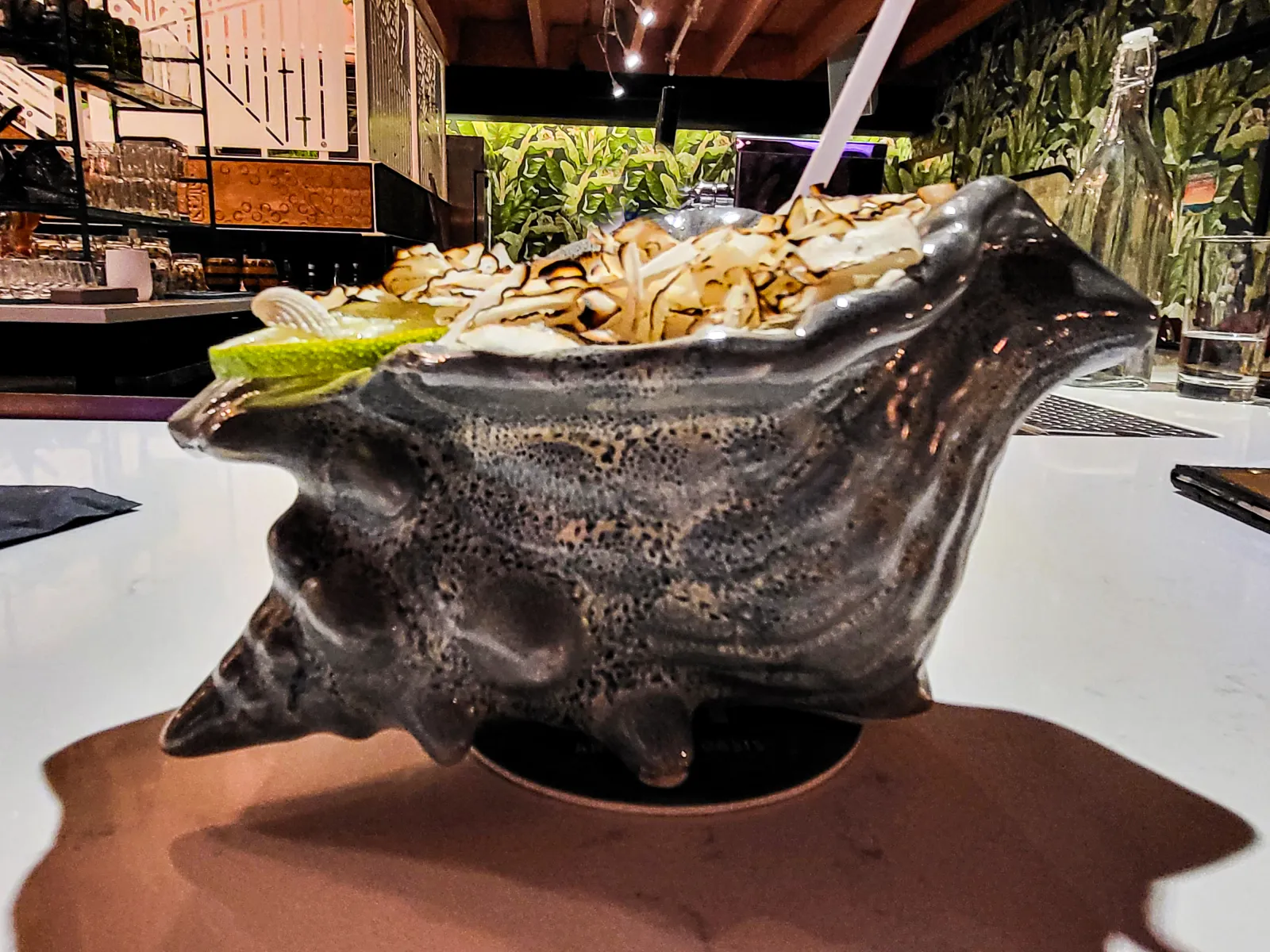 The food menu isn't extensive, but it is enticing. I tried Spam for the first time which was served lightly sauteed and on rice wrapped with nori. It came with soy sauce for dipping, but my bartender said that I should really try it with the ponzu sauce. That citrusy twist made it absolutely perfect! Unable to leave without just one more drink, I had the Sally Sells Seashells served in a gorgeous conch shell-shaped mug. It was absolutely piled with toasted coconut that could have been eaten with a spoon, and underneath was a drink made with Lunazul Smoked Tequila, pineapple juice, cinnamon, hibiscus tea, and lime. This place makes you want to have a date night, even if you're stubbornly single.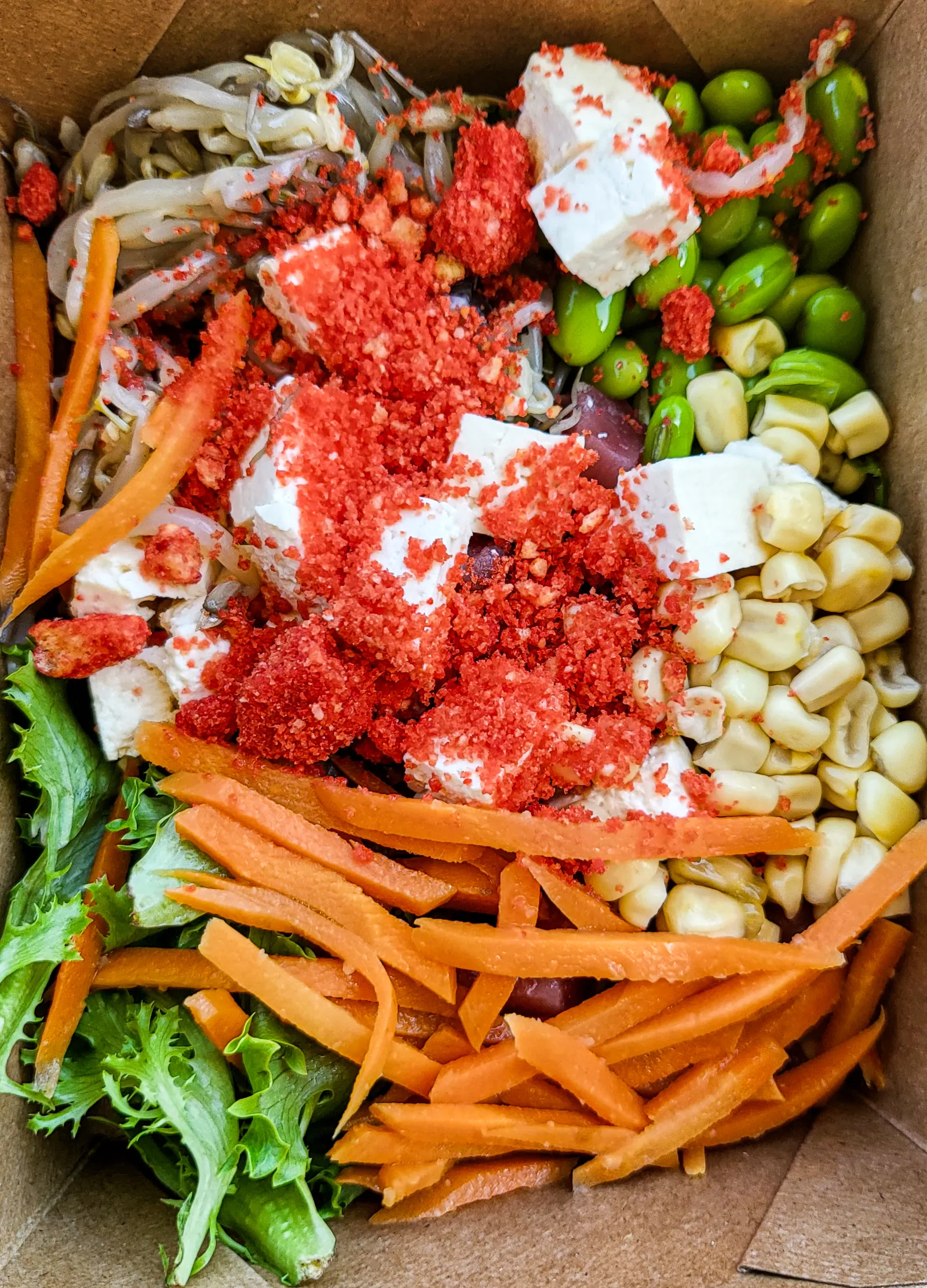 The next day, I felt like eating a nice, fresh lunch. I found Seoul Poke Bowl, and I made a custom bowl. When looking at the options, I saw something I had never seen before. What sets Seoul Poke Bowl apart from the rest is the Hot Cheetos option. I may never have poke without crushed Cheetos of any flavor now. The crunch and tang was an awesome addition to my tuna and tofu.
Full of Cheeto-powdered poke, I traveled out to the Charlotte Museum of History to get a better sense of how Charlotte formed into what it is today. The exhibits ranged from the earliest known history of the indigenous people to early 1900s. Catawba pottery that is from the current day was on display to highlight how the members of the Catawba Nation are still practicing pottery making today. The museum also explained what Revolutionary War battles took place in the area, and how the museum is working to save the Siloam School, a 1920 African American schoolhouse placed on the National Register of Historic Places in need of restoration.
I loved the large diorama that showed you how Charlotte looked in 1775, and how those early streets laid the framework of the growing city. There were 6 taverns in the town at the time but very little permanent residents. Other exhibits included iconic signs from shuttered businesses and a children's area that had small replicas of the Rock House, a typical person's house in the settlement, and a Native American house.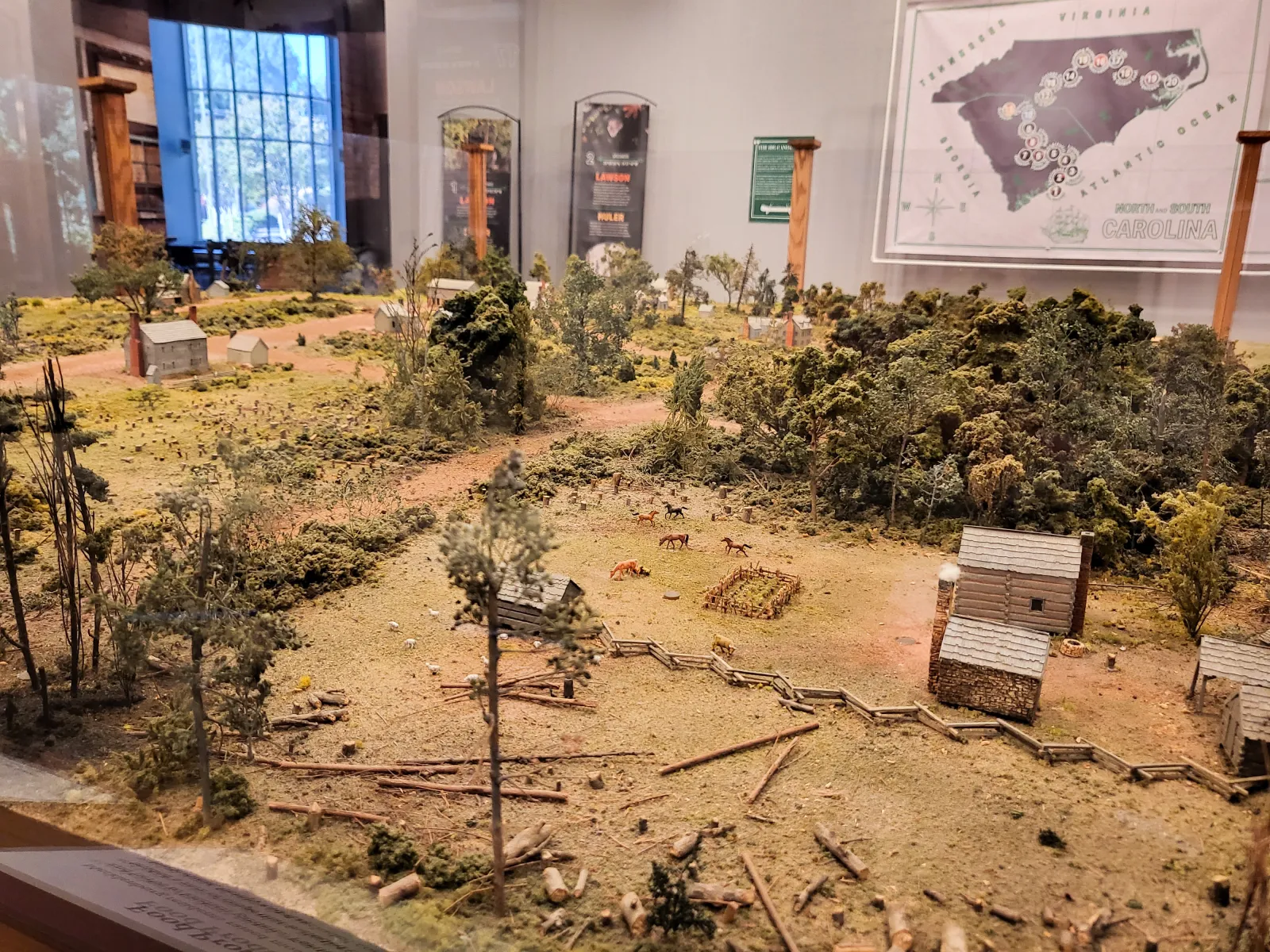 The museum sits in front of the Alexander Rock House; exit the museum and walk through a gorgeous forest path to find The Alexander Rock House sitting high on a hill. The house was built in 1774 by planter and North Carolina revolutionary Hezekiah Alexander for his family of 12. The home erected of quarried stone still stands because the walls are 2-feet wide at their thickest. Though it did undergo a renovation, the house is not open for tours for safety sake.
Southbound Restaurant piqued my interest for dinner because locals musicians Isaac & Adele were performing on the patio, and the weather was perfect for dinner al fresco. Southbound is a big restaurant with an even bigger patio that had plenty of people and a few dogs for a weekday night. There's also a large Music Yard with loungey chairs and games like cornhole. In between taking sips of my Southbound Margarita, I had bites of fresh chips dipped in the best not-too-spicy salsa I've ever had. My entrée came off of the appetizer menu because it sounded irresistible. The So-Cal Skillet Dip with black beans, charred corn, cream cheese, Chihuahua cheese, and cilantro was hot and gooey but not so thick that it broke the blue corn chips which were actually fluffy and mildly crisp.
White Water and Racing Hearts
Requiring a morning jolt, I ventured out for more coffee. The popular coffee spot Night Swim Coffee was so swanky. Quiet, loungey, and you can see right into the pristine, modern roastery. I had the pour-over with a bagel. But the real standout was the cream cheese. It was the absolute freshest chive cream cheese I've ever tasted. I feel like I'll be hard pressed to find something like it again.
Ever since I heard about the Whitewater Center, I anticipated exploring it. I've never heard of man-made rapids much less an entire complex with man-made rapids, hiking, rock climbing, and ziplining. The massive complex is centered around the lake that flows into several fast-flowing rapid courses. This is not like a lazy river; it may be the opposite. You may be wondering how one goes through the rapids and gets back to the beginning to try again. There is a kayak/canoe conveyor belt to get you back into the lake. You don't even have to exit your vessel.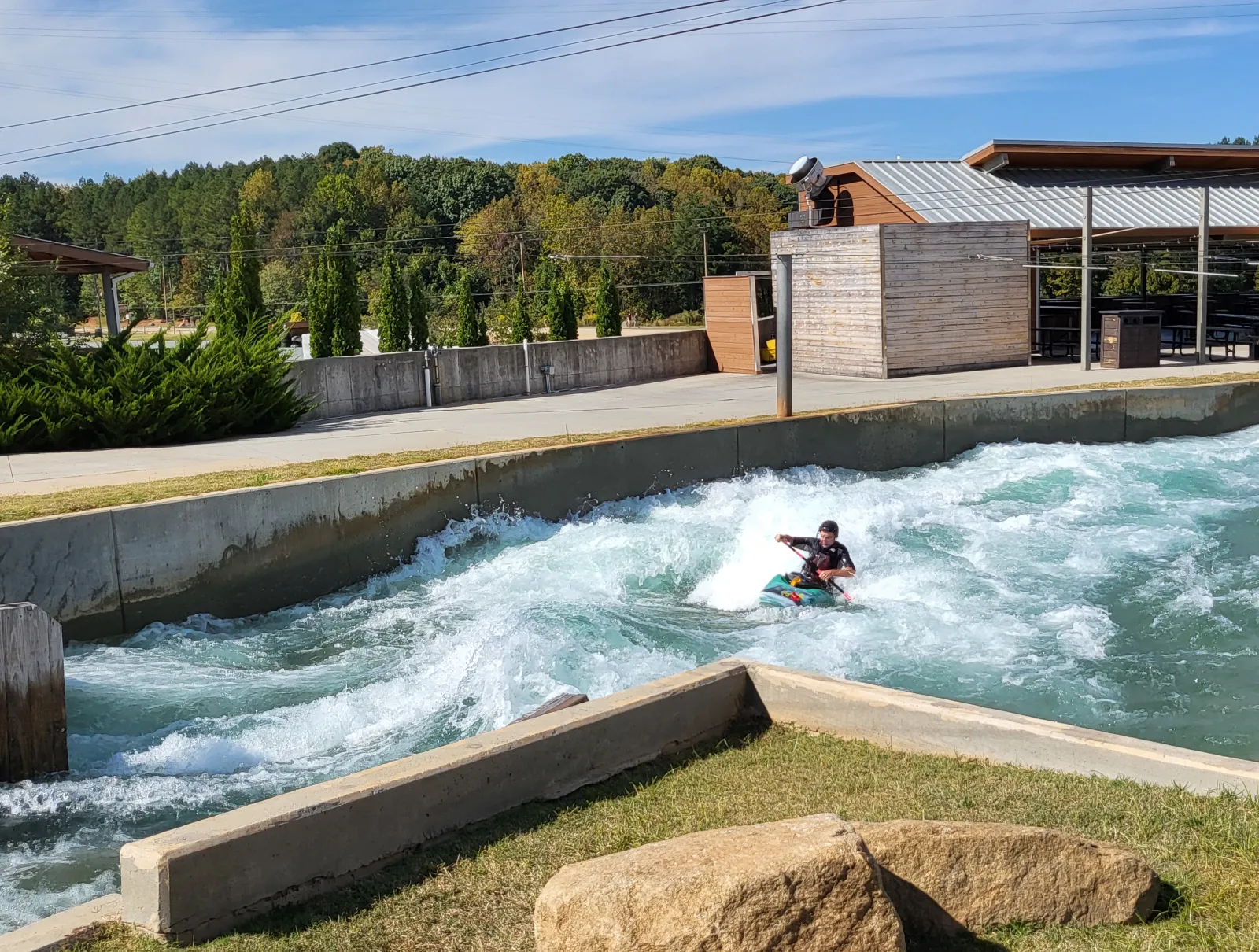 I headed for the ziplines and geared up. There are different courses, and I chose the Double Down course which takes you high over the sprawling lake and waterways. After walking up a very tall tower (I was definitely out of breath when I got to the top), you are hooked up and fly over the water. Sure it's a stunning view, but I was more focused on my racing heart seeing the kayakers look like ants below me. After that extreme rush, I was hooked to a second line takes you over the rapids so close you think you might get wet. After landing safely, I noticed that there are some bars on the property that serve local beer to those who need a calm moment after their activity. But I decided to drive back to town and do a brewery crawl of my own.
Beer Trails
N.O.D.A. Brewing Company had just reopened the OG taproom in the hip N.O.D.A. neighborhood. They had some really innovative brews, so I had to have a flight of four. Of the Lacto Calrissian sour, Hop Drop 'N Roll IPA, Drop Dead Gordgeous pumpkin IPA, and the Radio Haze hazy IPA, the Lacto Calrissian was just mind-blowing (or taste bud-blowing)! This is a complex beer: a Belgian golden ale is re-fermented with souring bacteria and Brettanomyces strains for a year. It's easy to see why they have several locations in Charlotte, but don't be disappointed if they don't have the very special beers I've mentioned on tap when you visit. NoDa is all about experimentation and small batches.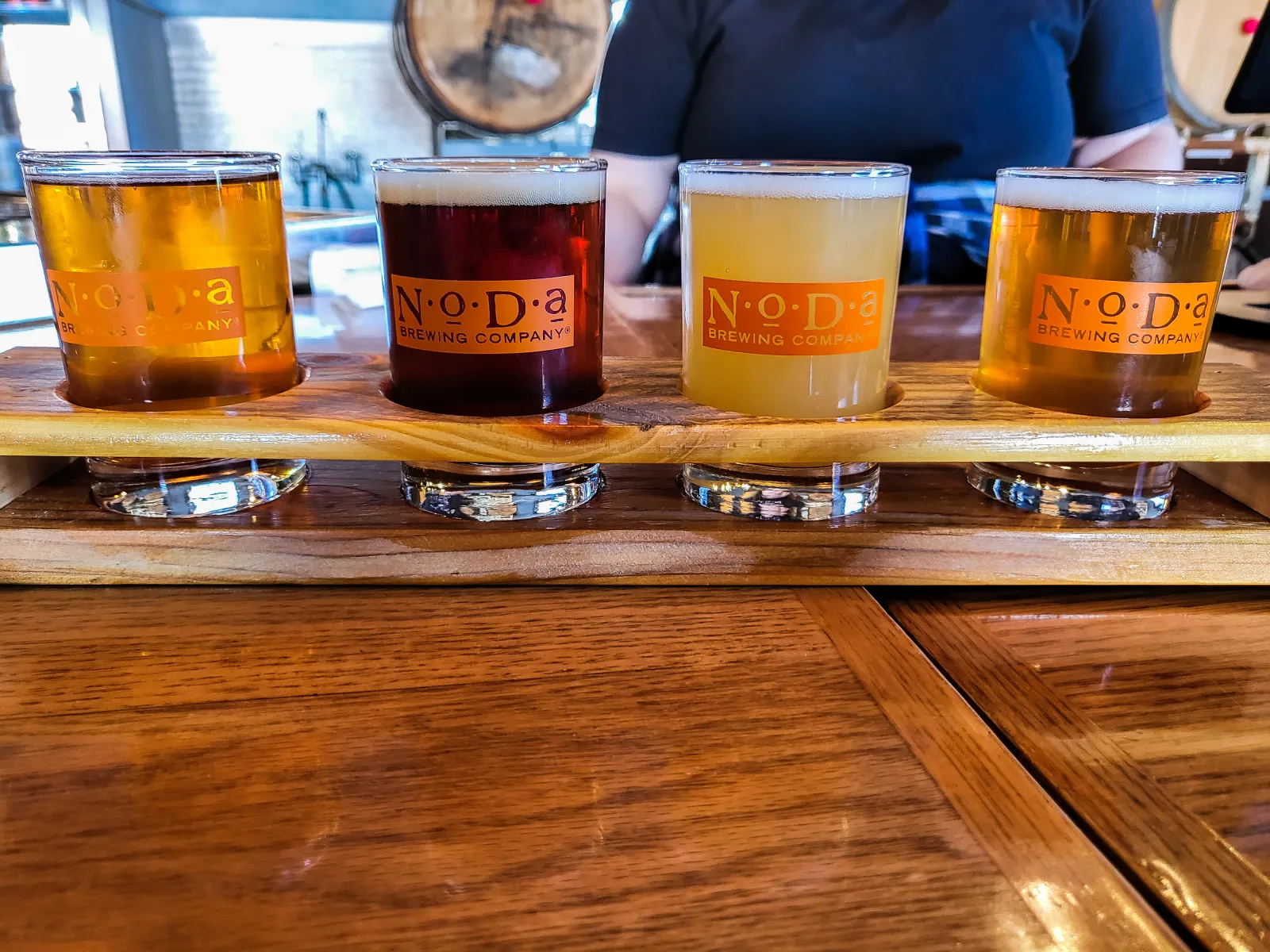 Just a walk across the street brought me to Free Range Brewing which had it's big garage door open to the cool afternoon air. Free Range is all about community, and they boast that their beers average 95% locally-sourced ingredients. In fact, the percentage of how locally-sourced each beer is is listed on the menu. For example, I had the I Like It When You Don't Talk About It Carolina Double IPA which was 92% locally-sourced. The My Heart And Soul Carolina Fruity Farmhouse Ale was 99%.
I thought I had seen a food hall before, but Optimist Hall was so much more than I expected. Optimist Hall was bursting with people and bustling with activity. There was so much to try and smell and see; it could be a little disorienting if you don't take a moment to orient yourself. I hopped in line for Mushroom Pizza at Ava Pizza which was perfectly wood-fired. But it took me a while to settle on that. It was tough to choose between ramen at Bao And Broth, a wrap at Mezeh Mediterranean Grill, or tacos at Velvet Taco. I intended to get some sweet stuff at Honeysuckle Gelato, but I was just too full, and I wasn't done the brewery crawl just yet.
The last leg of my crawl required a drive out of town to Mount Holly. Once I arrived in the quaint main street area, Traust Brewing was easy to find. A towering skeleton stood outside to celebrate Halloween and beckoned me in. Traust Brewing specializes in Nordic-style beers, and I wanted to try to most unique brew to me. I cannot pronounce it, but I ordered the Oblygatorij Gord, an herbaceous beer that tasted even better as the cool night air set in and the landscape darkened.
Charlotte is certainly one of the most beautiful cities I've seen. The Queen City is happy to welcome any visitor who is curious to see what it has to offer.