When it comes to life in the Big Easy, it's a fact that we love our cocktails. Just about everyone has some sort of bar inside of their home. Whether it's a bar cart, mini bar, or a full-service bar, our love for a good drink is unmatched. Drinking in New Orleans is also seasonally fun. During the cold months, we know how to warm ourselves with a good heated cocktail. When it's as hot as it is now, there is nothing more refreshing than a frozen favorite. Here's to some of the best frozen cocktails in the Crescent City!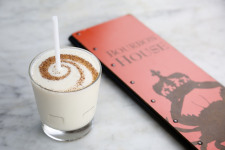 The New Orleans Original Daiquiri Let's start with the thing that we do better than any place around the USA. Yep, that's right, the daiquiri. Founded in the early 80s, New Orleans Original Daiquiri has remained a popular daiquiri brand amongst locals and tourists for several decades. Now located all over the country, the daiquiri shop offers a variety of flavors including: Bellini, Mardi Gras Mash, and the popular Jungle Juice. With their specialty being drinks on the go, drive-thru daiquiri shops have become a normal way to grab the frozen drink on those humid days. The Hand Grenade If this is a true article about NOLA's favorite frozen drinks, then we certainly must mention the Hand Grenade. If you've ever stepped foot on Bourbon Street, you've definitely tried it once or a few dozen times.
Created at Tropical Isle, this drink was not made for the lightweight drinker. While sweet in taste and seemingly harmless, the Hand Grenade is served in a long-stemmed, green grenade cup and packs a heavy punch with a secret recipe. The Frozen French 75 Oh, how we love a good French 75. Traditionally served as a cocktail blend of gin, champagne, and lemon juice; if you have never tried this drink frozen, then you just don't know what you're missing. Many venues around the city serve the French 75, but Superior Seafood has mastered the frozen version. The classy beverage is not only refreshing on those warm summer days, but also gives a taste of the French culture that birthed New Orleans. The Frozen Irish Coffee Speaking of seasonal drinks, Irish coffee is one that locals have loved for years. This classically warm, caffeinated beverage was transformed into a cool down drink when a couple of bars decided to make it frozen, hence the frozen Irish coffee.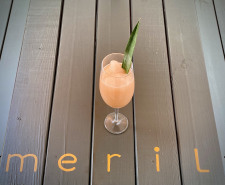 The frozen blend was popularized at two particular bars: Erin Rose and Molly's at The Market. While both are similarly delicious, locals tend to debate on who makes it the best. One thing is for sure, trying both amazing twists on the famous Irish coffee can't hurt. The Organic Banana Smoothie If you have never had a drink from Organic Banana in the French Market, then you are truly missing out. Offering fresh fruit smoothies, Organic Banana has a wide variety of choices including signature beverages all offered with or without alcohol. Whether you get the piña colada or the banana with rum, this is a refreshing drink to have during your walk through the French Market. Other Must Have Frozen Drinks Being a city known for its amazing cocktails, there are so many awesome frozen drinks to keep us cool during these hot months.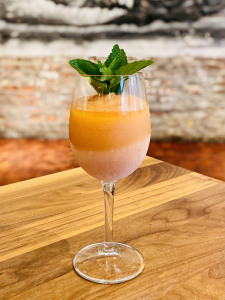 From Frozen Bourbon Milk Punches at Bourbon House to the Meril's Frozen Lushie, this city certainly knows its way around making a fantastic frozen drink. While we would have to write a book to name them all, here are a few more chilly drinks to indulge in. The margarita isn't a traditional New Orleans beverage, but there are certainly some places around town that make them just right. Places like Superior Grill and Felipe's are rather popular for their margaritas, and rightfully so. For the fancier days, you may want to grab a frosé. You can get this frozen rosé drink at several venues around the city. Bourree offers a frosé amongst several other frozen cocktails, but the frozen gin and tonic has made quite the name for itself. The icy twist on a classic one in one is fantastic and rather popular. Another popular and unique treat is Brennan's Boozy Sno-balls. Offering them during sno-ball season (the warm months), The Boozy Sno-ball is simply a traditional sno-ball doused with liquor. Cocktails are deeply rooted into New Orleans culture and these cold cocktails are waiting to cool us down while things are heating up. For sure, no one can make a frozen beverage like the Big Easy, and that's as cool as it gets.