According to a 2017 Film Foundation study, half of all American films made before 1950 no longer exist. I reminisced on this during a recent visit to my local theater while taking a nostalgic stroll through the arcade.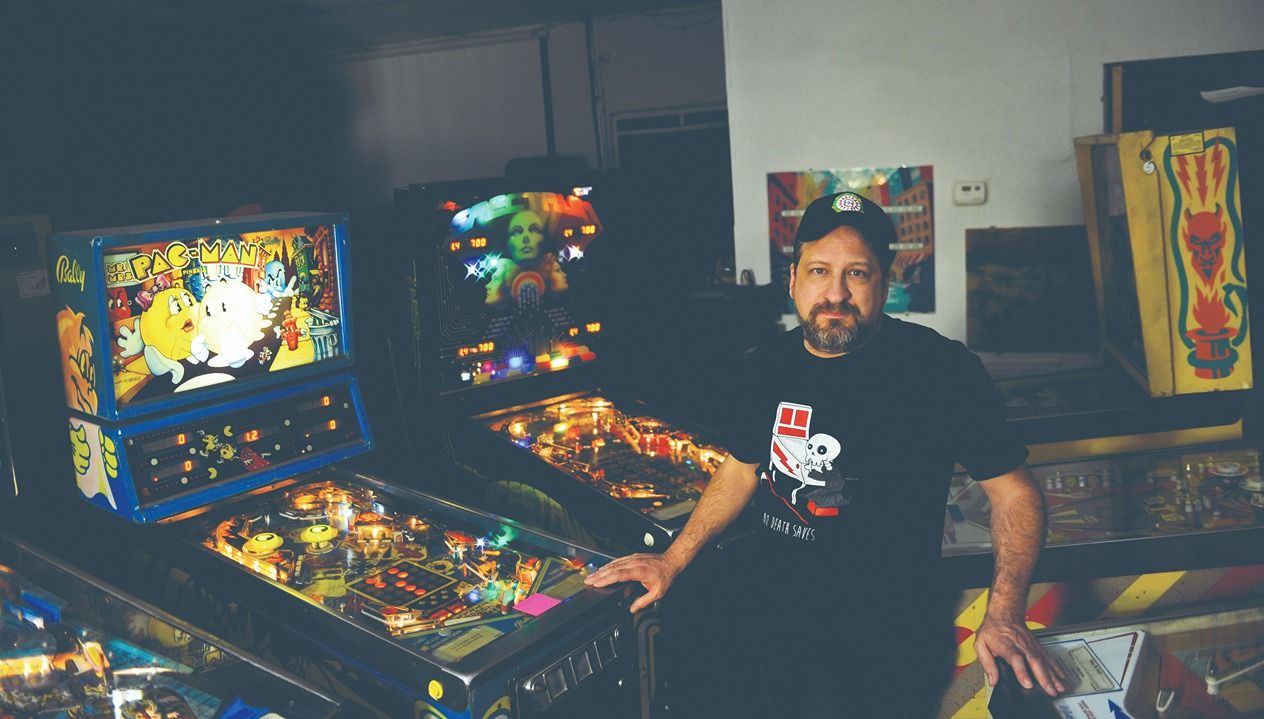 As a teenager, my friends and I would kill time before a show pumping quarters into games too advanced to run on our home consoles. It was just how I remembered it—literally. The newest machines—House of the Dead and a Lost World: Jurassic Park pinball machine—were released when I still didn't have a driver's license and before the first Gen Z'ers were even born.
The space I wandered, once a vanguard of futuristic spectacles, was now a mausoleum of elder millennial amusements. Its audience mirrored its maturity—a pair of dads whose thinning crowns and graying temples heralded the horizon of middle age, joyfully replaying their childhoods while their children stood aside gaming on their phones. It made me wonder where these two will go once the theater finally takes this fiscal appendage off life support; likewise, as with film, how many of these machines will end up extinct.
Enter the Mystic Krewe of the Silver Ball. Modeled as a modern-day Social Aid and Pleasure Club, its membership is built around a common love of art, technology, and gaming, and, as its name implies, roots its foundation on a love for pinball.
"I had a chance to pick up a game when I was young," Mike Perry, founder of the Mystic Krewe, said. "It was in really bad shape, and there was nobody available to fix these things, so I set out to learn how to restore it myself. Once I learned these skills, I began picking up more games and restoring them—little-by-little over a period of decades."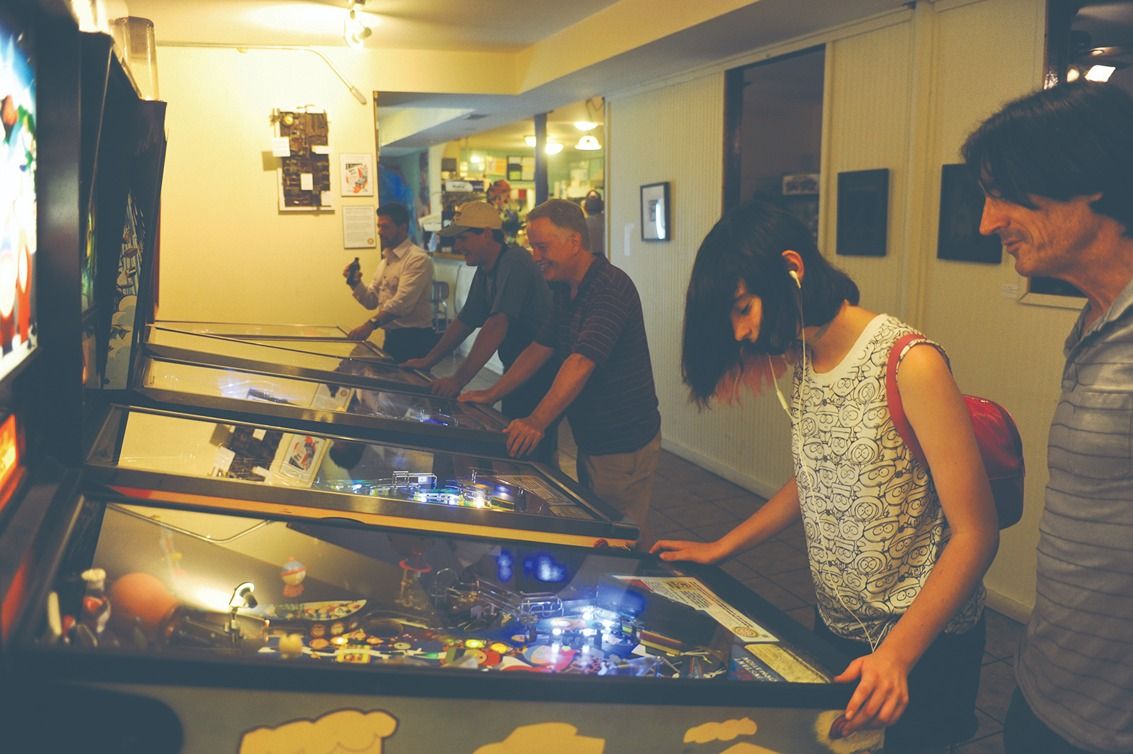 The members-only group hosts events twice weekly in its secret space, the Pin Church, a renovated Church of Christ building left abandoned following Hurricane Katrina. While serving as a full-fledged makerspace—featuring everything from 3D printers and wood-working equipment to a cyber-broadcasting studio—it is also home to the South's largest collection of vintage arcade machines. Among its more than 100 games, primarily pinball machines, are many rare and limited editions, some dating back as early as the 1930s.
The collection, however, is reserved for krewe membership due to the delicate nature of restoring and preserving the machines. To keep the group selective and intimate, Perry caps membership at around 60.
"The original idea was to open a retro-arcade," Perry said. "After a lot of research, I realized there's a reason they aren't around as much—they are very hard to make profitable. So instead, I made this hybrid club/arcade/makerspace, which is the best of all worlds."
Perry believes arcades can persist if they are symbiotic with another business, such as a bar or restaurant. Two prime examples of this partnering are CBD-based franchises Barcadia and Dave & Buster's.
The Mystic Krewe has also partnered with local businesses to provide and maintain games on site, including the "The Mystic Krewe Pinball Parlor" inside the Broad Theater, housing several vintage pinball and arcade machines.
"There is a resurgence of interest in older games, but the market isn't nearly as big as it used to be, and the people into it are older," Perry remarked on the difficulties of running an arcade. "There's [also] a finite number of these machines in existence and, every year, those numbers go down."
Arcades are not the only species of '90s/early-aughts gaming to become endangered; consoles have evolved as well. Modern gamers typically play together online—an alien thought to dinosaurs like me whose middle-school weekends typically involved a group of friends gathering to take turns sharing controllers in front of a single television. Even those who may still possess a working console from gaming's Jurassic period would still need an old-school tube TV compatible with its resolution.
Fortunately, the Bywater-based Sea Cave Arcade features a collection of both classic arcade cabinets, as well as retro-consoles equipped with CRT (cathode ray tube) TVs for an authentic, old-school experience.
"Gaming today is very online based," Judah Lea, co-owner of the Sea Arcade, said. "I was always into Street Fighter growing up, saving up quarters to play it down the street at the corner store. With Sea Cave, I wanted to create a space where people could play arcade-style games shoulder-to-shoulder, not over a network."
Lea believes that retro gaming is having a renaissance, akin to the vinyl record resurgence of the past decade. Like vinyl, he likens this to the medium's unique attributes.
"God of War isn't just a game—it is a cinematic experience," Lea said. "Older games like Mrs. Pac-Man, where success is measured by a player's score, are simple to master but much harder to get good at—they require a lot of practice."
While the Sea Arcade exists to provide a nostalgic haven for retro-style games, Lea confirms that its accompanying restaurant and bar sales are what keep the business profitable. However, this helps keep gaming prices reasonable ($8 all-you-can play per-day or a $150 yearly membership) and open to all (minors can play accompanied by an adult until 8 p.m.).
In his book Retromania, Simon Reynolds defines amusement, with disregard for purism or scholarly archival, as a key characteristic of nostalgia—the binding thread of generational memory. It's this desire to recall the joys of yesteryears that separates collectors—hoarding their prizes for victorious showcase—from Perry or Lea, who see games as conductors for sparking community.
"I believe pinball is a tool, a toy, not a trophy or an investment," Perry said. "I restore games to be played, not flipped for profit."
Preserving gaming's golden years presents unique challenges. However, modern gaming—primarily existing in the digital eternity that is the "cloud" —may be in even greater danger of disappearing once its retro reckoning arrives.
In an episode of Vice TV's RESET—a video-game docuseries—titled "Preservation or Emulation," Vice's Mathew Gault bemoans the demise of his favorite game, 2005's The Matirx Online. Comparing modern games with the preservation of film, he said, "With the Matrix movies, I can go back, I can watch those films. But the Matrix Online had servers, it had people running the game, it had people [at one point around 50,000] playing the characters in the game. That just isn't replicable."
Still, as long as people seek community through a shared love of the culture that shaped them, hackers, artists, and innovators will find a way to keep the past alive.
Those looking to learn more about the Mystic Krewe of the Silver Ball, including membership, can visit mystickrewe.com. To learn more about pinball repair and history, visit Mike Perry's YouTube channel at youtube.com/pinballhelp