In spite of the infamous professional football rivalry between New Orleans and Atlanta, there's a constant stream of traveling between the two southern cities. It's only seven-hour drive between them, so it's easy for those in the Gulf Coast region to pack up the car and get there before sundown. Atlanta is well known for great southern food, rich history, and massive tourist attractions. I wanted to experience those things, and I wanted to see what was just outside the city limits to know what makes Atlanta's metropolitan area so attractive to its citizens and those moving in by the thousands.
What I didn't know driving into Atlanta is how hilly it is. Being from somewhere relentlessly flat, the rolling hills felt like a magic carpet ride. I stayed in the Stone Mountain area to indulge in the quiet natural settings on the outskirts of the metropolitan area. The first stop I made to unwind was Outrun Brewing Company. Even though this brewery resided in this cute, quaint city, it had splashy colors, crazy brews, and a lot of vintage wrestling stuff. Outrun Brewing Company is themed after the 1980s arcade game of the same name which features fast sports cars driving through busy streets. I wanted to sample the Food Court Fantasy fruity hard seltzer and Johnny Tsunami sour beer which were both mouth-puckering good.
On my first full day in Atlanta, I used my CityPASS to check out some of the top attractions. I went downtown to lovely Pemberton Park where three of the city's biggest cultural institutions bring in large amounts of tourists and locals daily.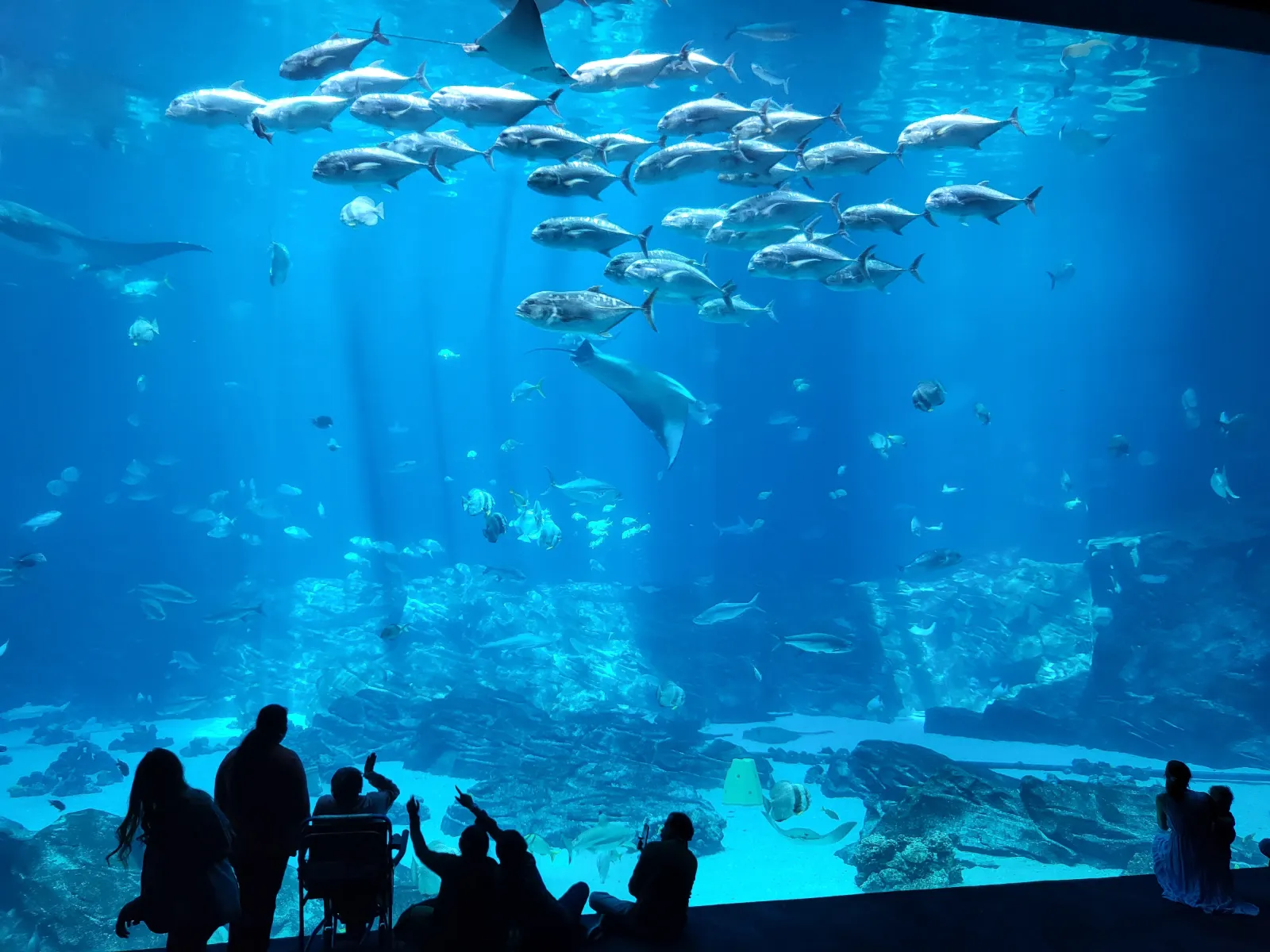 Down in Pemberton Park
The World of Coca-Cola Museum was the first attraction on this busy day. As soon as you walk in, the hosts make delightful and bubbly conversation with the guests before they enter a small theater that briefly explains the history of the Atlanta-born drink, the stories behind their tradition-breaking ad campaigns, and how Coke is located around the world today. The audience chuckled when the tour guide explaining some bits and pieces of Coke history said that there was an uproar against Coca-Cola when the price of a bottle was raised from five cents to six cents in the 1950s.
After this introduction, you are welcome to roam freely throughout the several exhibitions in the museum. There's the Scent Lab where you are tested on various spicy, sweet, and other scents. Can you guess what it is you're smelling right now? There's Bottle Works that allows you to follow bottles on a production line to see how they're filled and packaged. The Milestones of Refreshment explains in minute detail the story of how pharmacist John Stith Pemberton originally made Coca-Cola as a medicinal drink, and how it became the industrial powerhouse it is today. I did enjoy the immense collection of merchandise from the 20th Century. Those old Victorian and pin-up-style ads are omnipresent in American culture, and there is something endearing about them.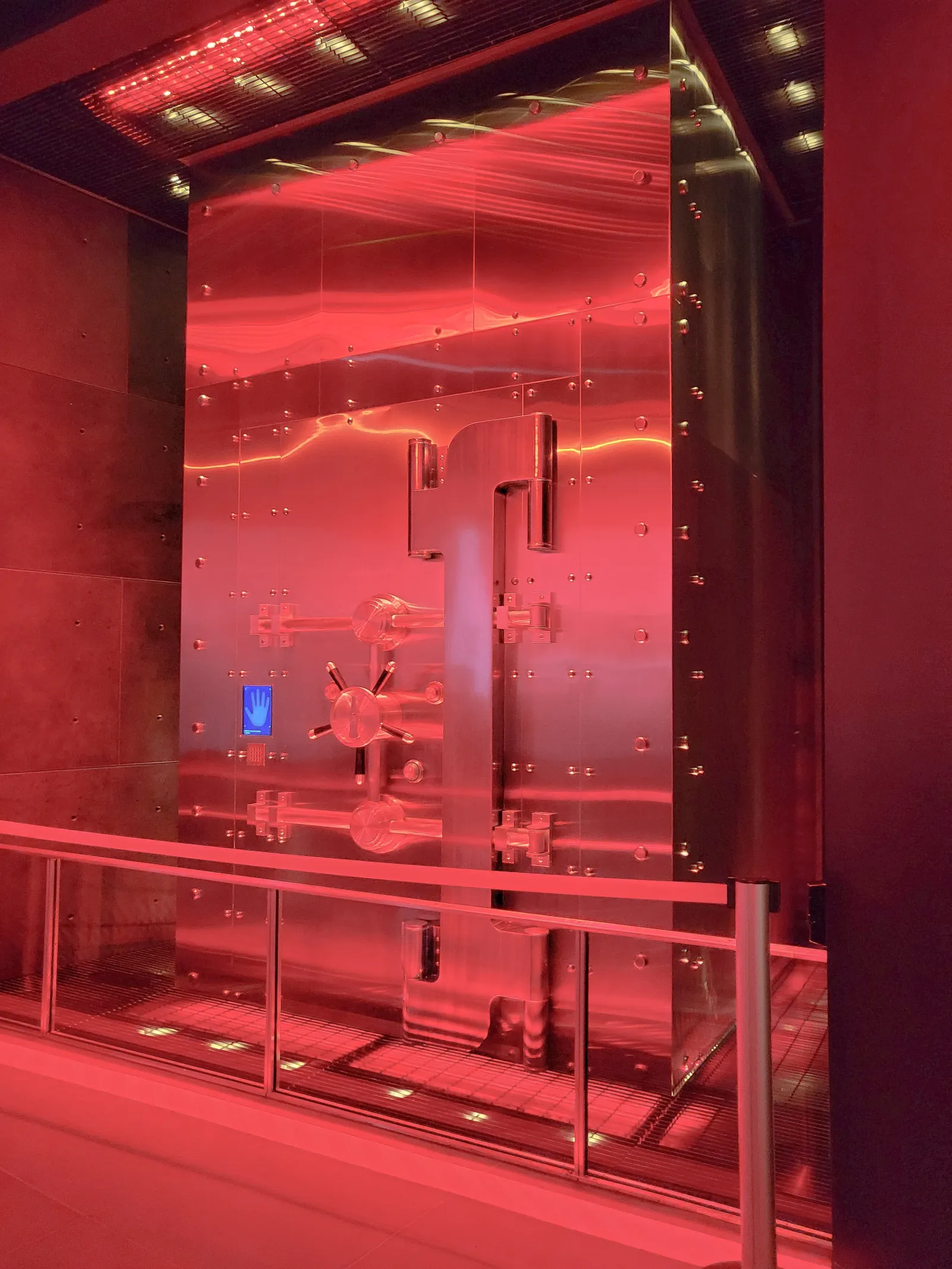 The Vault of the Secret Formula is more intense. You wend through a bank-like room learning about the various legal protections that the Coca-Cola company took out to protect their formula. People would try to duplicate the formula or to duplicate the signature bottles in order to sell counterfeit Coke. Eventually you arrive at the actual vault in which the hand-written secret recipe of Coca-Cola is kept. The massive metal door is bathed in red lights, looking foreboding.
At last, you arrive at Taste It!; the exhibition that everyone looks forward to. You are allowed to taste sodas that are released in different parts of the world. Just don't do this under the assumption that you're going to be able to taste all of them. After just a few samples, the carbonation can really get to you. You may want to taste a few, go see an exhibit, go back for a few, go to another exhibit, etc.
After exiting The World of Coca-Cola Museum, it's just a short walk through the park to the world-class Georgia Aquarium. I've been to many aquariums in my life, but I really did not understand how much bigger this aquarium is. Walking through the door felt like walking into the biggest night club on Earth. There was pumping music, dramatic lighting, and people everywhere. I just started visiting all of the different sections that were open, but it is easy to miss something in this intense building.
The amount of things to see was overwhelming. There was a cold water animals exhibit, a dolphin exhibit, river animals exhibit, and more. Sharks! Predators of the Deep was an immersive experience that you can really spend a lot of time in. Its dark corridors lead to massive tanks holding so many sea creatures that swim around you. Watching them for a while is mind-blowing. When the gargantuan whale shark swims past you, you feel like the size of an ant.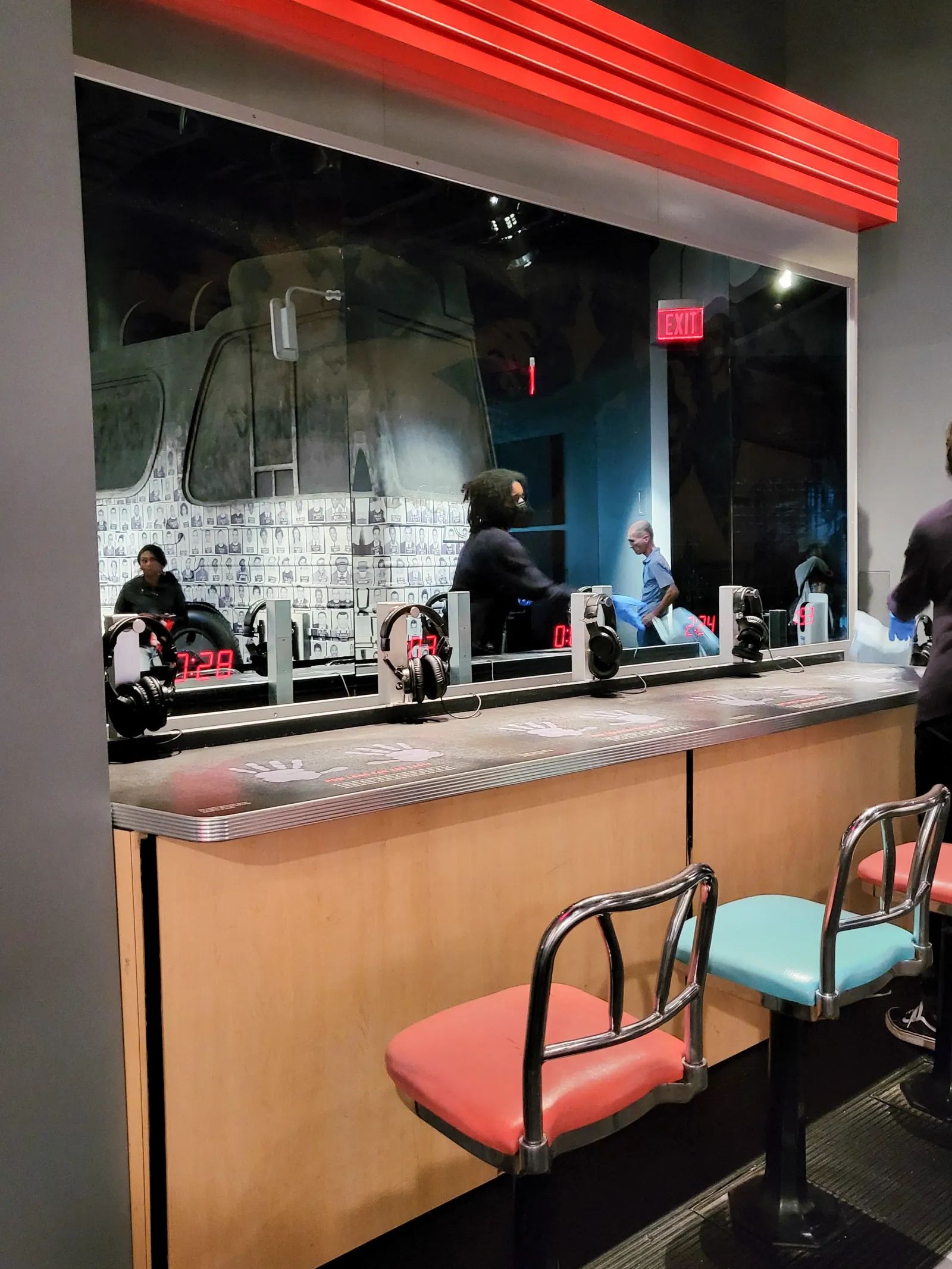 From high-energy and dazzling to deep and introspective, I finally went to the National Center for Civil and Human Rights Museum across Pemberton Park. The curved building is cladded in shades of beige and brown to represent the spectrum of skin colors present in the world. The exhibits began as a retelling of the Civil Rights movement in America from the days of slavery to present day. One section specifically detailed protests and demonstrations in the 1960s. There is an immersive experience where visitors can take a seat at a Woolworth's lunch counter, and they are asked to keep their hands on the counter for as long as they can. They are outfitted with headphones before the experience starts. As you sit, you start to hear mumblings of people who are outraged that you are here. The voices creep close to you until they are right in your ear demanding that you leave. As you continue to sit, the chair you're sitting in bumps, the sound of screaming and glass breaking rings in your ears. In this area, there are somber memorials to people who lost their lives due to racist actions including the children killed in the 16th Street Baptist Church Bombing.
The final exhibit of the museum was striking to me. You are asked to walk up to a screen and are asked to pick a trait about yourself like your ethnicity or where you live. Then a person who has that trait comes on the screen to talk about some form of racism that they encountered. I was presented with a white South African farmer who had his land expropriated, a current controversial practice of seizing land from white farmers to give to black farmers and local tribes. Sometimes the land is taken in a violent and deadly manner.
When you venture beyond that, human rights activists are portrayed along one side of the room, and the most notorious and brutal dictators of all time are on the other side. I came to realize that there are many ruthless leaders currently wreaking havoc on their citizens: Teodoro Obiang Nguema Mbasogo and Idriss Deby were previously unknown to me. What this museum thoroughly explained is that human rights, equality, and dignity should be fought for in every community in every part of the world.
Avondale Estates
I found myself spending a lot of time in the Avondale Estates area when not touring the bustling areas of Atlanta. I loved the laid-back atmosphere, the cute Tudor buildings, and the interesting businesses. It was here that I spent time at Wild Heaven Beer and sipped some smoked tomato saison beer called Attack of the Killer Tomato. Later on, I went to My Parent's Basement restaurant and bar for dinner, but I also did some browsing through comic books and pinball playing. They were about 20 machines to choose from, very old and brand new. I loved the Iron Maiden and Metallica pinball machines, but I spent a lot of time on the Stranger Things machine too.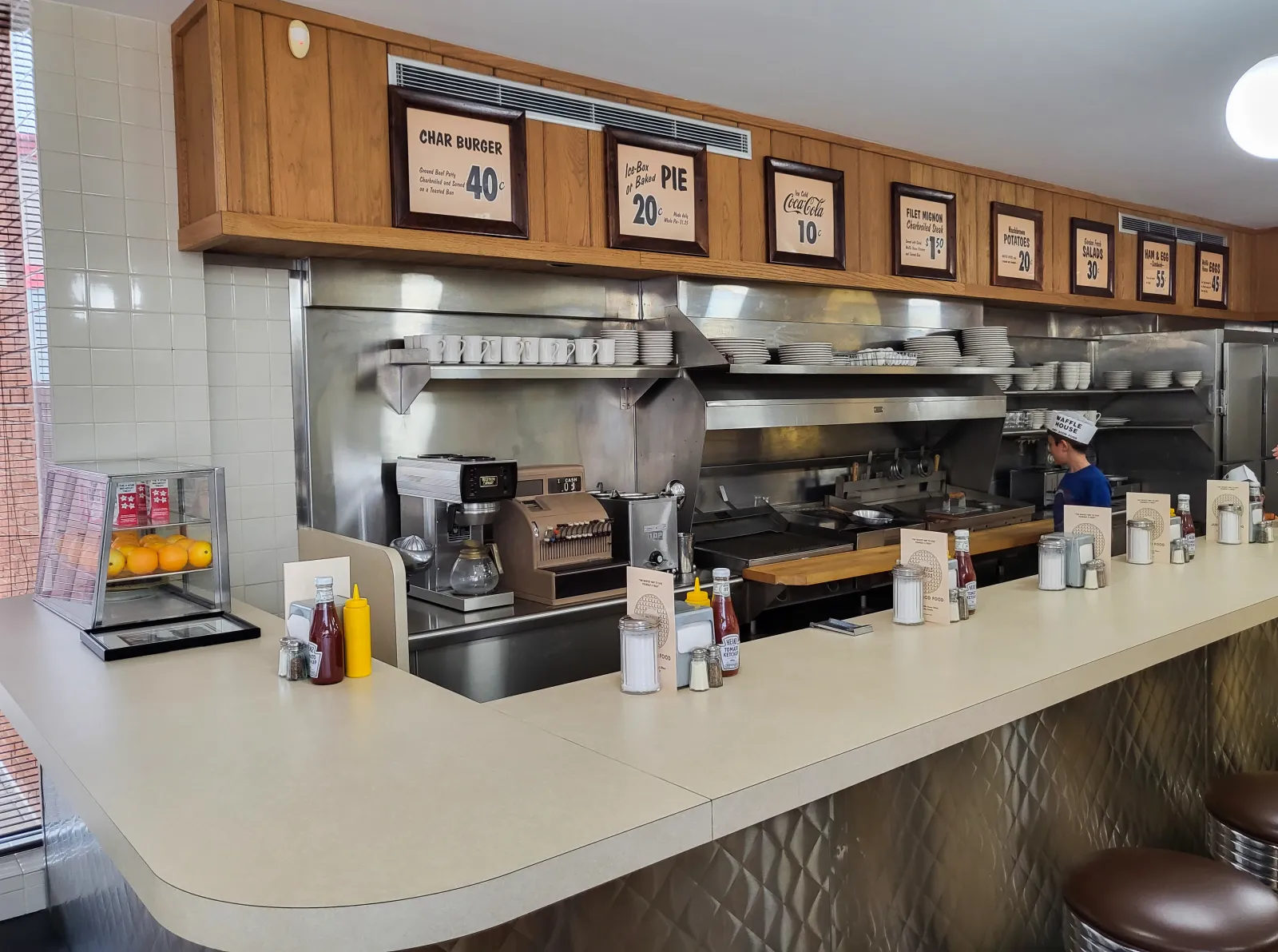 The next day, I went back to Avondale Estates because I was able to take a tour of the Waffle House Museum which was amazing. This was the original Waffle House that opened on Memorial Day weekend in 1955. The ladies doing the tour told the small, but highly-captivated crowd every bit of Waffle House history: why Tom Fortner and Joe Roger, Sr. wanted to open this restaurant, how they did it, and how they expanded it to the famous chain it is today. It is interesting to note that this one Waffle House location served as the kitchen for the first 15 Waffle House restaurants. Waffle House initially had fried chicken on the menu for the first six months that they were open which was licensed from Chick-Fil-A. This building was sold decades ago and was the host of other businesses before Waffle House re-purchased the building to refurbish it to its original glory to stand as their museum.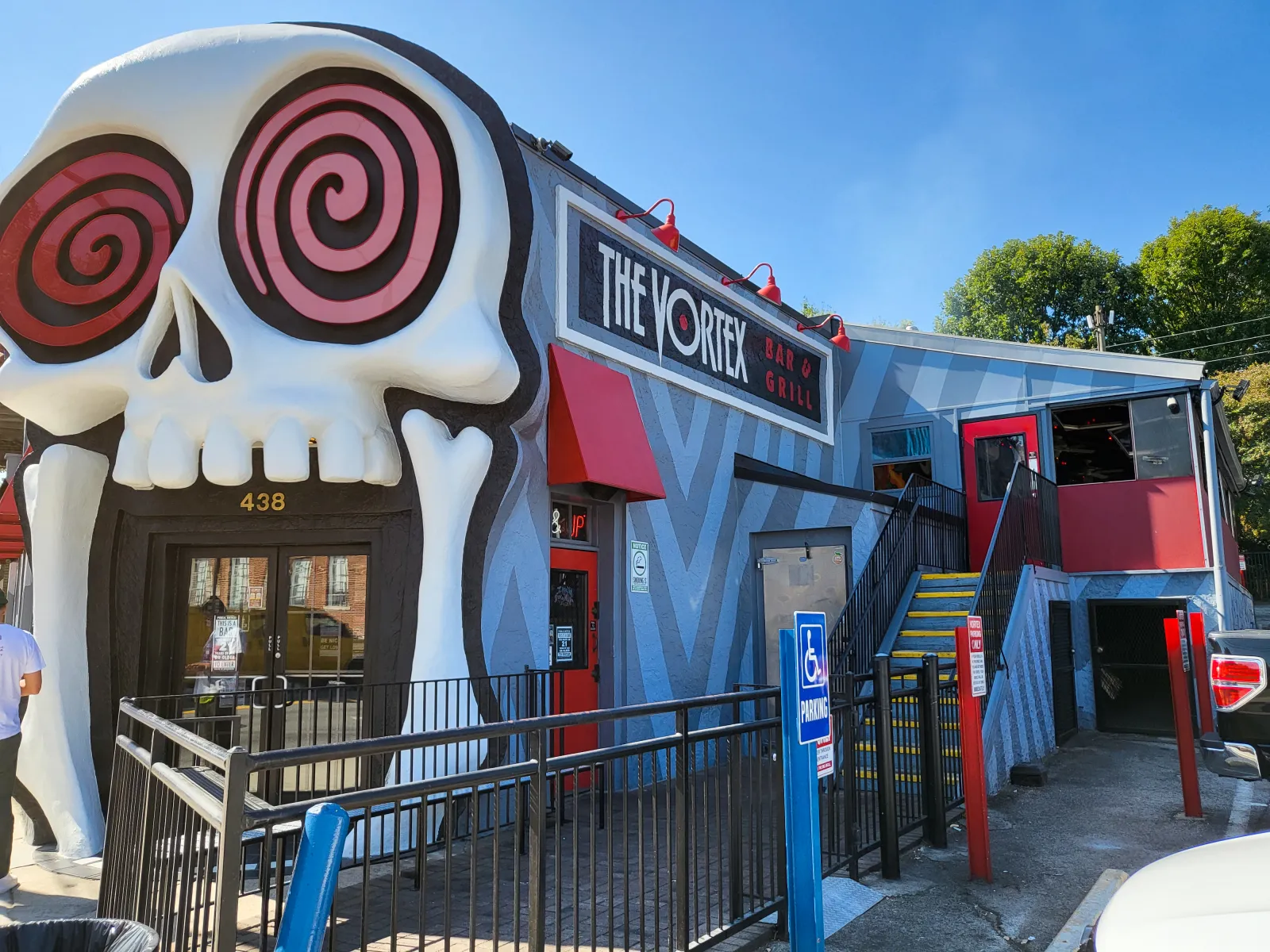 After the tour of the original Waffle House restaurant, we were led to a small building next to the restaurant that houses small exhibits with information about everything Waffle House. You can learn about how the uniforms have changed over time, read through the storm response manual, see the special buttons made for employees who work at Waffle House after major storms, and read employee manuals. The crowd favorite is playing the songs made by Waffle House for their in-store jukeboxes. Waffle Records was founded in 1984, and there are currently 47 Waffle Records-produced songs. We were given a scavenger hunt to do, and I'm proud to say that I was the first one to complete it. I won a Waffle House Museum mug that I absolutely treasure.
I spent this afternoon in the Little Five Points neighborhood. This part of town is cool for those who love record shops, vintage clothes, and kooky thrift stores. The Vortex restaurant quickly caught my eye; the huge skull with crazy eyes beckons passers-by to enter through his mouth and partake of some great food and drink. I sauntered through the skull and ordered the Acid Trip signature cocktail. The glowing blue concoction is a blend of spiced rum, Blue Curacao, limoncello, lime juice, and a splash of Sprite. The fruitiness and effervescence cooled off my tongue in between fiery bites of the Spicy Beef Chili.
After a long afternoon of exploring the area record stores, I headed to Tucker Brewing Co. for some live blues music, beer, and fried food. The huge outdoor area was perfect for me and my dog. We could sit far enough away from the stage that the music wasn't too loud for him, yet we weren't removed from the action. I got a frosty stein of Music of the Night Irish stout, and the rich, hearty flavor paired perfectly with the wonderfully-seasoned chicken tenders I had to have. As dusk slowly faded into night, my furry companion and I headed back to Stone Mountain to prepare for another adventure-filled day.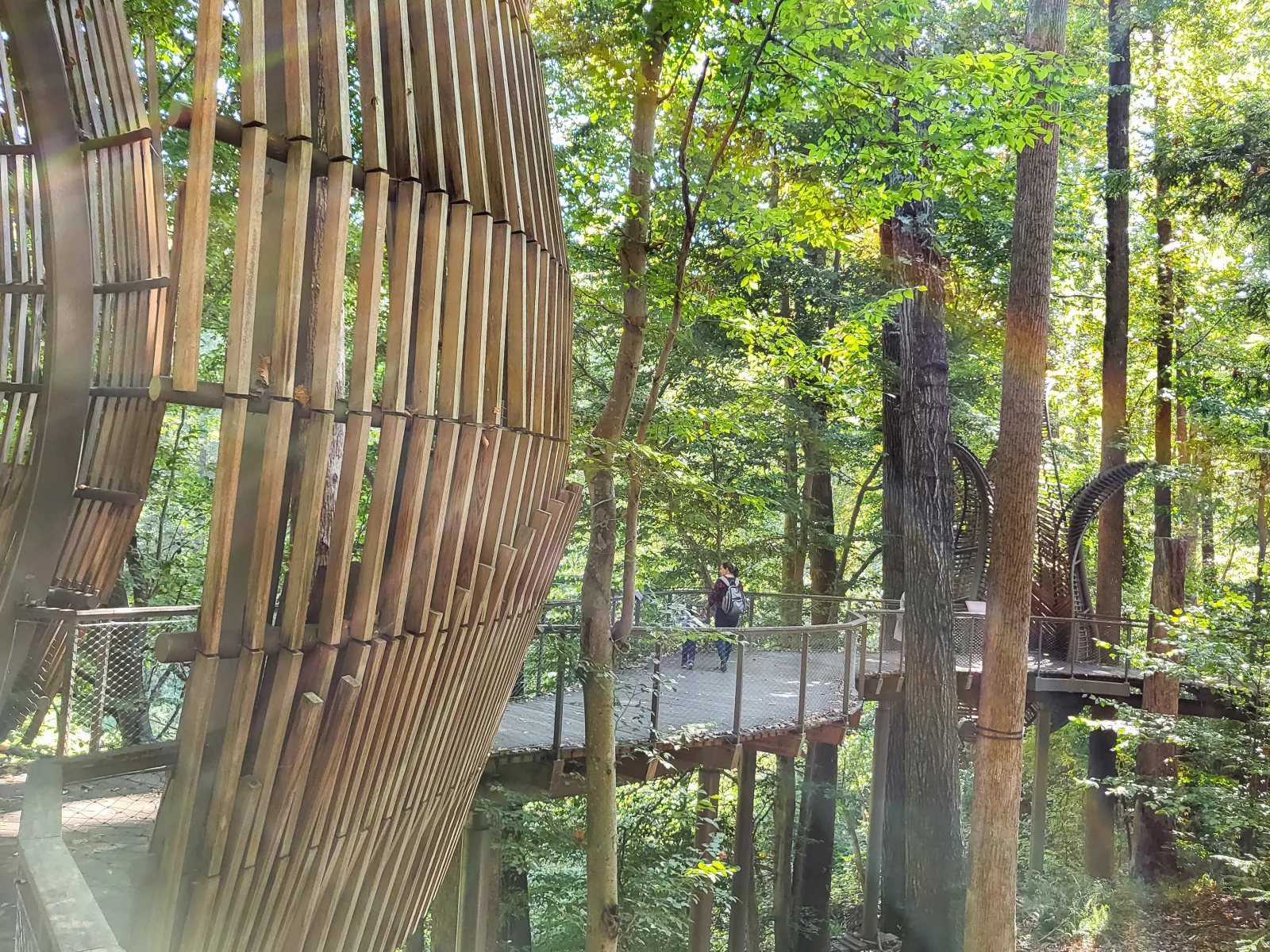 The next day, I chose to go to the Fernbank Museum of Natural History using my Atlanta CityPASS. This fun museum immediately greets visitors with a massive dinosaur skeleton in the three-story rotunda, kind of like walking into Jurassic Park's visitor center. The indoor exhibits range from the prehistoric to the future of technology. "A Walk Through Time in Georgia" showcases what the land the museum sits on once looked like and what kinds of creatures lived on it. This exhibit features plenty of towering dinosaur replicas to gaze at. "A Journey to Space" was a brand new exhibit showing detail how astronauts live and work in space; you can even sit on a spaceship toilet and see how it flushes. "The World of Shells" was more intriguing than I thought that it would be. The display cases held thousands or more of shells from oceans and seas across the world. They are so intricate and beautiful. Some are extremely small and some are fascinatingly huge, each like their own little universe.
While the indoor area was great, the outside attractions were unexpected. The Fernbank Forest is a vast piece of land that opens up into the surrounding neighborhoods through a series of pathways and bridges so that everyone can enjoy this natural wonder. The Fernbank Museum built WildWoods into part of the forest. WildWoods is a series of elevated pathways that allow you to explore the forest from nearly the tops of trees to the ground. Among the maze-like pathways are gorgeous wooden installations that you can enter. They make you feel like a bug climbing into a flower. If you want to explore the Fernbank Forest, it is highly recommended that you wear your best walking shoes.
Downtown and Underground
While I was at The Vortex a few days earlier, I noticed a flyer for a video store-themed immersive theatrical experience that was being held that weekend. Intrigued by the nostalgic theme, my friends and I bought a few tickets and ventured to this experience held at Underground Atlanta in downtown. I had no idea that there was an underground part of the city like this which apparently used to have high-end shops and restaurants. It isn't as luxurious now, but it is certainly an experience to walk on streets that were below the actual streets just above us.
We walked up to Save the Video Store!: An Immersive 90s Experience where cliché archetypes from 90s/2000s movies were milling around. The audience was led into the Blockbuster-looking video store that was being haunted by some unknown creature. The cast led the crowd through games, challenges, and more to solve the issue plaguing the store and save it from sure destruction. It was very fun and hilarious. This is certainly an event for people who loved popping in a VHS tape every weekend.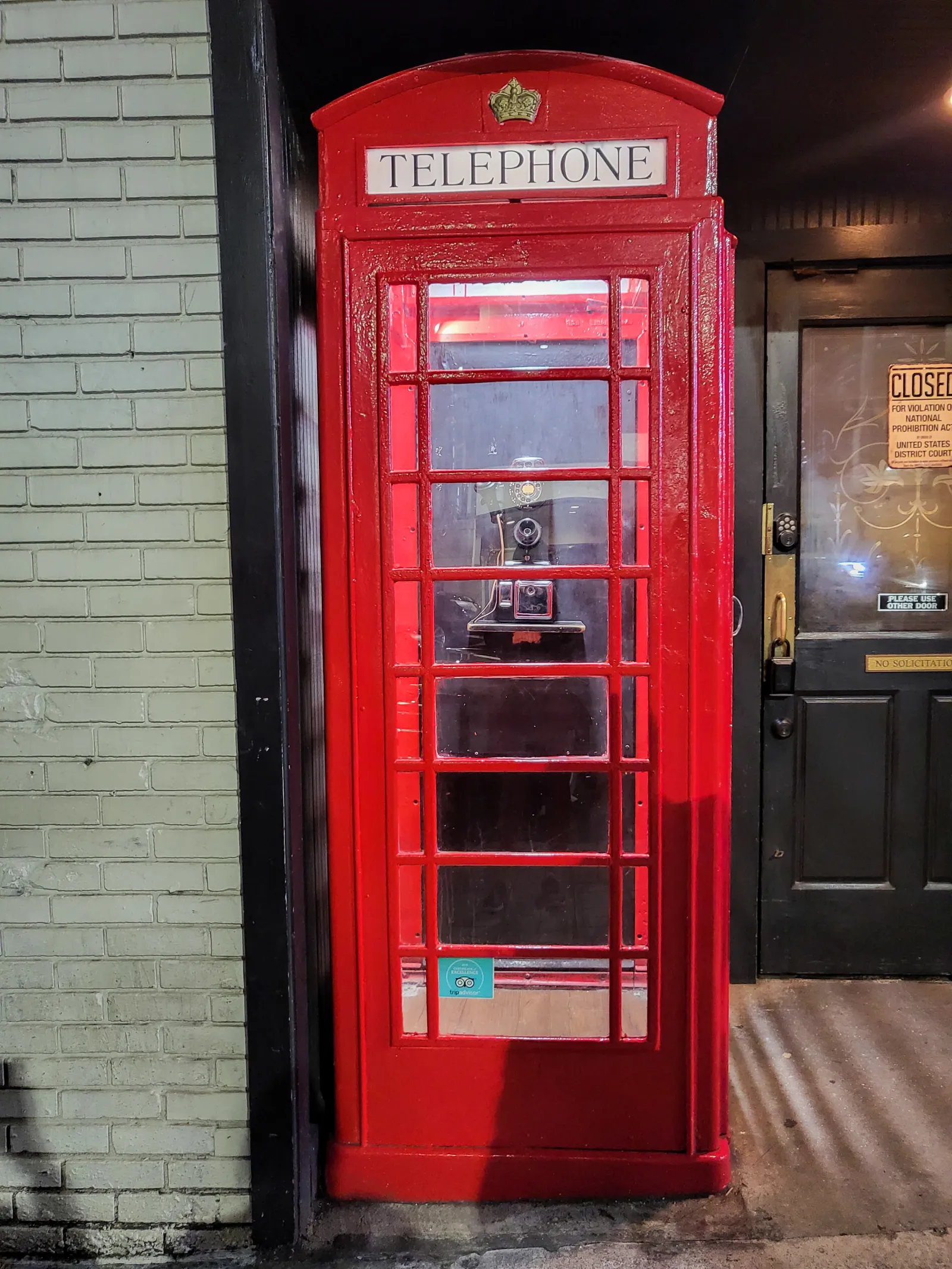 With adrenaline still coursing through our veins after saving the video store under the ground, we wanted to have a nightcap somewhere nice. Specifically, we were on a quest to get into the Red Phone Booth. This Prohibition-style speakeasy doesn't just let everyone in. First, you've got to get the telephone number that you must punch into the phone in the red phone booth and hope that the door opens for you. After some asking (and begging) around at area bars, we found someone who reluctantly gave us that phone number.
We walked to the Red Phone Booth, piece of paper with just some random numbers in hand, and tried our luck dialing the phone. The door opened and we entered into a gorgeous, lively, and highly-sophisticated lounge and were shown to our very own lounge area. The bar serves decadent cocktails and cigars. You sit in luxurious leather couches and set your drinks on a coffee table. This bar is made for conversations between your party and probably some of the nearby parties.
The spirit offerings are listed in a stately leather book; each cocktail is beautifully drawn and explained in detail. It was so hard to make a choice, but I went for the Bahia Breeze, a simple blend of tequila, pineapple, and cranberry juice. I was very tempted to have the Smoked Old Fashioned which the bartender was making plenty of. Each drink is individually smoked with hickory wood. Just the creation of the drink makes this impressive bar smell like a million bucks.
Zoo Atlanta's Mission
My last stop on my CityPASS was Zoo Atlanta. Just inside of the gorgeous Grant Park, the bustling zoo was full of families hurriedly visiting the numerous exotic animals in the big park. You definitely want to pick up a map when you go. Zoo Atlanta is expansive and has many twisty pathways between all of the different areas.
The panda bears were adorable! Two of them were napping, and one was clearly dreaming. Zoo Atlanta explained that they are a part of an international conservation program that directly contributes to the preservation of pandas and their natural habitats. The zoo has contributed over $10 million to panda conservation including funding eight nature reserves. The gorilla habitat was amazing, and the staff members were more than happy to explain how the gorillas were separated by age and sex to avoid conflicts. They also told me about their most famous gorilla residents like Ivan who lived at Zoo Atlanta for nearly 20 years.
I really appreciated the zoo's emphasis on education about conservation, deforestation, poaching, and even animal smuggling. There was even a sign explaining how to post about wildlife on social media; don't post photos of people petting captive wild animals, post photos promoting wildlife reserves and conservation organizations. Everywhere you looked, there seemed to be some signage explaining how animals are being harmed and what you can do about it to affect real change.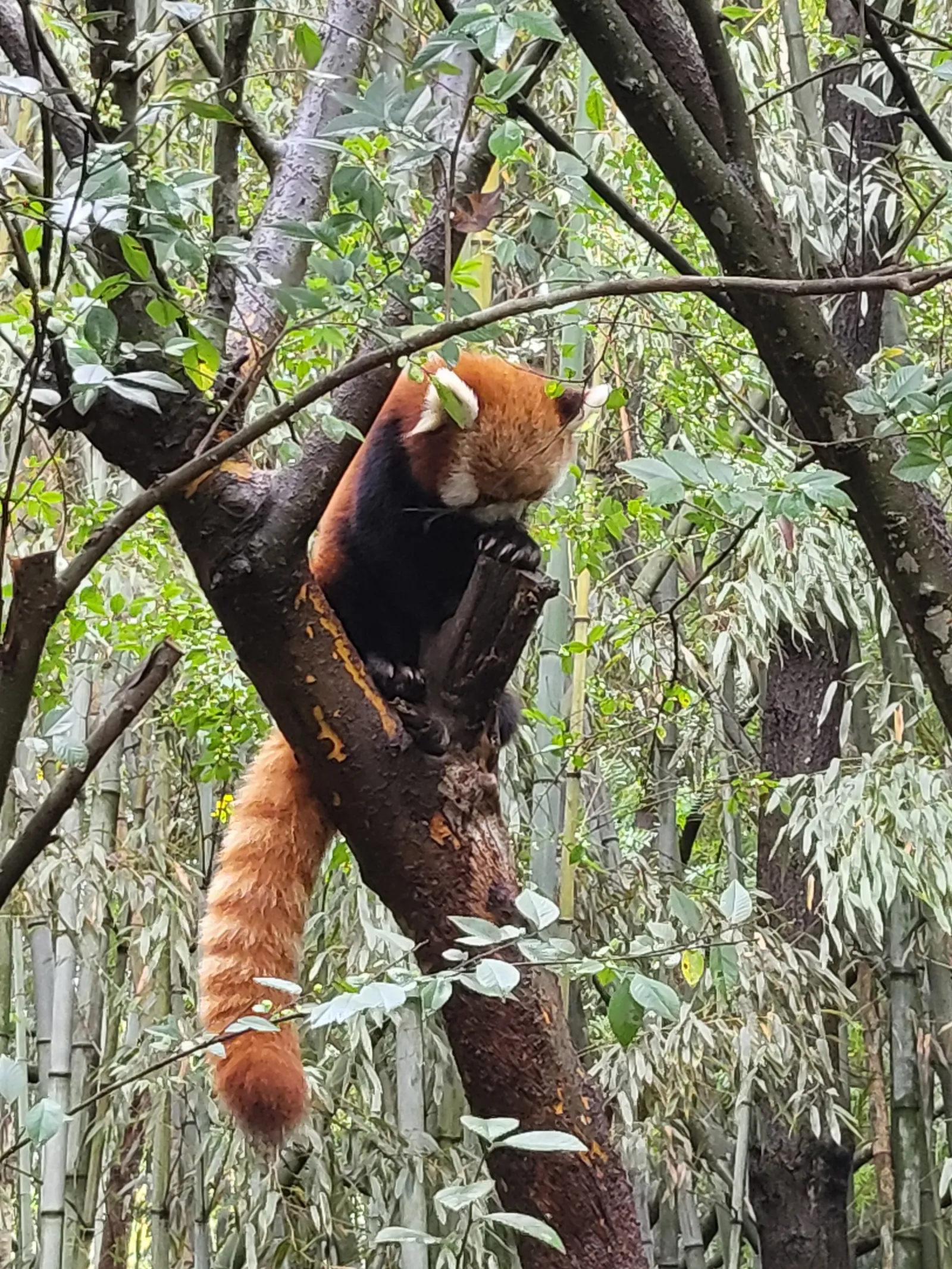 Atlanta is more than just Atlanta; the proper city and the many communities surrounding it intertwine to form one intriguing, beautiful, and vibrant metropolitan area.