The Saenger Theatre brings musical comedy Waitress to New Orleans this weekend only!

With plot including being trapped in an loveless marriage to a controlling spouse, unwanted pregnancy, a misogynistic boss, an obsessed stalker, and infidelity, the hit Broadway show Waitress seems more like a like a dysfunctional daytime talk show than a light rom-com Broadway musical romp, yet somehow it pulls it off to perfection.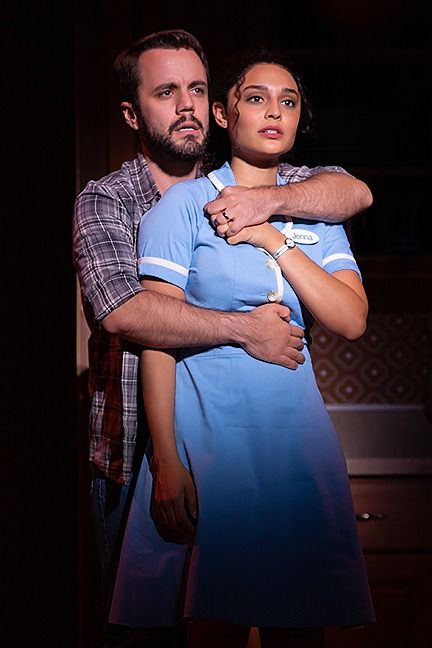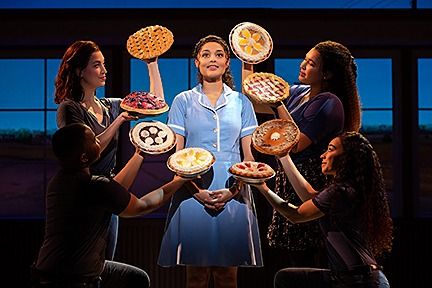 Jenna (Jisel Soleil Ayon) is married to a abusively controlling husband but finds joy by channeling her small-town life's frustrations through baking exceptional pies at the local diner. She names each of them after her crisis du jour, such as "The Key (Lime) to Happiness Pie" and "Betrayed By My Eggs Pie." Her culinary talent packs the eatery and leads her into a baking contest in a nearby town around the time she unhappily discovers she's pregnant.
The upcoming pie contest's $20K prize money gives her the confidence to leave her husband, Earl (played with selfishly malevolent humor by Shawn W. Smith) and begins squirreling away tips to enter it. Supported by her co-workers Becky (Dominique Kent), Dawn (Gabriella Marzetta), the waitresses devise plans to help her escape Earl's wrath to raise her unborn child while living up to her full-pie potential.
Jenna's meets with new-to-town gynecologist Dr. Pomatter (David Socolar) for prenatal care, and their lustful chemistry between the two is undeniable ("Bad Idea"). keeps his examining room a'rockin' until their spouses come a'knockin' in an awkwardly hilarious climax—no pun intended.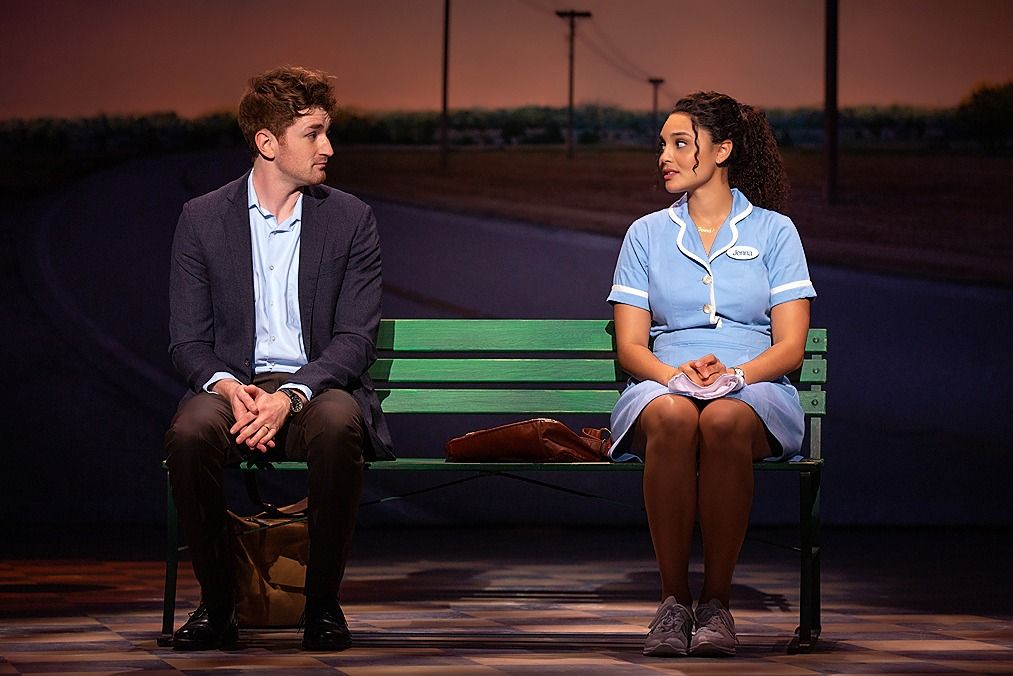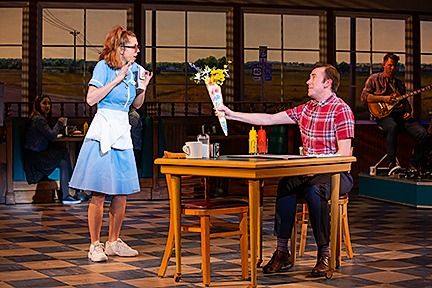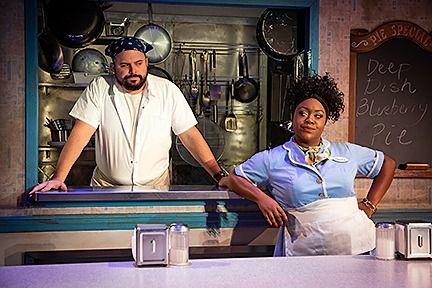 Beyond Jenna's tribulations, sassy Becky staves off comments from the diner sexist cook Cal (Jake Mills) while being primary caregiver to an unseen ill husband, keeping secrets of her own.

Plain and awkward Dawn finally musters the courage for her first online date which she deems a failure, then cannot seem to escape the unwanted but obsessively romantic overtures from the equally awkward suitor Ogie (Brian Lundy). The love-struck Ogie is over confident and clearly thought their one date went very well, unexpectedly showing up at the diner demanding Dawn wait on him so he can have another moment with him. Did someone say stalker?

The second act is not what you'd call "family friendly," with infidelities and sexual escapades escalating in surprising and farcically unexpected ways. Nurse Norma (Dayna Marie Quincy) inspired sarcasm, moral compass, and price of her silence is seemingly the on-stage conscious of what the audience is thinking.

And here's where the play really impresses.The cast is exceptional in all aspects, taking all-too common serious societal issues and making them accessible and relatable to audiences with great delivery of their lines, broad humor, and soulful singing.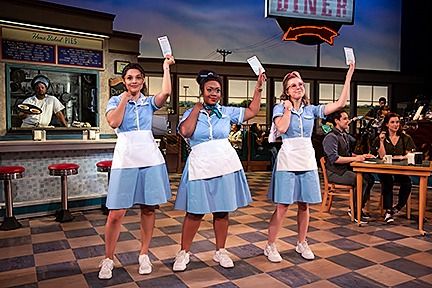 The Broadway production had a revolving door of famous pop culture actresses that often negated the anonymity Jenna feels, which makes Ayon's Jenna is fresh and even more real. Belting out the iconic "She Used To b Mine" as the showstopping 11 o'clock number was rich with emotion and garnered thunderous applause. Her strong voice and acting chops brought heartfelt levels to her performance.
Kent's Becky and Mills' Cal dynamic could've easily devolved into the Flo-and-Mel banter from the 1970s TV sitcom Alice, but both actors bring subtext, sadness, and loyalty in their characters in their daily pursuit of happiness that is admirable and surprisingly understandable.
Watching Marzetta's Dawn experience her sexual awakening is shocking and hysterical while never losing her core sweetness. She quickly cedes the sage to Lundy's Ogie who not-so-quietly steals the show the moment he steps on stage. Lundy expertly walks the tightrope of Ogie between persistent and stalker ("Never Ever Getting Rid of Me") to hilarious affect. And both deliver spot-on side-splitting dialogue and slapstick performances.
Even Smith's unredeemable Earl conveys the broken insecure man behind the selfishly cruel husband, and still manages to infuse humor to the role. Smith also brings a stirring singing voice, even when singing "You Will Still Be Mine." He sings the seemingly sweet nostalgic song to romance Jenna with a not-so-subtle threat solidifying his terrifying control over her.
In true Broadway musical comedy tradition, a happy ending ensues for all—okay, maybe not Earl, but that works, too. But how?
None of the characters make any excuses for their actions, and often acknowledge their missteps. But the characters humanize their conflicts—doing what's obstensibly wrong in the pursuit of happiness to mitigate their complicated lives—deep philosophy for a light comedy.
Based on a non-musical, but equally well-balanced 2007 film of the same title written by Adrienne Shelly,
Waitress
was adapted by writer Jessie Nelson whose snappy book ,along with original music and lyrics by Grammy® Award winner Sara Bareilles, complements the show's all-female creative team. Original choreography by Lorin Latarro (recreated by tour choreographer Abbey O'Brien) and original direction by Diane Paulus (recreated by tour director Susanna Wolk) expertly balances the plot points and characters along a tenuous tightrope of dialogue and classic rom-com staging. The remarkable result is a light-hearted tone despite what could otherwise be some tragically unfunny material is lesser hands.
Like any great pie, Waitress can be sweet, tart, at times overdone—maybe not always good for you, but irresistible and deliciously satisfying. So, get your "Slice of Heaven Pie" this weekend, otherwise it'll be gone and you'll regret missing out.
--------------------------
Waitress is performing a limited run at the Saenger Theatre, 1111 Canal Street, 504.525.1052
Saturday, June 11 - 2 p.m. and 8 p.m.; Sunday, June 12 - 1 p.m. and 6:30 p.m.
https://www.saengernola.com/shows/waitress-2022