Even for aficionados, a piping hot cup of coffee on a sweltering summer day in New Orleans is about as appealing as running a 10k in a goose down parka. Though many folks can be found sheltering inside well air-conditioned spaces where a steaming cuppa Joe can be had in relative comfort, it's altogether easier, more portable, and infinitely more fun to go frozen with a frappe.
History of Frappes
Describing drinks chilled with ice, the name frappé is French in origin and goes as far back as the late 1800s. The French were enjoying café frappé, or iced coffee, which was sometimes served like slushes. Then, in 1957 Giannis Dristas, a representative of Nestlé, created the Greek version of café frappé, by mixing instant coffee, cold water, and ice cubes in a cocktail shaker—an invention that has forever linked Nescafé to frappé.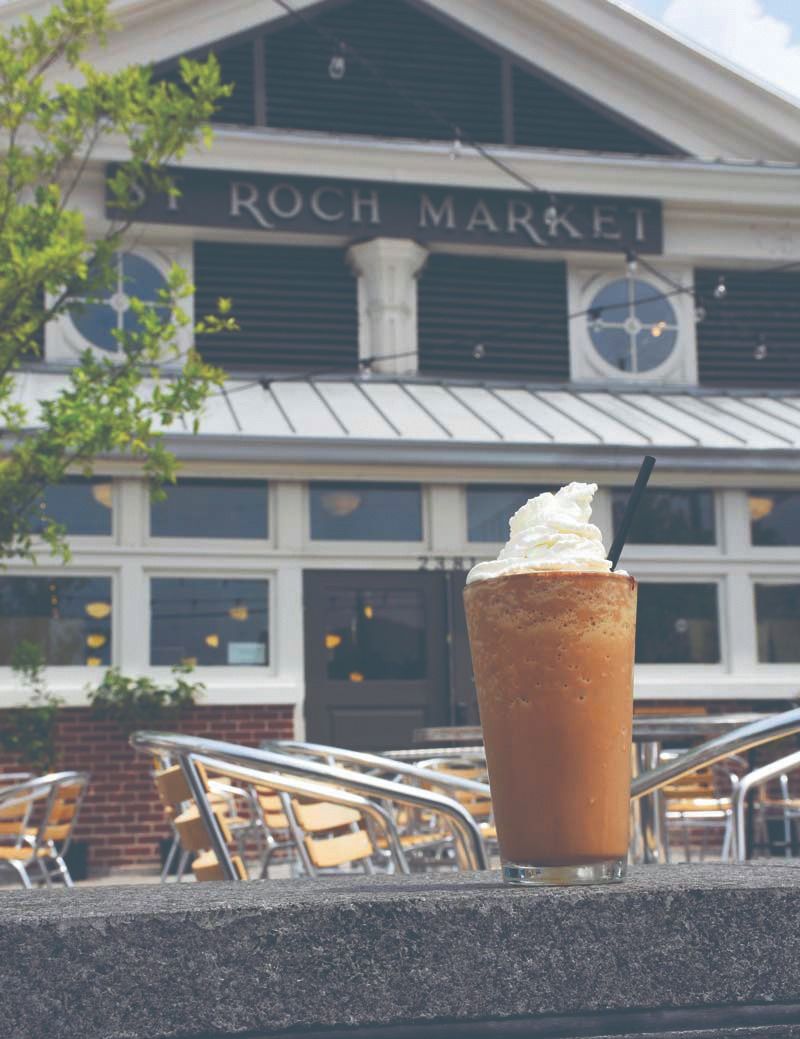 Fast-forward to the '90s when George Howell's Massachusetts coffee shop chain, the Coffee Connection, developed and trademarked the frappuccino, made with ice cream and cappuccino. The Coffee Connection was purchased by the Seattle-based java giant Starbucks in 1994 and the rest, as they say, is history.
These days, it seems coffee shops use the terms frappe (sounds like slap), frappé, frozen coffee, and frappuccino interchangeably to mean the same thing, though if your shop isn't Starbucks, you're likely to get slapped with a lawsuit for formally using the latter. Whatever you call it, it's a sweet, cooling delivery method for that daily caffeine injection we all adore, and, as a bonus, you don't have to go to Starbucks to get it.
Coast Roast Coffee
Though Coast Roast Coffee started in Long Beach, Mississippi, it has quickly become a beloved New Orleans brand with a café inside St. Roch Market and CR Coffee Shop on Magazine Street. Using high-quality arabica, they roast the beans in a restored, century-old roaster, resulting in a smooth, rich flavor you have to taste to appreciate. Though they do offer a regular frozen coffee, it is more than worth it to try their chocolate-covered espresso bean flavor to add an extra sweet jolt to your day.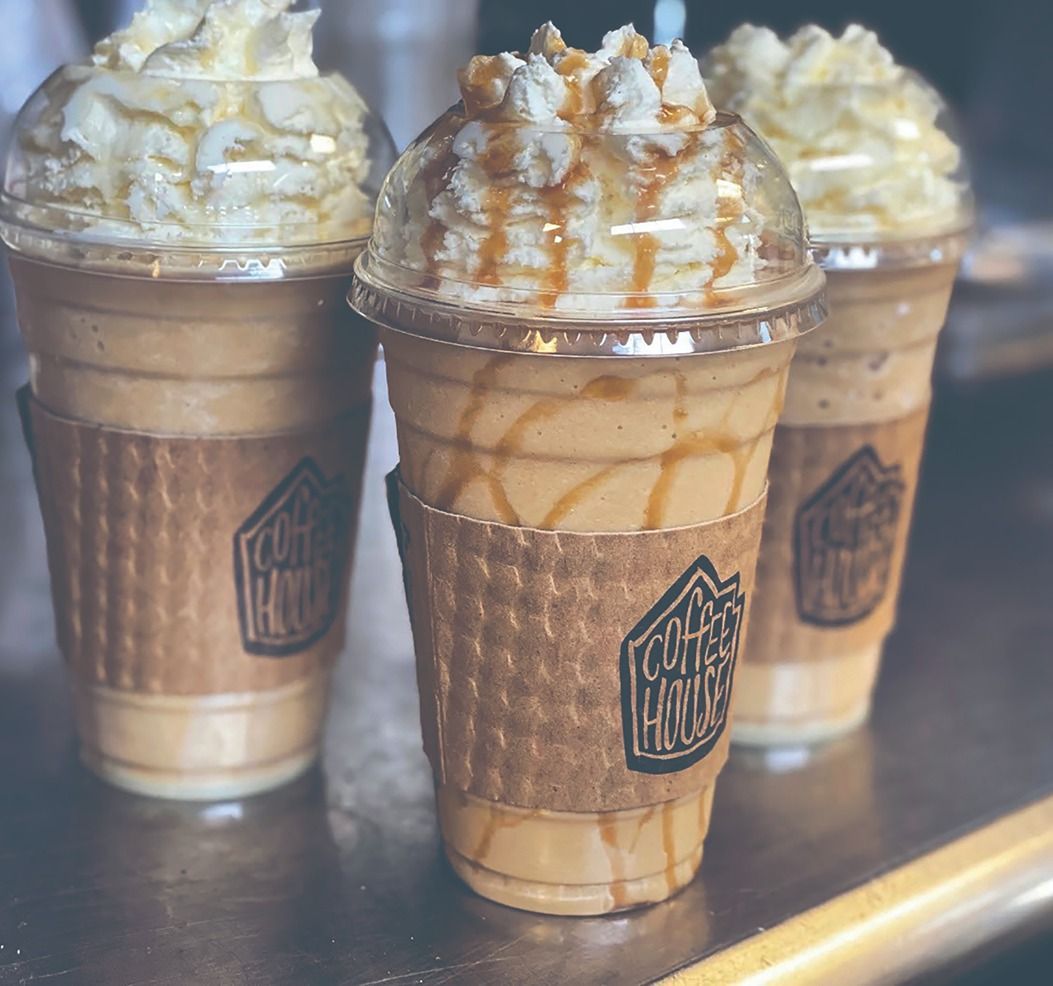 Coffee House
Away over there in Arabi, there's a cool little café dubbed, most appropriately, the Coffee House. This community café started life as a drive-thru in 2015 and has now grown into a full-fledged shop, offering java brewed from Coast Roast beans as well as free WiFi, friendly faces, and handmade croissants and breakfast burritos. Their frosty frappe flavors, replete with whipped cream, are constantly changing, but they've been known to offer everything from white chocolate and cheesecake to lavender maple and (a Star Wars fan favorite) "Darth Frappe," or mocha and almond with chocolate whipped cream.
Evolve Coffee
Way down in Metairie, in a busy strip mall on W. Esplanade Avenue, Evolve Coffee is mixing it up serving specialty coffees and teas, including the healthful and oh-so popular matcha. Using beans roasted by Mojo Coffee, Evolve makes not only a creamy, frozen latte, but a cool matcha-licious fusion dubbed the "frozen Evolution"—a mashup of freshly brewed espresso and ceremonial-grade matcha sourced from Japan. One day perhaps we'll see them slushify their signature rose matcha latte.
Mojo
Speaking of Mojo, as one of the first coffee shops in town featuring "hand-crafted pour over methods" to the GNO, it should come as no surprise that at least one of their locations offers a fabulous frappe. In the Lower Garden District, on the corner of Magazine and Race streets, Mojo serves frozen coffees with a slew of syrups added for flavor, from salted caramel and Bananas Foster to miel (honey), Milky Way, and king cake.
PJ's Coffee
Coffee giant PJ's Coffee has locations all over the country, but it calls New Orleans home as it was founded here in 1978 by Phyllis Jordan. Sourcing only "the best quality arabica beans," which are then small-batch roasted, PJ's features their own frappes, though they're called granitas (traditionally an Italian sno-ball-like dessert) and "velvet ice." Though the two are generally only offered mocha and latte-flavored, the company will occasionally release seasonal versions like Southern wedding cake with vanilla and almond or honey macadamia.
Cafe Du Monde
Finally, one of the most famous frappes to be had in the Crescent City would have to be the frozen cafe au lait at Cafe Du Monde. Whether you're at Lakeside Mall, on Williams Boulevard in Kenner (brah), or standing in line at their iconic, green and white-awninged stand on Decatur Street in the French Quarter, it's pretty hard to beat this frozen coffee and chicory treat. Grab one to slurp while gaping at the Mighty Mississippi, and, perhaps, this summer won't seem quite so hot.