At the age of 13, I became obsessed with all things Elvis Presley. One day after asking my parents about a million questions about him, they took me on a trip to Graceland in Memphis to get a sense of who Elvis was as a person and as The King of Rock N' Roll to their generation, and it was that trip that sent me on a musical journey to become the person I am today. Going back to Memphis after 20 years felt like coming full circle for me after all of the knowledge I've gained and experiences I've had since that fateful trip. However, I also wanted to put my personal nostalgia aside and get to know the city in a new way; to understand what Memphis is now as a metropolitan city in the 21st Century and how younger generations of visitors react to its deep history while enjoying its current amenities.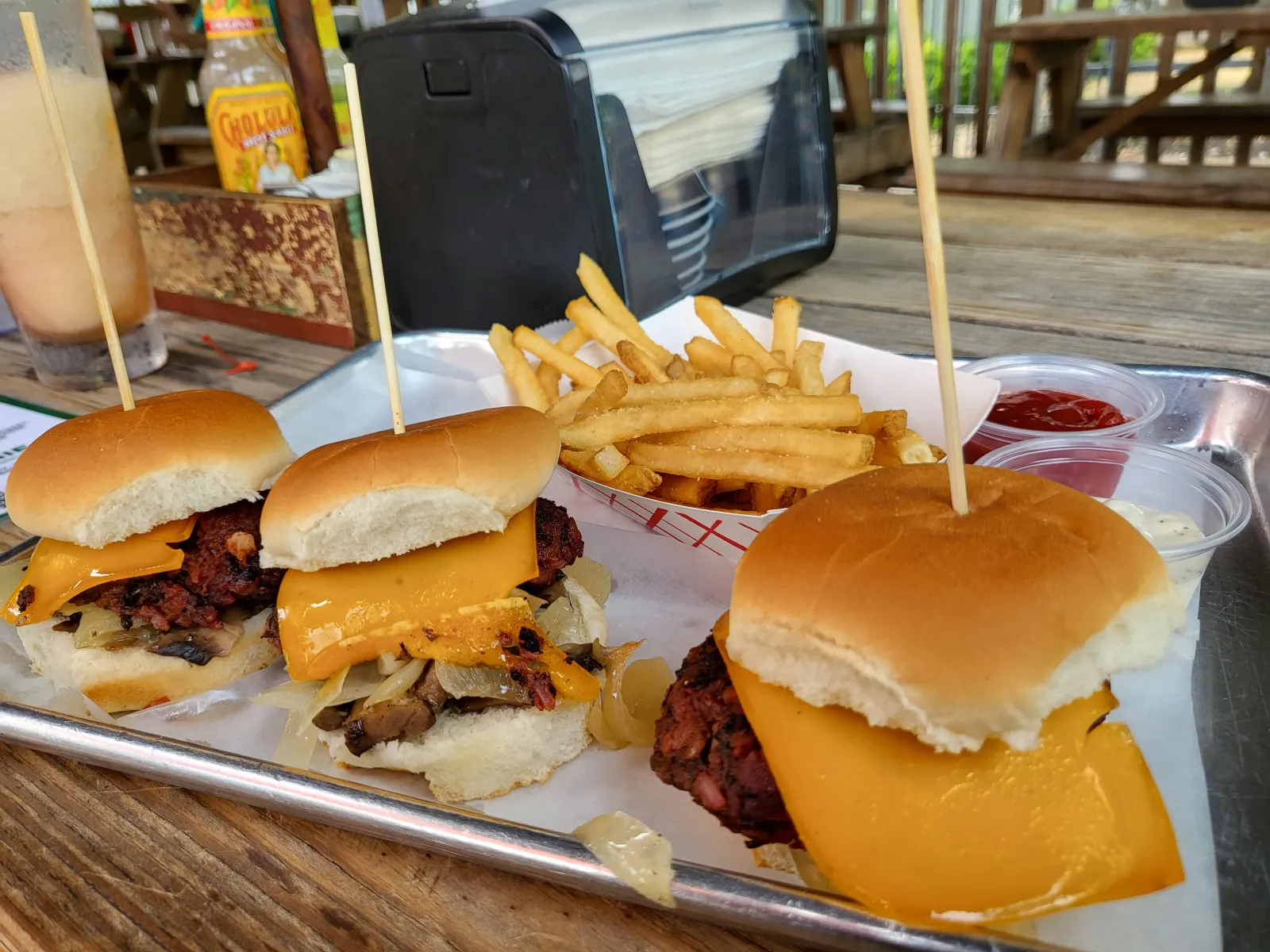 I stayed in the hip Cooper-Young neighborhood where I was compelled to walk to the many restaurants, bars, coffeeshops, and so much more; I could not even experience it all in a week. On an unseasonably cool, sunny day, I put my old dog Charlie in his stroller and slowly walked to the Slider Inn for Vegan Triple B sliders (rice, beans, beets patty, vegan gouda, and sauteed mushrooms!) and a Jameson Slushie on the patio. They even had freshly-baked, homemade cookies for furbabies! One can't help but be charmed by the welcoming and friendly atmosphere in Cooper-Young; even an overpass has been decorated with artwork resembling buildings in the neighborhood to make you feel at home (and it even lights up at night!).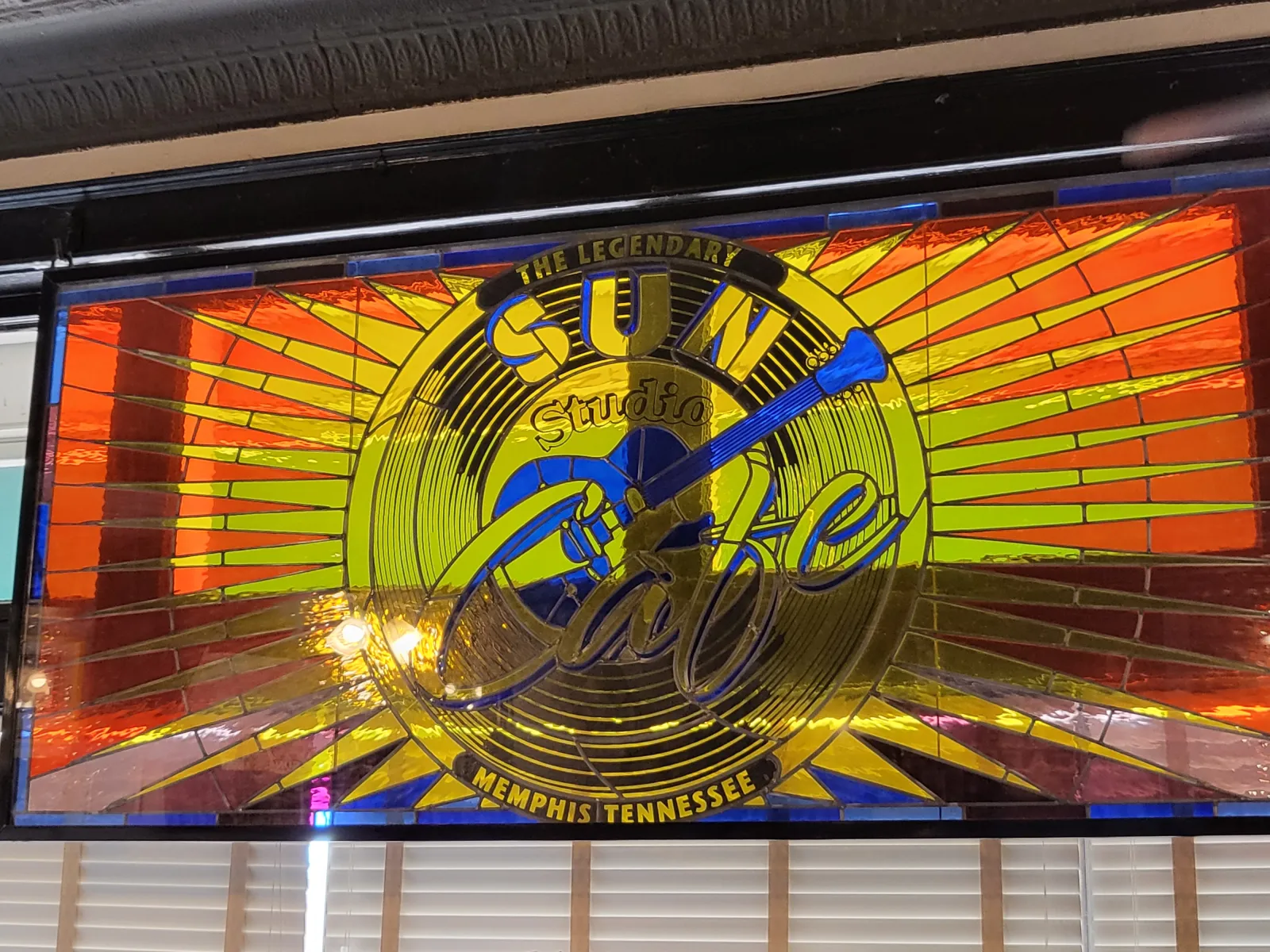 The Saga of Sun and Stax
Jumping headfirst into Memphis' musical past, I headed for Sun Studio where so many rock n' rollers got their start due to a dedicated producer. While I knew bits and pieces of the Sam Phillips story, our tour guide blew my mind with so much information that I did not know. Radio engineer Sam Phillips was so obsessed with documenting music that he bought portable, yet extremely heavy, audio recorders that he would take anywhere just to get some music on tape. He would record "anything, anywhere, anytime."
Sam's label Sun Records had a few mild hits including a song called "Just Walking in the Rain" recorded by The Prisonaires who were actually incarcerated at the time of the recording and "Rocket 88" by Ike Turner's band. But Sam was spending a lot of time and effort promoting his records to radio stations and not making much of a profit. In order to make some money, Sun Studio would allow everyday people to record two songs on a record for a couple of dollars.
The story of Sun Studio and rock n' roll would be incomplete without discussing the role that Marion Kiesker played. Sam's assistant Marion was in the studio when 18-year-old Elvis Presley came to record two songs on July 18, 1953, hoping Sam would be there to hear it. Marion was intrigued by the vocalist and made two copies of his record so that she could give it to Sam. She wrote on it "good ballad singer." It was because of Marion's urging over the course of a year that Sam brought Elvis back into the studio to record "That's All Right" with a studio band, and Sam finally realized Elvis' potential. Sam brought the record to the popular local radio DJ Dewey to play on the air, and Elvis was given a three-year contract due to the immediate positive response that the song got.
The Sun Studio Tour only goes through three rooms, but the fascinating aspect of that is realizing how much happened in those three rooms that affected the creation of popular music in America and beyond. The sounds that were played then reverberate in your headphones today. The conversations, the innovations, the experimentations in that one spot are the basis for so much of what music is and what it will be. I also found it fascinating that Sun Studio is still an active recording studio.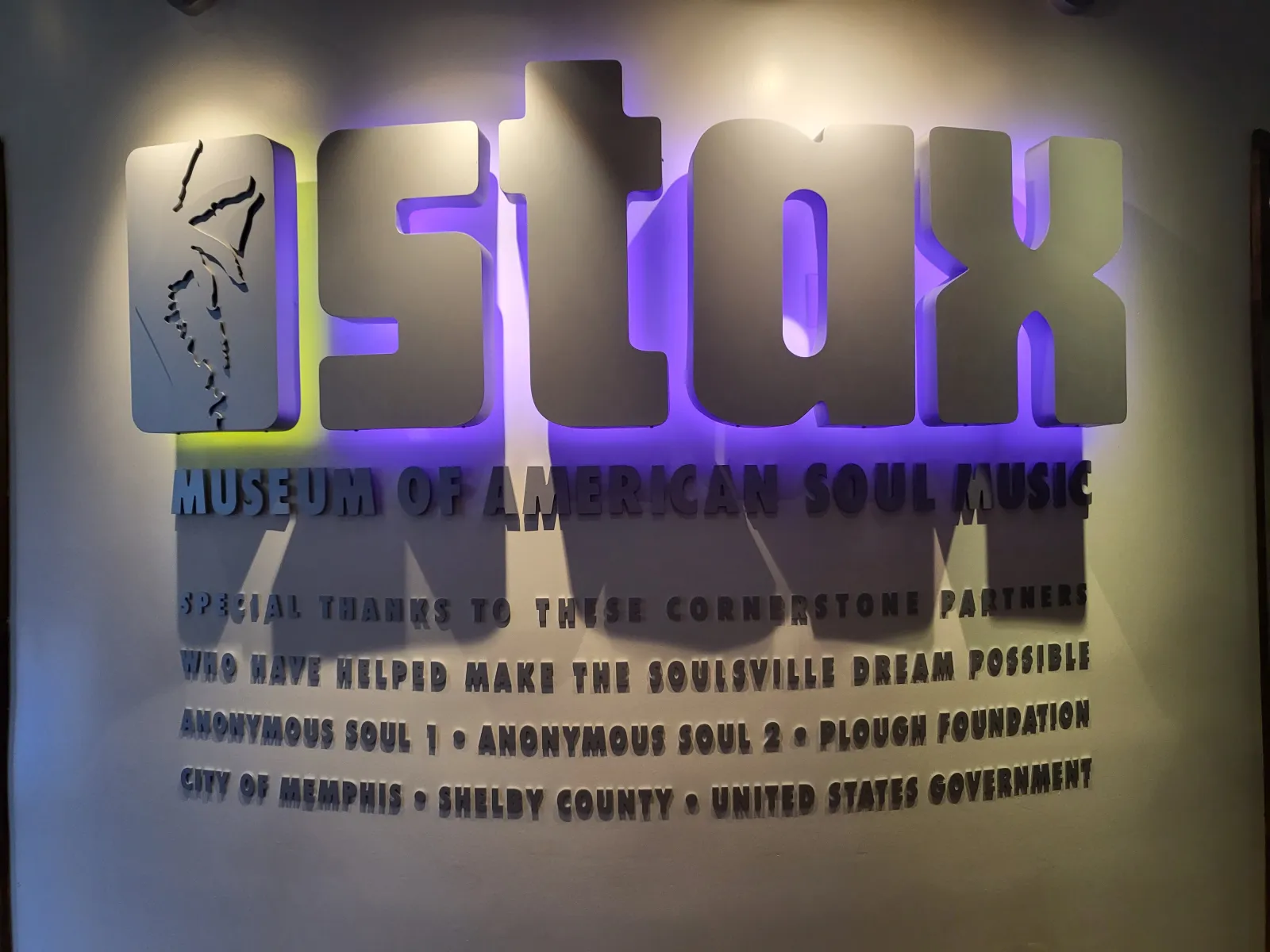 If Sun Studio is the foundation of popular music, Stax Records would be the walls that were built on that foundation. The Stax Museum of American Soul Music experience begins with a short film succinctly explaining how Stax Records began and how it was able to produce iconic music from the likes of Otis Redding, Sam & Dave, and Booker T. & the M.G.s. After the film, you wend through rooms that detail how the churches in black communities and the gospel music that emanated mixed with country music to inspire musicians to create a new sound. Rufus Thomas said, "I listened to hillbilly music before RnB. Then country infused with gospel." Ray Charles furthered the point, saying, "You have to have the church, the blues, and country. It was a lot about country."
Stax Records grew as they released hit after hit in the early 1960s, eventually partnering with Atlantic Records. Stax's roster of artists were able to perform far away from the deep south even getting shows in Europe. However, after the tragic passing of Otis Redding, Atlantic Records being sold, and violent events around the U.S. causing chaos, Stax Records lost their forward momentum.
What Stax Museum highlighted to me was that nothing is created in a vacuum, especially not music. Sounds and styles can transcend hate, fear, and prejudice to influence a listener. Stax Records was musicians making music for themselves first, and they didn't care about anything else. The result of that steadfast desire is some of the best music ever made.
Beer, Please
With so much music history swirling around in my head, I felt it would be prudent to let that information marinate over some great local beer. The views at Grind City Brewing Company are unparalleled. Literally alongside the Mississippi River, Grind City's grassy campus is located adjacent to the downtown area yet somewhat isolated. You get a full view of the city skyline from the peaceful bosom of nature. You can choose to enjoy your beer inside (where they were hosting trivia), outside on the gorgeous patio to take in the sunset, or even on the manicured grass. I think my dog liked this place because there was so much to sniff being so close to the river, but also because it was serene despite being very busy.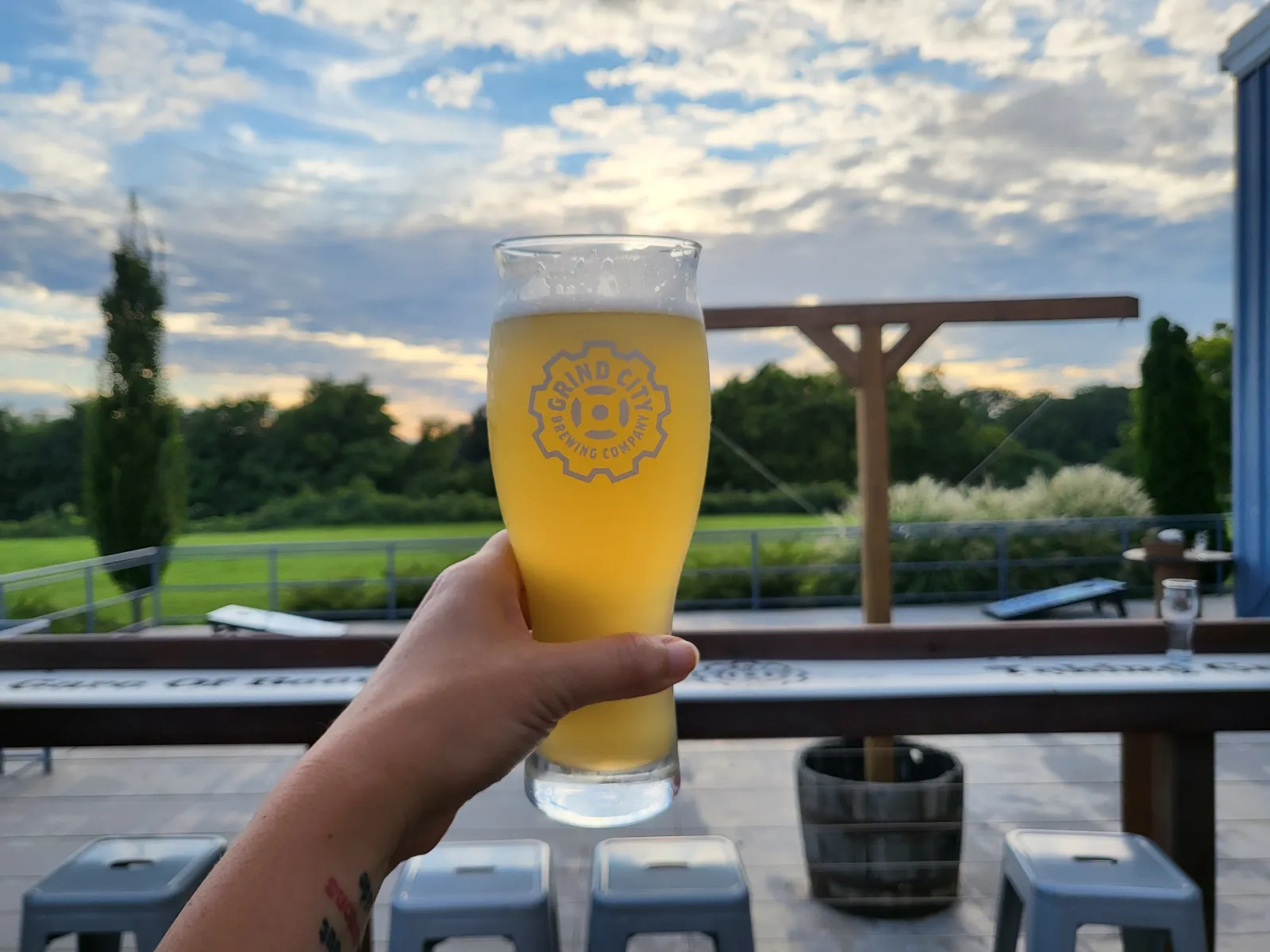 Of course, Memphis is a live music mecca. No trip would be fully executed without taking in at least one show. The concert that caught my eye was a first of its kind, and I was extremely excited to experience it. The Memphis Museum of Science and History (MoSH) played host to a beer release event that honored their treasured mastodon skeleton. Crosstown Brewing Company made a special double IPA in honor of the huge creature, and the Lucky 7 Brass Band played a live show in the museum's planetarium accompanied by a custom laser light show. Beer, brass, bones… could you ask for more?!
Considering this event was the first of its kind, the audience didn't know quite how to react. Do you quietly watch the laser show, do you get up and dance? Some of us were content just to partake in the show, but others (myself included) had to get up and dance to the high-energy funky music. It was nearly impossible not to stand up and move with so many horns making your heart race and a cold beer in your hand. I think even the various specimens in the museum came to life to get their groove on. I hope that MoSH continues these shows; it was such a special moment and I felt so much more into the music than I would at a crowded, distracting bar.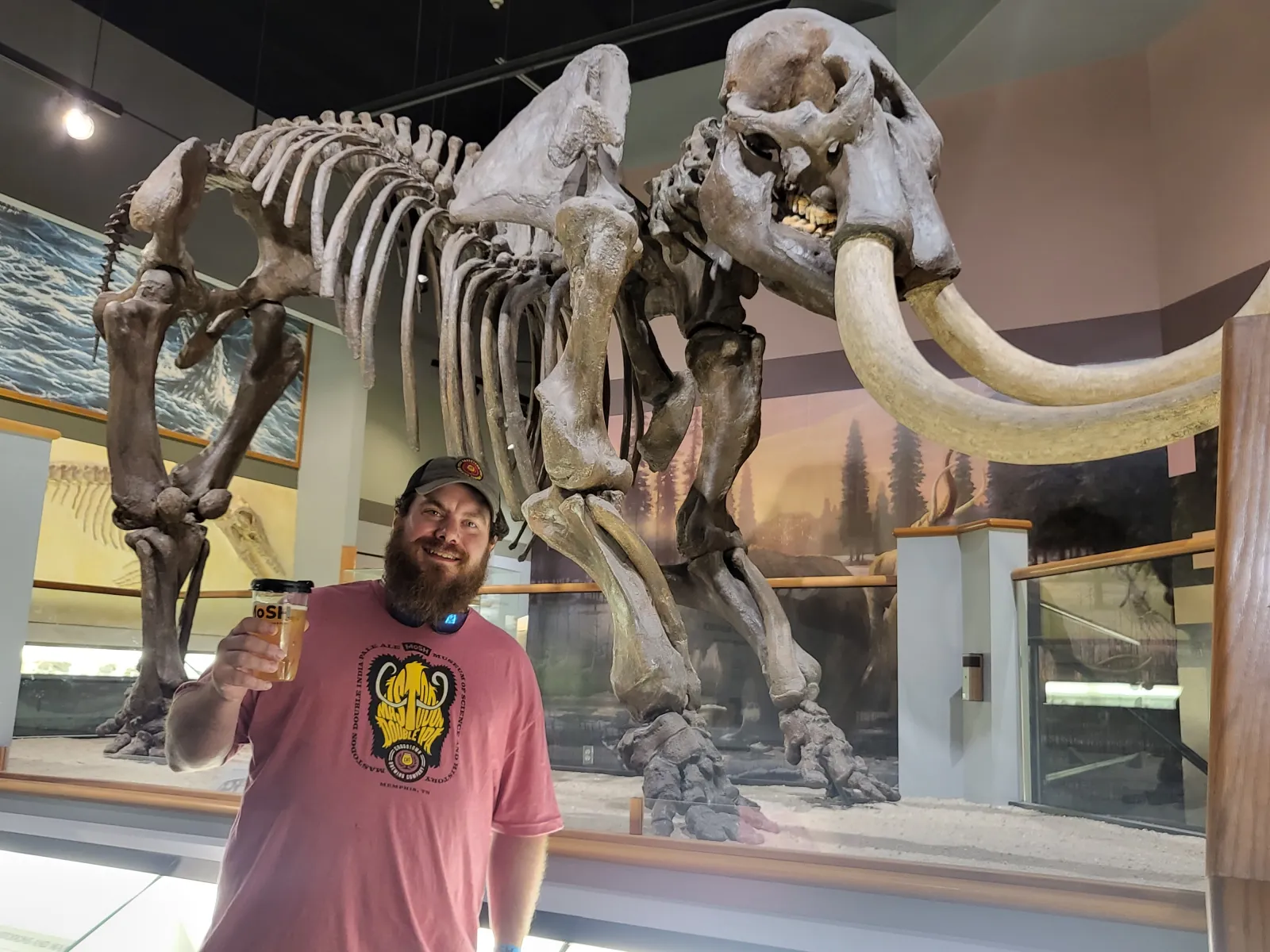 Going Back to Graceland
The day finally came: my full-circle visit to Graceland! This was such an exciting day for me for many reasons, and I wanted to see every little thing that was available to see. So many other people did, too. I arrived in town just in time for Elvis Week which is a celebration of Elvis Presley during death anniversary. Despite the crowds, the well-appointed campus allowed everyone access to all of the exhibits of which there were many.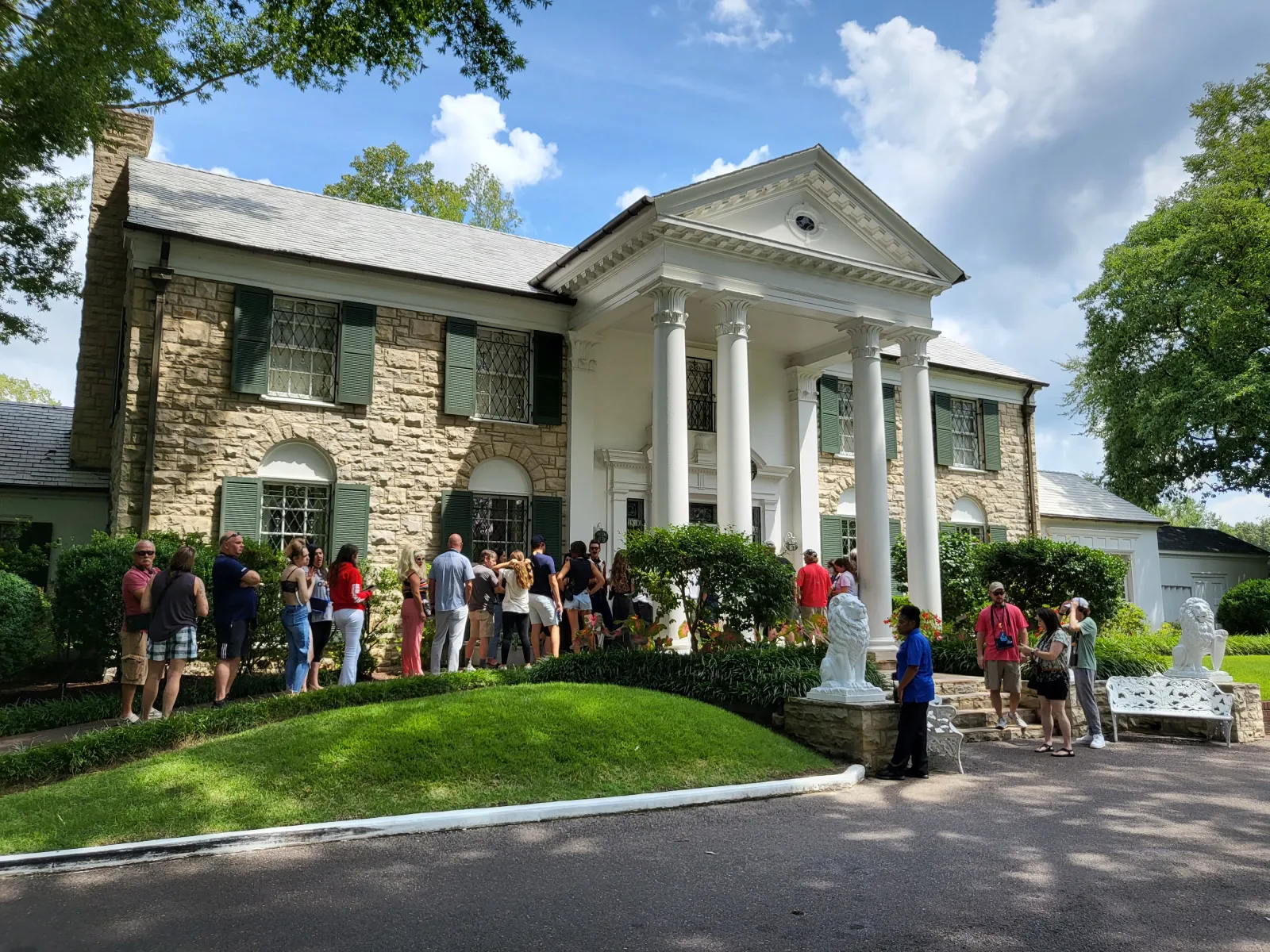 Before heading over to Elvis' home, I checked out his planes, his cars, items from within his house placed into an archive, his clothing, items from his time in the military, and… everything else. There was a ton of stuff to see and experience, more so than when I went 20 years ago. Graceland's various exhibits also had brand new interactive features that kids and adults alike enjoyed. You can sit in a replica of Elvis' golf cart and virtually drive it around the grounds of Graceland just like he did. You can get a video of Elvis serenading you. Someone can spend hours in these exhibits exploring every nook and cranny. Even non-Elvis fans can find someone they like in Icons: The Influence of Elvis Presley that showcases how Elvis and his iconic on-stage costumes influenced other musicians.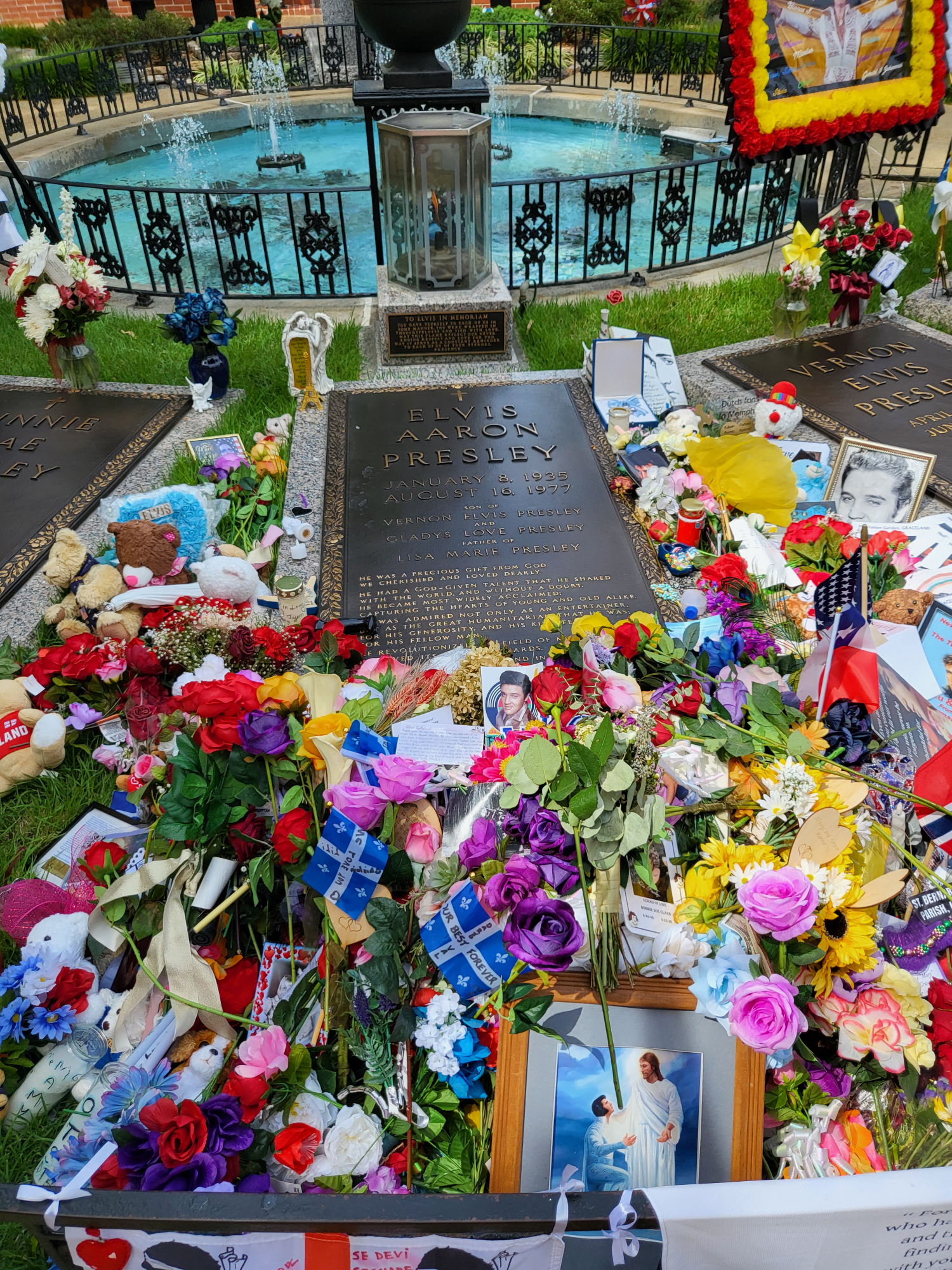 When it was time to get on the bus to Graceland, everyone is given a tablet and headphones so that you can listen to a virtual tour guide as you walk through the house. The best part about this was the virtual our guide is none other than John Stamos. If you don't recall, John Stamos played Elvis-obsessed heartthrob Uncle Jesse in the show Full House. John was able to recite all of the tiny details about the history of the house and the treasures within it in a way that could be lost with a live tour guide trying to talk over people. Those little details really made you feel more connected to the house and the people who once lived there. The photos on the wall, the placement of the many televisions in each room, where Elvis and Priscilla's daughter Lisa Maria liked to play as a child… No corner was missed.
The King's albums and costumes that previously took over the racquet ball court have been moved to the exhibition spaces, so it was returned to its state when Elvis was last there. This building feels heavy because Elvis played the piano just outside the court on the day that he passed away.
Then came the final part of the tour. Among a sea of flowers, tributes, and gifts from every corner of the earth lies Elvis Aaron Presley and his family. As emotionally-provoking as these final resting places can be, it's the new addition that is incredibly sad. Sitting upon the ground instead of in it is the grave of Benjamin Storm Presley Keough, the son of Lisa Marie Presley. He passed away in 2020 at the age of 27.
While Graceland can be a place of awe and happy memories, there are reminders of how fame, fortune, and stardom can be harmful to someone's mental and emotional wellbeing. Elvis was the King of Rock n' Roll. He was also a son, husband, and father. The demands put upon him and those he put upon himself should serve as reminders that no person, no matter how famous they are, is a machine.
Not Your Hometown Pizza Place
There are so many restaurants in Memphis that I had a difficult time choosing where to dine every day. But there was one place I definitely wanted to check out. I recently dined at Chef Partners Andy Ticer and Michael Hudman's Italian restaurant Josephine Estelle in New Orleans, so I wanted to see what their place Hog & Hominy was like. This eatery is located in a bustling part of town on a street that is lined with so many busy restaurants that you have to utilize valet parking (offered by Hog & Hominy).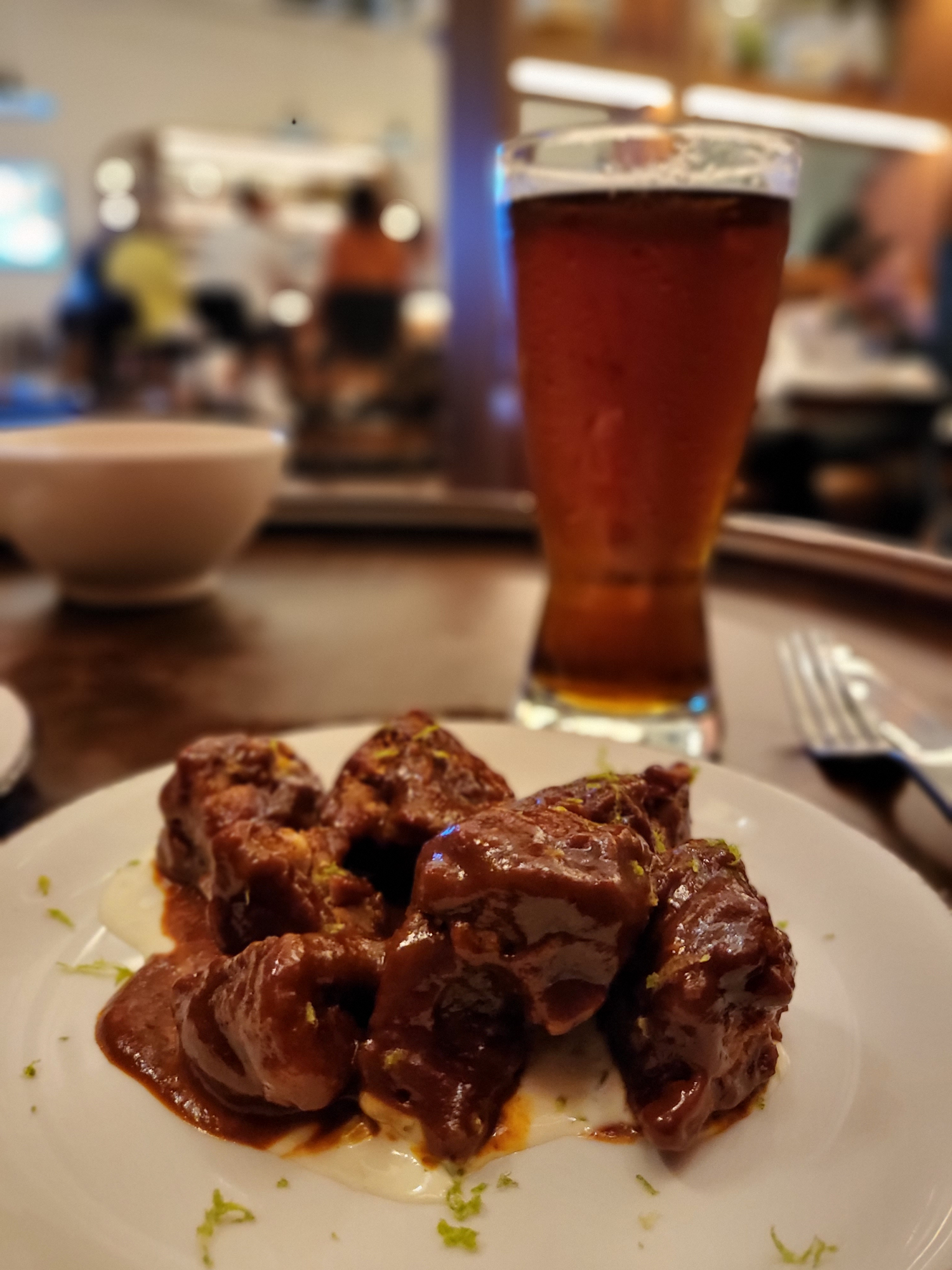 Hog & Hominy is comfortable and inviting with lounge seating that was designed to help you unwind with your pals. The bar area even has a few tastefully-placed TVs so that you don't miss the action, but this place is designed for conversation. The lighting is warm and dim, and club music plays over the din of happy diners. It feels casual with pizza and beer highlighted on the menus, but it is by no means a pizza joint.
I got Sweetbreads as an appetizer which they label as a "snack." The sweetbreads come slathered in a viscous sauce of chili crisp agrodolce, jalapeno vinaigrette, and serrano pepper heat: smokey, spicy, but not too sweet. They are extremely tender with just a tiny bit of crunch.
I'm always up for some down-home Italian favorites, so I ordered a plate of Meatballs. Three lovely guanciale-infused meatballs sat happily in a pool of excellent garlicky tomato sauce dusted with a healthy helping of cheese. Their texture is very firm, more than any other meatball I've had actually. But that just made you have to chew them a little bit long in order to unleash a very slow heat that builds in the back of the mouth. Be careful if you order these though. It can be filling so make sure to share them with the table.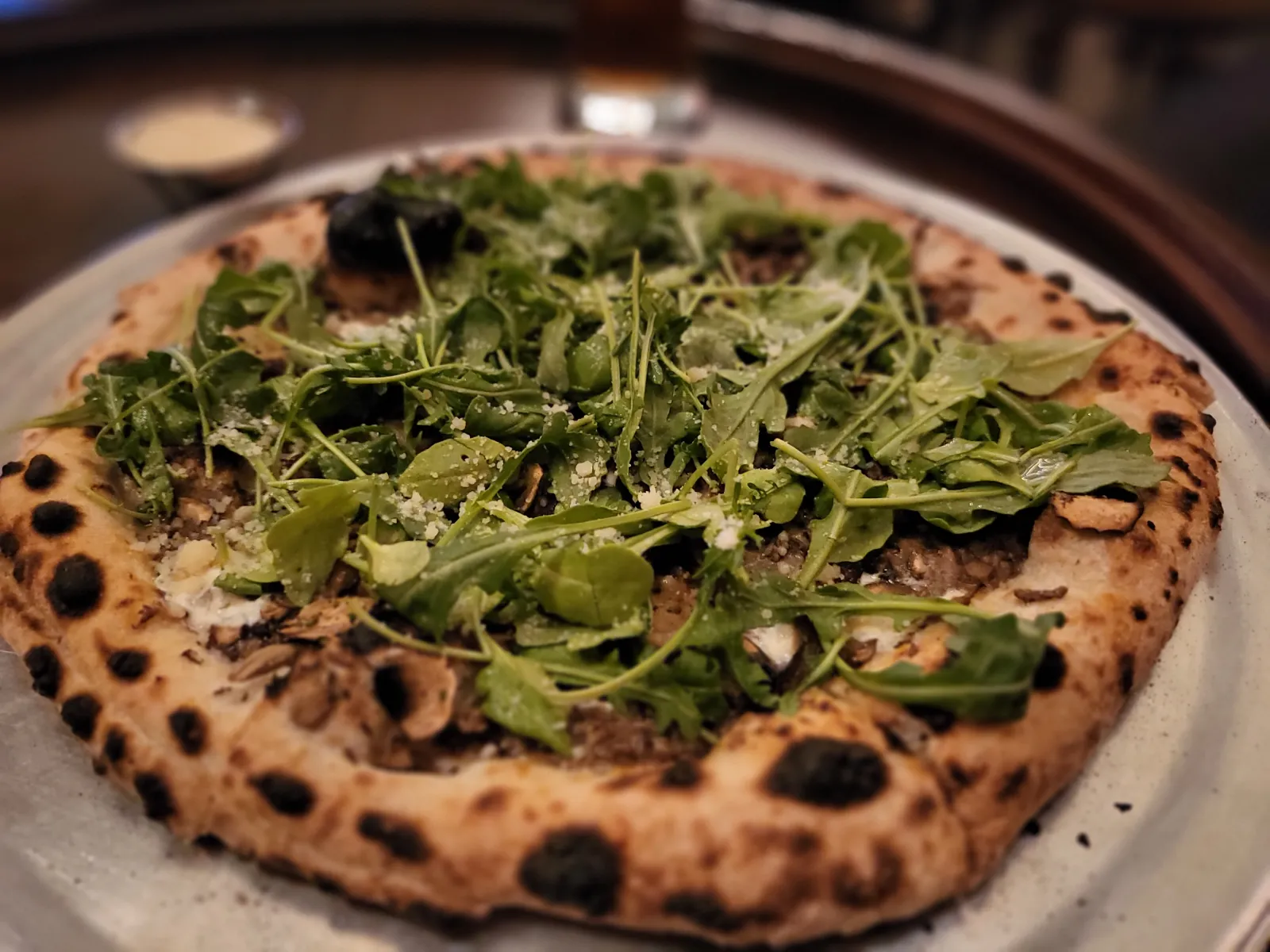 How can I say no to pizza? Being a big fan of mushrooms, I opted to try the 'Shrooms Pizza which can out hot and airy. The crust is cooked perfectly; crisp and charred on the edges and oily in the middle like I like it. The mushrooms were cooked just enough to release their water, and that earthy flavor is punctuated by the fresh, sharp arugula. I dusted the pie with a little more parmesan because I was in a cheese mood, but the pizza's ingredients were in perfect harmony without it.
The Best View of Memphis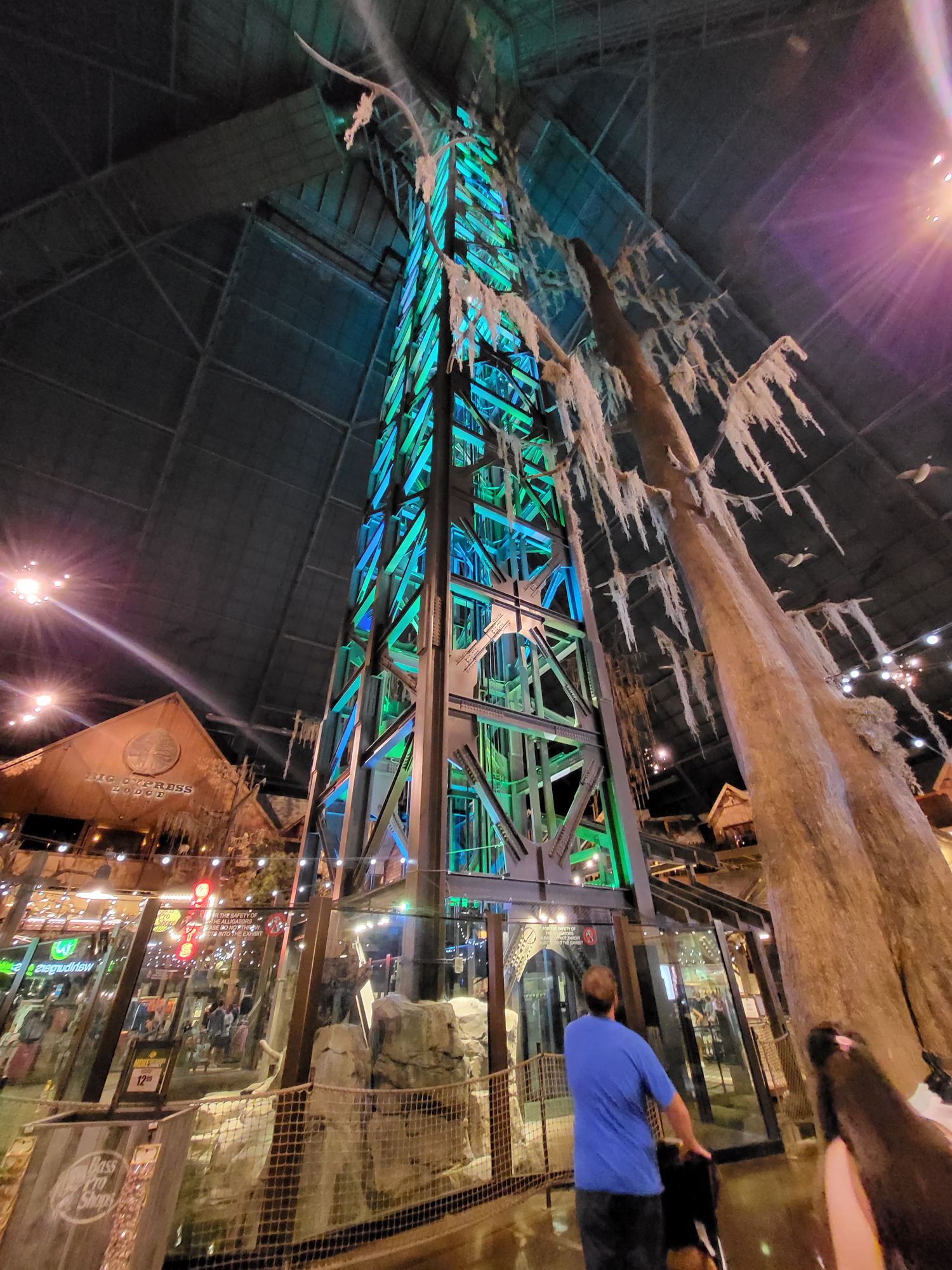 On my last day in Memphis, I wanted to get a better view of the area that I had been learning about, and the only place to do that is at The Bass Pro Shops at The Pyramid. The surprisingly-huge Pyramid features the country's tallest free-standing glass elevator which quickly brings you up 300 feet (that's 28 floors!) in the air to the top of the pyramid. With adrenaline beginning to run through your veins, you step off the elevator into the Lookout Restaurant where I had a cocktail, but it's hard to stay in your seat for long. You are allowed out onto the Glass Observation Deck to see not just the entire city including the Mississippi River, but all the way to the horizon. I suggest going at dusk when the sun sinks below the earth and you can truly see the transition from day to night. As a special treat, the Hernando de Soto and Big River Crossing bridges across the river puts on a spectacular light show.
A word of warning: this is a very high height, and the floor of the deck is somewhat transparent. The observation deck may not be for you if you are scared of heights. You may find just sitting in the restaurant watching the gorgeous aquarium in The Lookout Restaurant's bar to be good enough. For those who would rather stay grounded, the entire inside of The Pyramid looks like a little woodland village. You can peruse the vast amount of sporting goods and apparel, look at the fish in the winding waterways, see live alligators, and even go bowling! Someone can easily stay an entire day here just walking around, or you can spend several days here if you book a room at the Big Cypress Lodge.
Memphis happily caters to any taste: old-school music enthusiasts, culinary scene explorers, craft beer seekers, and all of the curious parties in between. I'll keep coming back to reconnect to my rock roots, but I'll always make time to experience the latest innovations that Memphians make.