What a blessing it was to be sipping on some delicious French wine in Paris! (Shhhh—I had wine with almost every lunch and dinner on my trip in London, Paris, and Rome!)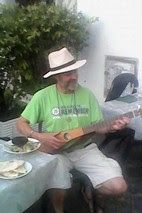 Here I was in July 2016, five years ago, sitting at a table of a quaint, romantic restaurant in France after my first visit to London and writing some post cards to loved ones back in the United States!

How special it was to be on my first trip to London, Paris, and Rome on a solo visit that I had planned in January—and met so many international travelers through the hostels that I stayed at!

My wife had certainly been encouraged by me to come along, as our 33rd wedding anniversary came to fruition during this time, but she did not feel comfortable travelling with all the concerns about terrorism, etc; she gets tired of me saying, "You gonna go one way or the other!"
The day that I arrived in Paris just happened to be the last day of the Tour de France, and I got in early enough on the Chunnel train to make it to the Arch of the Triumph to enjoy watching the winning rider come in to the finish!

Back to my dining at the French restaurant, a Parisian native walked by, smiled, laughed, and then said first in French, "I haven't seen that in years!!!" ("Je ne l'ai pas vu que dans les années!")

We chatted briefly, as he was bilingual, and he said that he was attracted to the bright Green "Alzheimer's Services of the Capital Area Memory Walk/Run" shirt that I had on from Baton Rouge, and was so intrigued that I actually was writing a post card--as he pointed to everyone else sitting around me clicking away on their phones, laptops, or other devices!

Also, I love to journal with a ball point pen; so interspersed with my post card writing I would jot some memories from my trip in my note book--as I could hear a cacophony of clicks from folks using their hand held devices!

What is a post card?

No, it is not a Facebook, Instagram, or a Twitter post!

Do Millennials or Generational X, Y, or Z's even know what that is without "Googling it?"

The young beautiful waitress for the restaurant came up next to me, offered her advice for an exquisite meal (marinated salmon on cheesed bread), and also was obviously amazed that I used a hand writing instrument to record things.

After some small talk and flirting (shhh--don't tell my wife!), she kissed me on my cheek--WOW! I was flashed-back to that wonderful old movie, An American In Paris, that my wife and I used to watch on a VHS (does the younger generation know what that is?)

Next, I took out my "unlocked phone" that had been given a new "SIM card" from the one I used in England and called my wife.

"Maria, 'Hello, how are you?'"—echoing the Adele song now so famous!

After some pleasantries and words of love and affection, especially since that was our anniversary day, I told her about my adventures, but I made sure NOT to tell her how nice the French ladies were!

She was very happy about the flowers that I had ordered for her from Billy Heroman's Florist for our day and that had been delivered!

Also, it was so neat to have taken on my trip a mini-guitar that I had gotten from the late, great Mark Hunter, who used to write so many wonderful "faith" articles in the Saturday Advocate.

So, I next took out my stringed instrument and sang some songs to the folks around me—they especially liked the "You Are My Sunshine" tune that a former Governor of Louisiana, Jimmie Davis, had written!

Thanks, Europe, for giving me such a splendid time; there's not enough space to include the great times I had also in London and Rome—especially taking a scooter tour of Rome like I did; will pen that for another Human Condition!