It's only fitting that I'm writing this article having just arrived back in New Orleans after a three-month-long hiatus. My sophomore year at Tulane was cut short when students were sent home in March, a precautionary measure taken by the university just days before COVID-19 was declared a global pandemic. As I drove from the airport to my hotel Downtown, I couldn't believe that such a soulful city could feel so eerie; there were no crowds on Canal, street performers on Royal, nor musicians in Jackson Square. New Orleans is resilient—that much we know is true—and just because the city is quiet, doesn't mean the spirit is gone. In fact, it was promising to see that people are, for the most part, staying home. It's a new way for New Orleanians to show how much they love and care about their community.
Anyone who knows me would agree that I'm a creature of habit. New Orleans has an abundance of places to eat and shop and activities to do. When I was a freshman, it took me a few weeks to get my bearings—but once I find my favorites, I stick to them. Lucky for me, over the next few weeks, I'll get a chance to revisit some of my most beloved spots in the Big Easy. I am about to start my junior year, so keep in mind that this guide is geared towards those on a college budget. There is so much of this city that I have yet to see, so consider this the guide that keeps on growing.
These are the places I have grown to love since moving to New Orleans two years ago.
(Please note that, as of press time, not all of these places are currently open, due to COVID-19.)
Uptown
Where to Eat: A few days into my freshman year, my roommate and I discovered Jazmine Café. Located next to the famous Camellia Grill (more on that later), Jazmine Café is a Vietnamese joint that soon became my favorite restaurant. Soon after, I stumbled upon Mint and Chill Out Cafe, both of which also serve Asian fusion. By second semester, my friends and I made it a tradition to have breakfast at Refuel Café every weekend—the iced coffee, grits, and breakfast burrito are to die for. Other brunch favorites include Toast, Surrey's, and Satsuma, which is a five-minute walk from campus.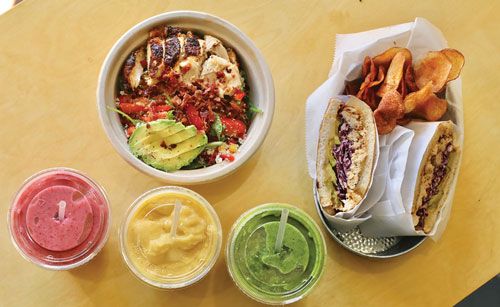 As a native New Yorker, it was important to me to find a solid sandwich down South. I stumbled upon Cibo Deli and discovered that they make a mean Italian combo, as well as classics like chicken parm and lasagna. For a different style of sandwich but equally as satisfying, Good Bird on Freret is the perfect place to go for lunch before or after class. For dinner, PIZZA Domenica never disappoints; I order the burrata Caprese, wood-roasted cauliflower, and gorgonzola pizza with prosciutto, apple, and honey every time I go. Perhaps the most recent addition to my list of favorite places to eat is Barracuda, a taco stand on Tchoupitoulas that opened several months ago. I love the crispy fish tacos and esquites, which is what they call cheesy corn.
Camellia Grill holds a special place in my heart; my grandparents used to sit at that very same counter when they were students at Tulane almost 50 years ago. Camellia is great for breakfast, lunch, or dinner, but I think it's best for late-night eats. Last but not least on my list is the renowned Domilise's. It's no hidden gem, but I had to include it—ordering a po-boy at Domilise's is a rite of passage for every Tulane student.
What to Do: Audubon Park is without a doubt the best place to unwind and decompress. I prefer to go in the evening, when it's a little less crowded, and walk along the edge of the park. I love the way the sun glistens through the massive Spanish moss-covered trees. One of the best Tulane traditions is going to The Fly on Friday afternoons to picnic and watch the sunset—at the edge of Audubon Park, The Fly runs right along the Mississippi River. Both students and locals love to lie out on the grassy area overlooking the water.
Walking down Magazine Street is a must. Two of my favorite staples on Magazine are Peaches Records and the Ashley Longshore Studio Gallery; both places are a testament to the eccentric nature of New Orleans. A bit closer to the Tulane and Loyola campuses, Freret and Maple Streets are great areas to wander around as well. Relatively new to Freret Street, Body Shoppe is a hub for Tulane students. Tulane alum Kelsey Greenfield opened the fitness studio earlier this year, and it's become my favorite place to work out.
Above all, my favorite thing to do in New Orleans is to ride the St. Charles Avenue streetcar heading Downtown. The St. Charles line runs the length of the city, from Carrollton Avenue and South Claiborne Street, Uptown, to Canal and Carondelet Streets Downtown. Riding the streetcar is perhaps the most extraordinary and efficient way to explore New Orleans.
Where to Shop: Scattered along Magazine Street, some of my favorites include Shake Your Bon Bon, Pied Nu, Jean Therapy, Joseph, Monomim, Funky Monkey, and Hemline. I also love Gae Tana's, Angelique, and Swap Boutique, all of which are located on Maple Street.
Garden District
Places to eat: Molly's Rise and Shine, Turkey and the Wolf, Sake Café, Stein's, Cavan.
Things to do: Stroll down picturesque Prytania Street to marvel at the mansions and huge oak trees that line the streets; visit Lafayette Cemetery.
Where to shop: DNO, Peony.
CBD
Places to eat: Josephine Estelle, Willa Jean, Meril, Sofia, Stumptown for coffee, Seaworthy, Domenica.
Things to do: Visit Alto at Ace Hotel, Bar Marilou, the Contemporary Arts Center, the galleries on Julia Street.
Where to shop: Freda, Friend, DNO, Stone Free.
French Quarter
Where to eat: Brennan's, French Toast, Ruby Slipper Café, Café Amelie.
What to do: Browse the antique shops on Royal Street, listen to live music on Frenchmen Street, check out the Frenchmen Art Market, Palace Market, Jackson Square, Le Garage.
Where to shop: Hemline Downtown, Krewe, Dirty Coast, Porter Lyons, Rocket Fizz Soda Pop and Candy Shop.
Marigny/Bywater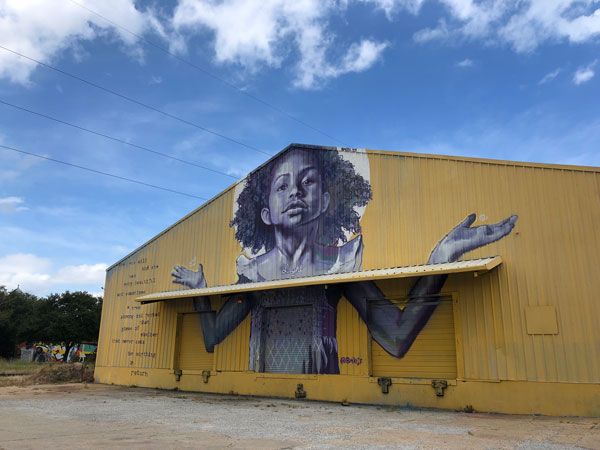 Where to eat: Elysian Bar at Hotel Peter and Paul, N7, Bywater Bakery, Elizabeth's, Paladar 511.
Things to do: Check out the Rusty Rainbow Bridge and Crescent City Park, Studio Be, Bacchanal.
Where to shop: Euclid Records, Blue Dream Vintage.
I am bracing myself for how different the upcoming semester will be. Already, Tulane has implemented a number of measures in order to ensure the health and safety of students, teachers, and staff. Classes began on August 19 and end just before Thanksgiving—the final exam period will be remote, and tests will be taken online. The university plans to hold classes both in-person and online, and some courses are considered "hybrid," which means that instruction will be a combination of the two. Over the summer, 13 temporary buildings were constructed on the Monroe and Newcomb quads and the Berger Family Lawn, one of which is a dining pavilion. The classrooms will allow for even more socially distanced, in-person learning.

Those living on campus must get tested for COVID-19 at the TU Arrival Center 48 hours before moving into the residence halls. The TU Arrival Center is located at the Hyatt Regency Downtown. Plexiglass barriers have been installed in buildings across campus, and students will be required to wear masks.