The Young Leadership Council (YLC) is continuing their 2020 benefit concert series by hosting a one-night virtual broadcast—YLC Wednesday at the Square: Get Down and GiveNOLA—on Wednesday, May 27, beginning at 5:00 p.m., live on Facebook and YouTube.
"Last year we launched an exciting partnership with the Greater New Orleans Foundation to harness the power of music to unite our community behind a common cause—multiplying our impact by giving together," says Stephanie Powell, executive director of the Young Leadership Council. "Bringing the spirit of philanthropy into the YLC Wednesday at the Square concert series is now more important than ever, given the vital needs and resources nonprofits provide in the wake of COVID-19."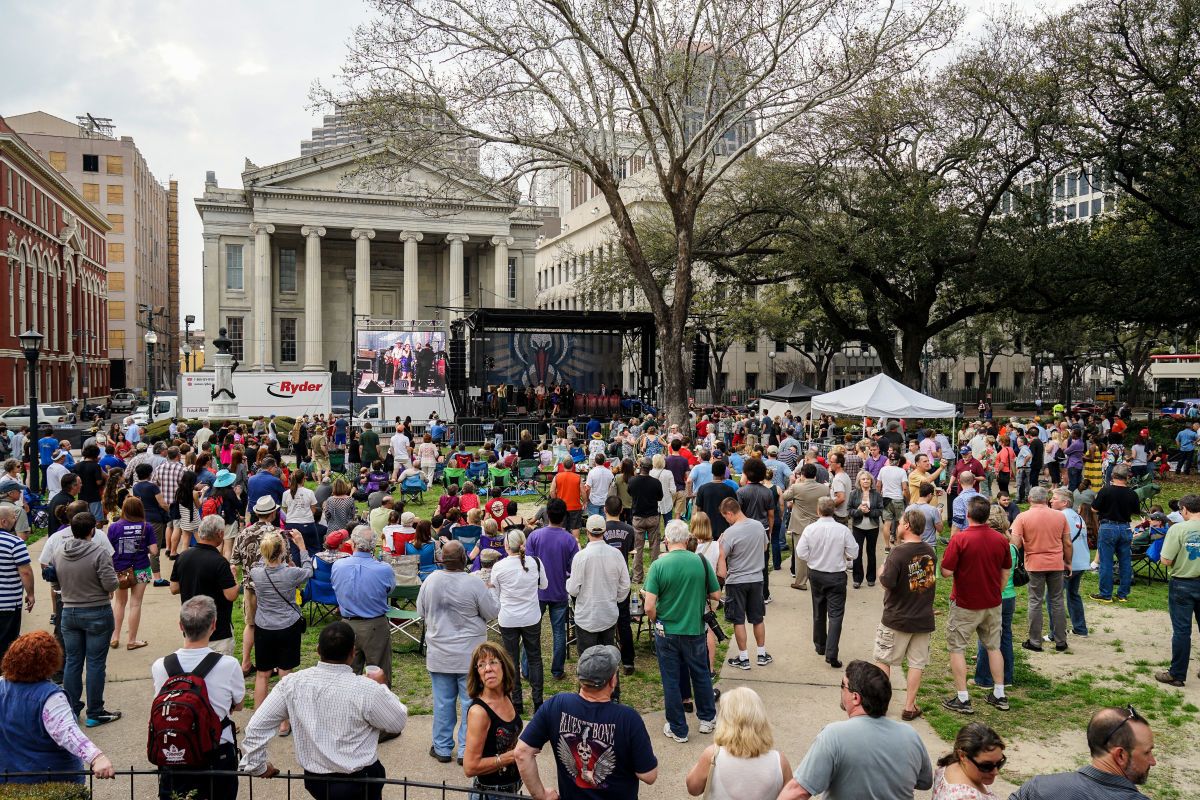 YLC Wednesday at the Square has grown into a prominent hub for free live music in Downtown New Orleans. The concert will feature almost all of the original 2020 openers and headliners, along with YLC Wednesday at the Square alumni.
Using music to bond with the city, performers will donate one song and share personal experiences with listeners. YLC and the Greater New Orleans Foundation have partnered together and hope that virtual attendees draw attention to the impact of GiveNOLA Day and continue to endorse local nonprofits in New Orleans.

Openers and headliners scheduled to perform at Get Down and GiveNOLA are Alexis & the Samurai, Amanda Shaw, Andrew Duhon, Big Sam's Funky Nation, Daria + The Hip Drops, Dave Jordan + the NIA, Erica Falls, Flow Tribe, Galactic, Little Freddie King, Marc Broussard, Margie Perez, Marcia Ball, The Quickening, and more.

"We are so excited to partner with YLC again to promote GiveNOLA Day," says Andy Kopplin, president and CEO of the Greater New Orleans Foundation. "This year, nonprofits are once again on the front lines providing critical services to the most vulnerable citizens in our region as we battle the COVID-19 pandemic. Get Down and GiveNOLA will help us reach more donors to chip in and give support to the nonprofits who need us the most right now." \
The virtual concert also raises funds to support young leaders in making a difference in the community. YLC Wednesday at the Square is the organization's main fundraiser and brings in the largest profits out of its many service projects done throughout the year. Donations to YLC provide leadership development programming and community service projects. To make a donation to an organization that strives to administer personal and professional development, youth development, and sustainability, head to givenola.org/young-leadership-council.

"For us, YLC Wednesday at the Square is an essential reminder of that pride every spring. We applaud YLC for their commitment to this series and the creative leadership they have displayed in taking it virtual. I sincerely hope everyone will tune in on the 27th. Social distancing does not mean we have to live in isolation; we can still come together in spirit," says Shelby Russ, the CEO and president of the concert's title sponsor, AOS Interior Environments.
YLC advocates that participants listen from home and continue supporting public health and safety. "This is a really fun way for our attendees to get creative. I'm looking forward to 'picnicking in place' by ordering takeout from one of our restaurant vendors, purchasing Abita beer, and enjoying the concert on what will hopefully be a beautiful night in!" says Lena McCloskey, YLC Wednesday at the Square committee chair and board president-elect. For those looking to support the businesses impacted by the cancellation of the regular YLC Wednesday at the Square serires, you can find a full list of participants on the YLC website at ylcnola.org/covid-updates.