The Overlook Film Festival, a four day celebration of all things horror, is happening at the Prytania Theatres at Canal Place from June 2 to the 5.
Closing this year's festival will be the Universal Pictures and Blumhouse presentation of The Black Phone. Based on an award-winning short story by Joe Hill, this horror thriller concerns a shy 13-year-old boy (Mason Thames) getting abducted and trapped in a soundproof basement by a sadistic killer (Ethan Hawke). Soon the boy begins receiving mysterious calls, on a dead telephone, from the killer's previous victims. The film is written by C. Robert Cargill and director Scott Derrickson, the duo responsible for Sinister and Doctor Strange.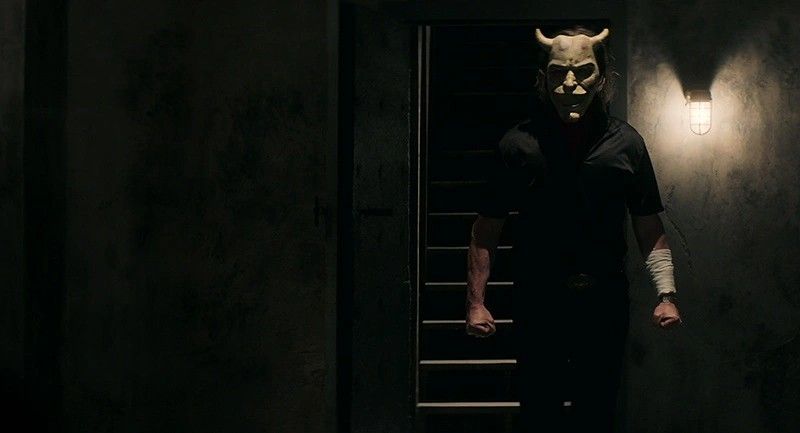 Here is the first wave feature film lineup:
Deadstream
An arrogant, stunt-driven video blogger, on the verge of social cancellation, decides to spend a night in an actual haunted house. This gorefest is directed by its lead actor, Joseph Winter.
Flux Gourmet
Director Peter Strickland (In Fabric, The Duke of Burgundy), is back with his latest oddball tale. Set at an institute devoted to culinary and alimentary performances, a group of experimental artists find themselves embroiled in power struggles, bizarre fetishes, and gastrointestinal issues. Asa Butterfield and Gwendoline Christie star.

Jethica
Jessica (Ashley Denise Robinson) seeks help from beyond the grave when her stalker follows her to a remote area of New Mexico. Director Pete Ohs' comedic ghost story skewers toxic masculinity in modern dating.

Resurrection
Rebecca Hall and Tim Roth star in this tale of a successful business woman whose peaceful life with her daughter takes a dark turn when they are confronted by a man carrying secrets from their past.

Saloum
A group of mercenaries transporting both a druglord and a bounty they stole find themselves stranded, and are forced to hide out in the mystical region of Saloum, Senegal. Jean Luc Herbulot directs the film.

Swallowed
From Carter Smith, director of The Ruins, comes this pulse-pounding tale of two best friends on their final night together, with nightmares of drugs, bugs and horrific intamacy. Jena Malone stars in this queer body horror chiller. World Premiere.

Watcher
Chloe Okuno, makes her solo directing feature debut with this homage to '70s tales of paranoia about a young woman who moves to a foreign country with her fiancé, and can't shake the feeling that she is being constantly monitored by an unseen figure in an adjacent building. Maika Monroe stars.

Who Invited Them?
In Duncan Birmingham's first feature, a young married couple throw a successful housewarming party, but their charming new neighbors just won't leave. The drinks keep flowing, but the couple soon suspect their new friends of sinister intentions. The cast includes Ryan Hansen, Melissa Tang, Timothy Granaderos, and Perry Mattfeld. World Premiere.
Passes on sale now: www.overlookfilmfest.com A portion of the proceeds from all pass and ticket sales will be donated to the Hurricane Ida Relief and Recovery Fund, a project from the Mutual Aid Response Network led by Imagine Water Works.