Music is therapeutic. It heals the soul, entertains, and provides helpful life lessons. The amazing benefits of music have led to an increase in DJs. From rock to gospel to the blues, there are thousands of DJs in every music sector.
These DJs are gifted differently, but they all aim to mix both the ancient and modern songs for entertainment reasons. If you are planning to hold an event, you might like to invite an incredible DJ to entertain the masses.
To help you out, we have discussed the most successful DJs in 2020. These DJs are still growing musically, but they have won awards and had chances to entertain the most prominent people.
Check them out:
Martin Garrix
Multiple sites have ranked Martin as the leading DJ in the year 2020. He was born in May 1996 in the Netherlands. His passion for songs, music, and musical instruments was noticeable when he was still young. He started following his passion when just a teenager, and he eventually became an international name for turntables in 2012. His fame was increased by his appearance at the top global shows, such as Tomorrowland, Coachella, and Electric Daisy Carnival. Also, his solo song, known as "Animals," has added to his fame in the global music world.
Marshmello
Marshmello is the second leading DJ worldwide. His real name is Christian Comstock, and he is popularly known as the DJ under the Helmet. This is because he always wears his signature mask when performing. Besides being a DJ, Marshmello is a sort of music writer and singer. He became popular in the year 2005 when he released his first song, called "Wavez." Since then, he has been releasing a series of hits which have made him remain relevant. He has worked with great people, including Selena Gomez and DJ Khalid.
Calvin Carris
Calvin Carris is another remarkable DJ. His real name is Adam Richard, and he made his debut in the musical world two decades ago. However, his fame started eight years later when he released his first song, "I Created a Disco." Calvin has worked with top personalities such as Rihanna. His famous songs include "How Deep is Your Love" and "One Kiss."
Skrillex
Skrillex is an American songwriter, music mixer, and entertainer. He made his debut in the music world in 2004 when he volunteered to play the guitar for a band. The then-band managers saw his passion and consistency and decided to involve him in other projects. He grew with the group, and now, Skrillex is among the top-paid DJs in the world. His famous albums include Where You Are and Cinema. He has worked with great singers such as Justin Bieber, and he has also won multiple Grammy Awards.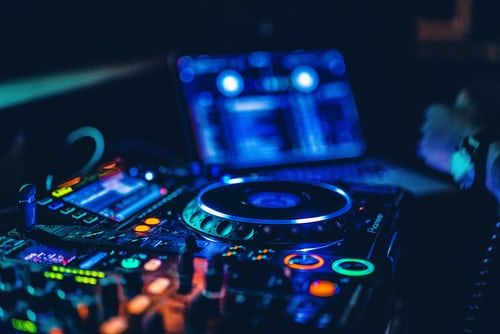 Nicki Romero
Nicki is another incredible Dutch music mixer. He is also a record producer and owns several music labels. Nicki, whose real name is Nick Rotteveel, started his DJ passion when he was still a teenager. Before becoming famous, he worked for many music labels and released many singles as well. Today, multiple sites have named Romero one of the best music mixers in terms of performance and net worth. He has worked with remarkable people, including David Guetta and Rihanna. His famous songs include "Metropolis," and "I Could Be the One."
Diplo
Diplo is a disc jockey, songwriter, and record producer. His real name is Thomas Wesley, and he was born in the United States. Similar to the other famous DJs, Diplo started his musical career as a teenager. He worked with big names in the industry who helped him rise to fame. He has managed to work with M.I.A, Justin Bieber, Madonna, DJ Snake, and others throughout his journey. Diplo has repeatedly appeared in multiple magazines as one of the leading DJs in the world.
The Chainsmokers
The last on our list is the American duo known to music experts as The Chainsmokers. The duo consists of only two people: Alex and Andrew. The group was started years ago and almost died at some point. However, Alex and Andrew managed to reignite it, and since then, it has been making headlines with famous hits every day. The outstanding singles from The Chainsmokers include "Don't Let Me Down" and "Closer." The duo now tops the list of the best-paid DJs in the world. They have been nominated for various awards, including the Grammys.
The number of DJs has been increasing steadily over the years, thanks to technological developments. Besides passion, the rapid increase of DJs can be attributed to exposure to modern tools and equipment. If you would like to become a DJ, consult those who have already made it and have collaborated with great people. Also, invest in the right tools and musical instruments that you might need.