Amidst the pandemic, many businesses lost momentum and were forced to rethink their paths. Would doors close for good? Or would we shift and adjust? Chris Olsen and Dante Graziani were two of those business owners who saw the pandemic as a time to reconsider their industries, and instead of sitting back and watching their jobs grind to a halt overnight, they looked at it as a chance to turn their passions into a new project.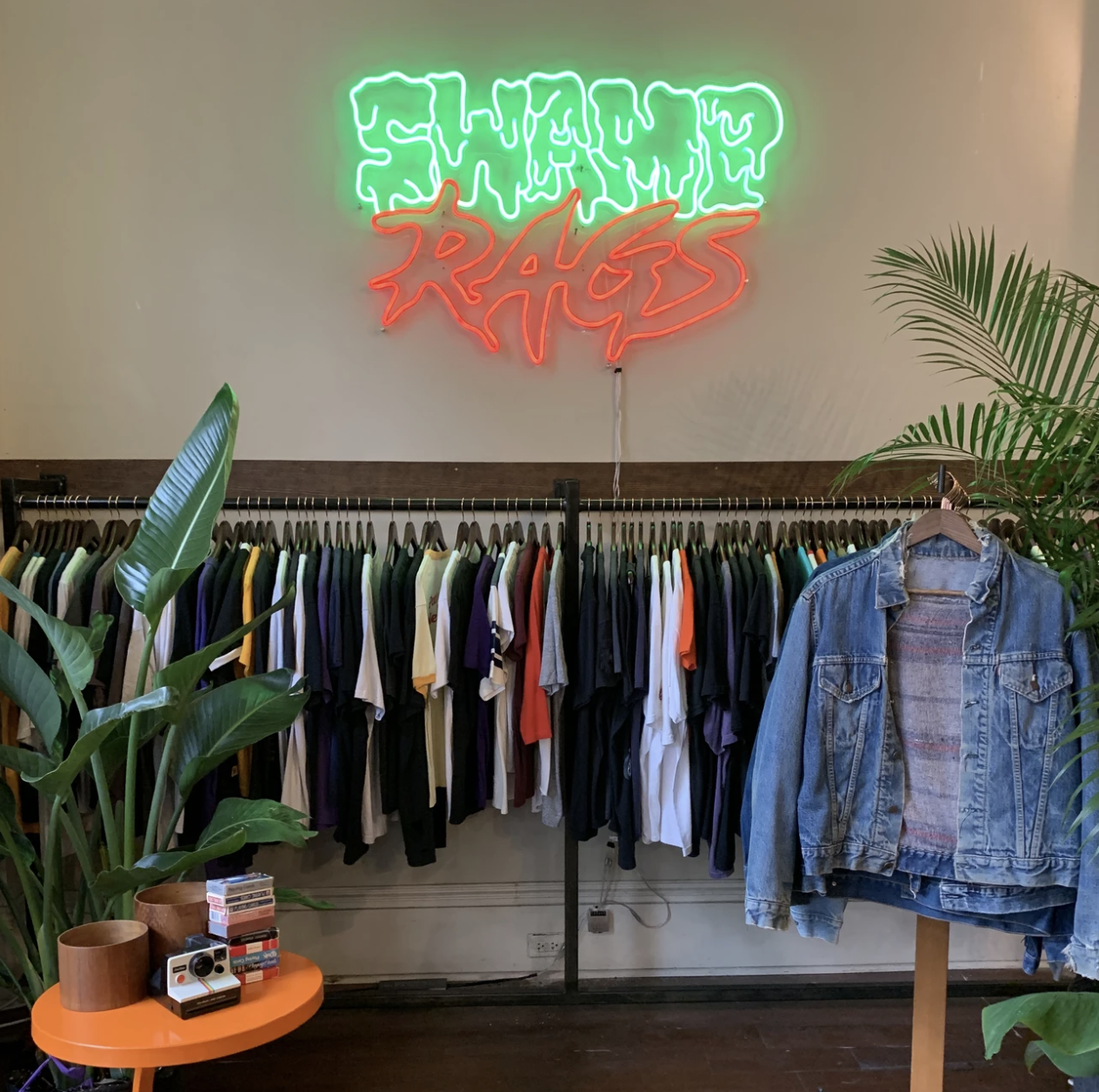 Thus, Swamp Rags Vintage was born—a vintage clothing store that curates 80s and 90s pop culture nostalgia in the form of t-shirts, jackets, denim, collectables, and more. Starting July 31, 2021, you'll be able to see it all for yourself in the French Quarter at 533 Louis St.
Olsen and Graziani always wanted to open a store in the French Quarter, but with each in their respective jobs, they weren't sure how to turn that into a reality. Graziani was a tour manager for internationally touring bands, while Olsen was a partner at a creative agency whose New Orleans clients were mostly bars and restaurants. As one can imagine, both of these jobs were disrupted by the pandemic restrictions and shutdowns. They looked at it not as a loss, but as a fresh slate for them to choose what comes next in their life. Graziani began sourcing and selling vintage t-shirts, while Chris formed Vice & Graft, a vintage clothing and furniture business within the Merchant House co-op. They worked together on and off for months until they decided to put their masterminds together to create Swamp Rags Vintage.
Then, fate stepped in. While the two were hunting at early morning estate sales, they stumbled upon 3000 vintage t-shirts from a shop that had put everything in storage to prepare for Hurricane Katrina. While the stock had been tucked away for years, the owners decided to clean everything out, and Graziani and Olsen offered to buy it all. "As soon as I started looking through the boxes, I knew we just had to have it,'' Graziani said. Fast forward a few hours and the two were already sorting through the boxes of vintage gold that would soon turn into the foundation of their new store.
That was just the start of their discovery of t-shirts and vintage clothing that focused on 80s and 90s pop culture items and pieces of New Orleans history. They continued to find more clothing and collectibles from movies, cartoons, video games, and music of those decades. Jazz Fest shirts, rare Saints clothing, historical pieces from Pontchartrain Beach, and the 1984 World Expo are just some of the other pieces of inventory you can find at Swamp Rags Vintage. "We wanted to curate a store of the things we grew up on," Olsen said.
You know what they say: "one man's trash is another man's treasure." Come see it for yourself this Saturday July 31, 2021 at the grand opening. Doors open at noon, but don't fret if you can't make it then, it's open until 7 p.m.! You can also spend the day exploring the rest of the block, which includes famed restaurants NOLA, the Napoleon House, and the New Orleans School of Cooking. "We're proud to be a part of our new block [...]. It's a dream to be opening our store here," Olsen said.
For more information, visit @swamprags on Instagram, swamprags.com, or contact them directly at info@swamprags.com.