Call for reservations and BYOB to Covey Rise Farm and Lodge on Friday, August 23, or Saturday, August 24, for a curated taste of the some of the best and freshest produce in Louisiana. The event includes a farm tour and 4 courses: crawfish croquette with baby limas, corn, and heirloom tomato ragout; summer greens with warm goat's cheese, Georgia peach, and glassy pecans; beef tenderloin filet with golden potatoes boulangère and haricot verts; and a brûlèed fig trifle.
Tickets are $75 per person. Arrival time for the event is 6 p.m., with the farm tour beginning at 6:30 p.m. and dinner at 7 p.m. Call 985-747-0310 for reservations. Celebrating its 19th season, Covey Rise Farms grows various varieties of over 30 different vegetables on 50 acres in Husser, Louisiana. They bring vegetables to over 40 restaurants throughout New Orleans, year-round, and deliver during the fall and spring to Local Produce Club/CSA members in Covington, New Orleans, and Ponchatoula.
With a total of 400 acres of Louisiana wilds, a conference center, pool, and lodging, Covey Rise also hosts and caters hunting parties and other private group events as well as a Summer Youth Camp. Their accommodations for the Covey Rise Gun Club solidify their claim as a "Sportsman's Retreat."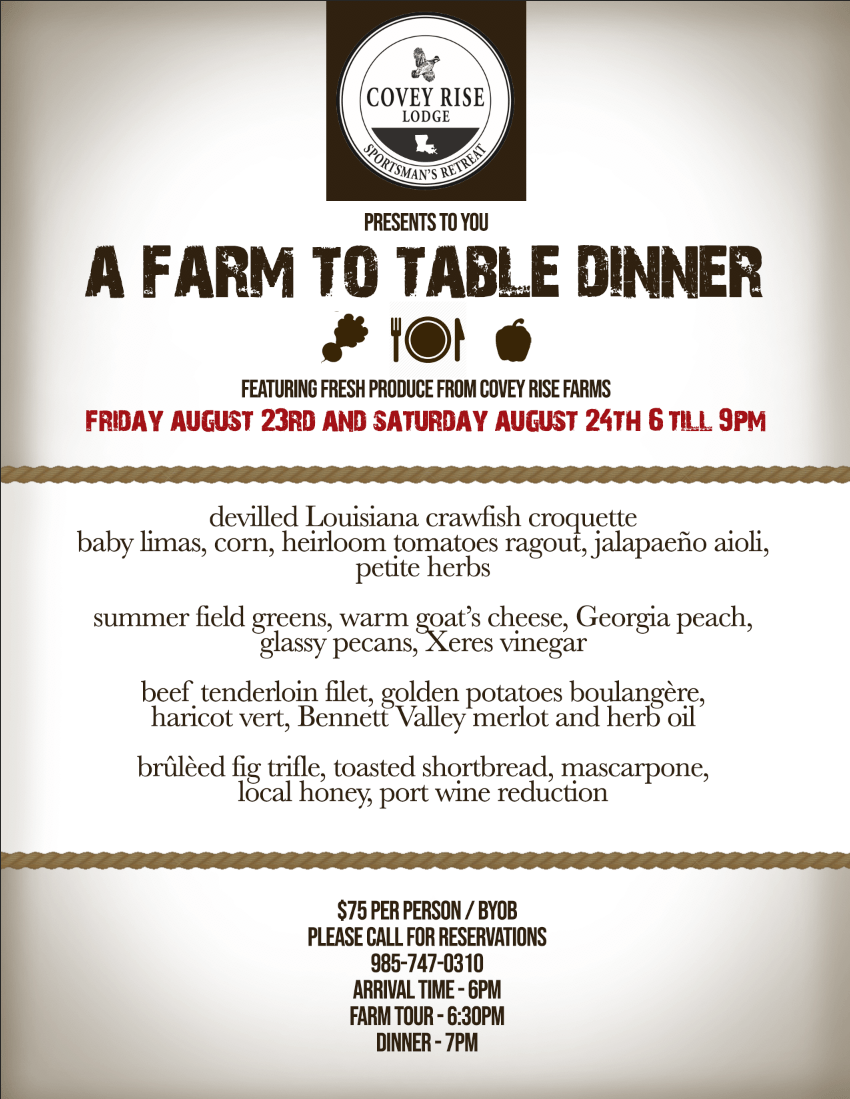 For more information about the Covey Farm CSA, Gun Club, or private events, visit them @ coveyrisefarms.com