It looks as if Soulja Boy may be transitioning from music rapper to focus on newer challenges, like acting.
The 31-year-old rap vet took to Instagram and announced that he teamed up with Revolt TV to create the docuseries The Life of Draco.
Originally called Being Draco, the six-episode vlog style series debuted Friday, Jan. 21 on REVOLT's app. It showcases a more serious side of the Grammy-nominated rapper as he navigates career choices and its pending longevity.
In a statement released on the 'gram, the "Kiss Me Thru the Phone" rapper said, "[The Life of Draco], new TV show January 21, 2022, we going into the year with all positive energy, you know what I'm saying."
He added, "I ain't got no beef with nobody. I ain't got no smoke, no problems, no nothin'. All I'm doing is TV show and movies, I'm [an] actor now."
In an exclusive with Blavity, the rapper shared details on the upcoming show and why he chose this direction for his career.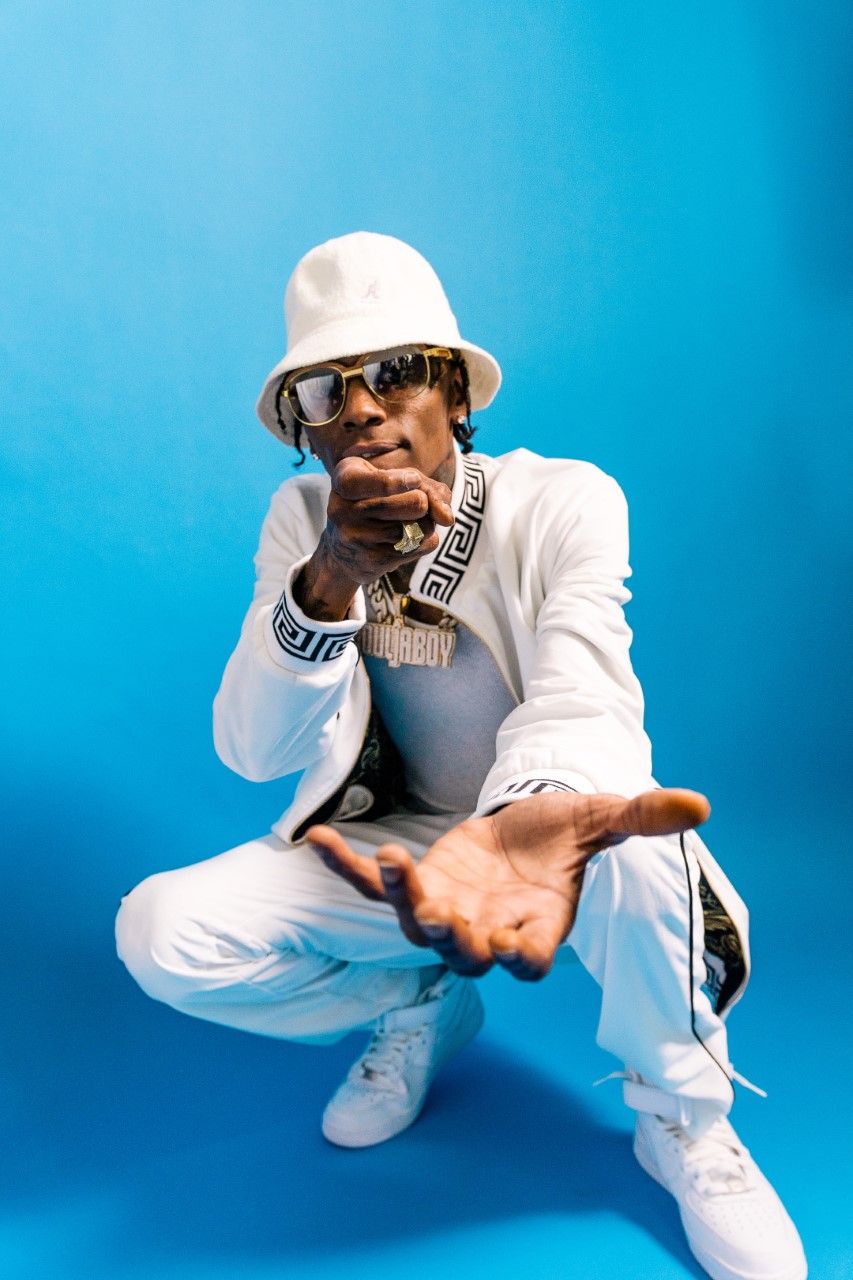 Where Y'at: We've seen you on reality television and, for many, it can be a guilty pleasure to watch. However, a docuseries introduces a more serious tone into the lifestyle. What do you hope the series will show to favor your work ethics in the present?
Soulja Boy: "I just think [The Life of Draco] should showcase how hard I work. I think people see me on music videos, Instagram, or on social media platforms. Once those platforms are turned off, [fans] don't get to see the behind the scenes or who I'm working with every day. It's a lot that comes with being an entrepreneur and rapper at the same time. This is the perfect time in my career to come out with the show."
Where Y'at: Your last two interviews on the Breakfast Club gained nearly 23 million views. Viewers saw how you expressed yourself with vigor when asked about certain people. Do you think the show will illustrate a more composed Soulja Boy in an element other than dramatic-comedic relief?
Soulja Boy: "I'm composed. I was definitely turnt' up too because I was on tour. We were cashing out, buying stuff, performing and driving fast cars, partying. I'm one of the hardest working men in show business. I think it'll be a surprise, a shock factor to a lot of people on how they see me."
When Grammy-winner Kanye West announced the release of his 10th studio album, "Donda," it was said to have appearances from artists like Chris Brown, KayCyy Pluto, and Soulja Boy. However, the Chicago born rapper took a more interesting approach as he sounded off on West's choice to remove him from the song "Remote Control."
"[I don't know] how to feel, Kanye sent me that song 'Remote Control' and I don't hear my verse on it…hmm [expletive]that [expletive]," he posted on Twitter.
Things appear to have since cooled down and brought to a resolve according to the rapper.
Where Y'at: Kanye West, or "Ye," had so much controversy surrounding his "Donda" album. Has your personal and working relationship with him improved since the apology he gave you last year?
Soulja Boy: "[The apology] put us, like, on way better terms than how I felt before that initial conversation…it was a lot going on. We all good. Shout out to Kanye. Hope he keeps dropping good music. It's an honor to work with him."
Despite the rappers amending their dispute, Soulja Boy said, "I stand on what I stand on cause at the end of the day, Kanye could've been like 'Man, forget it. I don't even want to talk about it.'"
He continued, "So for him to even take the time out [and be like say] 'Man you know what, let me try to assess the situation and see what I can do,'" that spoke volumes on his part.
As far as music, Soulja Boy released "Crank That" in 2007 during the early stages of the digital era. He was a signed artist under Collipark Music through a distribution deal under Interscope Records.
Times eventually changed and saw popular artists who originally signed to big labels, now showing interest in working independently up under their own labels like Grammy-winners Mya and Ashanti.
Soulja Boy established his own label Stacks on Deck Entertainment releasing his own projects and even signing actor Tom Hanks' son, Chet Hanks.
Where Y'at: Artists have openly said how challenging it can be to fit the bill for owning a label and distributing music from it. What are the pros and cons you've discovered for yourself releasing music on your own SODMG versus a major?
Soulja Boy: "When you're working with a major label, you have a whole staff, you have more of a team. More people that can focus on certain aspects of the project you got coming out. But independent is fun, man. Its more money. You be a boss, you a CEO, it's when you're more hands on. It take money to make money with anything that you do and you got to understand that even with a major label you got millions of dollars of marketing and advance. But that's still your money, technically, 'cause you have to recoup that. So it's the same thing, you're just putting up all your own money. It was fun being on a major label and its fun being independent. I don't knock either one."
The fact that the rapper's hit single came out in 2007 where Myspace was still dominating the digital era alongside newcomers Facebook and Twitter, the "She Make It Clap" lyricist found a new way to connect old fans and new fans thanks to the TikTok app.
Where Y'at: "She Make It Clap" in a way sort of mirrored the success of "Crank That" because you were one of the first young rappers during the changing digital era to see millions of downloads and people emulating your dance moves. Do you think the song's popularity on Tik Tok helped to re-introduce you to a new audience including Generation Z?
Soulja Boy: "It definitely was kind of like becoming a new artist all over again, if that makes sense. For the fans that knew me, they already knew me. But all the younger kids, that never heard of me, they always calling me Draco. So I'm like, wow, this is tapping into a whole new generation. I think that ['She Make It Clap'] kind of showed what it would be like if 'Crank That' would've come out during this age because we didn't have TikTok when 'Crank That' came out. We was on Myspace. We didn't Instagram, we didn't have a lot of stuff. It showed what would've happened with this type of song.
Where Y'at: "She Make It Clap" peaked at 23 on Billboard thanks to TikTok's assistance. Is there pressure for you at this point in your life to return to the charts?
Soulja Boy: "I'm an actor now. I'm focusing on the TV shows and the movies. How can I say it, I don't want to disappoint my fans, [pauses]. I'm trying to make the best music as possible. You definitely want to go big or go home. You got those records where you just want to tell your story. I feel like this point in my career, to answer your question, like I feel like I've put out enough material to where I'm solidified in the music space where I can navigate and come out [with other projects]. I feel like I've proven myself."
Where Y'at: Musically, what would satisfy you in terms of your artistry overall?
Soulja Boy: "I feel like I got [another] number one album in me, you know what I'm saying? I release great singles [but] now I feel like I need to release one last great album. I definitely got that in me."
If evolution is inevitable, Soulja Boy is exercising his right to be viewed with a different pair of eyes than those used years before.