While pandemic precautions are keeping you mostly stuck at home, that doesn't mean you can't explore your own city and get some exercise while you're at it. New Orleans has some great biking paths, perfect for when you want to spend a day being active and catching some nice views on two wheels.
Check out these six bike trails that you can visit around New Orleans:
Festival Grounds Trail in City Park
While it's often used as a space for large events and festivals such as Voodoo Fest, the Festival Grounds Trail in City Park has breathtaking views that are great for biking, along the 18-foot-wide path. The trail is a mile long, with beautiful greenery to keep your ride relaxed and shaded from (at least some of) the NOLA heat. There are also sports fields, acres of wetlands, and an exercise area along the path. City Park, 1 Palm Dr.
Big Lake Path
The Big Lake trail located in City Park is just over ¾ of a mile around the park's Big Lake. The path captivates our city's beauty by offering a scenic route and displaying our lovely plant life. If you don't have a bike of your own, you can even rent one from the City Park Boat House on Big Lake, where they also have special tandem bikes and surrey bikes with canopies. After your ride, you can venture down to Esplanade Avenue for a bite to eat. City Park Big Lake. Parking available on Lelong Avenue and in a lot on the north side of the lake on Friedrichs Avenue.
Lafitte Greenway Trail
Lafitte Greenway Trail spans a little over two miles and brings bikers from Mid-City to the edge of the Treme neighborhood, known for its soul food, music, and more. This trail is an entertaining route filled with New Orleans magic. With connections to and from City Park, Wisner Trail, Jefferson Davis Bike Path, Armstrong Park, and the French Quarter, the Greenway is a perfect way to get around town on two wheels. The path also has two fix-it station locations, with tools for bike maintenance and repair. Lafitte Greenway, Orleans Avenue and Basin Street to Bayou St. John.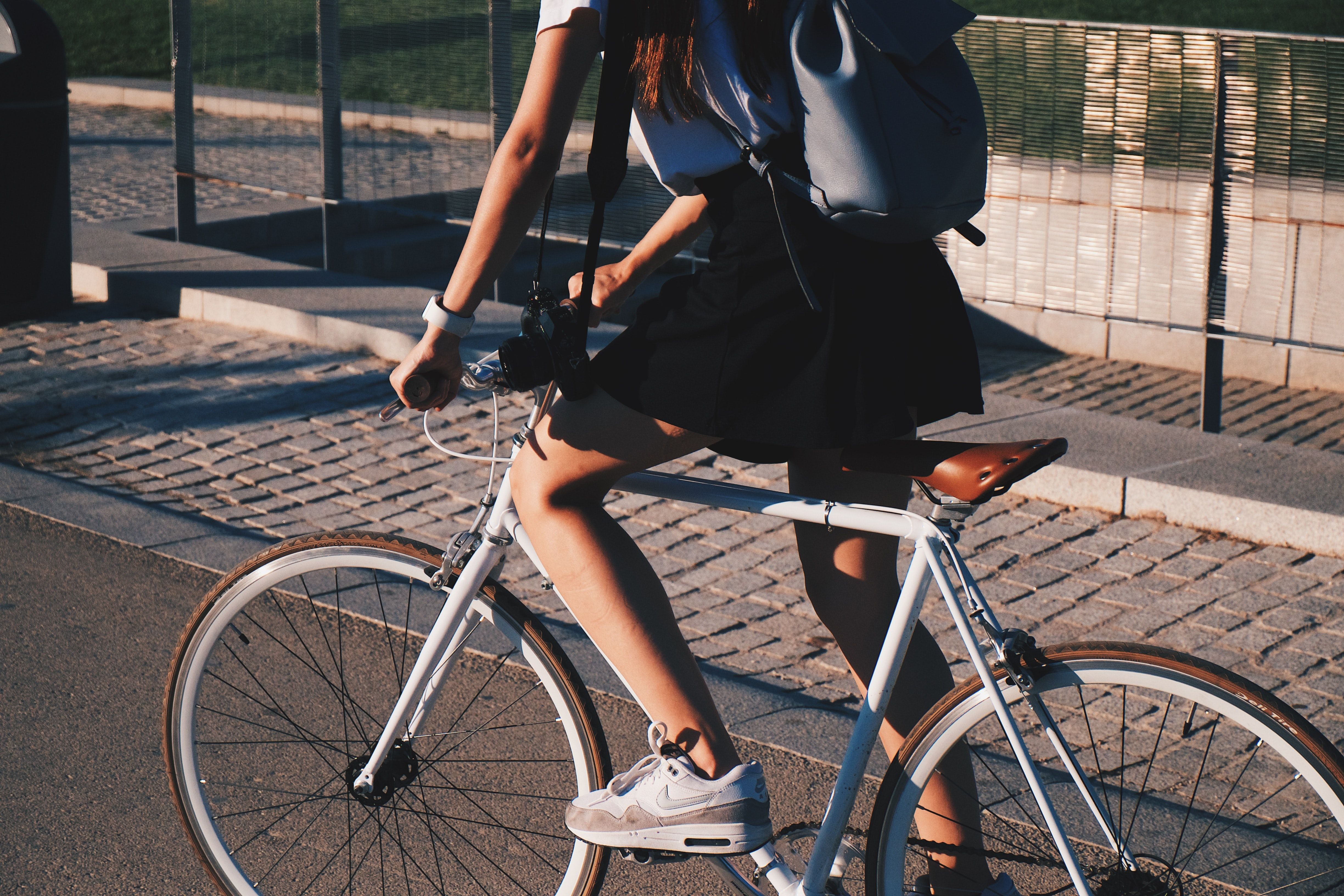 Woldenburg Park
Woldenburg Park is a closed-in biking and walking trail that traces along the Mississippi River. This riverfront park is perfect for those who love being in our beloved French Quarter. You can enjoy the boats rolling down the river and sculptures near the docks or stop on the grass for a picnic or some rest. Go for an early morning ride for a cool river breeze and a view of the fog rolling off of the Mississippi. Woldenberg Park, 1 Canal St.
Mississippi River Trail
The Mississippi River Trail is for those cyclists who love long rides. This trail, also known as the Levee Bike Path or Mississippi Levee Trail, spans over 60 miles towards Laplace, with admirable views of the river. The trail represents the southern part of an effort to create a paved biking and walking route along the entire length of the Mississippi. The most popular segment of the trail goes from Audubon Park to the Bonnet Carré Spillway in St. Charles Parish. St. Charles Avenue and South Carrollton Avenue

The Fly
The Fly, located at Audubon Park, has charming oaks and stunning sunsets to help bikers unwind and relax while riding along the Mississippi River. You can start off with the loop around Audubon Park and end with the beautiful oak trees that line this area along the Mississippi. Ride at sunset for beautiful views and look out for barges and steamboats traveling down the river. Exposition Boulevard


Overall, the flat topography of the city makes it very bikeable, and there are many more paths and routes to discover, to explore different parts of New Orleans in a unique way.