James Rivers has Performed at Every Jazz Fest
More than half a century has passed since the New Orleans Jazz & Heritage Festival began its storied existence. Today, in 2022, when Jazz Fest has entered its sixth decade, less than a handful of musicians of the thousands who performed there have appeared in every festival since the beginning—James Rivers is one of the few.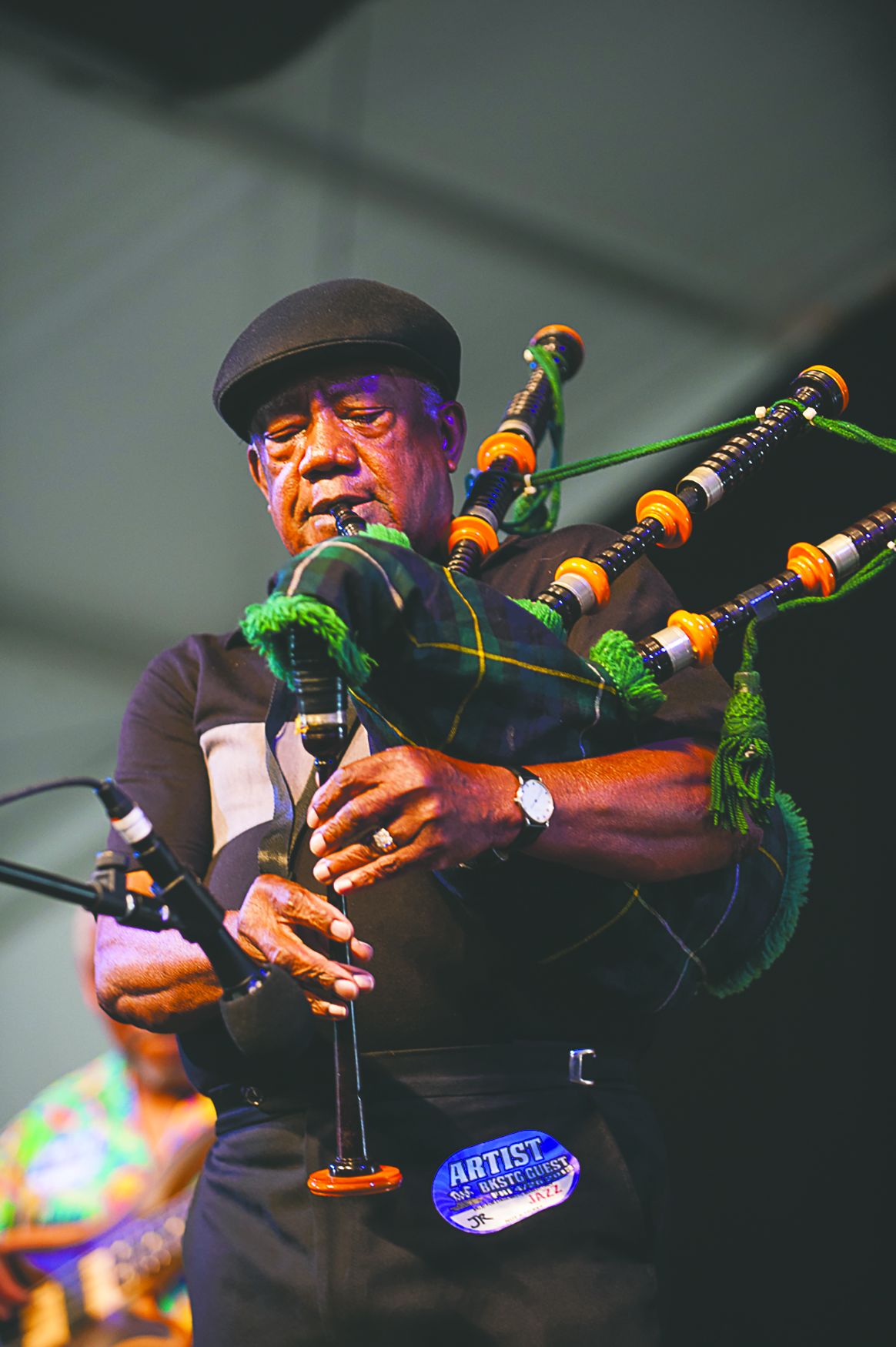 He is also one of the last survivors of a generation of iconic New Orleans musicians who backed up big-name hit-makers in the legendary recording studios of Cosimo Matassa, Allen Toussaint, Joe Ruffino, and others from the 1950s into the '70s and '80s.

As an 85-year-old grand master of wind instruments, including saxophones, clarinet, flute, harmonica, and, yes, even bagpipes, Rivers has seen and done it all over the past 65-plus years. He has been an integral part of the history of popular music. The stories he could tell would fill an encyclopedia, yet to this humble, low-key gentleman, all the memories and adventures he can look back upon were just simply a part of the job he did for a living.
"Man, I've seen a lot and so many of the guys I came up with are gone now," he said, rattling off a list of immortal musical icons who have passed over the years. "I'm thankful that the good Lord has given me these years."
From the very first Jazz Fest in 1970, when he was the sax player for Deacon John and the Ivories, to the present, Rivers has always been there. He came aboard when the festival was small enough to be held in the limited space of Congo Square. By the time it moved up to its larger, present-day location at the Fair Grounds Race Course, he was headlining with his namesake trio, which later became the James Rivers Movement, a quartet.
"I thought it was gonna be just another gig at the time. A thing that was just passing through that year. But 50 years later, here we are, still going at it," he reflected.
Accompanying him in the Jazz Tent on the first day of the festival's second weekend will be his longtime accompanists: Peter Cho on piano and Millard Green on bass, backed by Cameron Woods on drums. The set will run for 45-50 minutes.
Under his own name, Rivers only cut less than a handful of records during the 1960s era of classic New Orleans rock 'n' roll. However, as a studio musician, his distinctive sax riffs can be heard on records with such renowned artists as Huey "Piano" Smith, Earl King, Robert Parker, Professor Longhair, Ernie K-Doe, Irma Thomas, Chris Kenner, Oliver Morgan, Eddie Bo, Benny Spellman, and too many others to name in a limited space.
But Rivers' musical history dates back even farther than that. As a teenager in the 1950s, he was touring with such legends as Sam Cooke, Jackie Wilson, Hank Ballard, and others of that stature. He was in the room with Cooke when they played their instruments together and worked on the musical arrangement for "You Send Me," the million-selling song that launched Cooke's stellar solo career. His blaring sax was one of several horns heard at the opening of Al Johnson's Mardi Gras standard, "Carnival Time." He can also be heard on Frankie Ford's famous rock number "Sea Cruise," although that was not in the original plan.
As Rivers told it, "I was in the studio with Huey [Smith] and the band, and we recorded the song but with Bobby Marchan and Gerri Hall singing lead vocals. Next thing you know, I was up in New York listening to the radio with some guys and the deejay comes on and says, 'And now for this new record, 'Sea Cruise,' by Frankie Ford,' and I said, 'What? Who's this Frankie Ford guy? That ain't who we recorded with.'"
As it turned out, Johnny Vincent, the head of Ace records, wanted a more rocking version of the song, so he had Ford's voice dubbed over the original soundtrack. "Sea Cruise" went on to become one of the biggest hits of 1959 and Ford's signature song over a 50-year career.
In the years to come, Rivers would hold down long-running regular gigs at Tyler's Beer Garden, the Hilton Riverside Hotel, the Blue Room of the Roosevelt Hotel, the Royal Sonesta Hotel, and other well-attended venues throughout the city.
A very lucrative and high-visibility opportunity came to Rivers in the 1970s when Clint Eastwood was in New Orleans, shooting his film Tightrope. Looking for some modern jazz, Eastwood was directed to Tyler's on a night when Rivers was performing, and he was so impressed that he hired Rivers on the spot.
Rivers composed the score for that film and several other Eastwood projects in the years that followed, culminating with a scene in The Bridges of Madison County. He and his band were seen on film performing an original composition, "Jammin' with J.R.," while Eastwood and co-star Meryl Streep rendezvoused in a nightclub.
Reflecting on a lengthy, eventful musical career, Rivers said, "I thank God for allowing me to live this long and to play this many years. When I was 19, I thought I'd be gone by 50. I'm way past that now and I'm just thankful. I look forward to playing Jazz Fest again. It's one of my favorite gigs."
Performing on Friday, May 6 in the WWOZ Jazz Tent at 12:20.