New Orleans is a food town, to say the very least. Some of our restaurants have been proudly operating for over 100 years, foodies closely follow new restaurants as they open up, and everyone's hungry for the next new thing.
Food trucks once ruled as the best way to try new dishes and delicacies, but pop-ups at bars, breweries, hotels, and even semi-secret locations are now the most popular way to get creative cuisine and cocktails. Some people just happen upon these intriguing pop-ups, but those in the know make sure to follow their favorite food and drink creators to find out where they'll be next, just so that they can try something they've never had before.
Pop-up proprietor Christoph Dornemann needed a way to make some extra money at first, but he found that doing pop-ups gave him the creative release that he was craving. "I had my first pop-up literally to help pay my rent at the time. I worked in kitchens and made very little money, so I decided to have a party where I sold pies to guests. I was in an empty four-bedroom house in the Broadmoor neighborhood that I converted into a sort of commercial kitchen and production location. My roommates had all moved out, and I was transitioning to a new place to live and needed to raise money," he explained.
Since his very first pie pop-up, Christoph's business has grown to the point where he regularly hosts pop-ups in public and private places, sometimes having friends and other pop-up enthusiasts cooking while he makes the drinks. He continued, "I get to experiment with whatever I want, try recipes that I've always dreamed about, and collaborate with my friends. The pop-ups end up being a lot of stress and work, but are extremely rewarding."
Christoph works full-time in the service industry, so he understands what it takes to start a brick-and-mortar business, get customers in the door, and keep them coming back. That's why he would rather keep his creativity in his pop-ups. He said, "Pop-ups allow for people in the industry to have an opportunity to showcase their creations to the public without the limitations of starting a business. The point of entry into the restaurant and bar industry is way beyond what average people can afford, and pop-ups open a temporary window for those looking to do something more with their careers."
If you come across one of Christoph's Black Pearl Tiki pop-ups, you'll find a menu with "endless boundaries." He and his team try to make things that they've never made before and they know no one else has tried. "It's like a culinary and craft cocktail playground where I can fuse cuisines and ingredients with no rules. I can also experiment with the decor, layout, ordering system, and menu any way I want. Despite there being countless amazing culinary and cocktail experiences in and around this city, there still is a yearning for discovery and being part of the 'underground' scene. People want to find and experience exclusive events and be 'in the know' about what is happening in the city beyond the usual tourist information."
The Black Penny at 700 N. Rampart St. is the home of Wolf 'n' Swallow, created by Chef Ryan Houla, which is open every Thursday. "Chef Houla had been doing pop-ups for years with a different concept at Pal's, called Houla's Pub Grub. He had taken a few years off from cooking, and after seeing the joy he took in cooking for others in our home, we came up with the idea to start doing it for the public. The menu for the first one was Irish tacos and was a hit," stated his partner Jennifer Jane. "Having a relationship with Black Penny and the bartenders benefits both of us greatly. They are always so excited for us to be there because we bring people to them, and their regulars come to us as well. It's win-win."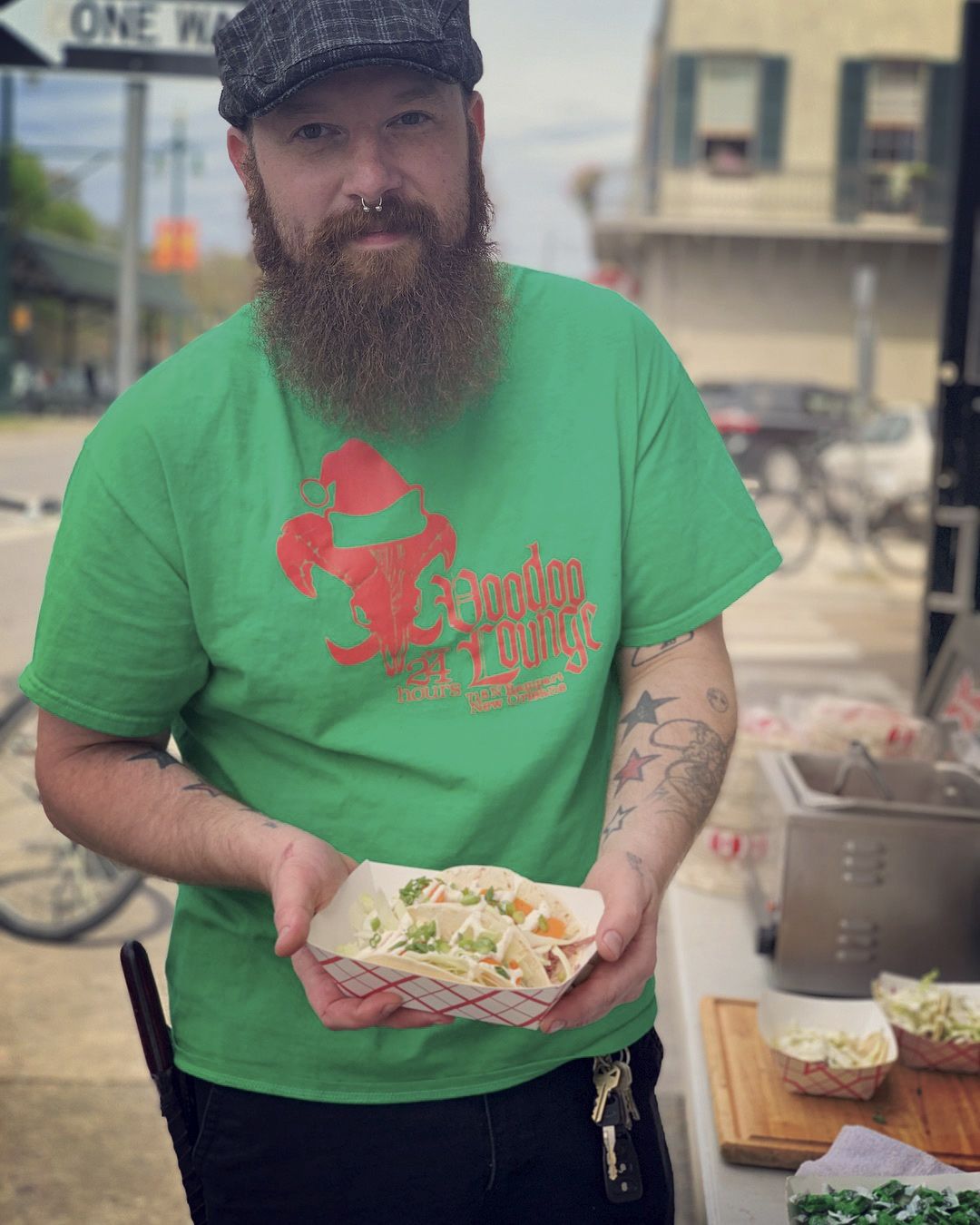 Chef Houla and Jennifer love being able to make their own schedule, have the flexibility to cook for private parties, and experiment with flavors. She continued, "Our most popular and favorite dish is Chef Houla's Vietnamese jambalaya, in which he combines traditional Cajun ingredients and flavors with Vietnamese spices and accents. The end result is surprising and completely unlike anything you've ever tasted before. But honestly, every menu we put out is made with the intention of creating fun combinations of traditional and unexpected eats."
There's one more benefit to doing a pop-up that other pop-up makers have echoed. Jennifer said, "The best benefit for us is that with our set-up, we get to interact with every customer. There's a different level of engagement when the customer can watch you cook and ask the chef questions, and for us to be able to watch people enjoy
the food."
Brandy Morrison and Dale Gautreaux of The Wandering Goat would never give up being able to interact with customers for having their own ice cream shop. "We're The Wandering Goat; we want to go into places and meet people. And the more opportunities to do pop-ups, the more festivals we do, the more we're going to be able to get our ice cream out there. For us, our dream is to be mobile," stated Brandy.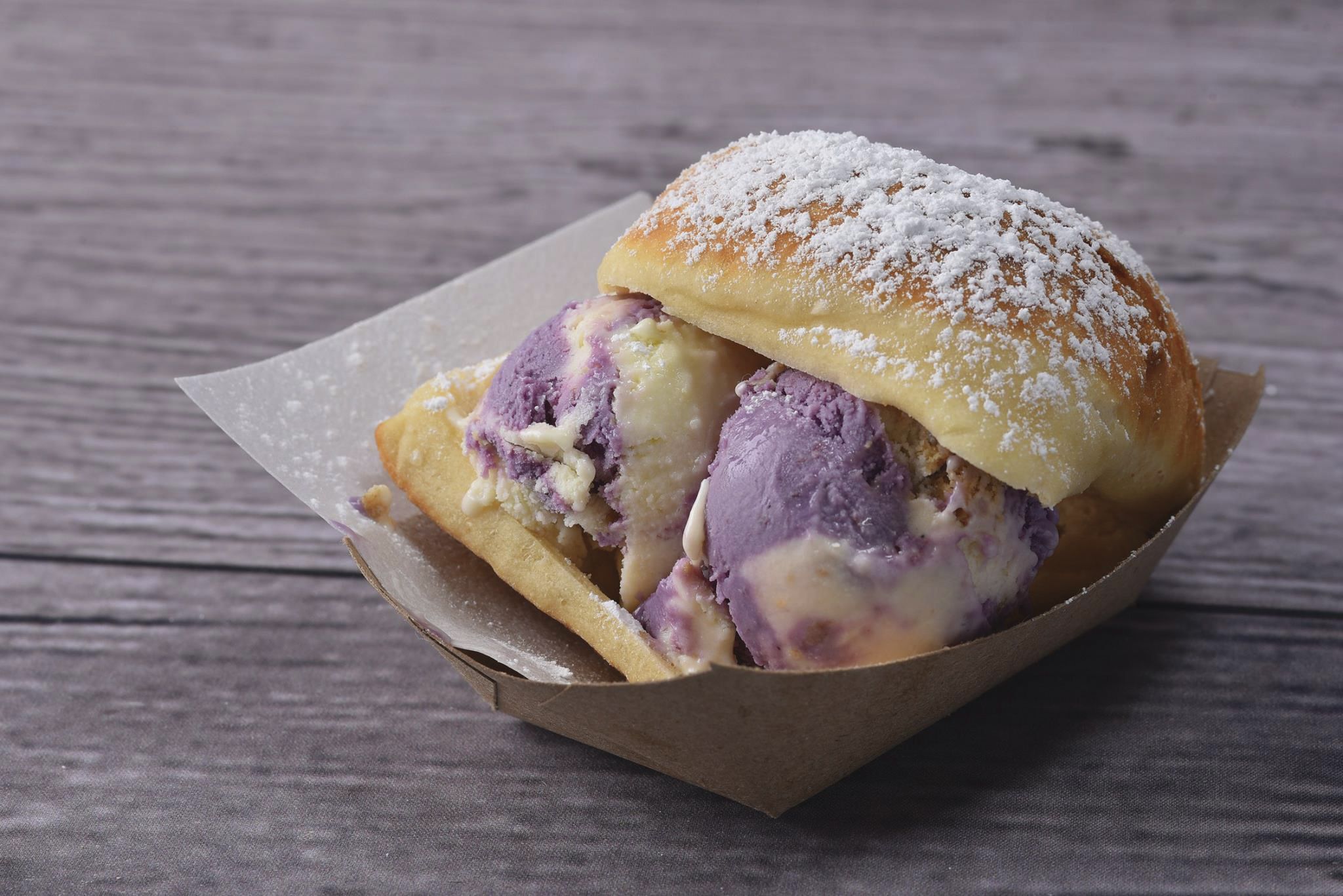 The Wandering Goat was initially the dream of Dale, who wanted a fleet of ice cream trucks serving the community. He explained, "In the movie Friday, Big Worm's got this ice cream truck that's all tricked out and everything. I saw it and said, 'The ice cream trucks around here are like these white vans that are very poorly kept. It doesn't look good.' So, I wanted something that looked better. I wanted to reinvent the ice cream truck business."
Brandy took Dale's idea and began making totally unique gourmet ice cream flavors to eventually be served out of such trucks. She said, "We have Purple Cow, which is root beer ice cream marbled with a vanilla ice cream. It tastes just like a root beer float without the fizz. Sera Mun is a lemon blueberry cheesecake ice cream, marbled together with graham cracker crumbles. One of our most popular items is our Campfire, which has Ghirardelli Chocolate-covered graham crackers with toasted marshmallow ice cream in between. I can say what the ingredients are; no one's going to tell me that I have to make this any other way. We do collaborate on it. But, ultimately, I do what I want to do with the flavors. They call me the Flavor Gypsy." They have a full menu of one-of-a-kind flavors, and they're always experimenting with new ones.
The Wandering Goat is just one of many pop-ups that make a regular appearance at Miel Brewery, which hosts new and exciting pop-ups on most nights of the week. Nighthawk Pizza and Sauce Boss Sliders draw their own crowds to the new brewery located at 405 6th St. The customers also welcome the beer and food at 504 Craft Beer Reserve at 3939 Tulane Ave. when the Sassy Chef makes her appearance there.
Instead of going to your favorite restaurant for the umpteenth time, go on a dinner, drinks, and dessert adventure at a pop-up or two.