With mild winters and lots of places to fish, swim, hike, kayak, and camp, Louisiana sports the moniker "Sportsman's Paradise" for obvious reasons. But with soaring temperatures, stifling humidity, and swarming mosquitoes, summers in New Orleans can be a real drag for those of us who love the great outdoors. Thankfully, there are lots of hidden gems within driving distance of New Orleans that offer outdoorsmen and ecotourists ways to love Louisiana summers.
Clark Creek Natural Area & Tunica Falls (366 Fort Adams Rd., Woodville, MS) is a popular destination for local hikers. The three-hour drive from New Orleans brings you through Cajun country, with lots of places to stop for boudin balls and crackling on the way over—Zydeco music and cheap beer on the way back. Once there, you will find improved trails with access to six of the park's bigger waterfalls. A longer, less-frequented primitive trail offers lots of changes in elevation as well as access to additional waterfalls (there are over 50 in the park!) and a scenic overlook. Be sure to wear shoes ready for water—both the trail to the third and highest of the area's waterfalls and a portion of the primitive trail will have you walking in Clark Creek.
But you don't have to drive far to find a quiet green reprieve. Tucked away in City Park are Couturie Forest and Scout Island, 60 acres of preserved natural landscape straddling Harrison Drive. The trails here will bring you through eight different ecosystems, and both its canopy and the bayou marking the area's perimeter are favorite resting places for native and migrating birds. Laborde Lookout, in the center of Couturie Forest's trail system, may not provide a great view, but as the highest point in the city, it is a fun 53-foot climb for those looking to take more than a leisurely stroll through the woods. Prefer to be on the bayou's water, circling the forest and island instead? Call or text LOOP NOLA (1031 Harrison Dr.) ahead of time to rent a canoe or kayak anytime between 9 a.m. and 5 p.m.
Just 17 miles outside of New Orleans is another place to enjoy South Louisiana's marshy wilds. Drive over the Mississippi River to the Barataria Preserve, home to the oldest remaining forest in Jefferson Parish. Here, you'll find an American Indian shell mound and a 600-year-old bald cypress—and you're almost certain to have at least one close encounter with an alligator on the Bayou Coquille Trail. Stop by the visitor center (6588 Barataria Blvd.) to get an update on the trail's status or go directly to the Pecan Grove area to launch into Bayou des Familles. With 23,000 acres to explore, you may find yourself returning again and again.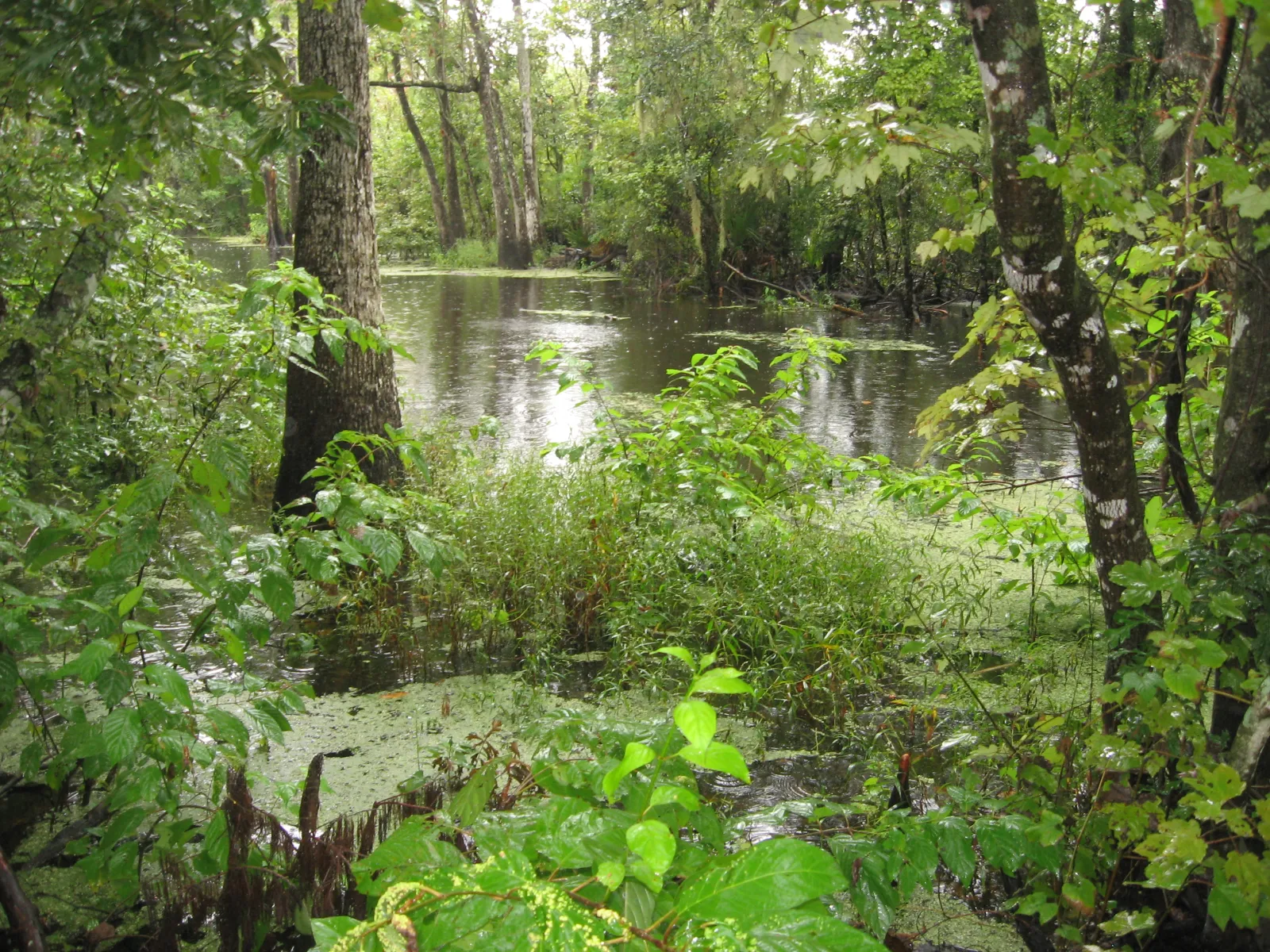 If cruising along bayous or among the alligators and old cypress of our swamps sounds like fun—and you want a little learning to go along with your touring—then drive over Lake Ponchartrain to the Northshore. In operation since 1982, Dr. Wagner's Honey Island Swamp Tours (41490 Crawford Landing Rd., Slidell) set the standard for interpretative swamp tours in Louisiana. Don't expect a wild alligator feeding frenzy. Do expect to ride a small boat deep into the swamp, alongside a seasoned professional who has a deep knowledge of and love for its wildlife. Besides amphibians, reptiles, and waterfowl, you might even see some otters or a bald eagle—and a summer tour will definitely involve a swim in Pearl River. Call them at 504-242-5877 to make reservations.
Prefer to stick to the open waters of Lake Ponchartrain and its tributary bayous? Perhaps even do a little fishing? The Northshore is also home to Bayou Adventure (28178 US-190, Lacombe). Visit their Lagniappe Shack and Live Bait and Tackle Shop to rent a kayak (life vest, map, and dry bag included) and catch a ride to either Cane Bayou or Bayou Lacombe, both of which empty into the lake. Located on the Tammany Trace, Louisiana's first rail-to-trail, the shop also offers bike rentals (helmet, lock, and map included), so you can ride from here to Camp Salmen or Fontainebleau State Park as well—but beware: mosquitoes and biting flies in the woods around Lake Ponchartrain are ferocious this time of year!
If you have time and don't mind a slightly longer (three-and-a-half hour) drive, add a weekend trip to the Kisatchie National Forest to your itinerary. Encompassing over 600,000 acres around Alexandria, this massive recreational area includes 100-plus miles of trails, varying in length from a half mile to almost 30 miles. There are more than 40 separate developed areas with access to any and every outdoor activity: OHV, horseback riding, and camping; fishing, hunting, and rockhounding; swimming, hiking, and nature viewing; and even bouldering in Longleaf Vista. Visit their website (fs.usda.gov) to download maps and for any current alert and notices, as heavy rain or wildfires may cause some areas to temporarily close.
Finally, if all you really need is to soak up some rays and relax in water and on sandy shores, take a short one-and-a-half-hour drive to check out the beach and water park at White Sands Lake (52129 Sandstone Blvd., Franklinton) or go tubing down the river in Bogue Chitto State Park (17049 State Park Blvd., Franklinton). And no matter where you go, be sure to bring plenty water, bug spray, and sunscreen to enjoy our great outdoors comfortably and safely.