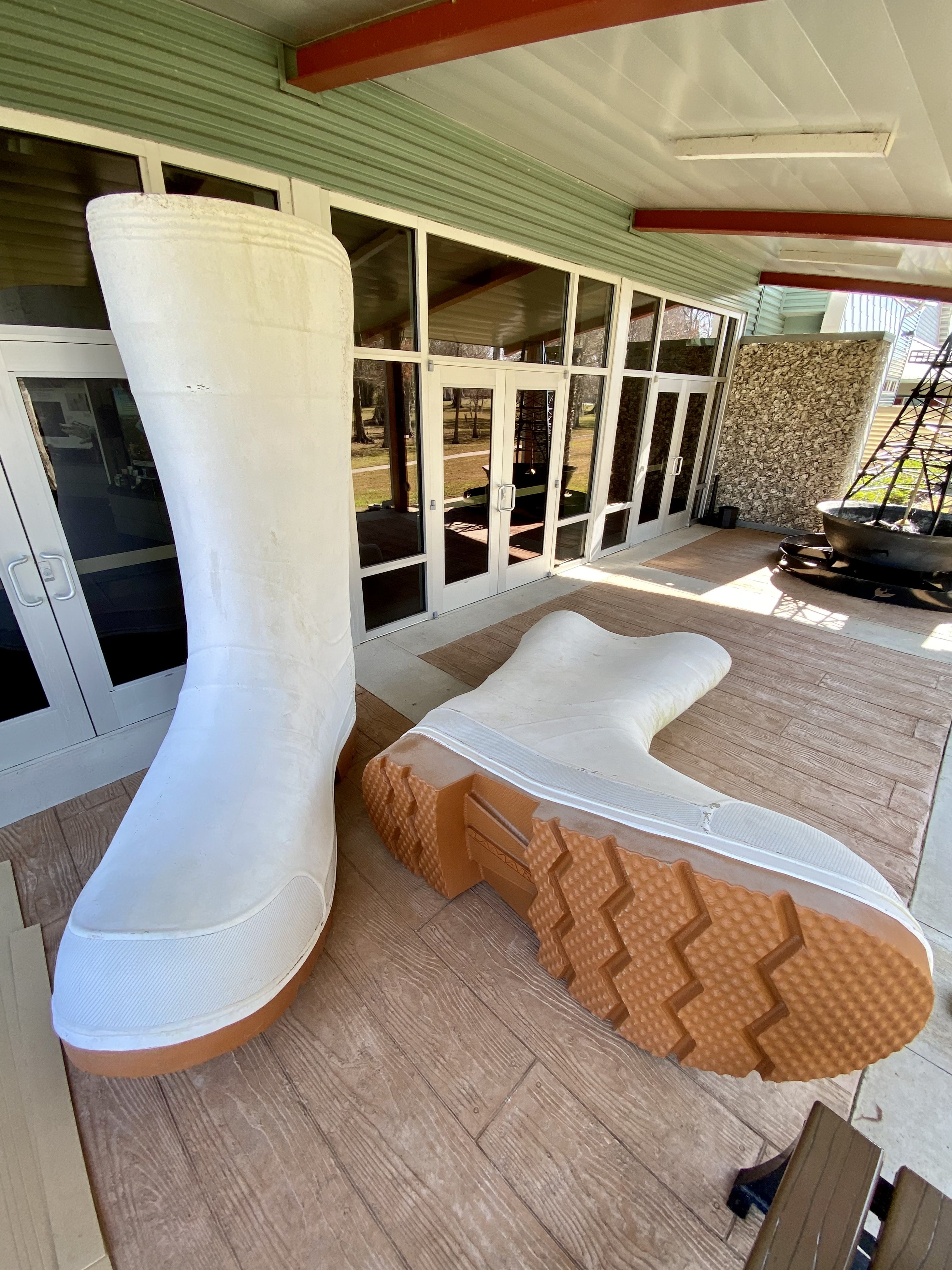 "And he would take a roadside attraction, no matter how cheap, how crooked, or how sad, over a shopping mall, any day." -Shadow, in Neil Gaiman's American Gods
The road trip is what differentiates driving to get from Point A to Point B from the real joy of going somewhere. You're behind the wheel with snacks, music playing, feeling that "driving high"—but it's so much more than just you and the open road. It's you and miles of rice paddies and crawfish ponds. It's roadside jumbo shrimp and 12-foot-tall jumbo shrimp boots. It's sugarcane fields, seafood stands, and Sonics.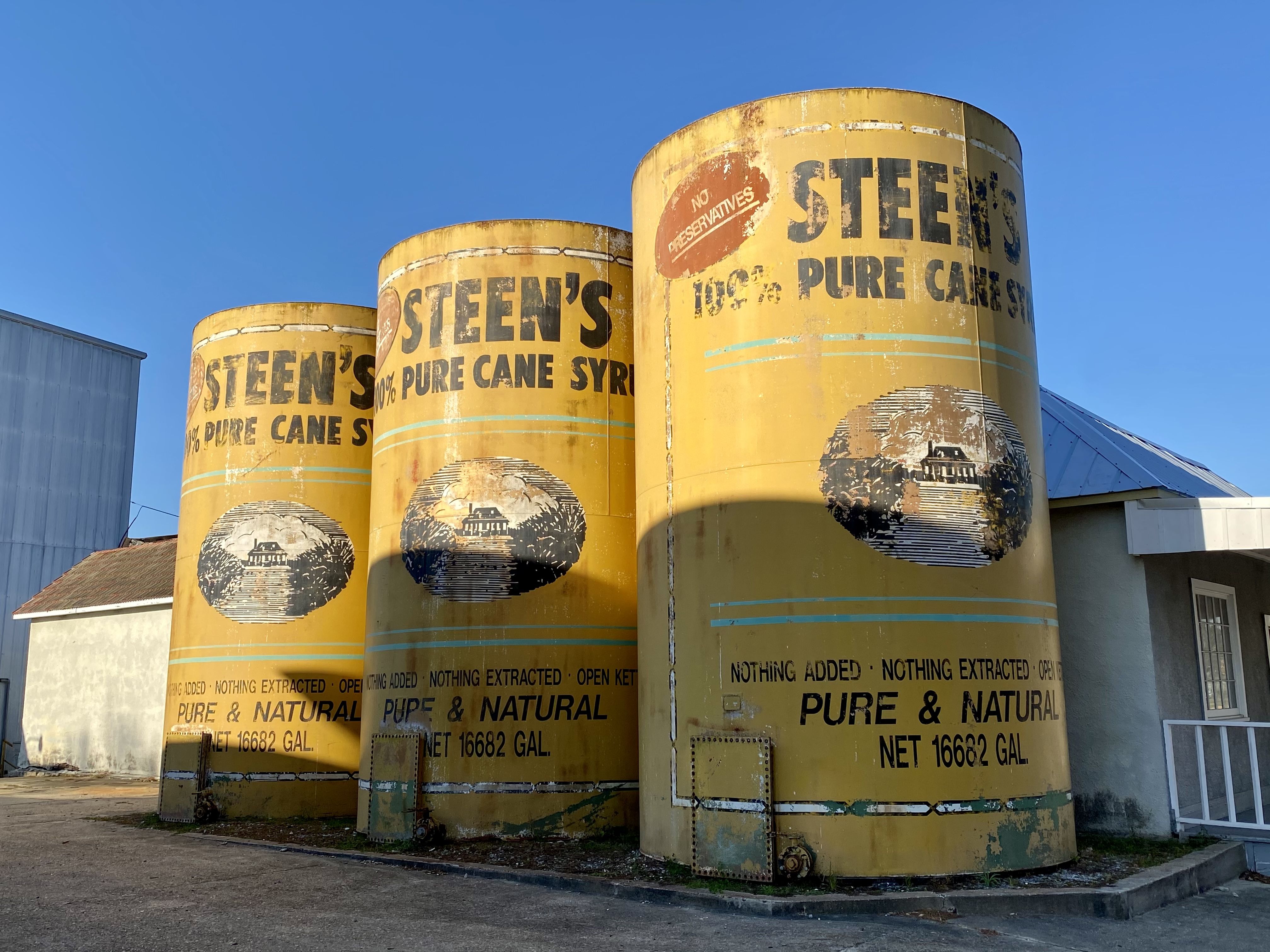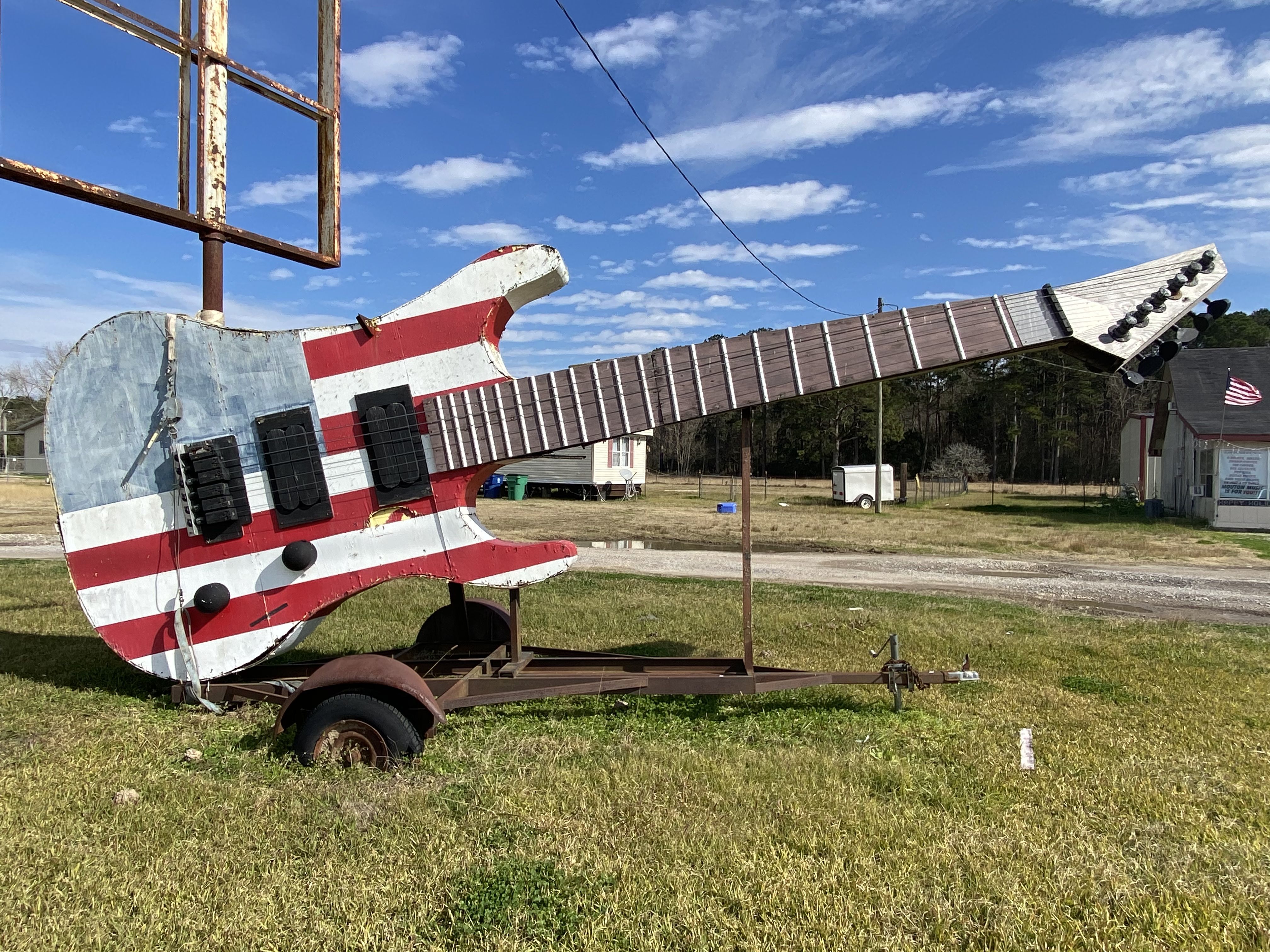 A road trip can be a source of endless wonder, gift shops, and amusing attractions—the cheesier and wackier the better. For the price of a tank of gas, you can witness history (Huey P. Long's tomb!), taste four-star food at one-star locations (drive-thru gumbo shacks!) and stock up on necessities (eggs, fresh from the chicken or pickled in a jar!) or on that unusual must-have souvenir (alligator tooth key ring or crawfish temporary tattoos!).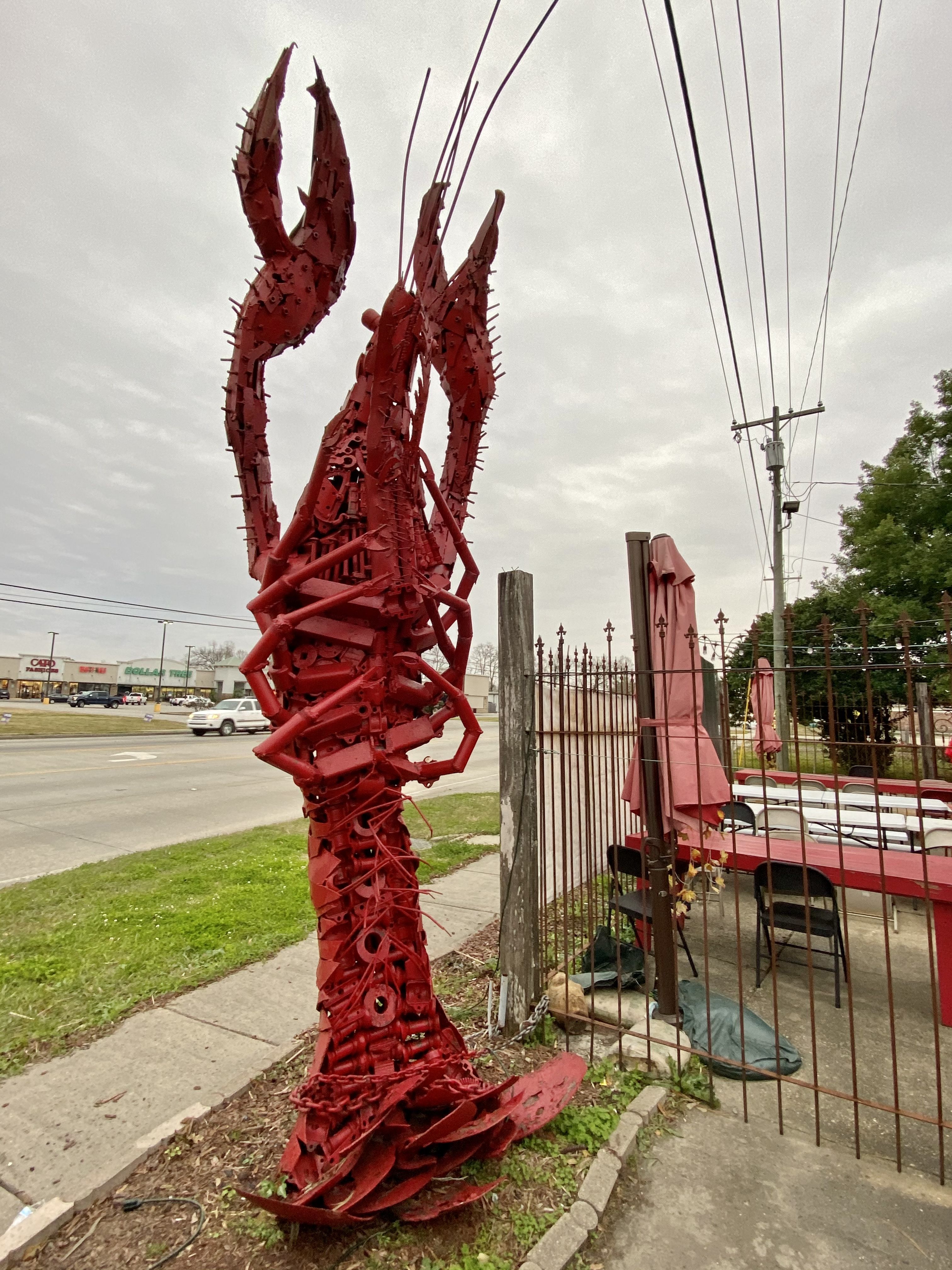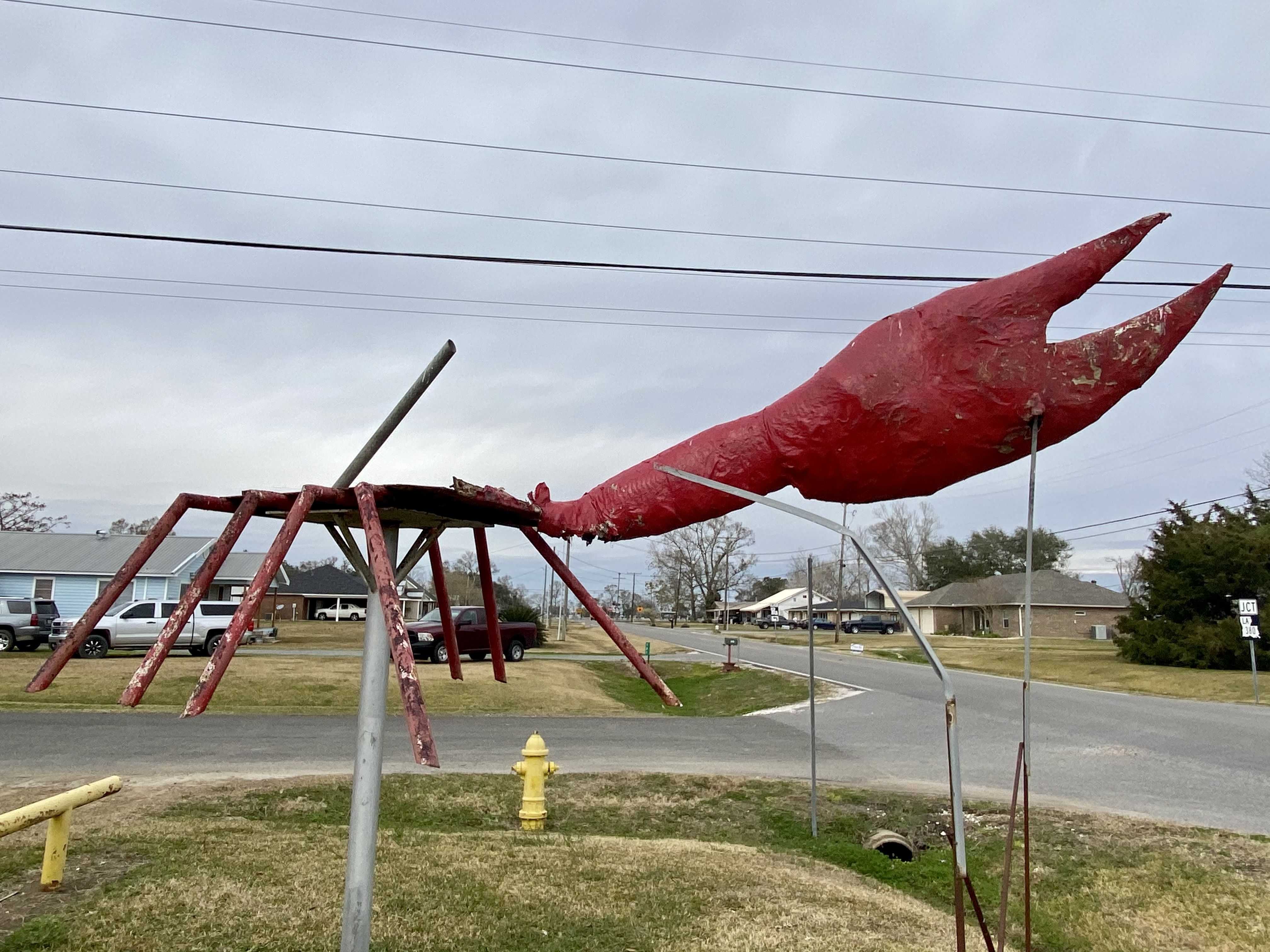 Within Louisiana, you can drive through at least four "Capitals of the World," including that of boudin, crawfish, strawberries, and frogs. You can get cigarettes, daiquiris, and crawfish without ever stepping out of your car. There's a Dollar General or Family Dollar store at every mile marker. And there are endless Waffle Houses, Super 8s, roadside restaurants, and truck stops and tourist attractions whenever you need some form of refreshment or diversion. But what if these roadside enchantments were the destinations themselves, rather than just trip lagniappe—more than simply the icing on the roadside cake? Getting there really can be all the fun.
Grab a bag of CheeWees and one or two of your adventurous friends, put on your road trip playlist, and jump on I-10. Here are a few of the more unusual points of interest within Louisiana that really will make you turn that car around.
Size Matters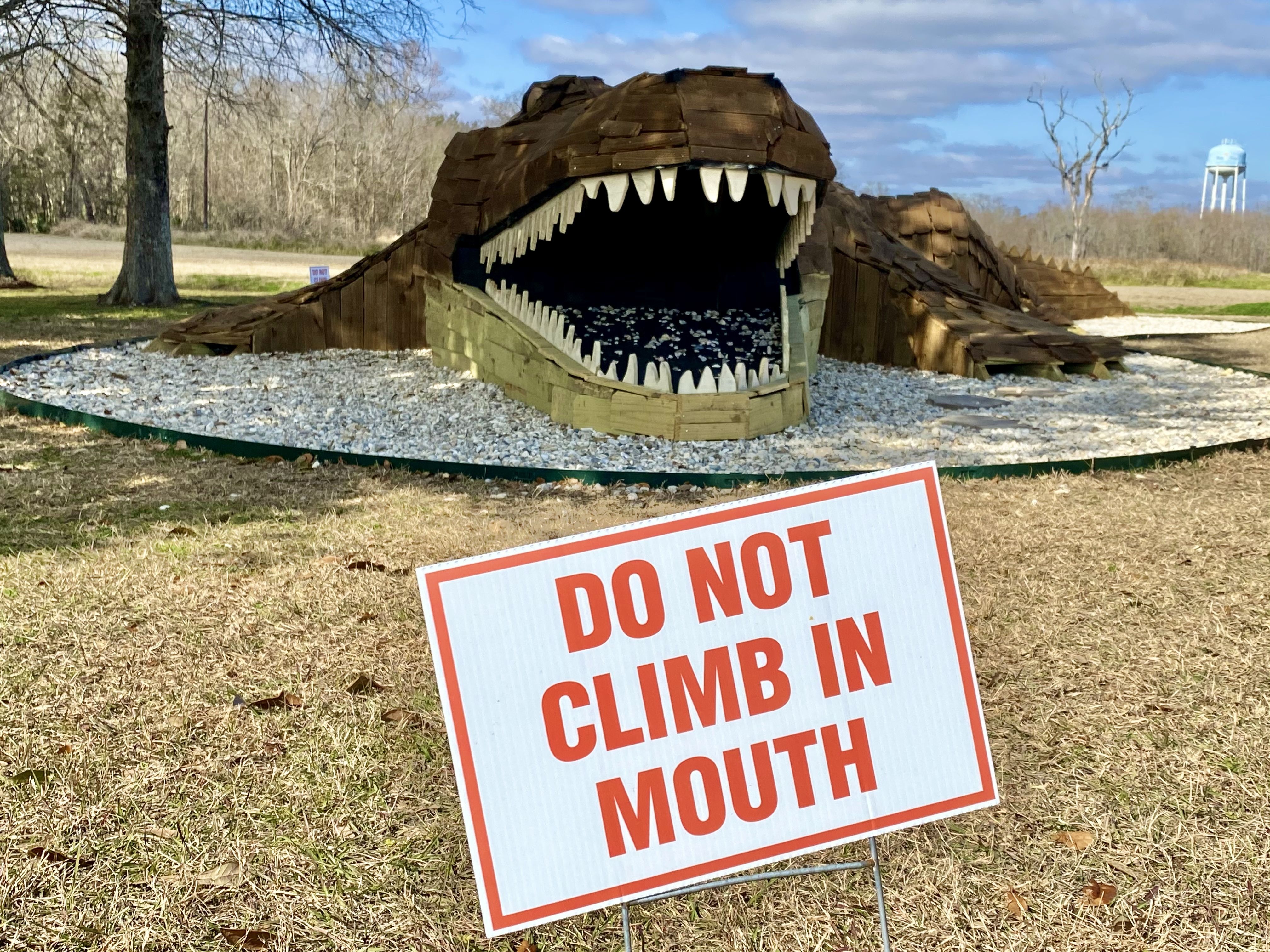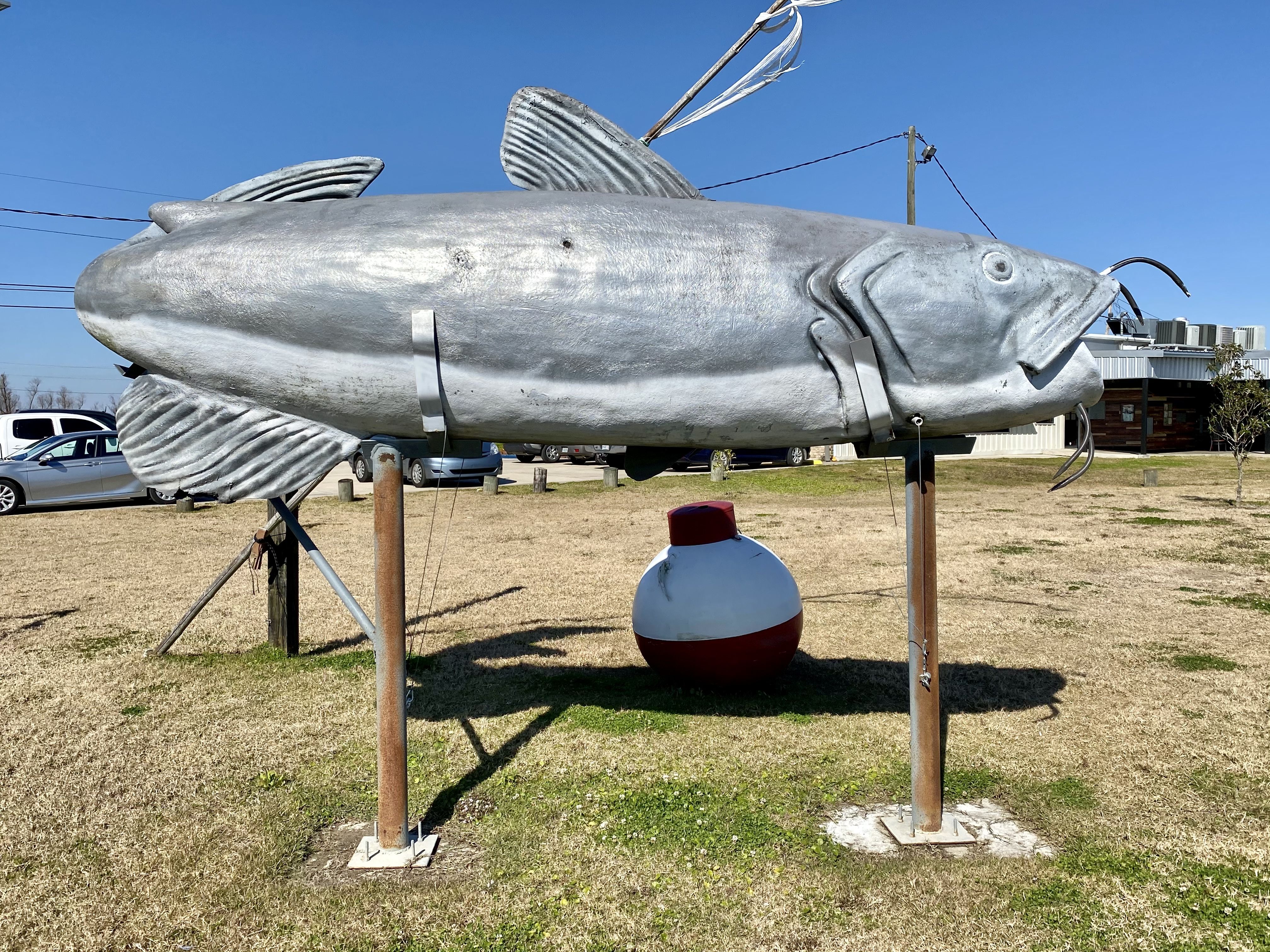 Nothing can get you to pull over faster than a rest stop an hour after a Big Gulp—unless it's the appeal of the "giant" roadside attraction. Whether it's the World's Largest Ball of Twine or the two-story likeness of a crawfish, there's just something adorably quirky, endearingly campy, and over-the-top about a giant replica of, well, just about anything—on the side of the road. Not to mention, it's a prestigious honor to hold the title of world's largest (or smallest) whatever, so you know you want a selfie in front of those detour-worthy objects.
Here in Louisiana, we have giant "sculptures" in giant numbers. There are three humongous cans of Steen's Pure Cane Syrup, standing beside the Steen's syrup mill in Abbeville. Haughton is home to a 199-foot cross, one of the tallest in the country. There's a whale of a catfish, along with an immense fishing bobber, outside Spahr's Seafood Restaurant in Des Allemands. Spahr's is also renowned for its great food, so if you make a stop there, you can grab a shrimp platter with a side of roadside kitsch.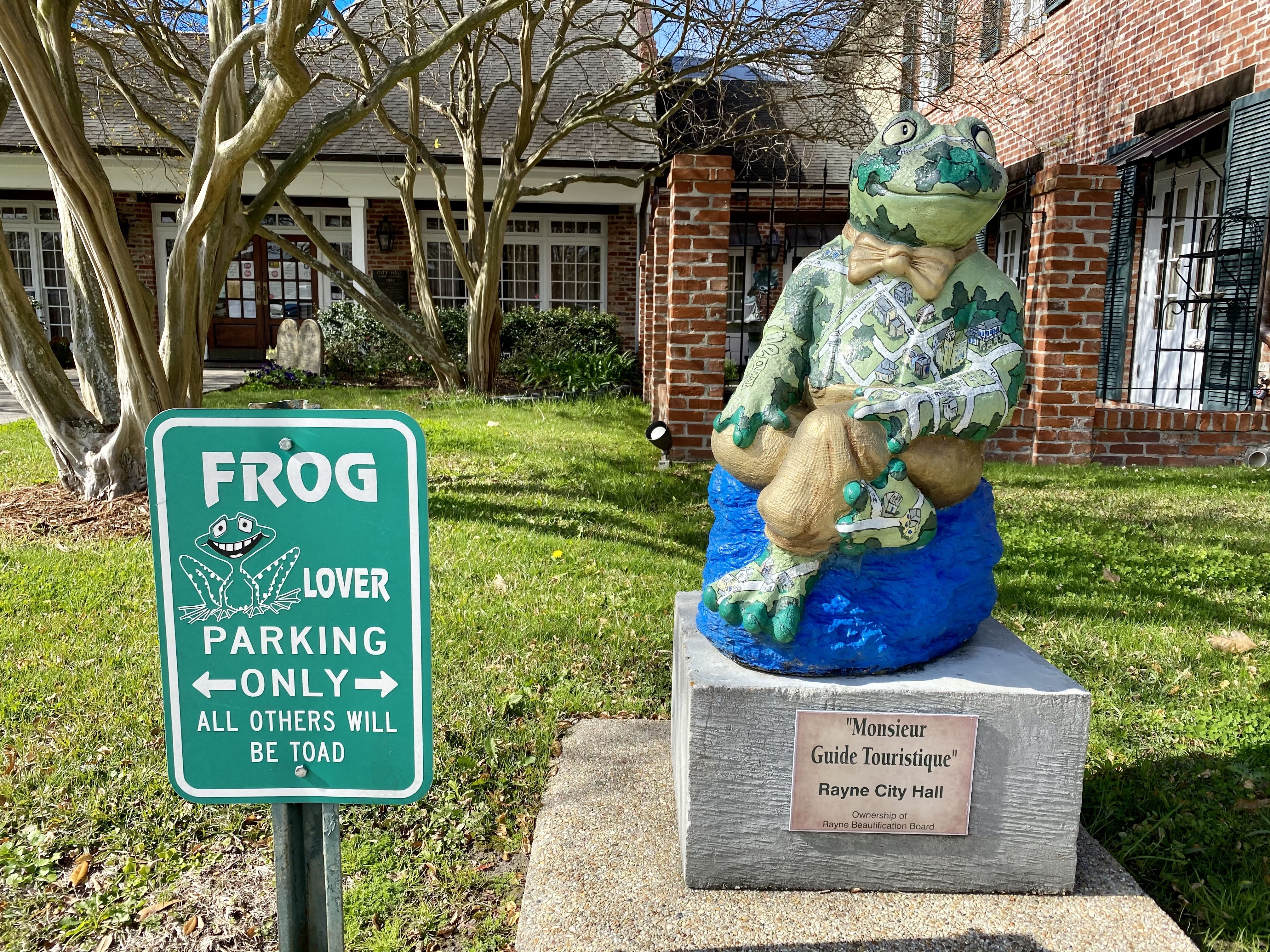 Monsieur Jacques is a mammoth silver, dapperly dressed frog statue who welcomes you to Rayne, the Frog Capital of the World. Rayne also has several artistically decorated frog statues all over town. While these artsy amphibians are much smaller than Jacques, they still seem giant—if you're a frog.
You can visit the massive loaf of bread rotating incessantly in front of the Evangeline Maid Bread bakery in Lafayette. And there's a giant crawfish made out of red-painted nuts and bolts and (maybe?) car parts, out in front of the Crazy 'Bout Crawfish Cajun Café in Breaux Bridge (the Crawfish Capital of the World). If you're a fan of colossal crustaceans, there's another crawfish monstrosity beside Swamp Daddy's Seafood Restaurant in Alexandria. You could also visit what surely must be the world's largest crawfish claw, outside Nott's Corner seafood joint in Lake Arthur (a town known as "Louisiana's Best-Kept Secret"). Nott's used to display an entire giant crawfish out front, but after Hurricanes Laura and Delta got to it, only a single sad, lone pincher remains. Owner Maxine Hoffpauir assures us that a newly rebuilt mondo crawfish is on its way soon.
Located in downtown Ponchatoula, the Strawberry Capital of the World, is, appropriately, a giant strawberry statue. It's not the world's largest, a title belonging to the enormous strawberry in Strawberry Point, Iowa, but Ponchatoula's behemoth berry is much taller than a six-foot man and is on perhaps a million-to-one scale compared to the typical fruit (while you're there, check out the live alligator, known as Old Hardhide, living in a cage a half-block away on Main Street, although he seems to currently be on a virus vacation).
Saint the Alligator is a 50-foot wooden alligator sculpture in Laplace, constructed from wooden logs and kindling in the style of the levee bonfire structures at Christmastime. The current iteration is a "tiny" replica of the now-defunct 78-foot original gator.
Finally, on the flip side, if you're not of the "bigger is better" school of thought, then check out the Madonna Chapel, the "smallest church in the world," in Plaquemine (which your GPS will insist is pronounced "PLOCK-myne").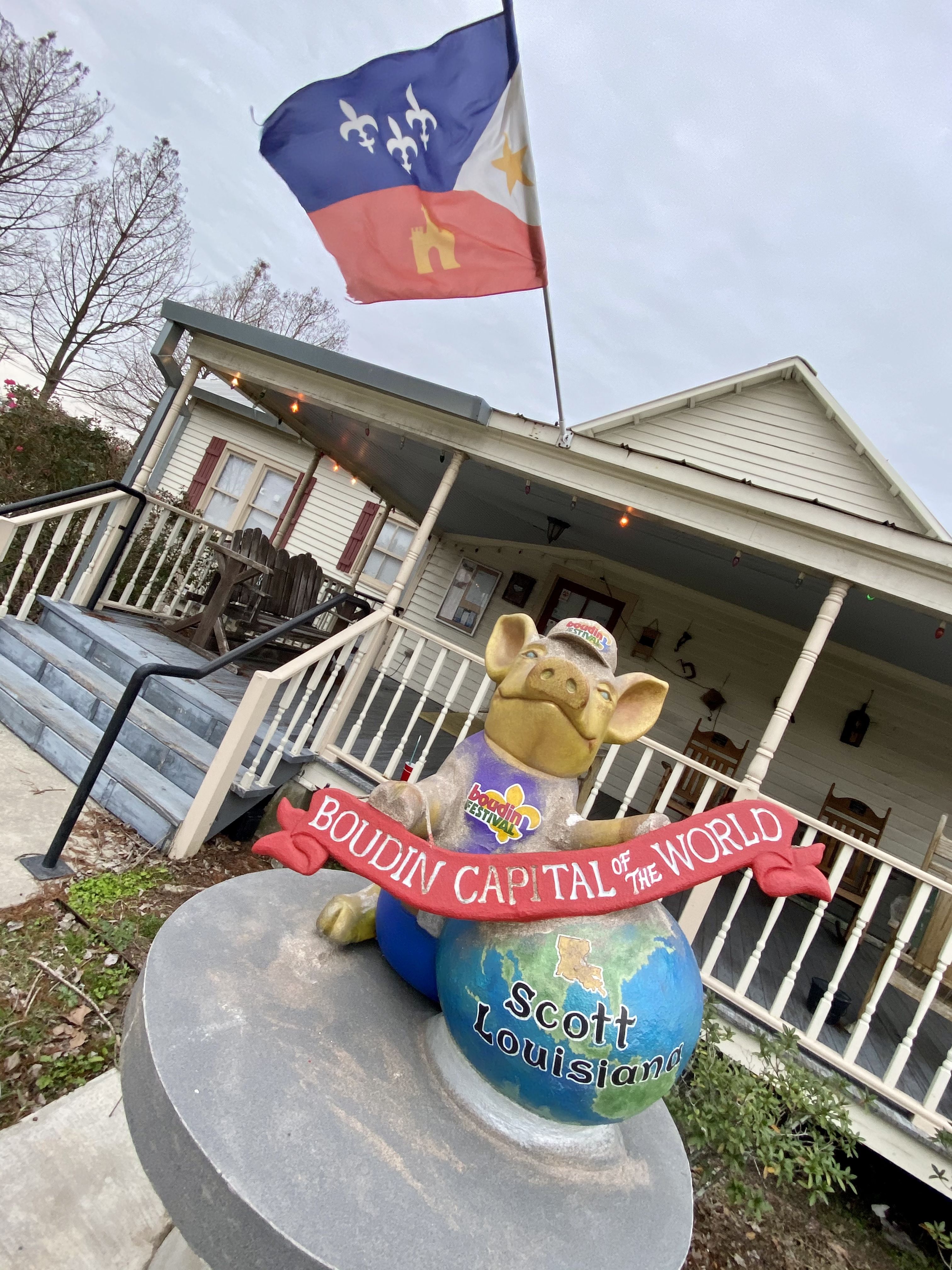 Eating on the Go: Road Food
There is no shortage of good food in this state, but certain off-the-highway eateries can turn a pit stop into one of the best meals of your life. Take Lea's Lunchroom in Lecompte, for instance. It originated as a ham-sandwich-slinging roadside gas station in the 1920s, and nearly a century later, Lea's has mainly continued down that same road. Their extremely limited menu includes a selection of just six daily chalkboard specials—ham always among them. If the notorious Bonnie and Clyde's regular appearance as customers didn't put Lea's on the map, then their criminally good homemade pies did. Flavors include all the classics, from coconut cream pie to lemon meringue, and, of course, pecan.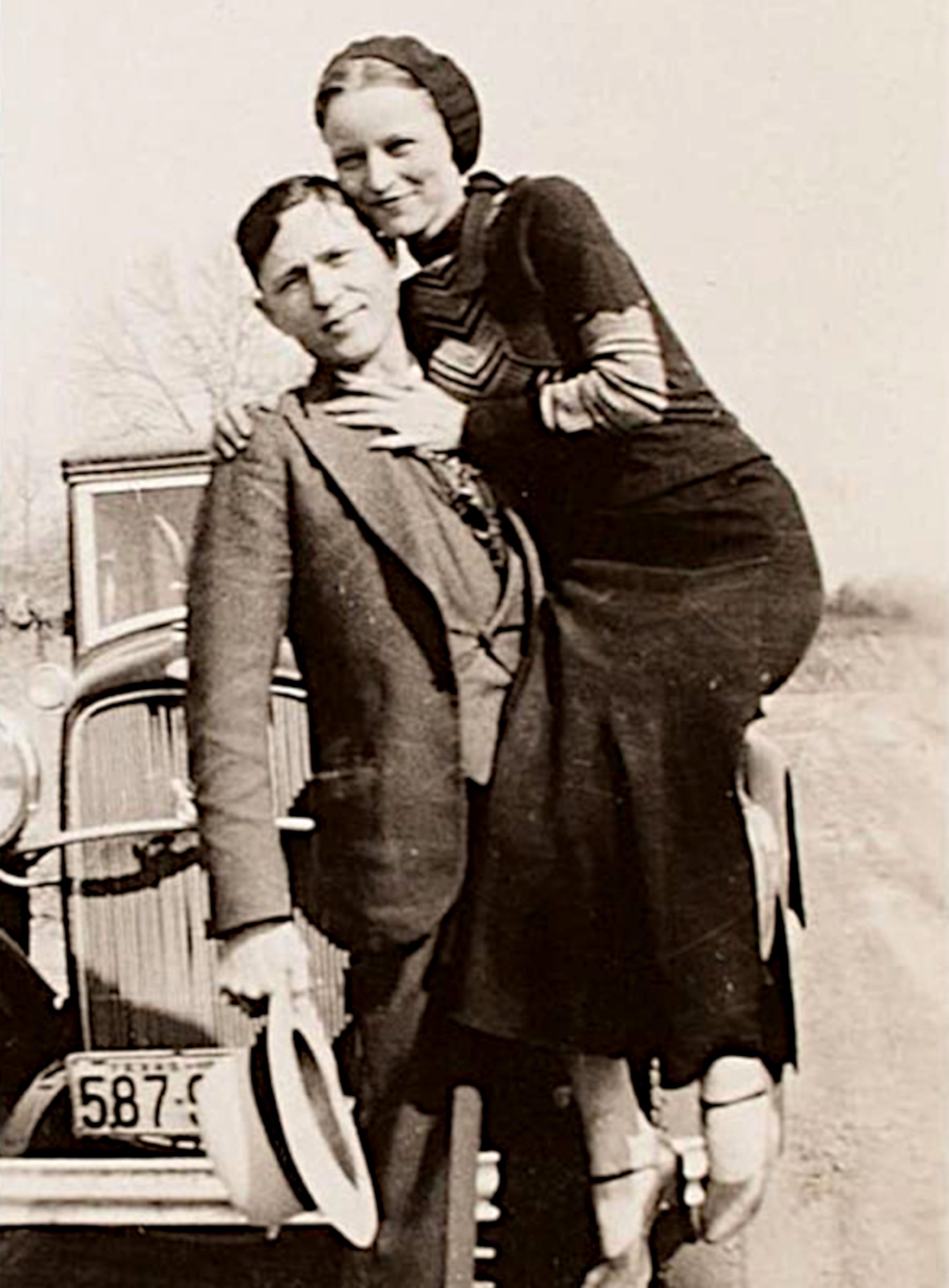 Essentially a suburb of Lafayette, Scott is the Boudin Capital of the World and also aptly referred to as "Pig Town." If you are looking for something meaty or fried, it's worth pulling off I-10 at Exit 97, where places such as Billy's Boudin, Don's Quality Meats, and Best Stop Supermarket work their pork magic on everything from boudin balls to boudin links to cracklins. With food like that, it's not surprising that Scott is also listed as "The Second Best Place to Live in Louisiana."
Foti's (aka just "The Fruit Stand") in Breaux Bridge is part restaurant, part market, and part museum of the weird. The small café offers po-boys, burgers, and made-to-order daiquiris, while the shop has bags of frozen okra, packages of Swamp Dust Seafood Boil, and jars of mayhaw jelly and fig preserves. There's also a live parrot on-site, life-sized alligator and shark replicas, several creepy clowns, Jesus statues, and a giant rooster out front. And the figs aren't the only things that are preserved—Foti's keeps a taxidermy nutria, wearing Mardi Gras beads, near a shopping cart full of cabbage.
Turnpike Tacky: Attractions and Oddities
If you're looking for something famous, historic, or just plain odd, hit the road.
On a rural gravel road in the boonies of Ossun grows the Tree of Souls—or Soles. It is strewn with endless pairs of discarded shoes, from Crocs to flip-flops to Nike Airs, which hang from the branches like beads on a St. Charles Avenue oak. A sign nailed to the trunk explains that the tree is meant to "offer you a place to hang your burdens," the shoes therefore being symbolic of your worries. This roadside attraction is perfect if you need to clear away your troubles, or your closet clutter.
The St. Joseph Co-Cathedral is a beautiful old church in Thibodaux, complete with fresh holy water on tap and statues of saints with bibles and receding hairlines. But in one corner of the cathedral lies a casket-like structure encasing a nightmarish wax woman who appears as if she has only just recently expired, still pale and contorted in pain. The eerie mummy-martyr is allegedly lying atop the actual arm remnants of St. Valérie of Milan, from the 1st or 2nd century AD, brought back from Italy in 1867. A certificate on the wall attests to its macabre authenticity.
Check out the Bonnie & Clyde Ambush Museum in Gibsland, where the infamous bank robbers were shot to death, or the bullet hole from the bullet that killed Huey P. Long in Baton Rouge. In St. Martinville, you can visit the "Evangeline Oak," the tree central to Henry Wadsworth Longfellow's famous poem "Evangeline," which focused on the Cajuns' expulsion from Nova Scotia.
Pop culture junkie? Stop by the house where Steel Magnolias was filmed in Natchitoches or the Britney Spears Museum in her hometown of Kentwood. A must for any die-hard fan, this museum has now officially been renamed the Kentwood Historical and Cultural Museum, and the Britney paraphernalia has been relegated to just a single exhibit within—but still, it's Britney, B*tch.