Post-pandemic football season is now back, and while you may have some great places to watch games, these spots will ensure you can enjoy all the energy from game day and see a TV to watch your favorite team.
During prohibition, agent Izzy Einstein bragged that in any city in the U.S. he could find liquor within thirty minutes. This varied from city to city, but his record was broken in none other than New Orleans. When Einstein got into a cab following travels, he asked the driver where he could get a drink, and, without thought, the driver then supposedly pulled a flask from his boot. Sadly, the driver was arrested, but his and others acts during this era not only helped it come to an end, but further established the city as a place where one could let loose.
Luckily, drinking doesn't have to happen covertly now, but the grand scale of the bar and restaurant scene in the city can mean that making plans is strenuous. When making plans for going out or bar hopping for specific events, such as the return of football season, we assume it's going to be easier but often proves to be the opposite. Whether you're intensely into the game or just love the social aspect of being out with your friends, stress is the last thing one desires when making such plans. While a variety of good drinks is crucial, we all know game days are marathons and not sprints, and as such, the food menu comes into the decision-making process.
You certainly have some favorite places that are your game day go-to spots, but with a return to a new game day normal here is a curated list of a few Nola forgotten gems you may want to revisit.
Tracey's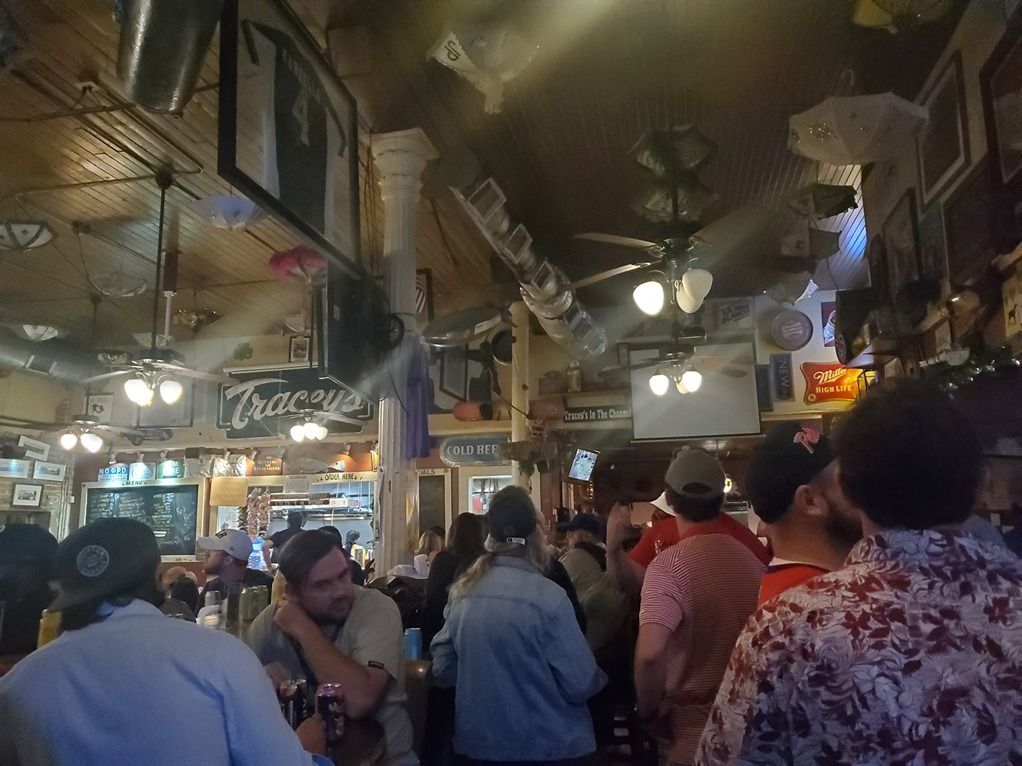 The first on the list may seem obvious, but, sometimes, a classic is one for a reason. Tracey's, located at 2604 Magazine Street, has claims as the original Irish Channel bar. Serving guests since 1949, it has the perfect low-key vibe for sports watching and eating one of their famous po-boys or meat pies. With more than twenty TVs, you won't have to fight to see the Saints or the Tigers battle opposing teams. Domestic beer prices range from $3 to $7, but Tracey's also features a great variety of local beers and has an extensive beer catalog.




Mid-City Yacht Club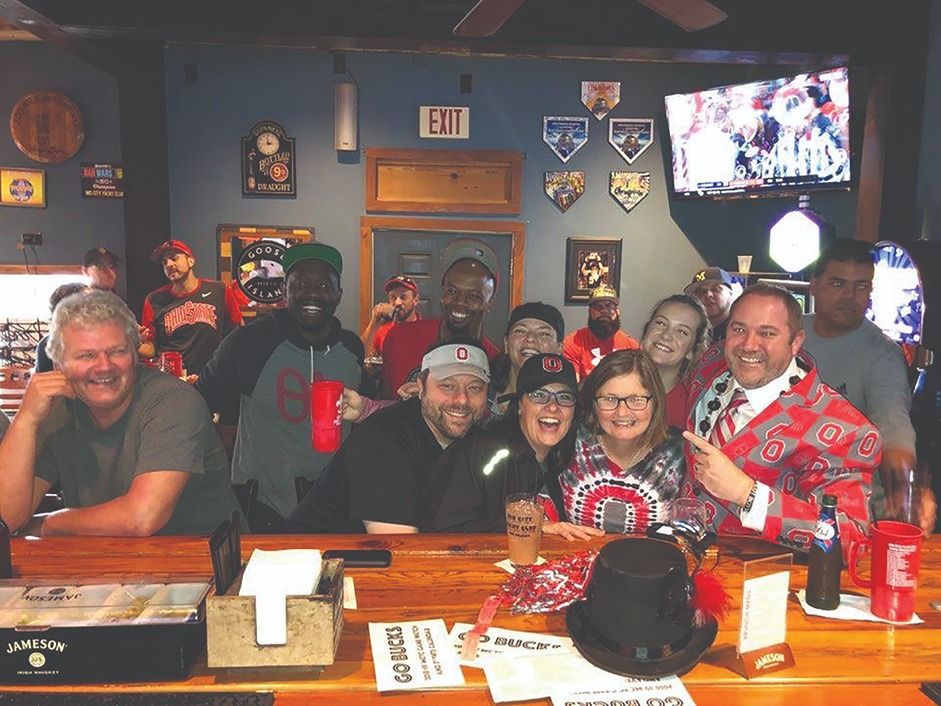 Next up, a bar that honors the past while serving up fresh twists on food and drinks is the Mid-City Yacht Club, at 440 South St. Patrick St. Built with all reclaimed wood and with decor that honors the city's port, the spot successfully dials comfort up a notch. Bar bites include fried seafood tacos, "yachtchos," bacon mac & cheese balls, and, of course, boudin balls to kick things off on an exciting note. Then, when halftime—or earlier, depending on how early your day started—hits, there's an impressive list of burgers, sandwiches, and a selection of fries to keep you energized during game day. Their wide range of beers doesn't disappoint, but the full bar features exceptionally well-done classics such as their Bloody Mary. Mid-City Yacht Club doesn't stop there—a large courtyard and outdoor seating on top of indoor seating ensures you and the group can stay to enjoy yourselves. TVs are spread around to ensure that you can actually see the game. Should you find yourself in the mood to host, they even have a room available for private parties. The regular vibes at this place will draw you in, and the energy from a game day will leave you wanting to become a regular.




Cooter Brown's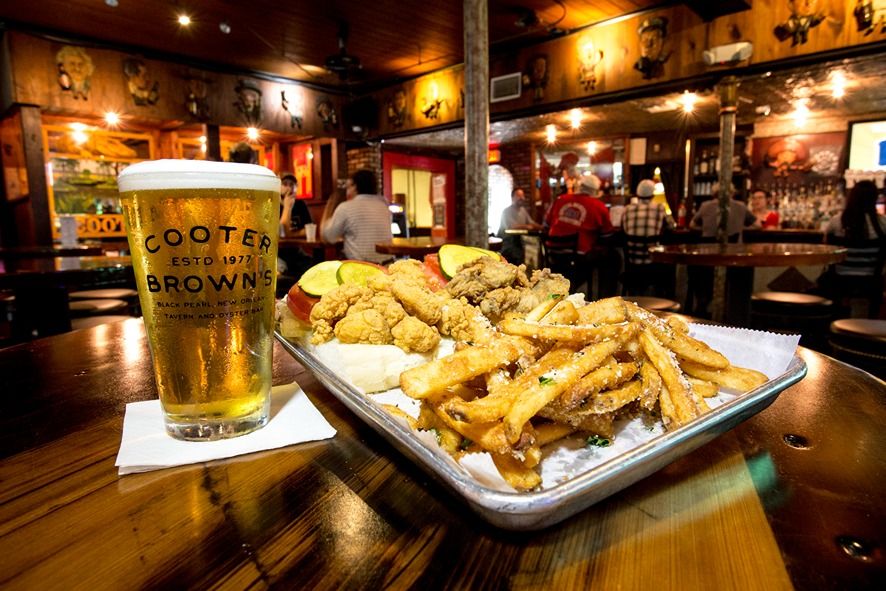 Another New Orleans staple that has been serving residents since 1977 is Cooter Brown's, located in the heart of the Black Pearl, at 509 S. Carrollton Ave. A headline on their website reads that it is "a destination," and it rings true. They've taken time to elevate the setting of a sports and neighborhood bar, which leaves guests wondering how they pulled off a sophisticated dive bar feeling. Cooter Brown's serves over 400 brands of domestic and imported bottled beers, with 40 different beers at the front bar, and 42 beers at the back bar. They've gone the extra mile when it comes to game watching, with 17 flat screens and two eight-foot projectors available. You also won't have to worry about any streaming glitches—they've got all the cable sports packages.
When it comes to their eats, the oyster bar is just the start. The burgers, sandwiches, and baskets (like the catfish filet one) are flavorful, but other exciting bites include buffalo shrimp, gravy cheese fries (with roast beef gravy), and fried pickles. You can be at ease in Cooter Brown's, while also experiencing the atmosphere of a place that has taken time to balance quality, quantity, and genuine fun.
On game day, you need places that are going to ensure comfort, fun, and great service. The bottom line, these three spots also offer a great selection of options to ensure a good time, and then some great bar bites to help you rally and make it through to the final quarter. While the allure of staying at home to enjoy the game can be enticing, you also can have some joy in going out, knowing you are supporting local business owners, bartenders, and servers. It's time again to enjoy football season in full swing.