Nola has Wiiings is a project sponsored by Red Bull and the New Orleans Pelicans to team up with local artist Brandan Odums, also known as Bmike, to replace basketball backboards at different New Orleans parks. The event is to inspire local communities with bright and colorful works of art and to demonstrate the city's ability to come together and rebound from catastrophic events, such as the pandemic.
Bmike has chosen eight artists from the Greater New Orleans Area to transform old and broken backboards into works of art. The artists participating in the event, as well as their designs, include: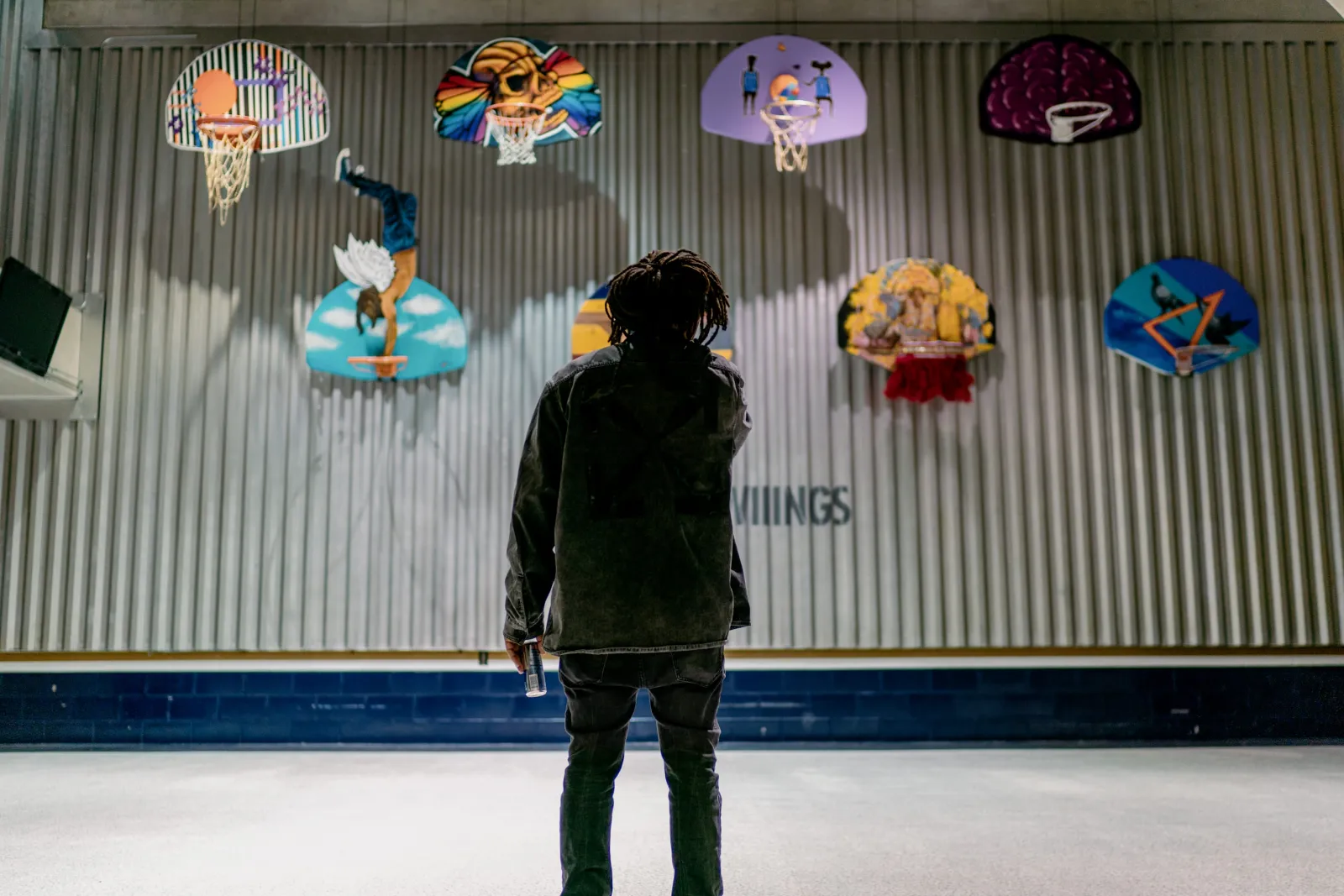 Ceaux is a New Orleans native who created a backboard inspired by Harrel Park and the happiness and playfulness that is enjoyed at playgrounds.
Ayo Scott, the son of famous artist John T. Scott, created a backboard called "Big Ol' Lil Big Chief," with the help of Big Chief Terrence Williams from the Black Hawk Hunters, which demonstrates the strong spirit of the New Orleans community.


Kara Crowley's art represents African American culture and created a backboard with multiple hands to demonstrate the concept of unity.


Jessica Strahan is a New Orleans based and self-taught artist who was inspired by dance and how it can inspire and motivate people to enjoy the small moments in life.


Marc Verrett, also known as MarcFreshArt, is a muralist from Baton Rouge who painted an image of a skull with colorful butterfly wings on his backboard. His message is to portray the ability of rising above and overcoming obstacles that seem unfeasible.


Jade Meyers/THEARTISTSJADE is the art director and founder of J A D E 1 9 9 1, an art-based company. Her backboard tells the story of growing up in New Orleans with messages of power, nature, and Black culture.


Bryan Brown created "The Big Brain," which focuses on getting mentally healthy and focusing on oneself in order to unlock an individual's full potential.


Monique Lorden is a poet and artist who used her memories of playing basketball in the park to illustrate a backboard called "Hoops Dreams and Poetry," which represents a story of childhood hope and community.
The backboards will be on display at the Smoothie King Center and available online at redbull.com. Bmike will have his custom backboard design at Studio BE on 2941 Royal St. for display only. People will be able to vote for their favorite backboard beginning March 23 through the Pelicans' mobile app or website. The winning artist will have the opportunity to design a basketball court that will be accessible to the New Orleans public.
For more information, please visit redbull.com.