We're all aching for social contact during these difficult times, and you can believe our pets are pining, too! Pups all over the city have been missing their weekly (dare we say daily?) outings to the only designated dog park in town. But there's no reason to roll over just yet! New Orleans City Park recently announced the reopening of NOLA City Bark on Tuesday, May 26th!
While the socialization of the city's sweet pooches are important, the denizens of NOLA City Bark must also understand and abide by state ordinances to keep humans safe during the pandemic. Respecting the health of both visitors and employees, the dog park has outlined the following restrictions: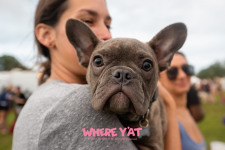 No more than 30 people are allowed in the large dog park at one time and only 10 people at a time in the small dog park.

Members are asked to stay fewer than 60 minutes at a time.

You may bring your own chairs, but must take them when you leave.

All water fountains for humans will be nonoperational.

Guests must maintain 6 feet from one another.

While not required, NOLA City Bark asks members to please wear a face mask or shield to protect fellow visitors.

All permit-holders must scan their permit pass before entering the dog park.

Permit-holders may not allow non-permit holders inside the facility.
For all current information about NOLA City Bark or to purchase your own dog park permit, please visit nolacitybark.org.