The Marvels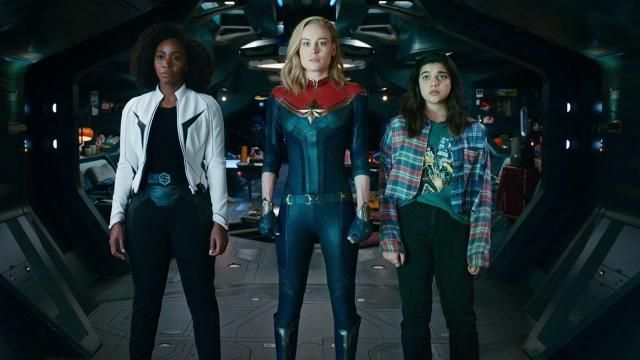 Comic book movie fatigue has long since set in and The Marvels, with its cookie cutter script and routine action, doesn't reverse the trend. The Marvels, at a running time of 105 minutes, feels choppy. This makes the plot seem simplistic yet messy at the same time.
Carol Danvers/Captain Marvel (Brie Larson) has to team up with two other super powered ladies—Monica Rambeau (Teyonah Parris) and Captain Marvel super fan Kamala Khan/Ms. Marvel (Iman Vellani)—to defeat Dar-Benn (Zawe Ashton), the new leader of the Kree species. Dar-Benn has acquired one of two Quantum Bands and, of course, she wants the other one to harness the full power of the bands together. It just so happens that Kamala has the other band.
At one point, it looked like The Marvels was going to try something a little crazy and different. Captain Marvel and company visit a planet where the inhabitants only sing to communicate. Was The Marvels going to turn into a Bollywood musical? Of course not, because when Danvers meets the planet's prince, she says, "He's bilingual." That's when the singing stops and the characters resume speaking normally.
The character of Kamala Khan whines a lot, so she is sometimes annoying. The saving grace is that Samuel L. Jackson as Nick Fury has some very funny line deliveries.
Another problem is that the more recent Marvel movies are tied to the Disney+ series to fill in character gaps. For instance, to better understand what is going on in The Marvels, you have to watch Ms. Marvel and WandaVision. It's more enjoyable to go to a movie and enjoy it on its own merits and not have to do homework before setting out for the movie theater.