The horror film Pearl is a prequel to this year's earlier release, X. Both are directed by Ti West and both star Mia Goth. X took place in the 1970s, and concerned a group of porno filmmakers renting a barn on the property of a strange elderly couple who turn out to be psychotic killers. The old woman is Pearl (Goth in old age makeup), and this new movie is set in 1918 and tells of how a young Pearl goes off the deep end and becomes a murderer.
The trailer for Pearl was first shown after the end credits of X, and it looked like a horror comedy. I feel that X is one of the year's best films, and I didn't mind seeing a prequel that was made as a goof. Well, this is not a goof, but a full-blooded - and bloody - horror movie that is very disturbing.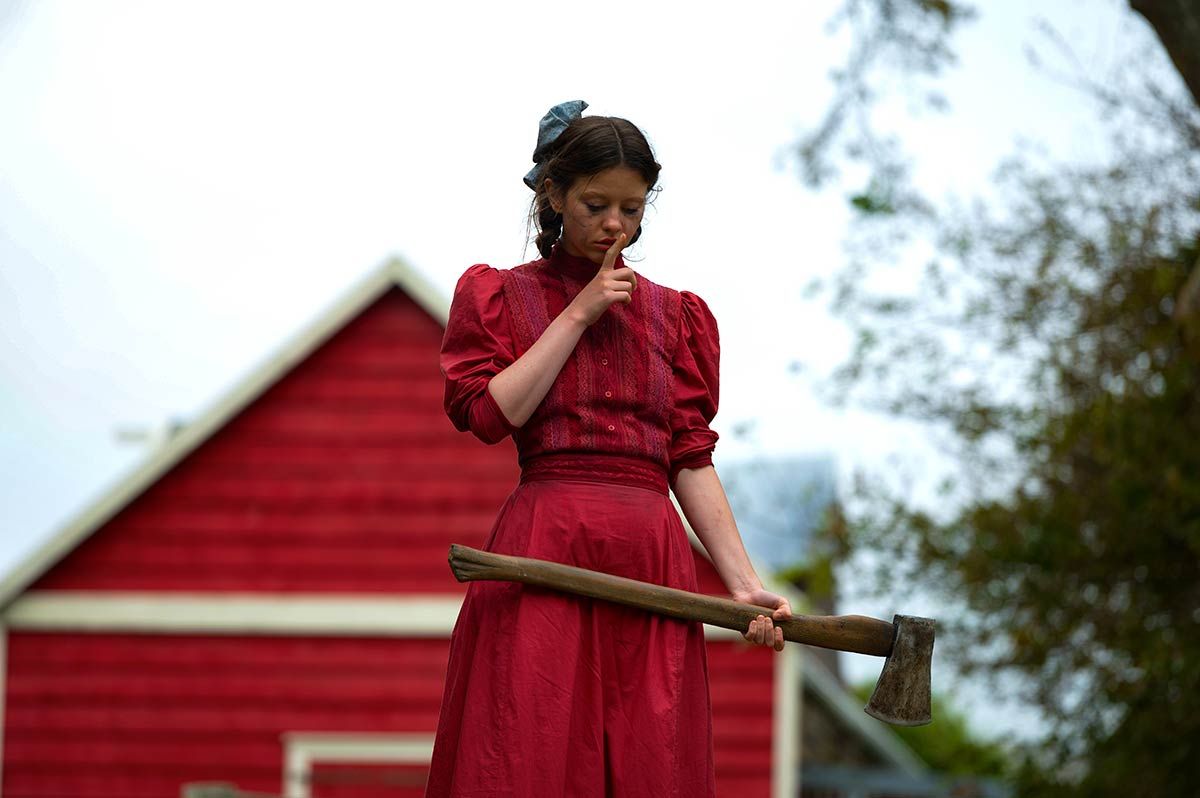 In this prequel, Pearl is a young woman living on a farm with her stern mother (Tandi Wright) and infirm and paralyzed father (Matthew Sunderland), as her husband, Howard (Alistair Sewell), is off serving in World War I. Pearl dreams of stardom as a chorus girl in the movies, and has her sexual awakening when a local projectionist (David Corenswet) shows her a stag film. She later fantasizes about the handsome projectionist while masturbating with a wicked looking scarecrow. Eventually, Pearl begins to feel trapped in her mundane existence, and that is when the situation turns into complete terror.
While in X, West echoed the films of director Tobe Hooper (The Texas Chain Saw Massacre, Eaten Alive), but here he channels the lavish melodramas of Douglas Sirk (All That Heaven Allows, Written on the Wind), but with lots of gore. Making Pearl look like a Technicolor dream doesn't come off like a stunt of a filmmaker just showing off his cinema knowledge, because the film's polished and beautiful look really makes the jolts of grisly violence truly haunting.
Because this is a prequel, we know what is coming, but Pearl works as an unsettling character study. The movie was written by West and Goth, who clearly know their character. They make us feel for Pearl, but in no way condone her murderous rampage.
Late in the movie, there is a scene where Goth delivers this monologue confessing all the horrible things her character has done. West keeps the camera on Goth in close-up and with no cutaways. It's a brilliant actor's moment and Goth is fantastic. You don't see moments like that in your average slasher movie, but Pearl isn't your average slasher.