The British drama Living is a remake of Ikiru, a 1952 Japanese picture by the great Akira Kurosawa, which, itself, is inspired by the 1886 Russian novella The Death of Ivan Ilyich by Leo Tolstoy. Living is a very respectable retelling with a brilliant, low-key performance by Bill Nighy at its center.

The setting for Living is London of 1953, and Nighy plays Rodney Williams, a bureaucrat in the county Public Works department. He's a rather cold man who wakes up in the morning, goes to work, then heads home, then to sleep, and repeat. One day at the doctor's office, however, Mr. Williams gets the devastating news that he has a terminal illness with maybe nine months to live.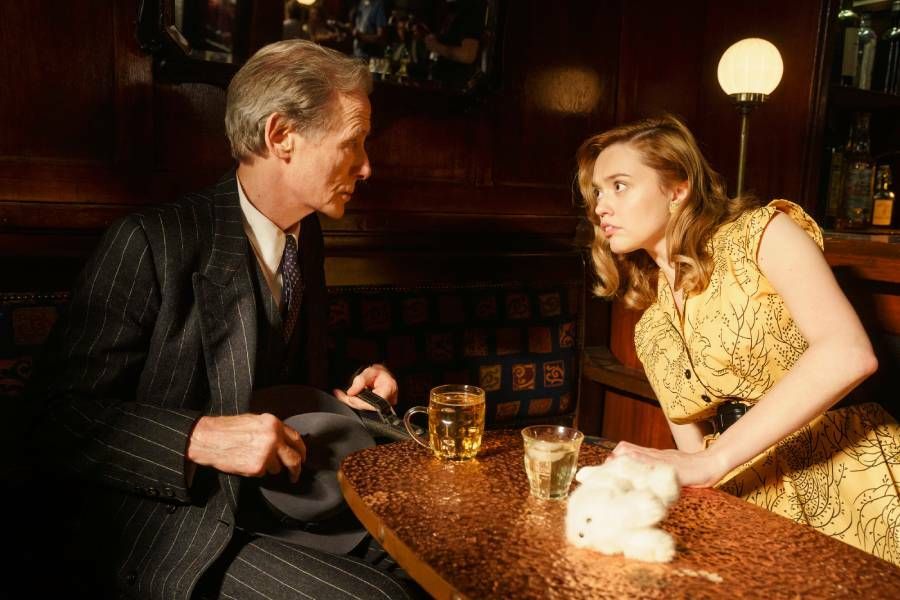 At first, Williams thinks he should go out with a bang and live a life of fun, like boozing it up or playing games at the carnival. As it turns out, this isn't fulfilling to him. He wants to do something meaningful with his life, so he decides to dedicate the time he has left to getting a playground erected in the lower class section of town.
Throughout the film, we see Williams through the eyes of different characters like the new hire, Peter Wakeling (Alex Sharp), or the charming young lady of the office, Margaret Harris (Aimee Lou Wood). The relationship between Williams and Ms. Harris is quite lovely. Williams takes her to lunch and out for drinks, and the old man's adult children get the wrong idea. Sure, Williams clearly sees an attractive young woman in Harris, but he just enjoys her company because of her zest for life.
Living is directed by Oliver Hermanus (Beauty, Shirley Adams) with an adapted screenplay by Kazuo Ishiguro (The Remains of the Day, Never Let Me Go), and together they have crafted a thoughtful film that is never cloying or artificially "feel good." It earns its emotions because nothing here even feels false.
The first 20 minutes feel a little stuffy, but it's supposed to be that way, because Williams' life is monotonous. Please, stay with the film, as the rewards are many.