Settled in 1699 by Iberville and populated by a people of blended indigenous, French, and African heritage, Ocean Springs (aka Old Biloxi, by Fort Maurepas), historically and culturally, resembles New Orleans. In a letter to Governor Claiborne in 1811, Dr. William "Fat Doctor" Flood described the village: "I am greatly impressed with the beauty and value of this coast. The high sandy lands, heavily timbered with pine, and the lovely bays and rivers…will furnish New Orleans with a rich commerce, and with a delightful summer resort." And while the mineral springs that made this place sacred to natives now flow from residents' taps instead of health resort baths, Ocean Springs continues to revitalize visitors who take the 90 minute drive from New Orleans.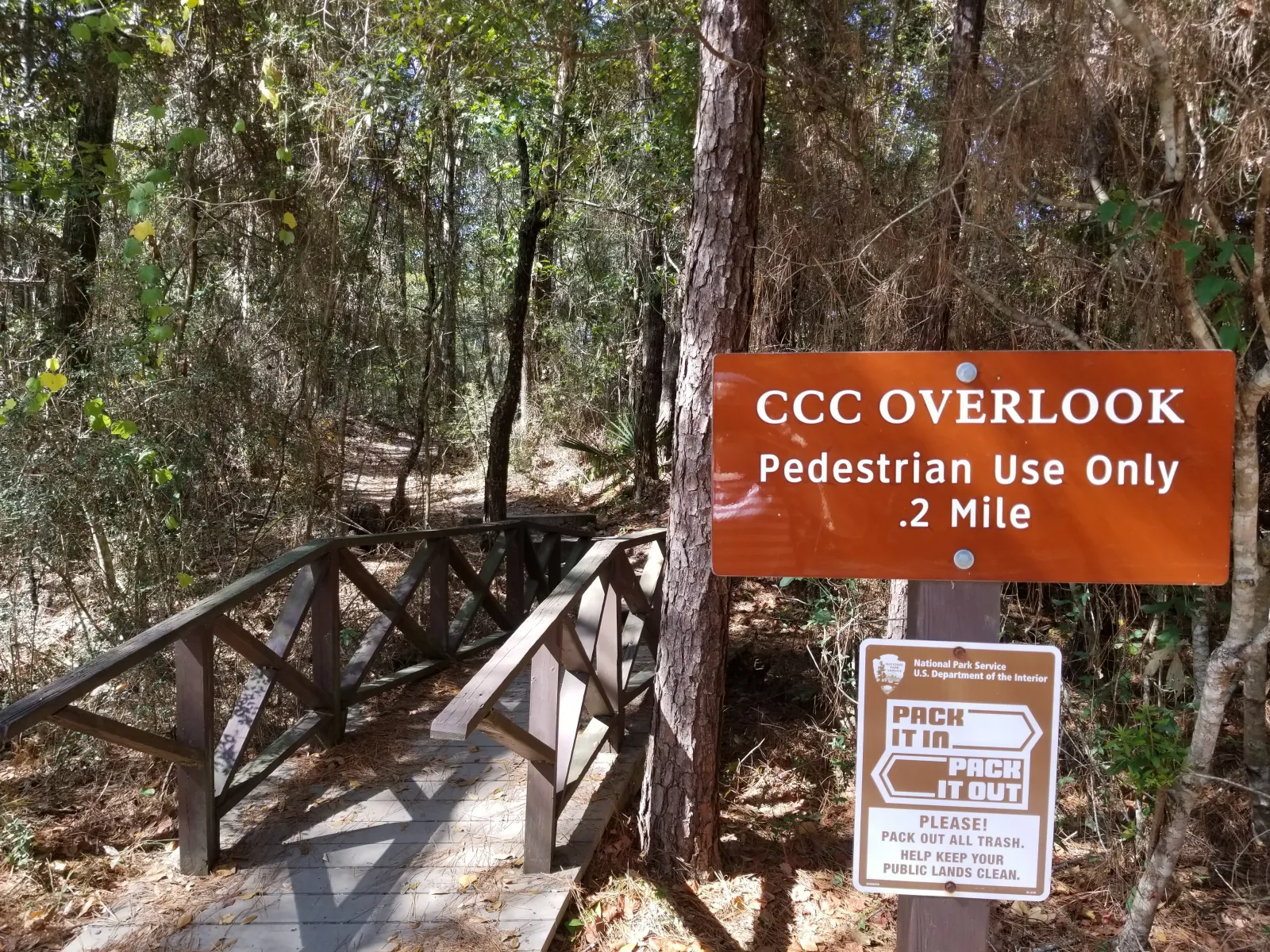 The Shore
Obviously, one of Ocean Springs's most appealing features is its stretch of shore on Biloxi Bay. The western half is the public beach; the marshy eastern half is where you'll find Mississippi's share of the Gulf Islands National Seashore. The Davis Bayou area offers visitors every imaginable outdoor recreation opportunity, and while camping reservations get scooped up a year in advance, a day trip may include hiking, kayaking, picnicking, and fishing off the pier. The park also includes several barrier islands. You can launch your boat from the park for a small fee. No boat? Book a charter through one of many local operators—or pop over to Biloxi and rent a boat from Nauti-Toons (119 Beach Blvd., Biloxi) to explore the bay and islands yourself.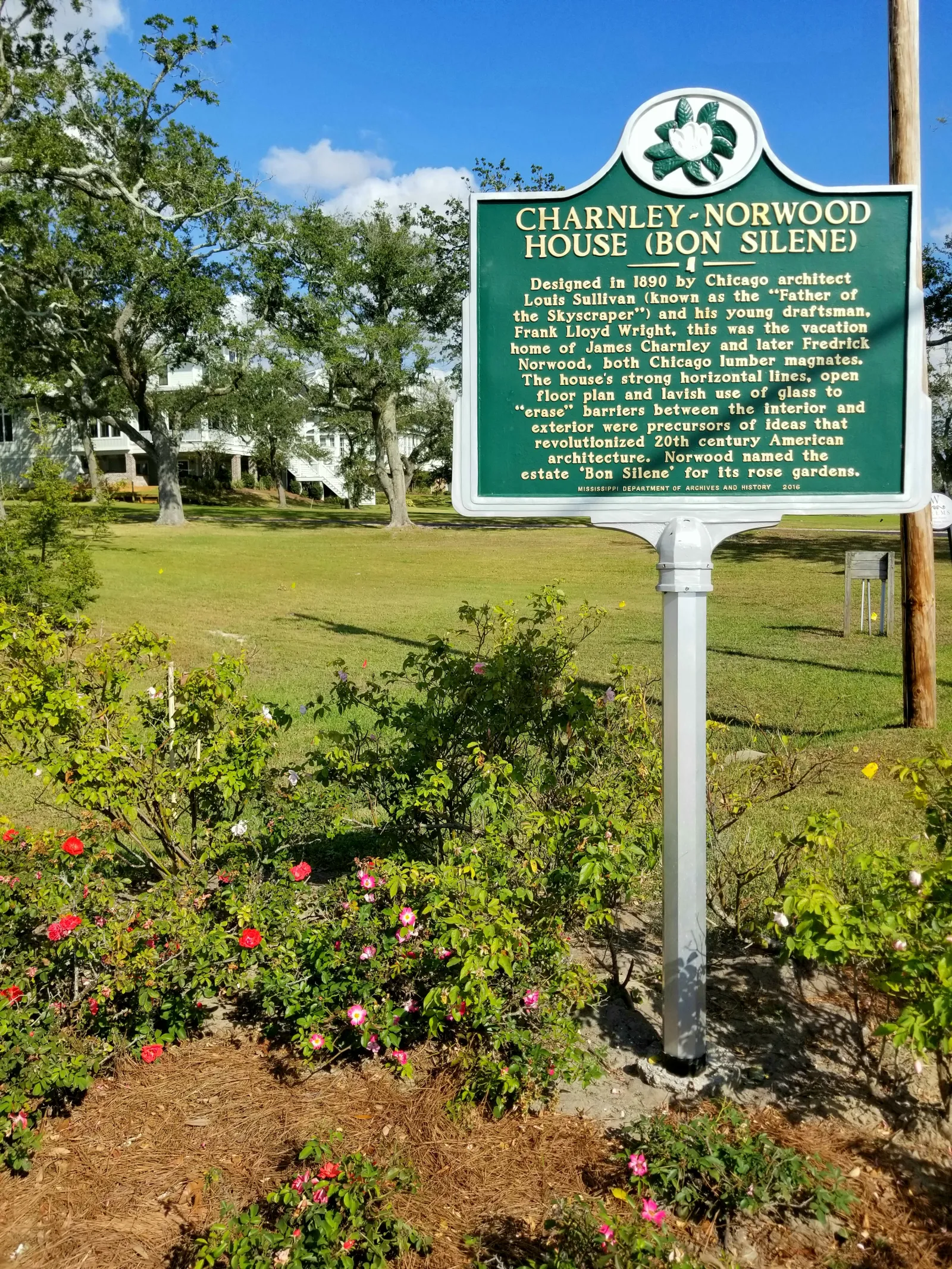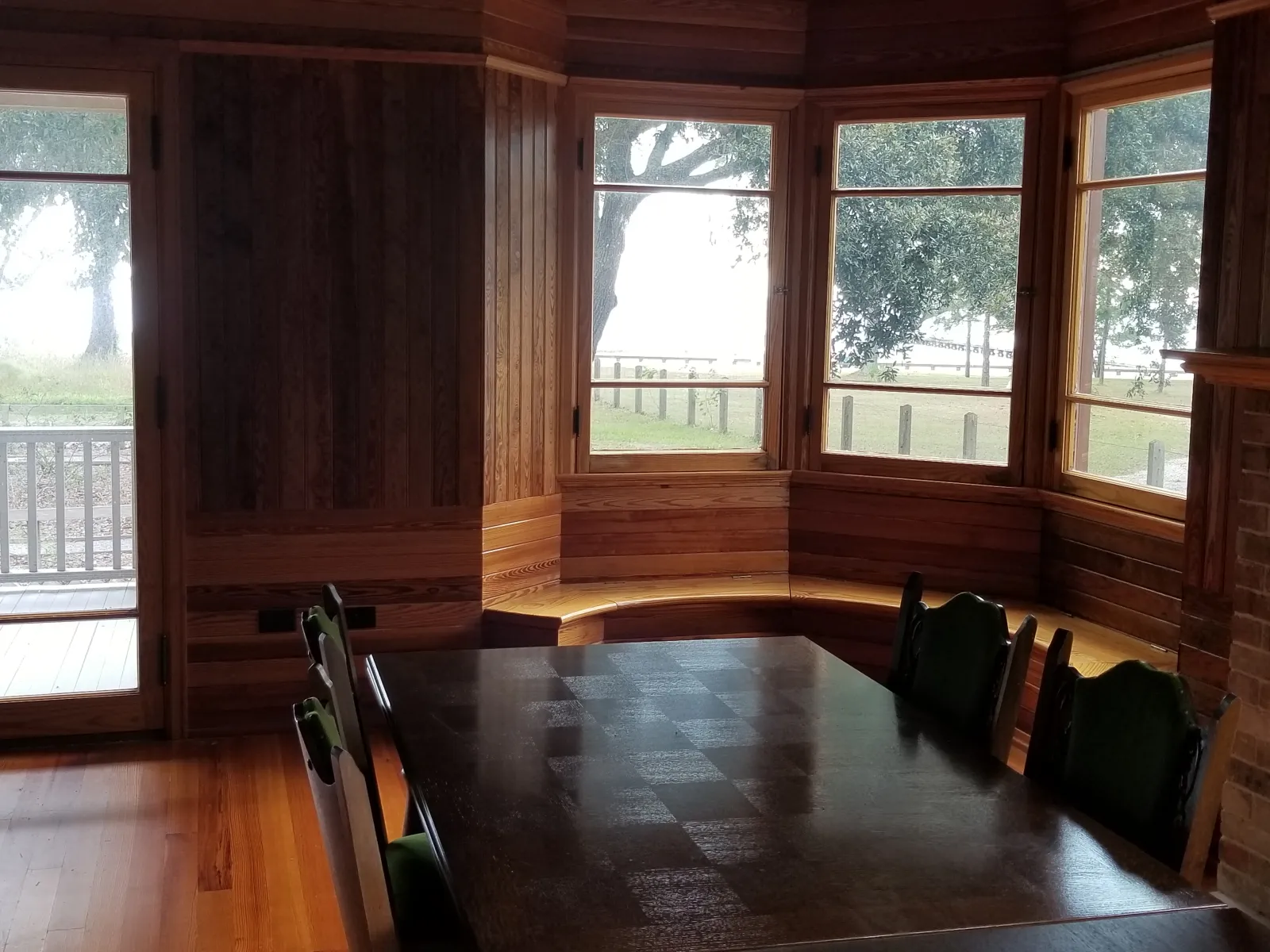 After the Civil War, not only New Orleanians but also people from New York and Chicago began flocking to Ocean Springs for a reprieve from the extreme temperatures in their cities—including the famous architect Louis Sullivan, who built his cottage here in order to escape Chicago's brutal winters. Built in 1890, the Charnley-Norwood House (509 Shearwater Dr.) is one of the earliest examples of Louis Sullivan and Frank Lloyd Wright Modern design. The property also features a French rose garden and a cultivated coastal meadow, which hosts migrating and mating monarchs each fall. To make reservations for a guided tour, email heritage@dmr.ms.gov or call (228) 234-7298.
Similarly, the Anderson family resettled in Ocean Springs from Uptown New Orleans, establishing Shearwater Pottery (102 Shearwater Dr.) and kickstarting the arts and crafts scene that dominates contemporary Ocean Springs. The studio was founded in 1928 by Peter Anderson, with brothers Walter Inglis Anderson and James McConnell Anderson working as designers too. Shearwater's pottery is both functional and decorative, formed from white bodied clay from Tennessee or locally sourced buff bodied clay. Three of Peter's children continue this tradition today—throwing, jiggering, and casting one-of-a-kind pieces, glazed in colors of the Gulf Coast. Visit its showroom any day of the week, the workshop on weekdays, or make an appointment for a group tour ahead of time by calling (228) 875-7320.
Downtown Ocean Springs (Government and Washington Streets)
Peter's brother Walter Anderson, declared the official cultural patron saint of Mississippi in 1991, classically trained as a painter at Parsons Institute in New York and the Pennsylvania Academy of Fine Arts, and also traveled in his early career throughout France and Spain. But the inspiration he found in the wildlife and natural landscape of Horn Island led him to settled in Ocean Springs. His watercolors and block prints, made from carved linoleum and intended to be public art, are of international renown, evoking wild folk and fairy tale vibes. The Walter Anderson Museum of Art (510 Washington Ave.) is open until 5 p.m., seven days a week. Admission is $10 for adults, with a discount for seniors and visitors with a AAA, military, or student ID. A stop to check out its current exhibit, The South's Most Elusive Artist, is definitely one of the coolest ways to escape the hottest parts of the Gulf Coast's sweltering summers.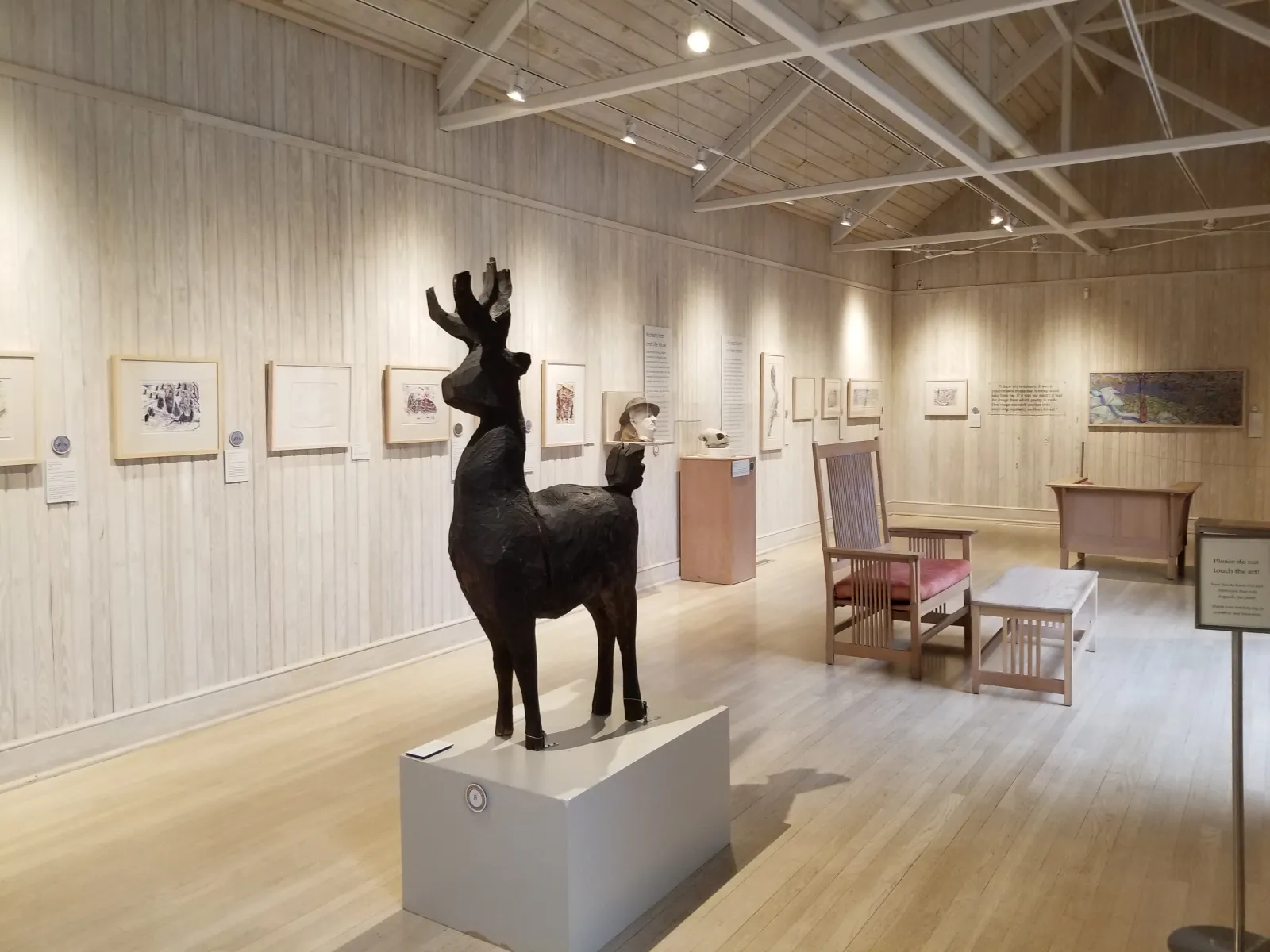 The influence of the Anderson family (and migration from New Orleans and South Louisiana, in general) on the culture of Ocean Springs is undeniable in downtown Ocean Springs, which is filled with boutiques and galleries, and even an old-school handcrafted toy shop, and is home to the Mary C. O'Keefe Cultural Center (1600 Government St.), which includes the Duckett Art Gallery, WPA murals, and a history museum. The district is also filled with patioed restaurants and brew pubs and a busy food truck plaza on weekends—and they allow open containers, so you can have your drink to-go. On the eastern end of district is The Juke Joint (1911 Government St.), which is exactly as you imagine it might be. Visit msjukejoint.com for info on its weekly and special events.
Blue Dog Bistro (1801-A Government St.) is one of the most unique dining options in Ocean Springs. Its menu offers "Good Dog" and "Bad Dog" breakfast and lunch entrees—with keto/GF options available for most items—as well as small plates—so you and your friends can enjoy baked avocado and free-range egg with a spinach-oyster sauce and grilled portabella steaks, or a cinnamon roll skillet with pecan praline bacon and a Blue Dog burger with blue cheese on sourdough. Order a pour-over, a French press, or a pull of espresso from their coffee bar, which features a $15 cup of kopi luwak. Even the kids menu is impressive, offering items that range from chocolate chip waffles to grilled fish or shrimp. Blue Dog Bistro is BYOB (with a $10 per table cork fee), but it also serves bottomless mimosas. Visit the bistro between 7 a.m. to 3 p.m., Tuesday to Sunday.
If you are there between Tuesday and Saturday, be sure to stop by Pleasants BBQ (1415 Government St.). Established in 1982, the Black-owned local legacy is considered by many to be the best barbeque in town—and it has homestyle daily specials such as blackened chicken fettuccini with salad and garlic bread, smother pork chops with greens and cornbread, and the Pleasant's Special, featuring a sandwich (beef, pork, sausage, or grilled chicken) with baked beans, potato salad, or coleslaw—all for under $10.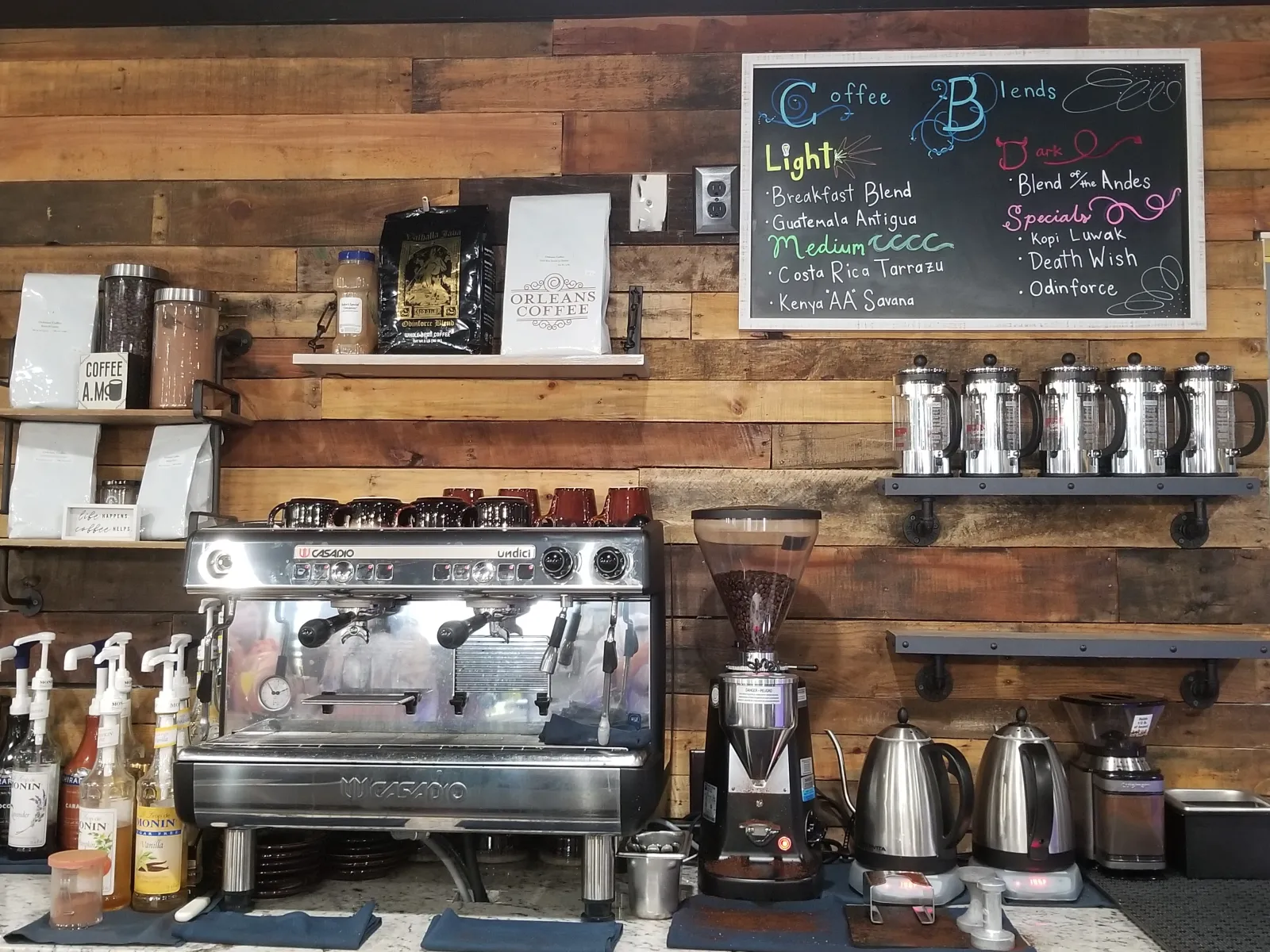 Residential Ocean Springs
For a sweet treat—and to support another Black-owned business—swing by Sugar Tribe Sweets between 9 a.m. and 5:30 p.m., Tuesday to Saturday, where you'll find an assortment of baked goods, as well as sno-cones. Next-door is Patrick's (2105 School St.), a family-owned business recently honored by locals as the Best Gulf Coast Weekend Seafood Restaurant, which is open from 5:30-9:30 p.m., Thursday to Saturday. The outskirts of Ocean Springs are also home to The Cypress Taphouse (6616 Rose Farm Rd.), featuring live music on the last Friday of every month.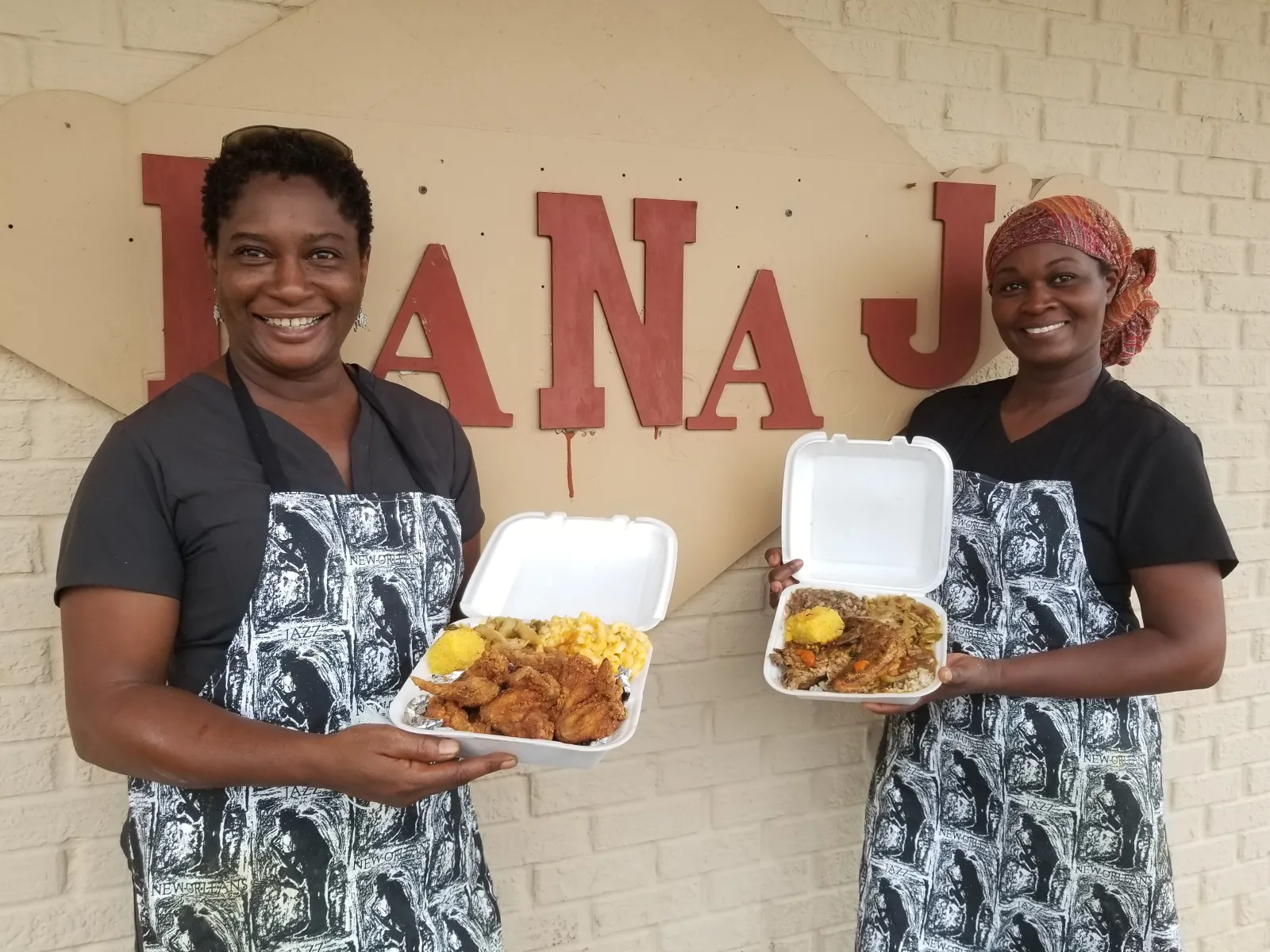 Nana J's Soulful Kitchen (6512 Washington Ave.) is another Black-owned legacy in Ocean Springs. Sisters Karen Newkirk and Sherine Bates dish out homecooked food—think oxtails, fried catfish, ribs, wings, collard greens, cabbage, fried okra, and field peas & snaps—pulling from recipes handed down to them from their mother—a native New Orleanian—Nana Jackson, who Newkirk wanted to honor by opening the restaurant. Open from 12 to 5 p.m., Wednesday to Sunday, the kitchen sells out every day, so call (228) 447-3502 or visit its Facebook page to order your blue plate special ahead of time! Everything is deliciously crafted with love and, as one patron said, it's "food that feels like home," so much so that Nana J's is a mainstay for Sunday dinner among locals—and a favorite among travelers who appreciate "real" down-home cooking.