We love the smell of a good bar. For many of us bar goers, smell can induce nostalgic need for simpler times and memories of friends we haven't seen for a while. With the COVID lockdowns of 2020, nostalgia is what our bar experiences have largely been limited too.
But with the return of bar life soon in order, the finish line is well in sight. Miller Lite is determined to give us a worthwhile victory lap by bringing us these nostalgia-inducing bar smells in the form of limited-edition scented candles, which have already sold out 24 hours after being released.
The three distinct scents in this candle collection include: Dive Bar, Beer Garden, and Game Day. All three scents were designed to call to memory distinct atmospheres and bar environments.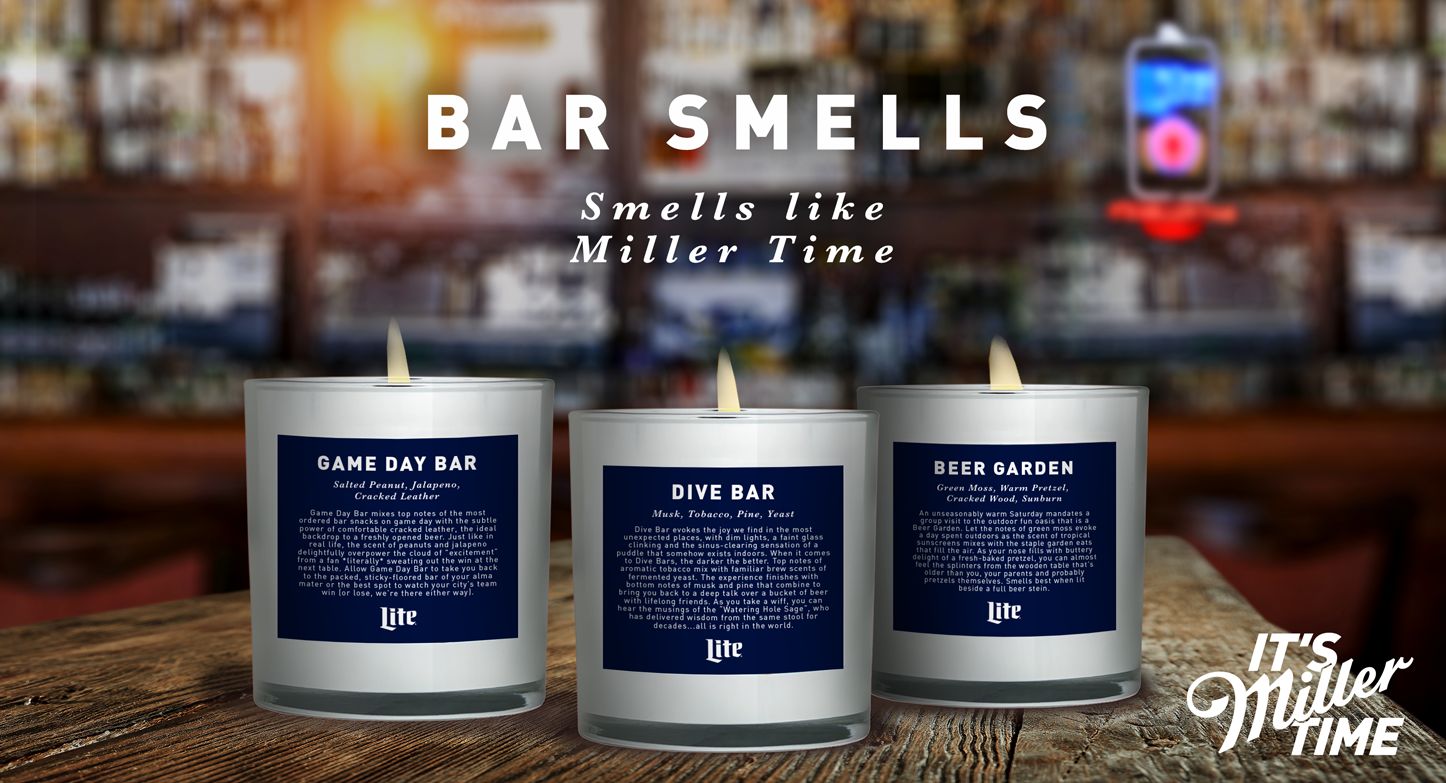 · Dive Bar: a mixture of elements including pine, musk, tobacco, and yeast. According to Miller Lite, it is meant to recall "dim lights, a faint glass clinking and the sinus-clearing sensation of a puddle that somehow exists indoors."
· Beer Garden: a mixture of green moss, warm pretzel, cracked wood, and sunburn, meant to "evoke a day spent outdoors as the scent of tropical sunscreens mixes with the staple garden eats that fill the air."
· Game Day: salted peanut, jalapeno, and cracked leather, a mixture of "top notes of the most ordered bar snacks on game day with the subtle power of comfortable cracked leather, the ideal backdrop to a freshly opened beer."
"The candles are a light-hearted way to celebrate the reopening of bars and restaurants across the U.S. and Canada," Carol Krienik, associate marketing manager for Miller Lite, said in a recent news release.
"We know people are so eager to be shoulder-to-shoulder again in a bar like it used to be," Krienik said. "In the environment we're in right now, Miller Time can't happen in the bars we love, so we're bringing that experience to our drinkers as much as we can so they can have that Miller Time feeling at home."
The candles were on sale for $20 online and all proceeds will go to support the United States Bartenders' Guild, a nonprofit organization that supports bartenders and other workers within the service industry. It is currently unclear if and when Miller Lite will restock the candles.
This is a part of a larger effort by Molson Coors to support to U.S. Bartenders' Guild. In 2020, Molson Coors donated $1 million to the USBG National Charity Foundation's Bartender Emergency Assistance Program, a relief campaign for bartenders and other service industry professionals. Miller Lite continues its support for the charity fund through multiple virtual events.
The service industry in particular saw large-scale layoffs and closures brought about by the restrictive policies of the pandemic. Through the purchase of these candles, customers gave their direct support to service workers, while also being able to have "bar time fun" in their own homes.