More billionaires live here than any other city in the world. Its president's popularity is measured against his predecessors by sales of their eponymous vodka brands. And, contrary to popular belief, there are no bears.
Moscow is unparalleled if you are looking to "do-it-big" abroad. Russia's capital city will entrance you with its luscious landscapes, breathtaking architecture, sumptuous dining, pulsating nightlife and fascinating history.
If budgeted accordingly, you can enjoy 10 days indulging in all the world's most expensive city has to offer for under $1,800. I've done the research for you. This guide details the best lodging, dining, attractions, and clubs in Moscow for the budget-conscious globe trotter.
Tickets
Rule of thumb: book your tickets far in advance. Not only will this allow you to secure a cheaper price, but it will also give you time to plan your trip and secure your passport — a process which can take up to three months. I recommend booking your flight as early as five months in advance.
A round way coach ticket cost just me $1,100. Keep in mind the flight to Russia is nearly 13 hours; if you can spring for first class (and your 6'4" like me)...go first class.
Flight rates for Russia have remained about the same over the past year and a half. Your plane ticket should account for more than 2/3 of your overall travel expense.
Passport
A Russian passport takes a minimum three months to get back to you once you mail it in. Apply for a passport as soon as you book your flight to assure it arrives in time.
Your passport will run you around $300.
In addition to a passport, you also need an official invite from the government, or from the owner of the residence you will be staying at during your visit, to be allowed into the country. A government invite costs roughly the same as your passport. (Read on to see how you can get a free invite).
Stick to Hostels
Don't let Eli Roth's 2005 vomitorium frighten you: hostels are the way to go for the fiscally careful traveler. Host of the world's largest "Millionaire's Fair," its no surprise Russia's hotels cater to the ultra-wealthy — even a Best Western will run you around $500 a night.
Consider this: Your trip to Moscow may be a once-in-a-lifetime experience…how much time do you plan on spending lounging around your hotel? Thought so. Your oversees lodging need be nothing more than a place for you to store your luggage and get a few hours sleep when you are not out enjoying this culturally rich and exciting new city. Bypass all the bells and whistles (and free HBO) and focus on three factors: price, location and safety.
I recommend Nova Hostel. A five-minute walk from Red Square, the gorgeous Moscow River, and a multitude of tourist and dining attractions, it's a steal for $55 (US) a night.

The hostel's exterior (above) is off-putting to say the least, and had me wondering if I was indeed going to end my night with a blowtorch to the face like in Roth's splatter fest. My initial hesitation vanished when I walked into our suite (see below): two spacious bedrooms, a welcoming living area and a full-kitchen stocked with pastries, seasonings, and a selection of teas and coffees. Each room also came with satellite radio and television, and elliptical machines...our matress covers were especially epic.

The management was very friendly and accommodating, stocking our kitchen with snacks and fresh coffee grinds every morning. Our booking agent even took us out to dinner and a few clubs our first night in town.
A Note About Passports (and how Nova can save you $300)
Show up at customs with only a passport and you'll spend your Russian vacation like Tom Hanks in The Terminal sleeping at the airport. First time visitors must possess a government issued invitation to enter the country, in addition to a passport.
Government invitations cost around $300, and take up to three months to arrive by mail. There is a way around this — a Russian citizen can send you an invitation for free. Visitors who don't have a contact in Russia may request an invite from their hotel. However, most hotels will charge you about the same rate for this courtesy.
Nova sent us invites free of charge and mailed them in a fraction of the time...another reason this place rocks.
During the Day
Red Square
St. Basil's Cathedral
Que the Tetris theme: The architectural symbol of Russia, St. Basil's will captivate you with its baroque architecture, kaleidoscope of richly colored fixtures, and the native uniqueness of its artwork.
Religious art in Russian cathedrals is like nothing you have witnessed before, both in its display and its presentation.
First, artists used every last inch of wall space to illustrate their praise to the Lord. Each chapel is tattooed in a full-sleeve of visually intertwined—yet narratively unconnected—biblical imagery spiraling from the floor up to the center of the ceiling, leaving no vacancies on its canvas. This contrasts with more the more impressionistic narratives (think the stations of the cross, which I don't recall seeing once in Russian cathedrals) of western churches.
Additionally, a great deal of Russian religious imagery is abstract. One image of the resurrection—found in the Cathedral of Christ the Savior—shows Jesus riding a golden chariot through the clouds, carried by a winged lion and a demon, supposedly representing his ascension over evil (or so I read into it).
Religious figures are also drawn in an angular, animated style, reminding me a bit of Japanese Manga. This depiction is often referred to as "the stern face of Christ" because of the long illustration of his face...even though all human figures are drawn this way. This style was first introduced through a painting in St. Basil's cathedral in the fifteenth century according to the cathedral tour.
St. Basil's is located in the Red Square Admission is 50 rubles - 75 if you want to take pictures (you do).
Lenin's Tomb

Russian tombs, much like its artwork, are very figurative, and the inside of Lenin's tomb is supposed to be a stunning sight. Stalin was orginally buried inside this tomb; he now rests behind the tomb of Lenin, deemed unworthy to share space with him during the 1960s. Unfortunately, we did not get to experience this , as it is only open one day a week.
Admission is free.
The Kremlin
The Kremlin is the epicenter of the Russian state. For 300 rubles, you get to visit a series of historic government buildings, collections (including the armory and diamond exchange) and cathedrals built in honor of the early Tsars.
One thing that was interesting was that the cathedrals grew in size over time...kind of like a backwards matryoshka. The reason for this is that whenever a Tsar had a cathedral built in his name, he always insisted it be larger then his predecessors. Tsars were buried in their cathedrals following their death, and masses for the royal family and political cabinet would be relocated to the new ruler's cathedral.
Moscow River
Just outside the walls of the Kremlin lies Moscow River - a gorgeous view, particularly at dusk. I highly recommend taking a boat tour, offering a look at Moscow's breathtaking natural landscapes on the outskirts of the city.
If you're looking for a romantic setting, take a stroll across one of Moscow River's walking bridges (this will take you to the south side of the city called Zamoskvorechie, literally meaning "beyond the river"). The bridge is lined with trees decorated in ornamental locks. It is a tradition amongst couples married in Moscow to place a lock on the tree on their wedding day, signifying their bond as a newly married couple.
Historic Landmark: There is a huge statue in the middle of the Moscow River of an explorer holding a golden map, standing on three ships stacked atop each other. What does this description remind you of?
If you guessed Christopher Columbus, you're right . . . sort of.
The statue was built to resemble Christopher Columbus, standing on top of the Nina, the Pinta and the Santa Maria for sale to the U.S. in the early '90s. More than twice the size of the Statue of Liberty (not counting her base), the structure was auctioned to 13 U.S. cities. All found the structure either too large to house, too expensive to purchase, or too gaudy to stomach.
Reject by the U.S., the sculptor — a close confidant of President Vladimir Putin — removed Columbus's head and replaced it with a sculpture of Peter the Great, the first Russian Tsar to travel outside the country. This sparked outrage amongst the residents of Moscow, mostly because Peter the Great despised Russia's capital city. Peter the Great enacted a series of draconian laws on the people of Moscow, and relocated the Russian capital to St. Petersburg. So enraged were Russians over the statue that several attempts were made to blow it up. The statue of Peter the Great is now protected by 24-hour armed security.
Zamoskvorechie District
Tretyakov gallery
The most thorough collection of Russian art you will find in Moscow. While definitely worth a visit, the artwork was a bit of a let down after the vibrant and imaginative imagery seen in Russia's cathedrals. Most of the paintings are impressionistic pieces from the pre-revolutionary era. This gallery offers a glimpse — albeit a very gloomy one — into Russia's past.
Admission is 225 rubles.
The new Tretyakov gallery (an additional 225 rubles) is just down the road and features contemporary artwork, favoring a more post-modern exhibition. Unique and inspiring, but still not as interesting as the cathedral art.
Sculpture Park
Just behind the New Tretyakov gallery is the sculpture park. Formerly know as the Park of Fallen Heroes, it features several sculptures of Soviet-era images. Particularly interesting is the depiction of Stalin — his nose removed to smite his face — positioned before a wall of skulls, representing all those who died during his industrial expansion.
Admission: 50 Rubbles
Kropotkinskaya District
Pushkin Fine Arts Museum
Russia's largest display of foreign art. Many of the works here were taken from the Germans following WWII —pieces they had originally stolen from their conqueored nations. There are many beautiful paintings you won't find anywhere else here: a must see.
Admission is 300 rubles
Novodevichy Graveyard
Unlike the rounded rectangular slabs we often see, Russia's prominent tombs are each sculpted to represent a side of the deceased's life work or personality through abstract imagery.
Admission is 30 Rubles.
Vernisazah District
Smaylovo Market
Souvenier time! If you want to grab some Russian tchotchkes for your family and friends — and get something for yourself too — this is the place. Essentially a giant flee market, it is very easy to talk vendors down in price...especially because everyone is selling the same thing. The meat pies sold by mobile food vendors are a local delight.
Night
Once home to the wildest bar in all of Europe (yes, of course I went there), Russia's nightlife is like none other. If you want to get as much out of your nights as your days, I recommend scheduling your days so you can be back at the hostel for around 6 p.m. to take a 2 - 3 hour power nap...then wake up, get a shower, grab a bite to eat, and go out for around 11.
There are countless bars in Moscow, and we visited far to many to recount in this article. Here are my top three pics:
Karma Bar
A chic club that is half hookah-lounge, half dance floor. '80s-esque modern art and black and white photography give the décor an underground factory vibe. Known to be a traveler's hotspot, it is the only bar we visited that played popular western music.
This bar is pricey — splurge here your last night out, or pre-game at one of the many small bars nearby before coming here. Chinese Pilot down the road sells cheap bear and features a regular jazz line-up. Karma Bar is known for hosting jazz musicians as well.
Note: Jazz music is extremely popular in Moscow; however, the jazz I heard was much different than the jazz drifting from the clubs on Frenchmen Street. Russian jazz has a heavy industrial-music influence, spiked with brooding, distorted guitars, atmospheric keyboards and heavy synth. The vibe was more Rammstein than Davenport Lounge.
The Hungry Duck
Once heralded as the legendary wildest bar in Europe. This New York Time article offers an "edited for prime time viewing" description of the Duck's infamous antics. To put it in terms New Orleanians will understand, imagine Snake 'N Jakes with F&Ms dance floor and pool table, with a few unisex strippers in Predator masks putting on a turnt-up halftime show around midnight. The Duck only serves beer — a domestic brand and Miller Genuine Draft (popular in Russia, strange for a country with such expensive taste). There was relatively painless cover charge, so be sure to have a few extra bucks on you…it is not in the kind of neighborhood you want to go wandering around for an ATM in.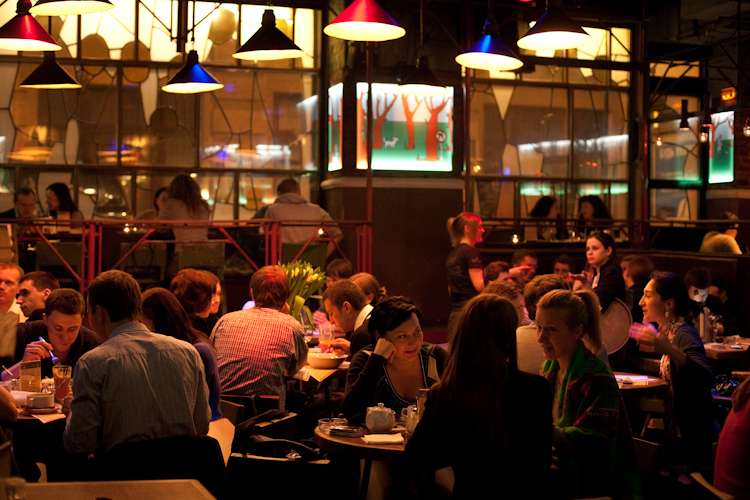 Propaganda
Fun dance club with cheap prices. If you enjoy EDM with a splash of reggae mixed in, you'll dig it here. Come early for dinner, or visit for lunch if you are in the neighborhood. The food is delicious, and almost everything is under 10 dollars. It's hard to order at the bar from a menu you can't read, so unless you know a little Russian you are pretty much limited to Miller Genuine Draft (ugh!) or rum and coke (phonetically spoken the same). A popular cocktail at the time we were there was a drink called Burn, a mixture of Red Bull and Absinthe. Inexpensive and rather delightful (if you like licorish), just be sure to pace yourself as it can hit you pretty quick.
Be prepared to get treated well at the bar . . . it is a wildly held belief that Americans tip higher than locals.
Just for fun . . . Billionaire
Located in the Zamoskvorechie district, this exclusive nightclub is rumored to request a copy of your last pay check at the door — your payment must be at least six-figures to enter.
Dining
The language barrier really sticks it to you when it comes to dining. How can you order off a menu you can't read?
This is where you need to get creative, identifying restaurants where you will be able to order. Above is a picture of our first Russian diner: American chain Sopporo, our last resort at the food court in Red Square's famous Gym (prounounced Gum, pictured below) mall. (Fun fact: Kentucky Fried Chicken is everywhere in Russia…who knew).
We tried to limit our food expenditures to $25 a day.
Here are a few inexpensive places—and one splurge night—non-Russian speakers will be able to navigate the language barrier and stick to their budget.
Sushi Time
Most sushi restaurants we went to had pictures accompanying the description of each dish. That said, it was still hard to tell one roll from another, but it still made it easier. When the waitress came around, we pointed at the dish we wanted to order.
I usually ordered a coke to drink. Soft drinks are all served hot in Russia; it's unusual at first, but I didn't find it unpleasant. In fact, when I returned home and drank a cold Coke, I actually missed the sensation of the room temperature cola.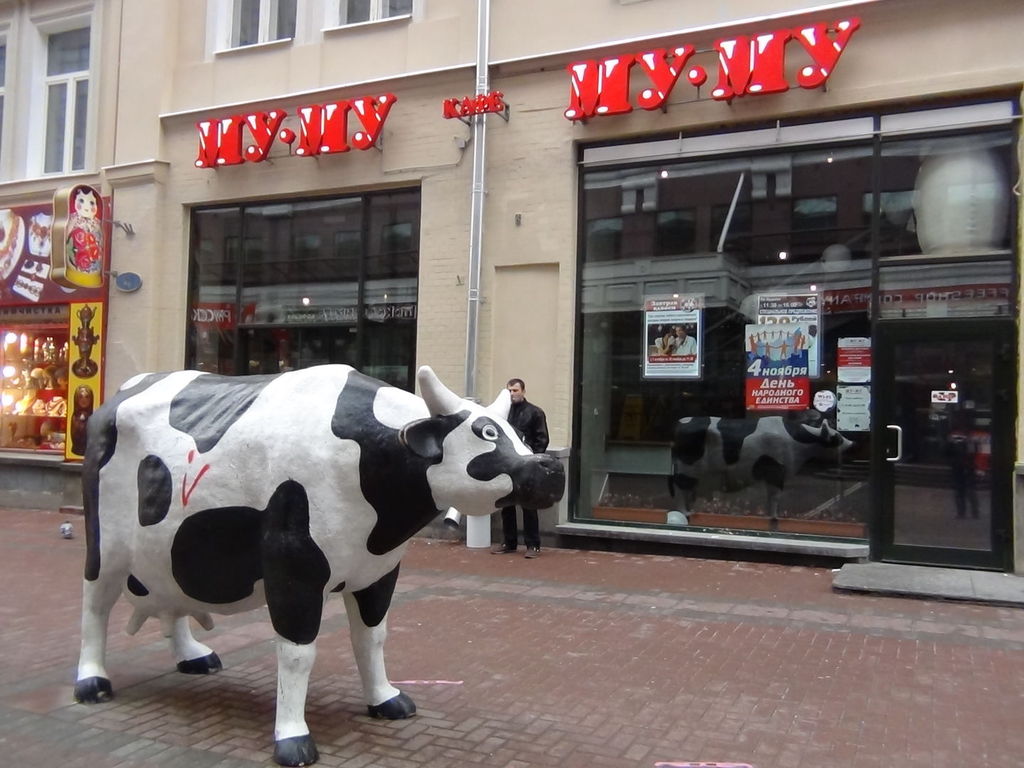 My My
Pronounced "Moo Moo" — like the sound a cow makes — its like Picadilly with traditional Russian food. Again, we found a way to cirumvent the lanuage barrier by going to a buffet and again pointing at our selections.
Beets, a traditional Russian salad prepared with cabbage, carrots and wild berries is delicious, as is the house wild-berry beverage. The restaurant's logo is a cow with large dough-eyes — imagine a bovine Hello Kitty — chosen because Russian children love them. This is amusing, in a twisted sort of way, as every thing on the menu includes beef ... even some of the deserts have meat in them. Imagine if Disney World featured a chain of restaurants that served mouse on the menu; gross, I know, but you get the idea.
Joking aside, the buffet-style diner allows you to sample an array of traditional Russian dishes for cheap.
Pelmeshka
A restaurant chain with a location just outside the hostel, Pelmeskha received repeat business for being the only restaurant with an English menu.
A Pelmeshka is essentially a Russian crepe. Inexpensive, tasty, and suitable for any meal of the day. Their Coffee Americano packs the punch of a triple espresso.
Pavillion
The "It" restaurant at the time of our visit: a chic, moderately priced diner popular for serving Russian Fushion. Fusion restaurants always intrigue me, particularly since most cultures mold foreign cuisine to conform to their own dining preferences anyway; it's like by mentioning the word "fushion" they want extra credit for simply owning up to it. Nonetheless, we gave it a try and were not disappointed. The salmon I had was glazed in what tasted like a honey/horse radish sauce (I don't recall the name, but it was served at Pelmeshka as well) — it was outstanding.
Coffee Bean
Moscow's equivalent of Starbucks. A social atmosphere with large, cushioned chairs you can sink into, taking a moment to rest and refuel after spending all day on your feet. Russians like their coffee dark and strong — real strong. Just how I like it.
How to Really Save on Food
Nova Hostel graciously provides you with a complete kitchen. If you want to keep it cheap, see if the travelers sharing the suite with you want to cook one night. A good way to make some new friends and try something new.
The staff also restocked our kitchen with fresh coffee and vanilla waffers each morning during our visit.
'Merica!
I'm lovin' it.