The Brian Kelly Era Offers Promise of Future Dominance
What a difference three years makes. In August of 2019, LSU had yet to embark on one of the greatest seasons in college football history, going 15-0 en route to a national championship under Coach Ed Orgeron. Flash forward three years, and Orgeron's been fired after LSU compiled a dismal 11-12 record over the past two seasons.
Insert Brian Kelly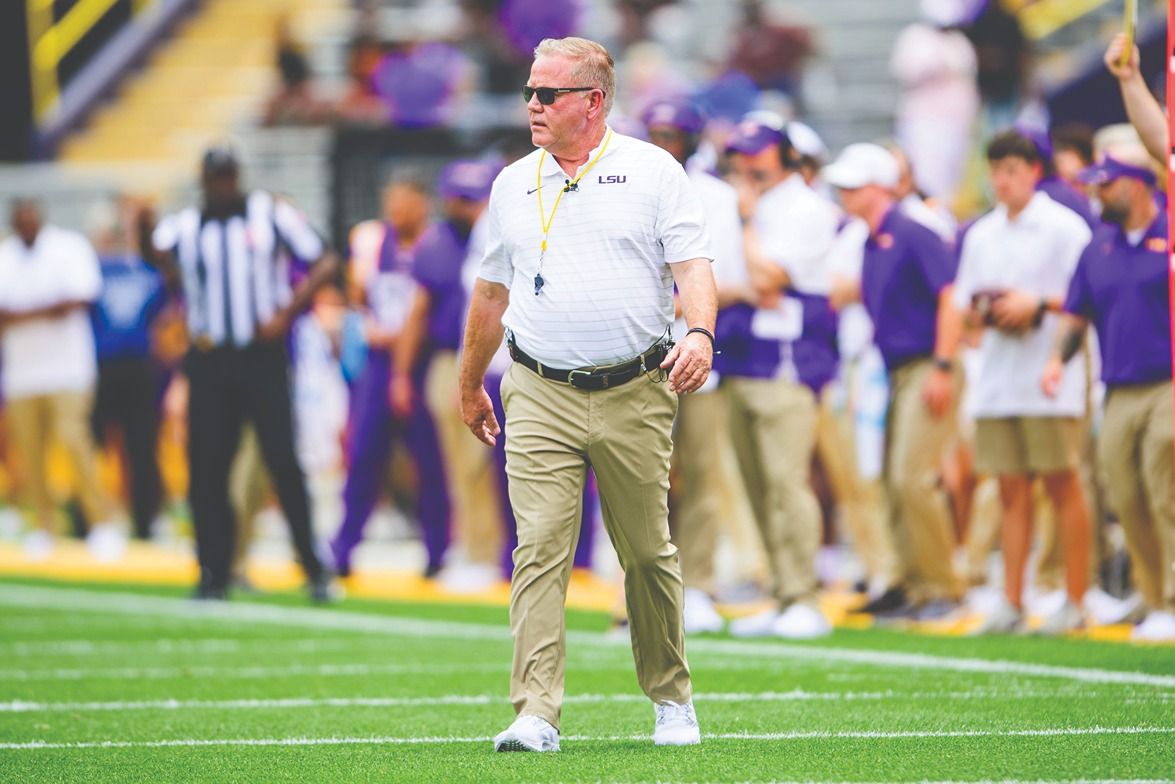 The former Notre Dame head coach arrives in Baton Rouge with an impressive résumé. Kelly's 284 victories as a head coach are the most by any active FBS coach (even more than Alabama's Nick Saban), his 113 victories at Notre Dame were the most in program history, and he's only had two teams finish below .500 during 31 years of coaching. Kelly also led the Fighting Irish to the 2012 BCS national title game and reached the College Football Playoff in 2018 and 2020. Not too shabby.
Although Kelly inherits somewhat of a rebuild, at least by LSU standards, the roster is still oozing with what drew Kelly to Baton Rouge—potential.
Kelly's been a winner at every stop in his coaching career, and LSU will be no different. His inaugural season coaching in the Southeastern Conference is about laying the foundation for the Tigers to return to prominence, sustaining excellence for what Tiger fans hope is years to come.
Offense: Quarterback Battle

The question on every Tiger fan's mind this offseason: Who will be LSU's starting quarterback for the season opener?
After sixth-year senior Myles Brennan announced he was stepping away from football in mid-August, Kelly and new offensive coordinator Mike Denbrock's quarterback room has become a little less crowded heading into their first season, with Arizona State transfer Jayden Daniels, redshirt freshman Garrett Nussmeier, and the five-star recruit Walker Howard vying for the job of QB1. It's effectively now a two-man race because Howard is likely to redshirt, but the possible quarterback depth is something LSU hasn't had the luxury of in quite some time.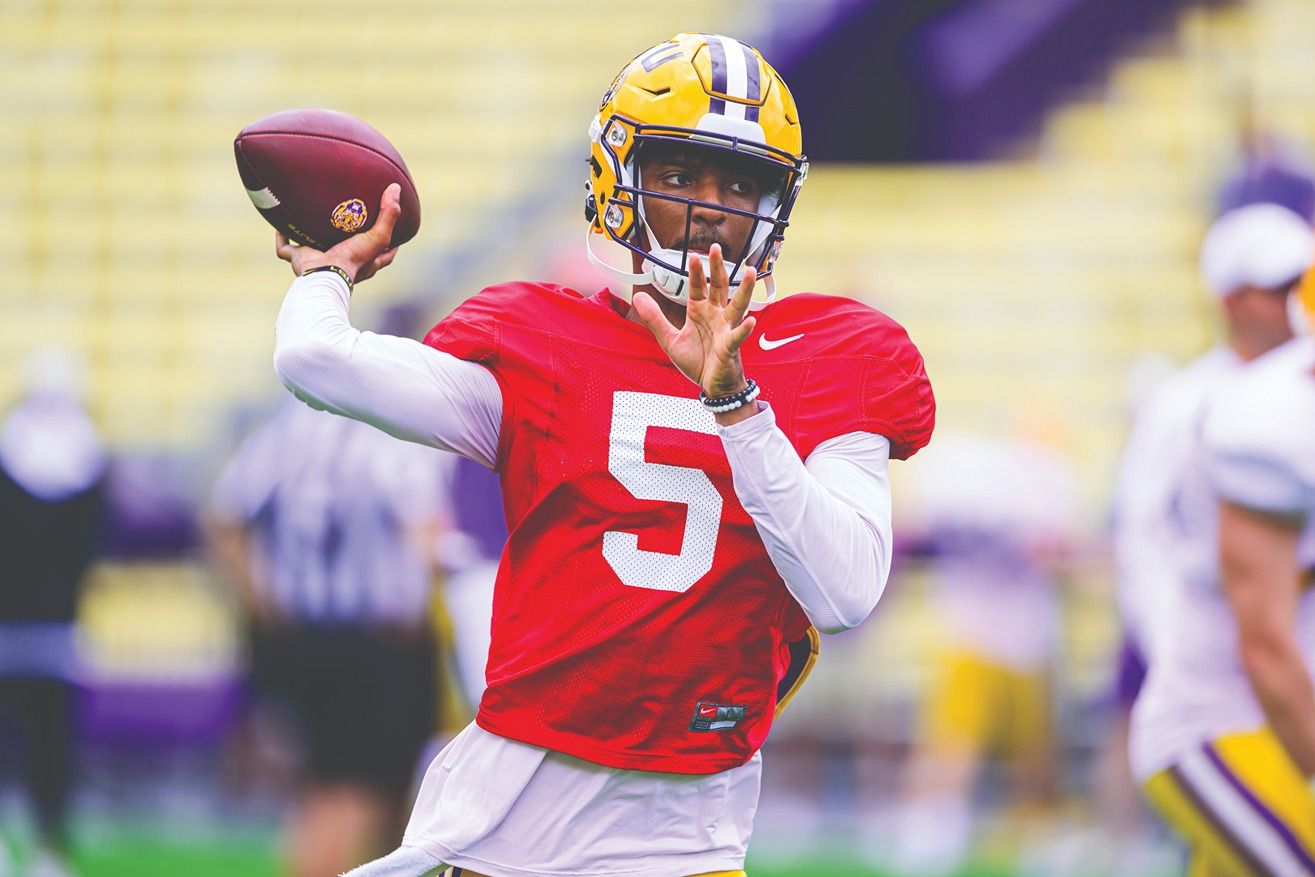 Daniels was a three-year starter at Arizona State, known as a dynamic playmaker, fitting the mold of a dual-threat quarterback. As a freshman in 2019, Daniels threw for over 2,900 yards and 17 touchdowns with just two interceptions, to go along with 355 rushing yards and three touchdowns. His sophomore season was cut short in 2020, as the Sun Devils played only four games. Last season, Daniels completed over 65% of his passes, the highest clip of his career, throwing for over 2,300 yards and 10 touchdowns. On the flip side, he also threw for 10 interceptions. Tasked with shouldering a greater offensive burden, Daniels also ran for 710 yards as a junior and six touchdowns—both career highs.
Seemingly a wildcard to win the starting job all spring, Nussmeier is in a great position to either take the reins as LSU's quarterback or at least see the field with Brennan out of the equation. Tiger fans were treated to glimpses of Nussmeier last season—he's commonly referred to as a gunslinger quarterback with questionable decision making. In his four appearances in 2021, Nussmeier completed 50% of his passes for 329 yards, two touchdowns and two interceptions, playing a hefty portion of the Arkansas game when he replaced quarterback Max Johnson after two series. There has been lots of positive chatter about the second-year player this offseason (even before Brennan left), and now it wouldn't be surprising to see him win the job. Regardless of who starts against Florida State in the opener, it'd be shocking if LSU only uses one quarterback this season.
Whoever the quarterback is will have an excellent supporting cast of receivers to throw to this season. Junior Kayshon Boutte returns after a midseason ankle injury derailed his 2021 season and is poised for a huge year. Boutte is joined by senior Jaray Jenkins, a steady, dependable option and a quartet of talented sophomores in Jack Bech, Malik Nabers, Brian Thomas Jr., and Chris Hilton.
Former five-star recruit John Emery is set to lead the running backs. Emery's career in Baton Rouge has been largely disappointing to date, and he missed the entire 2021 season because of academic issues. His ceiling is high, and the change in regime might be what he needs to reach his potential. Emery will be joined in the backfield by Penn State transfer Noah Cain and sophomore Armoni Goodwin.
The only holdover from the previous coaching staff is offensive line coach Brad Davis. The unit showed promise in the latter part of the 2021 season, and, this year, Davis is tasked with assembling the most robust line possible with returning players, prized transfers, and one very highly touted freshman in Will Campbell. Davis' ability to produce a stout line could be the difference in LSU's offense elevating from rebuilding to sneaky-dangerous.
Quarterback is the main question mark, but this upcoming iteration of the LSU offense has the potential to be surprisingly special.
Defense: Business in the Front, Uncertainty in the Back
As of now, LSU's 2022 defense resembles the mullet haircut. It's all business in the front seven, but the back of the unit is a bit unpredictable.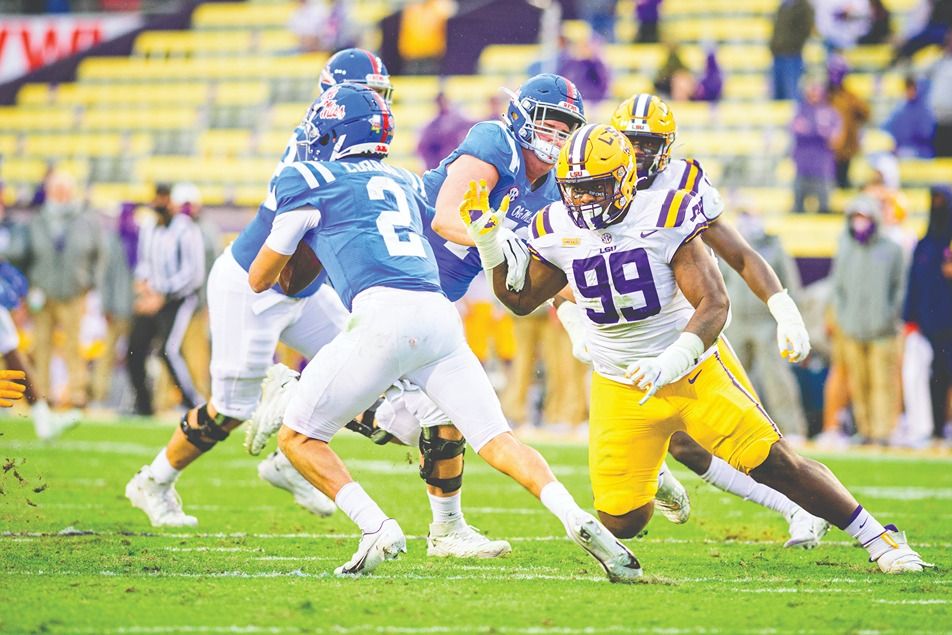 Edge rushers Ali Gaye and BJ Ojulari spearhead a potent LSU defensive line that may be one of the strongest in the SEC this year. Ojulari is dripping with first-round draft-pick potential and had seven sacks and 11.5 tackles for loss last year. The interior line features sophomore rising star Maason Smith, as well as redshirt sophomores Jaquelin Roy and Jacobian Guillory. Toss in freshman All-SEC transfer Mekhi Wingo from Missouri, and the Tigers have a fearsome mix up front.
The linebacking corps features senior Micah Baskerville, Mike Jones Jr, sophomore Greg Penn, and, former five-star recruit, freshman Harold Perkins. The latter was one of the crown jewels of Brian Kelly's first recruiting classes and should make an immediate impact.
The secondary is the unpredictable portion of LSU's defensive mullet. The Tigers' stud cornerback tandem of Derek Stingley and Elias Ricks are gone. Kelly hit the transfer portal to acquire several pieces to bolster the secondary. How they gel and how fast is another question.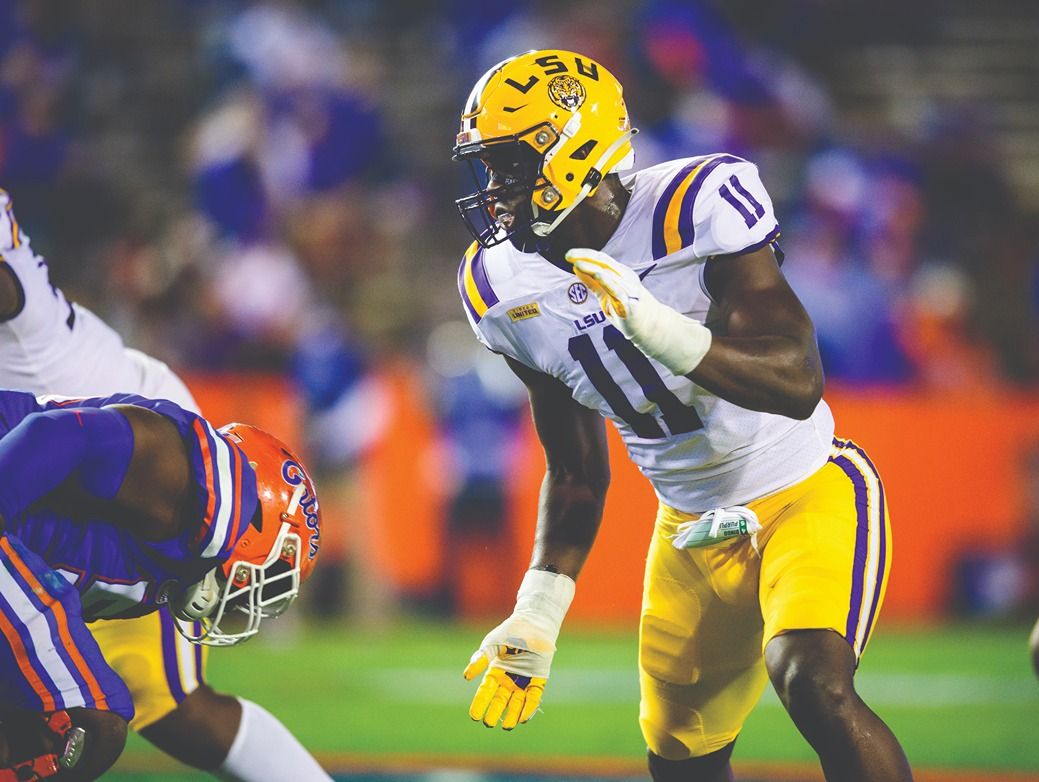 Jarrick Bernard-Converse was an All-Big 12 corner at Oklahoma State. Greg Brooks Jr was a three-year starter at Arkansas. Sevyn Banks has the makings of a top talent, but injury concerns at Ohio State had him looking for a new start. That's a lot of "what ifs" at cornerback.
Thankfully, LSU returns both safeties in Jay Ward and Major Burns. Joe Foucha, another Arkansas transfer, joins a unit this season that also features talented youngsters like Matthew Langlois, Derrick Davis, Jordan Toles, and former five-star recruit, Sage Ryan.
It's a wait and see approach for the LSU defense. There is talent, but is there chemistry?
Prediction
If LSU only had to worry about its starters, they'd be an upper-echelon SEC team, but that's not how college football works. Kelly's building a new culture, and laying the foundation could be rocky in year one. Depth is a concern as the team gets further into the SEC grind. The Tigers will win some games no one expects, but they likely will also suffer a couple of unexpected losses. Either way, the #BKTakeover begins this September. Given his predecessors' success, there are lofty expectations to live up to, but I wouldn't be shocked if Kelly exceeds them all. Let's compare notes in 2031.
LSU: 9-4, Music City Bowl win.