Doctors in Louisiana can now legally recommend medical marijuana, granting patients access to medical marijuana pharmacies (dispensaries). Patients with chronic pain, glaucoma, PTSD, and a wide-range of other medical conditions are eligible to receive their Louisiana Marijuana Card.

Schedule an appointment with Louisiana Marijuana Card, using code WYA21 for $20 off an appointment.
Who Qualifies for a Medical Marijuana Card?
In order to qualify for a Louisiana Marijuana Card and legally purchase medical marijuana, patients must first be diagnosed with a qualifying medical condition. Louisiana law allows doctors to recommend medical marijuana to patients who have ailments that qualify them for the program.
In most cases, any condition a doctor considers debilitating—or one that causes chronic pain—would be sufficient to obtain a recommendation. Check out this list of the most common conditions that qualify for medical marijuana in Louisiana to see if you may be able to get a recommendation.
To get this process started, patients need to first schedule an evaluation with a doctor that specializes in medical marijuana treatment. Louisiana Marijuana Card is here to help!

How Do I Find a Certified Doctor?
The team of doctors at Louisiana Marijuana Card are compassionate, friendly, and non-judgmental when you come in seeking relief. They operate on the principle that nobody should be denied access to medical marijuana if they believe traditional pharmaceuticals are not providing the relief they need.
Due to COVID-19, Louisiana Marijuana Card physicians are not currently seeing patients in-office, but appointments are available daily through their telemedicine platform.
What is Medical Marijuana Telemedicine?
Telemedicine is a safe, HIPAA-compliant virtual platform that enables patients to connect with a doctor right from the comfort and safety of their own home, or while on-the-go. Patients can access the platform through their computer, smartphone, or tablet.
Once the appointment is booked, patients will receive a scheduled video conference with one of the certified physicians. Appointments usually only last between 20-30 minutes, during which the doctor will review the patient's medical history and confirm that their condition is eligible for treatment.
The process is simple, fast, and convenient. Schedule an appointment with Louisiana Marijuana Card using code WYA21 for $20 off an evaluation.
How Can I Benefit From Medical Marijuana?
Medical marijuana can help you feel your best through supporting management of a variety of conditions and symptoms.
John B., a disabled Iraq War Veteran diagnosed with PTSD says, "I can finally sleep through the night again, as well as get through my days with far less pain and anxiety. I started using medical marijuana at the end of October 2019 and it has truly saved my life. I went from living in a nightmare of 5-10 flashbacks a day, nausea, horrible nerve pain, to having only two flashbacks a week and having the ability to sleep, waking up feeling hopeful and positive. I've successfully replaced the majority of my prescription pills with a simple THC tincture."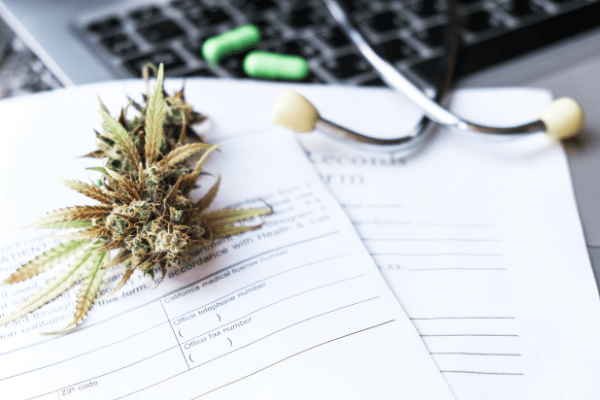 About Louisiana Marijuana Card

Louisiana Marijuana Card and its affiliated companies have helped more than 70,000 patients obtain their medical marijuana card nationwide. With telemedicine services and clinics in Ohio, Arkansas, Missouri, and Virginia, Louisiana Marijuana Card is a name you can trust.
In addition to safe, easy telemedicine appointments, Louisiana Marijuana Card is unmatched in offering patient resources. Some of the patient benefits include: same day approval, price match guarantee, and veterans discounts. Patients interested in booking a risk-free evaluation can visit LouisianaMarijuanaCard.com.
Schedule an appointment with Louisiana Marijuana Card, using code WYA21 for $20 off an appointment.