Even amid the height of the coronavirus pandemic shutdowns in Louisiana, the region's parks remained a safe haven for people looking to get out of the house and get some exercise while still practicing social distancing. As things slowly begin to return to normal, they remain pleasant attractions for people from throughout the area. Here's a list of some of the region's most distinctive park areas and what they have to offer. Remember to check relevant agencies' websites to know for sure what's available to do within the various parks.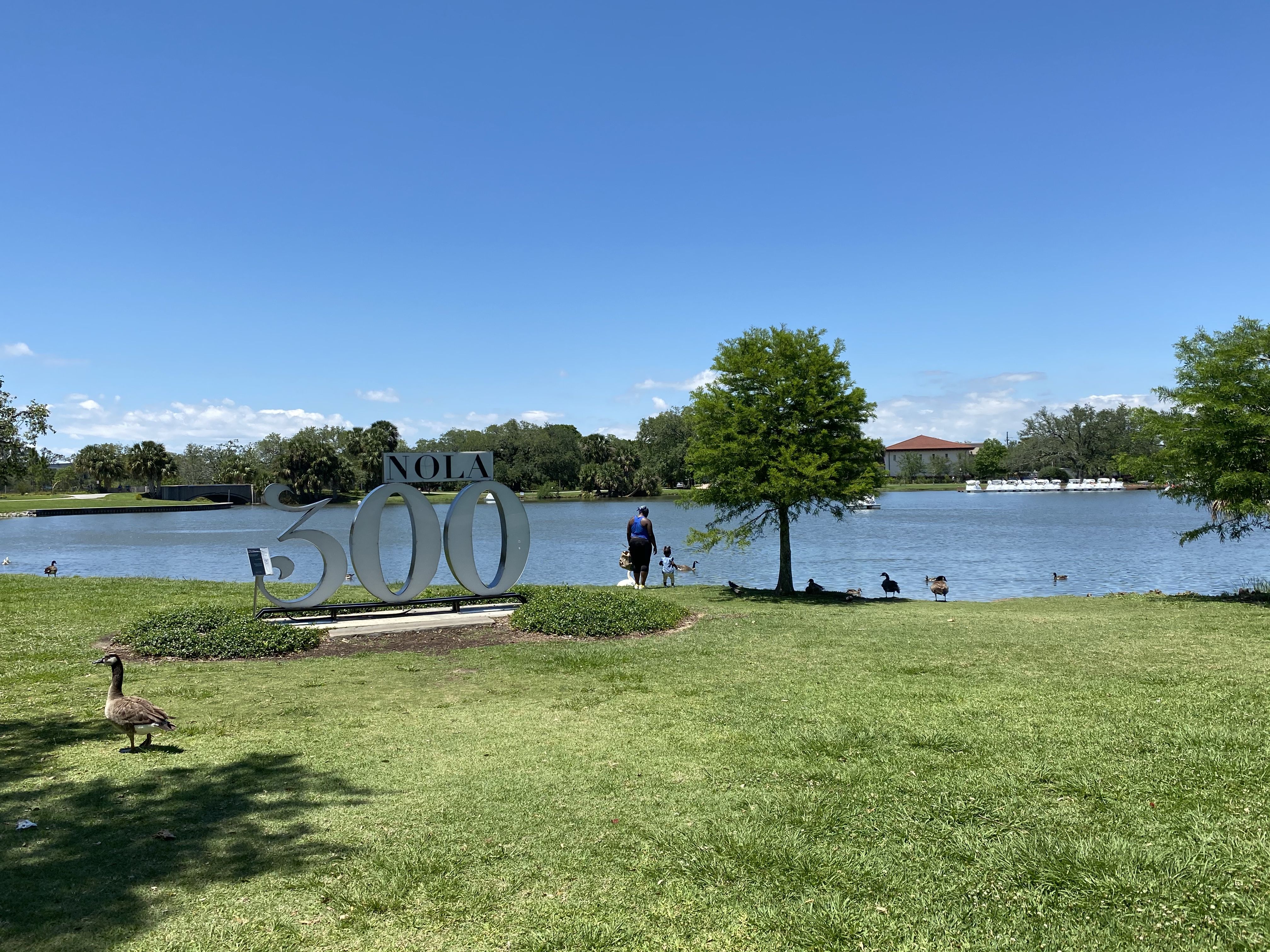 City Park
Pandemic or no pandemic, City Park has remained a popular place for New Orleanians to stroll, exercise, and explore nature. That's no wonder, given the park's large size and diversity of spaces, with fields, water, and even a forest stretching across its 1,300 acres, as well as take-away food options from Café Du Monde's beignet stand. Check the park's website to see the latest admission policies for attractions like the park's golf courses and the New Orleans Museum of Art and Botanical Garden.
Crescent Park
Stroll or cycle through this waterfront park spanning the Marigny and Bywater, with access points along the Mississippi River throughout those downtown neighborhoods. The path is wide enough to keep a comfortable level of distance from those around you. Dogs are welcome to walk, though they must stay on a leash except within the fenced-in dog park. Keep in mind that the park closes at 7:30 each night.
Coliseum Square Park
The first thing to know about this Lower Garden District park is that there is no coliseum there or nearby. Such an event space was originally intended for the park when it was created in the 1800s, but it was never built. That may be a good thing for visitors to this seldom-crowded but inviting urban space, where fields and paths are lined with distinctive, comfortably spaced benches and beautiful oak trees. It's a welcome respite from the usual crowds of nearby St. Charles Avenue and Magazine Street.
Louis Armstrong Park
Just outside the French Quarter in the Treme neighborhood sits this beautiful park named for the Crescent City-born jazz great. Large enough to feel far removed from the surrounding city and seldom crowded, yet small enough to quickly explore, the park can be a great place to take a lunch or coffee break on a trip Downtown. It's also home to the Mahalia Jackson Theater of the Performing Arts (as well as the now-shuttered Municipal Auditorium, a possible future home for New Orleans City Hall). Check out the sculptures and other public art honoring Armstrong and other New Orleans luminaries, as well as the site of historic Congo Square, central to the development of the city's musical culture.
Lafreniere Park
The largest park in Metairie, constructed in the 1970s after the Jefferson Downs Racetrack once on the site was effectively wrecked by Hurricane Betsy in 1965, Lafreniere Park is a popular attraction for those who live or work in Jefferson Parish. But its sprawling walking trails, along with fields for activities such as soccer, baseball, and even frisbee-powered disc golf, are worth a visit, even from New Orleans proper. Bring your pooch to Lafreniere's dog park or stroll along the trails and observe the wildlife around the park's beautiful lagoons.
Audubon Park
The largest green space in Uptown New Orleans, Audubon Park attracts visitors to stroll and jog down winding paths, spot the diverse array of bird life in the park's fields and ponds, and take advantage of amenities including golf, tennis, and soccer facilities. Take a trip through the park, marveling at the beautiful houses that abut its edges, often without fencing separating their yards from public areas, and take a look at the park's website to see which of the park's facilities are currently operating.
Alcée Fortier Park
Named for a prominent Tulane University language scholar of the late 19th and early 20th century, this peaceful park near the Fairgrounds is a relaxing oasis along Esplanade Avenue, one of the neighborhood's prominent shopping and dining streets. Tables with built-in chessboards provide a place for local residents and those simply passing through to enjoy a moment's relaxation or even a friendly game of chess or checkers. Oak and palm trees help to beautify the park and environs while also providing a measure of shade even on the hottest summer days.
Brechtel Park
This sprawling Algiers park is perhaps less well known to East Bank dwellers, but its more than 100 acres include walking trails worth a visit from across the Mississippi River and even from surrounding parishes. The trails and the park's lagoon are also a prominent attraction for birds and, therefore, for birdwatchers willing to visit the park early in the day to see what avian visitors are present. If you're coming from across the river, it's most accessible by car, but it is also possible to reach the park via public transportation.