All you tokers out there might want to stick around for this news—it'll surely "lift" you up!
Leading cannabis brand Kush Queen is launching a new collection, Swamp Queen, "Spirit of the Bayou." Founder Olivia Alexander's Louisiana roots stem from when she participated in beauty pageants until the age of 13. Perfect for this BOOtiful season, the collection includes the Delta 8 THC elixir and two-color, multi-layer CBD bath bomb. Remember when bath bombs were trending? What a time!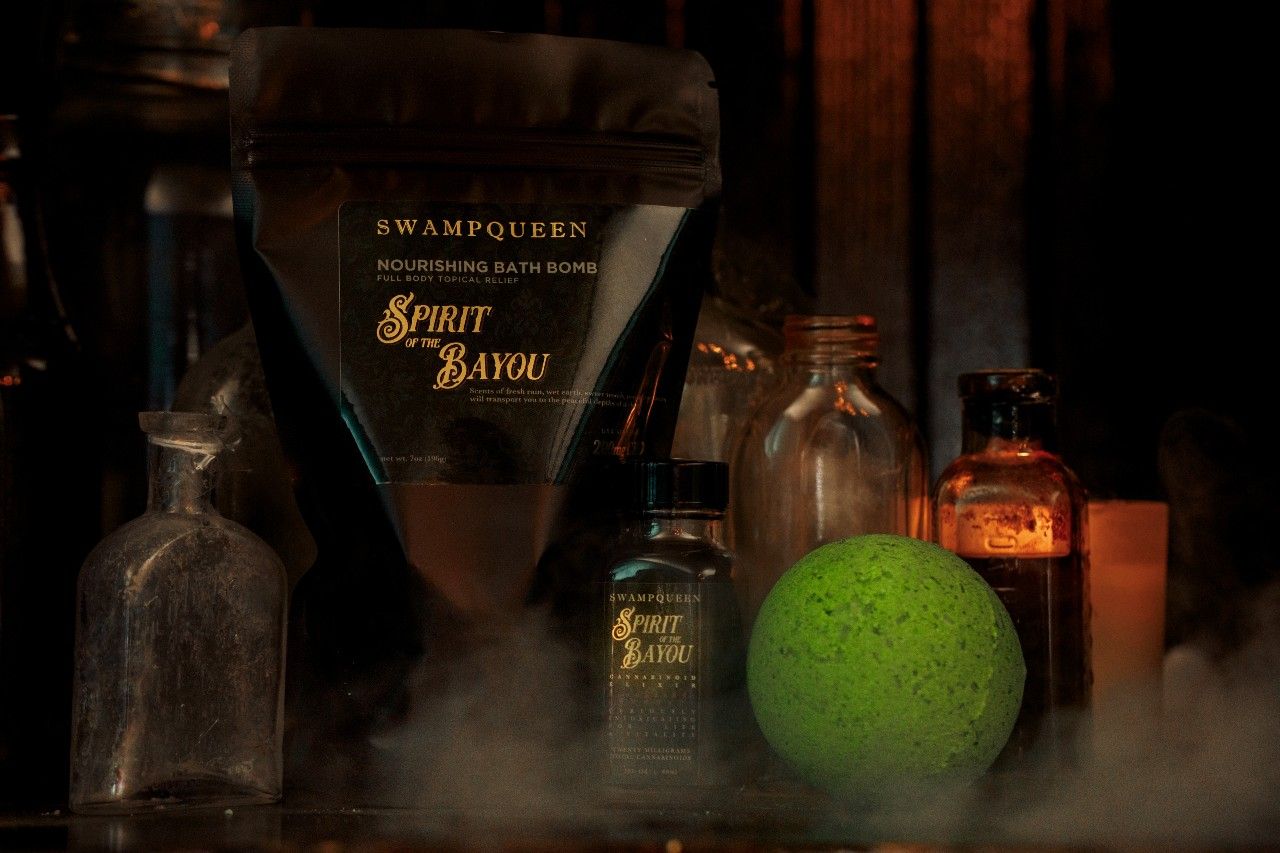 "Growing up in a small town in Louisiana known as 'Cancer Alley' has undoubtedly influenced my passion for plant-based wellness and medicine," Alexander said.
She further explained that New Orleans, the "unsung mother of cannabis culture," is another one of her inspirations for the launch of "Spirit of the Bayou." "We are excited to debut such a meaningful collection inspired by our roots, share the significance of New Orleans to cannabis, and help others connect with themselves, wellness, and healing as we welcome the fall season." Alexander continued.
Containing 20mg Delta 8 THC, "Spirit of the Bayou" Cannabinoid Elixir is an invigorating concoction of blackberry and lemonade flavors. One sip will beam you up to an out-of-body exploration. Retails for $10.
Containing 200mg Full-Spectrum CBD, "Spirit of the Bayou" Bath Bomb is a spooky-like green color featuring a hidden black color meant to present itself as a swamp, creating the visual of being in the marshy waters of the bayou, surrounded by trees wrapped in moss. Retails for $20.
The Pointe-au-Chien Tribal Community will receive a portion of proceeds to support the rebuilding in Louisiana after Hurricane Ida. To purchase the "Spirit of the Bayou" collection, which includes a bath bomb and two elixirs, visit Kush Queen's website.
All Kush Queen products are handmade attentively, using elite-quality hemp cannabinoids. The products' finished oil or cannabinoids are converted into patent-pending nanotechnology water-based form. The water-based cannabinoids invite the molecules into the dermis of the skin (thick layer of skin below the epidermis) and absorb into the bloodstream for enhanced bioavailability. That's a little science for ya!
Kush Queen products meet the Bureau of Cannabis Control (BCC) standards and were tested for potency, heavy metals, pesticides, and microbials. No need to worry about all that extra stuff getting into your body.
Visit kushqueen.shop to browse all products.