TOP PICKS FOR FRIDAY, MAY 6
Flow Tribe
11:15 a.m. - 12:05 p.m. | Festival Stage
Flow Tribe is no stranger to Jazz Fest, and they'll be performing again after it was canceled two times in-a-row. They're a funk rock band who has performed at bars, Voodoo Fest, and many other festivals nationwide. They've written songs like "Gimme A Line" and "Hungry For You."


The Cowsills
12:45 p.m. - 1:45 p.m. | Shell Gentilly Stage
Inspired by The Beatles, the Cowsills were formed in the 1960s and play pop and rock music. The band has played an average of 200 performance dates per year. Their greatest hit was "Hair," a song named after the 1967 musical.
Stooges Brass Band
1:55 p.m. - 2:45 p.m. | Jazz & Heritage Stage
The Stooges Brass Band is one of the greatest brass ensembles in the city. Their style is a mix of traditional brass, contemporary jazz, and hip hop. Their high-energy performances are sure to get everyone into the New Orleans spirit.
Big Freedia
2:55 p.m. - 3:50 p.m. | Congo Square Stage
Also known as the Queen of Bounce Music, Big Freedia helped bring the genre into vogue. She has performed alongside artists including Beyoncé, Drake, and Kesha. Recently, she released her single "Louder" in 2020, which became a big hit.
The Campbell Brothers
4:20 p.m. - 5:35 p.m. | Sheraton New Orleans Fais Do-Do Stage
Hailing from Rush, New York, this American sacred steel group blends black gospel music with vocals and an electric steel guitar. The Campbell Brothers won the Fourth Annual Real Blues Award nomination for "Best U.S. Gospel Instrumentalists of the Year" in 1997. Their album Sacred Steel On Tour! also won an Indie Award nomination for "Best Gospel Album" in 2002.


The Black Crowes
5:35 p.m. - 7 p.m. | Festival Stage
The Black Crowes are coming to Jazz Fest for their $hake Your Money Maker Tour. According to Rolling Stone, their music marries "Southern R&B crunch and Anglo cock-strutting attitude." They were crowned as "the most Rock 'n' Roll Rock 'n' Roll Band in the world" by Melody Maker.
Busta Rhymes
5:45 p.m. - 7 p.m. | Congo Square Stage
Hailed by the media as hip hop's jester, Busta Rhymes is known for his warp-speed rapping and wild fashion sense. He has won 12 Grammys and has been included on music lists as a top artist. What makes him different from Eminem? You'll have to catch him at the Congo Square Stage to see for yourself.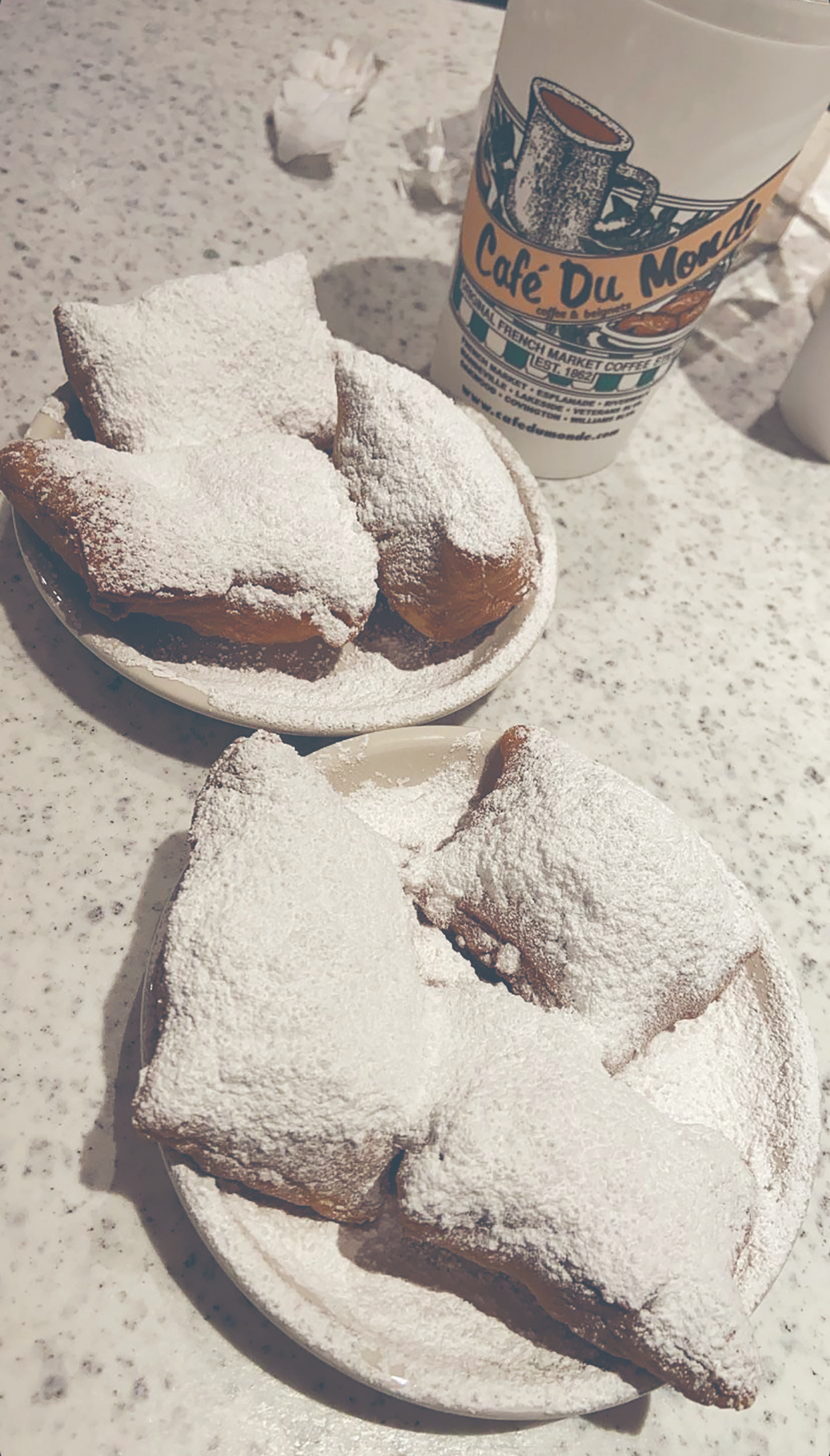 Beignets
Café du Monde | Heritage Square
Beignets aren't just a winter snack. These warm, pillowy square doughnuts, snow-capped with powdered sugar, are the perfect snack for festivals. Order them with a cup of café au lait to get your caffeine fix.
Sno-Balls by
Plum Street | Around the fairGrounds
Plum Street has some of the best sno-balls in the city. It's gonna be hot outside so be sure to cool off with classic flavors such as strawberry, bubblegum, grape, and peppermint in their famous snow pail. Some flavors such as chocolate and ice cream taste better with condensed milk and coffee.
Chain-Stitched Patches & Wearable Art by Sigourney Morrison
Louisiana Marketplace | Tent E
Be sure to stop by Dressed New Orleans in the Marketplace. Founded by Sigourney Morrison, it's your one-stop shop for quirky chain-stitched designs that you can put on your backpack, tote bag, and jean jacket. They're a mix of folk and pop art.