Holiday Dining Guide
American
Crescent City Steakhouse
1001 N. Broad St. | (504) 821-3271
crescentcitysteaks.com
1. Crescent City Steakhouse takes steak to a new level—and they don't disappoint.
2. The restaurant is known for sizzling its steaks in butter, which taste amazing.
3. This old-fashioned steakhouse has served the same recipes for four generations.
4. The filet mignon is one of the best things on the menu.
5. They also have hearty options such as lobster tails, gratin, and Krasna's Creole cream cheesecake.
Daisy Duke's
Multiple Locations
daisydukesrestaurant.com
1. Daisy Duke's is a great place for some of the best Southern cooking in NOLA.
2. Are you a breakfast lover? Each of the restaurant's locations serve breakfast all day.
3. They also serve lunch and dinner options such as poboys, gumbo, and red beans and rice.
4. Don't forget to order Daisy Duke's award-winning Cajun Bloody Mary.
5. You can also order your own customizable pizza. Who doesn't like that?
Gattuso's Neighborhood Restaurant, Bar, and Catering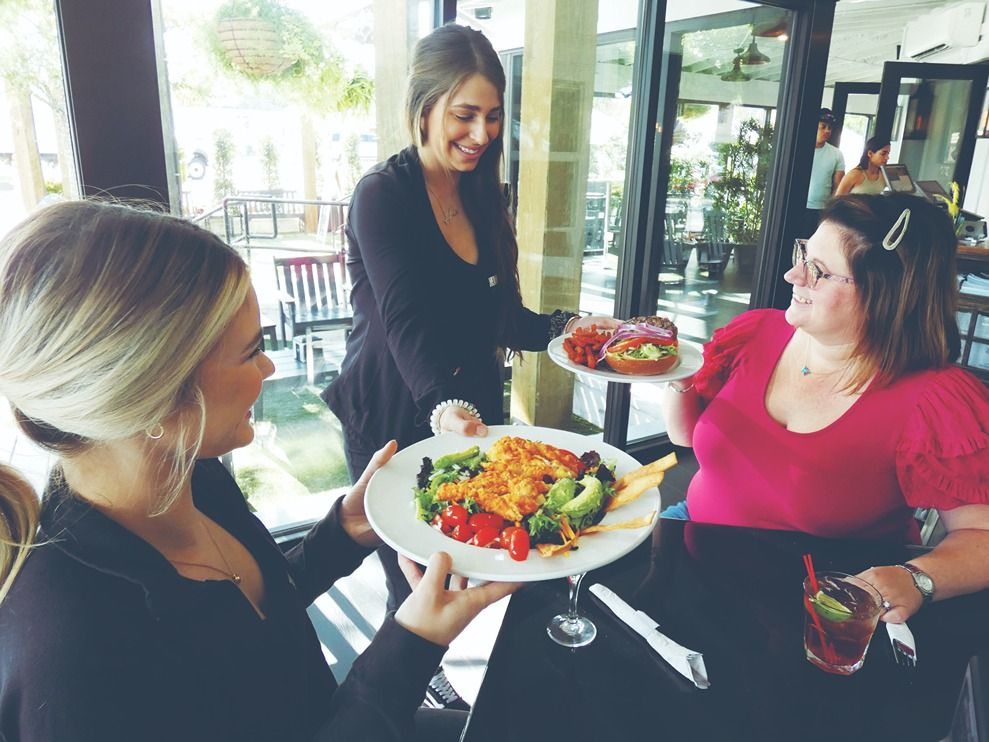 435 Huey P Long Ave., Gretna | (504) 368-1114 | gattusos.net
1. Gattuso's serves New Orleans' and bar favorites in Gretna's historic district.
2. There is a happy hour all day Tuesday and 2 to 6 p.m. on Wednesday through Saturday with half-price drink and appetizer specials.
3. Gattuso's most famous dish is the firecracker shrimp salad.
4. The bar is fully stocked with draft beer, wine, cocktails, margaritas, and more.
5. The restaurant also regularly hosts different events.
Houmas House
40136 LA-942, Darrow | (225) 473-9380 houmashouse.com
1. Houmas House is one of the South's most senior plantation estates.
2. The house hosts five restaurants including Latil's Landing Restaurant, Dixie Café, The Carriage House Restaurant, The Wine Cellars of Houmas House, and The Turtle Bar.
3. Each restaurant offers fresh farm-to-table Louisiana cuisine.
4. Be sure to try The Carriage House's Louisiana ribs-they are tender and tasty.
5. The rabbit and andouille gumbo at Latil's Landing is fantastic.
JB's Fuel Dock
126 S. Roadway St. | (504) 510-2260
jbsfueldock.com
1. JB's Fuel Dock serves up mouth-watering pizzas, rotating specials, and a daily menu to satisfy guests' appetites.
2. The restaurant is located on the waterfront, overlooking Lake Pontchartrain.
3. The spot's open kitchen and bar layout is the perfect opportunity for intimate staff and customer interactions.
4. Guests can meet new friends over cocktails while enjoying JB's tasty supreme pizza.
5. Save some room for the beignet bites!
Jimmy J's
115 Chartres St. | (504) 309-9360 | jimmyjscafe.com
1. Jimmy J's is "N'awlins's funkiest lil' café."
2. The restaurant's technicolor front adds to its hospitable ambience.
3. They boast unique breakfasts, scrumptious desserts, and amazing signature cocktails such as the Bloody Mary and Irish coffee.
4. Be sure to order the Black Angus burger or the oyster poboy if you're not in the mood for breakfast.
5. Planning an event? Jimmy J's can even cater for your next party!
Legacy Kitchen's Steak + Chop
91 Westbank Expy. #5, Gretna
(504) 513-2606 | legacykitchen.com
1. Legacy Kitchen's Steak + Chop offers top Southern comfort food in Gretna.
2. Delicious sandwiches, salads, and prime steaks and chops are available.
3. The restaurant also has a strong emphasis on cocktails as well as a quality wine service.
4. Guests should sample Legacy Kitchen's 22-ounce cowboy bone-in ribeye with a loaded baked potato.
5. You can also "Build Your Own Legacy Burger" with a mix of different toppings.
Luke
333 St. Charles Ave. | (504) 378-2840
lukeneworleans.com
1. Luke is a Creole-influenced brasserie in New Orleans' Central Business District.
2. A vibrant ambiance surrounds a raw bar providing fresh seafood and oysters from the Gulf of Mexico.
3. Luke is best known for its jumbo Louisiana shrimp with roasted jalapeño cheese grits, andouille, and green onion sausage.
4. The restaurant also has German classics like pork schnitzel and Flammenkuchen.
5. Be adventurous and try the pâté of Louisiana rabbit and chicken livers.
Lakeview Harbor
8550 Pontchartrain Blvd.
(504) 486-4887 | lakeviewharbor.us
1. Lakeview Harbor has been serving burgers, poboys, and Typhoon cocktails for the past 30 years.
2. The restaurant hosts lively events on holidays such as National Daiquiri Day, National Scotch Day, and National Chicken Wing Day.
3. The juicy cheeseburger is the perfect thing to enjoy while you're there.
4. The restaurant has a long list of different kinds of beer to try.
5. Lakeview Harbor even has its own food truck!
Manning's Sports Bar & Grill
519 Fulton St. | (504) 593-8118
caesars.com
1. This is the perfect setting to watch a sports game and spend time with friends and family.
2. It's a Harrah's New Orleans restaurant partner, which includes The Steakhouse, Ruth's Chris, and Gordon Biersch.
3. Manning's features over 30 flat-screen TVs, leather recliners, and classic pub food with a Creole twist.
4. They're best known for their St. Louis-style spareribs soaked in a house BBQ sauce.
5. Try Manning's traditional wings and nachos.
New Orleans Vampire Café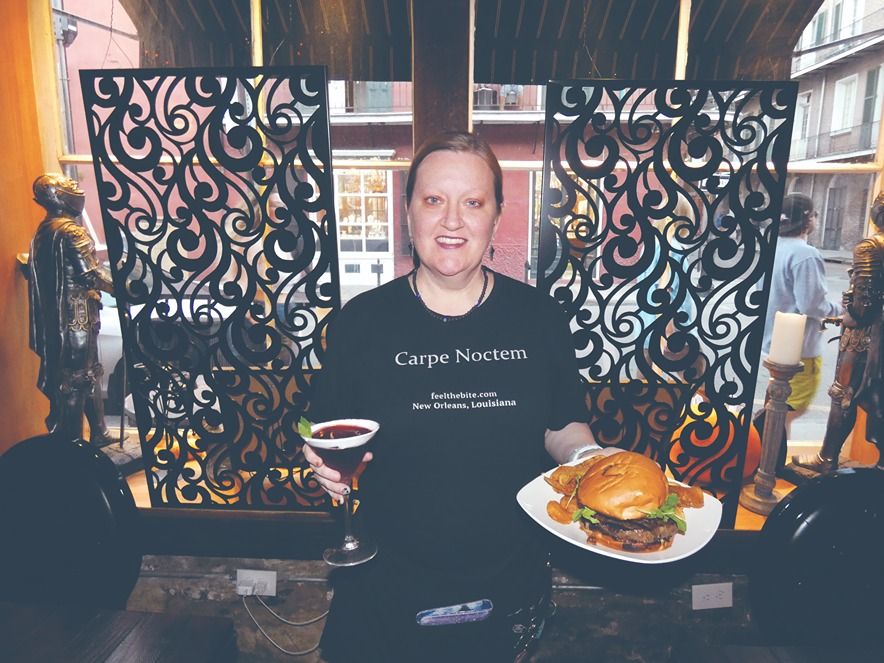 801 Royal St. | (504) 581-0801 | nolavampirecafe.com
1. New Orleans Vampire Café is perfect for those who go bump in the night.
2. The café offers Southern comfort food with a devilish twist.
3. Feast on exquisite dishes such as grilled portobello with tofu, baby bok choy, and watermelon radish.
4. Your mouth will water when you set your sights on the Dracula Burger.
5. Get replenished with the café's Blood Bag Cocktails or vampire-themed wines.
NOLA Steak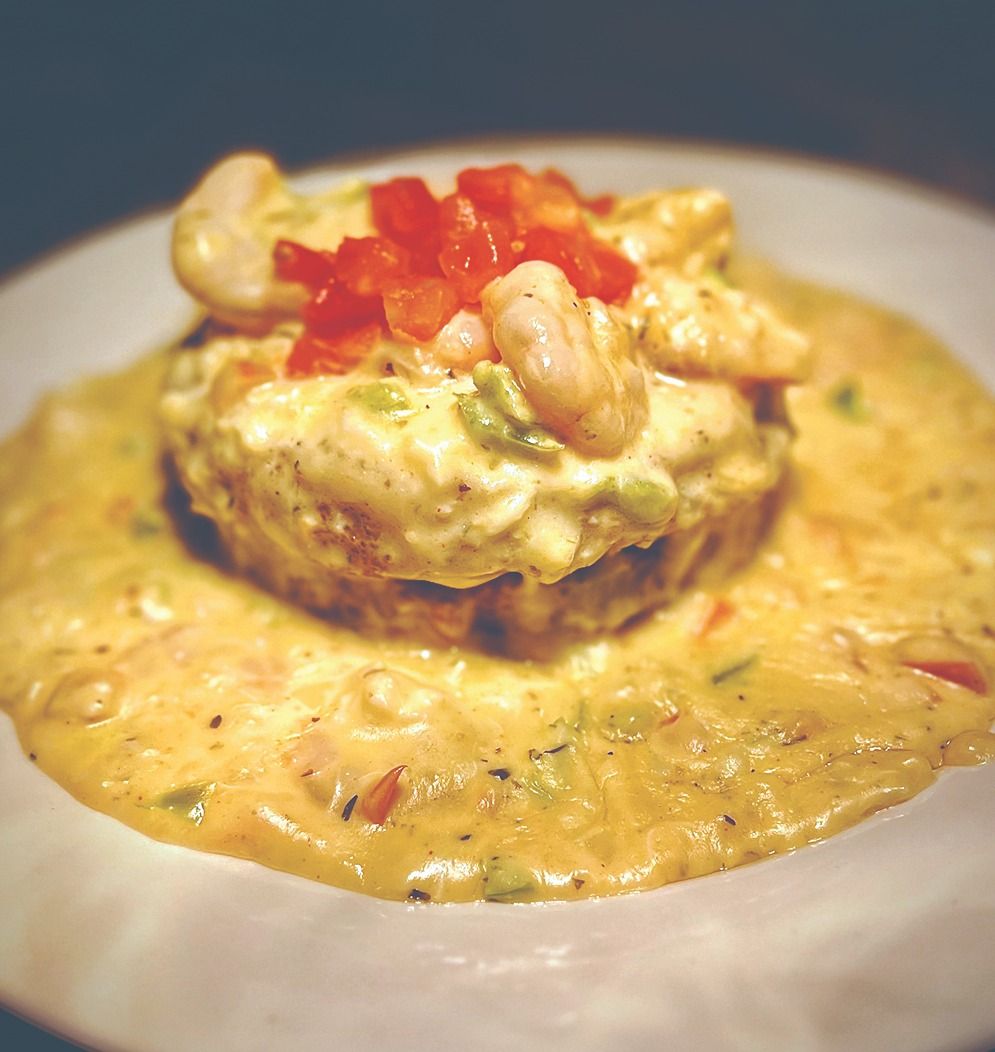 4132 Peters Rd., Harvey | (504) 366-7711 | boomtownneworleans.com
1. NOLA Steak is located in Boomtown Casino, which is in Harvey on the Westbank.
2. The restaurant is the perfect place to take a break from the blackjack tables.
3. Go for some onion rings and the 18-ounce cowboy steak.
4. Wash your delicious food down with some beer or a glass of red wine.
5. NOLA Steak is open Thursday through Saturday for dinner, as well as Sunday for brunch.
Spudly's Super Spuds
2609 Harvard Ave., Metairie
(504) 455-3250 | spudlys.com
1. Spudly's Super Spuds has served locals "meals in baked potatoes" for over 40 years.
2. The restaurant was first opened by a brother and sister duo.
3. Spudly's delivers potatoes, burgers, salads, and poboys in a modest, no-fuss setting.
4. Treat yourself to the "Shrimply Put Potato," which comes with cheddar cheese, chives, and Spudly's original cheese sauce.
5. You can even order different kinds of stuffed spud skins.
Steakhouse at Harrah's
228 Poydras St. | (504) 533-6111
caesars.com
1. The Steakhouse at Harrah's Casino is a place where guests can enjoy delicious steakhouse classics inspired by the flavors of New Orleans.
2. Get your steak and potato fix here—and then hit the slots after!
3. Delicious appetizers like shrimp cocktails and charred oysters are available.
4. Order classic NOLA cocktails like a Sazerac or a French 75.
5. Try the ribeye steak, which is cooked to perfection and delivered with a loaded baked potato.
The Ruby Slipper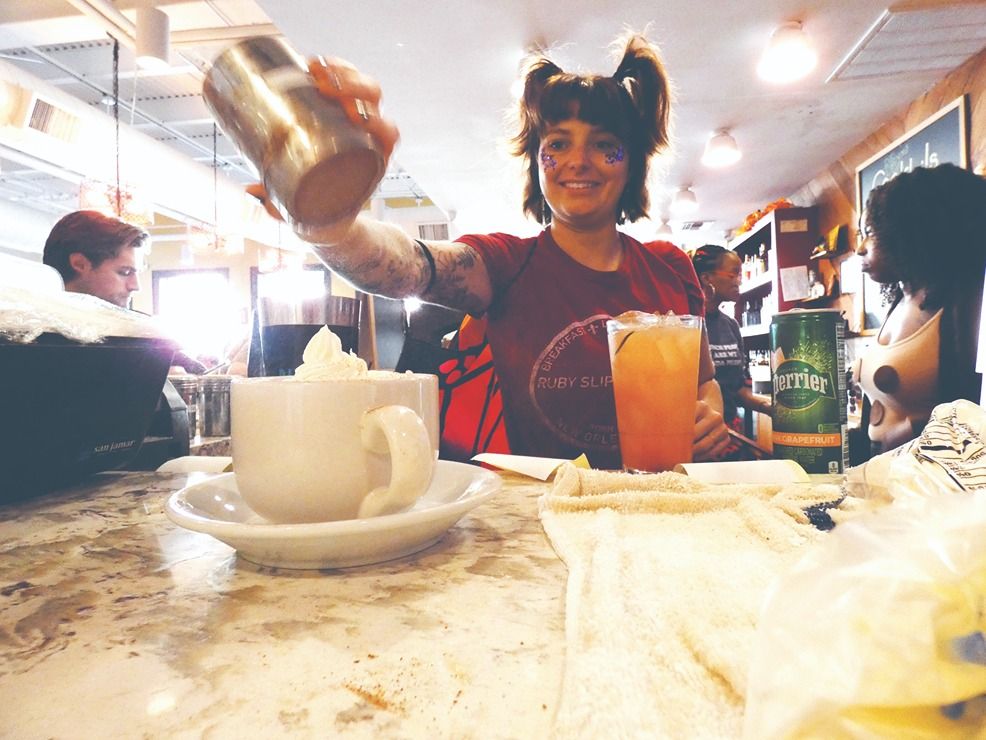 Multiple Locations | rubybrunch.com
1. The Ruby Slipper has over 10 locations across the Gulf South, seven of which are in Louisiana.
2. The café provides a cozy environment and an expansive cocktail menu. Try the Bloody Mary for a real treat.
3. The all-day brunch dishes like the biscuits and gravy and breakfast tacos are a must try.
4. Their biscuits are made from scratch and served with their house-made cane syrup.
5. Try the Ruby Benny when you go—you won't be sorry!
Ugly Dog Saloon
401 Andrew Higgins Blvd. | (504) 569-8459 | theuglydogsaloon.com
1. Ugly Dog Saloon offers some of the best barbeque in the Warehouse District.
2. The sports bar has been serving tasty classics with a Creole twist for nearly 25 years.
3. Here's the spot to satisfy your cravings while watching your favorite sports team.
4. Try the Lafitte Pig, which includes pulled pork and Canadian bacon.
5. Enjoy Ugly Dog Saloon's outdoor seating, which has bar games.
Asian
Asia
4132 Peters Rd., Harvey | (504) 366-7711 boomtownneworleans.com
1. Asia is one of the many quality restaurants located in Boomtown Casino.
2. The restaurant serves Chinese and Vietnamese dishes including pork potstickers, rice noodle soup, and General Tso's chicken.
3. Stop by Fridays through Sundays from 4:00 p.m. to midnight for special items like the Shaking Beef.
4. Fried rice, sweet and sour chicken, and tofu vegetables are also available.
5. Make sure to order the Asia Sampler appetizer platter for your table.
Cho Thai
3218 Magazine St. | (504) 381-4264 | chothairestaurant.com
1. Cho Thai will make you feel like you've stepped into a classic joint straight from Bangkok.
2. Chef Jimmy Cho's menu consists of dishes from his mom's kitchen in Thailand and his travels around the world.
3. Enjoy ka pao chicken, shrimp pad thai, seafood green curry, and shrimp dumplings.
4. Order creative cocktails like the Overnight Train or the Drunk on Lemongrass.
5. Try a Thai dessert of mango and sticky rice.
Mikimoto
3301 S. Carrollton Ave. | (504) 488-1881 | mikimotosushi.com
1. Mikimoto has been the premier destination for authentic Japanese fare in New Orleans for the past 20 years.
2. Guests can expect delicious sushi rolls and quick customer service in a cozy environment.
3. Unique rolls on the menu include the Geaux Saints Maki Roll and the Sex in the City Roll.
4. They offer udon noodle dishes that will make you drool.
5. Mikimoto also offers catering, so order some sushi for your next big party.
Thai'd Up
1839 Gentilly Blvd. | (504) 354-8202 | thaidupla.com
1. Thai'd Up offers modern Thai street food right in the Fairgrounds area.
2. This new restaurant offers dishes made from recipes gathered from the owners' friends and family in Thailand.
3. Try the restaurant's homemade beef jerky, roti in curry dipping sauce, and butter Thai shrimp.
4. For a classic Thai dish, make sure to order the papaya salad.
5. Stay refreshed and order the restaurant's Thai tea, hot green tea, or jasmine tea.
Bars With Great Food
Alto Rooftop Bar
600 Carondelet St. | (504) 900-1180
acehotel.com
1. Located on top of the Ace Hotel, the Alto Rooftop Bar is the best hangout spot for swimming, drinking, and eating.
2. Enjoy pizza, chicken wings, and many other poolside bites.
3. There's a bar that whips up refreshing craft beers, wine, and delicious cocktails.
4. Be sure to come during happy hour for $8 specialty drinks and $6 draughts.
5. Try Alto's tasty lettuce wrap with Gulf shrimp and cucumbers.
Buffa's Bar & Restaurant
1001 Esplanade Ave. | (504) 949-0038 | buffasbar.com
1. Buffa's Lounge is unofficially known as "the best place you've never been."
2. The restaurant has been serving the Faubourg Marigny neighborhood since 1939.
3. Buffa's is a no-frills establishment delivering classic American and Cajun cuisine, cocktails, and live music. It's a good time.
4. Stop by for a Reuben sandwich with corned beef and sauerkraut.
5. Make sure to visit Buffa's during its traditional jazz brunch on Sundays.
Down the Hatch Bar and Grill
1921 Sophie Wright Pl. | (504) 522-0909 | downthehatchnola.com
1. They offer pub fare in a casual, lively bar setting in the Garden District.
2. The restaurant has a comfortable outdoor bar and patio seating.
3. Try the alligator poboy, fried catfish platter, or the Texan burger with caramelized onions.
4. Put your fingers to work and enjoy the Hell's Kitchen Wings with your choice of sauce.
5. You can even order Mediterranean plates with hummus, pita bread, and basmati rice.
Flamingo a Go-Go
869 Magazine St. | (504) 577-2202 | flamingonola.com
1. Flamingo A-Go-Go boasts a colorful, fun atmosphere that's perfect for outdoor day drinking and even doggy play dates.
2. Flamingo's popular "flocktails" include bottomless frosé, margaritas, and mimosas.
3. The food menu includes delicious snacks such as pepper jack boudin bombers.
4. You can also enjoy Southern classics such as fried chicken & waffles and shrimp po'boys.
5. There are even "puppy plates" that your furry friends can enjoy as well!
JINX Bar & Grill
91 French Market Pl. | (504) 510-2797 jinxnola.com
1. JINX Bar & Grill offers good food and entertainment right in the heart of the Quarter.
2. The bar has tasty shareable plates like the JINX Wings and Foghorn Fingers.
3. Enjoy tasty sandwiches and burgers like the Big Kahuna, made with pepper jack, pineapple, and bacon.
4. Pick from one of JINX's creative cocktails like the bar's signature Mango Unchained daiquiri.
5. Come for brunch, happy hour, or even a comedy show.
Le Bon Temps Roule
4801 Magazine St. | (504)-897-3448
lbtrnola.com
1. Le Bon Temps Roule is an iconic neighborhood bar located in Uptown New Orleans.
2. This bar is known for being open 24/7, offering late-night bites and live music.
3. It has seen performances by the likes of the Soul Rebels Brass Band, Kermit Ruffins, and Anders Osborne.
4. Le Bon Temps Roule has one of the most fantastic Bloody Marys in the city.
5. The pimento bacon burger can't be beat.
Peacock Room
501 Tchoupitoulas St. | (504) 324-3073 | peacockroomnola.com
1. The Peacock Room is a beautiful, upscale cocktail bar located inside the Kimpton Hotel Fontenot.
2. The bar serves luxury spirits with an eccentric interior design.
3. They are known best for its creatively-made cocktails and extensive drink menu.
4. The Peacock Burger with truffle fries and a secret sauce is not one to be missed.
5. The bar also regularly hosts special events and live music.
Rivershack Tavern
3449 River Rd., Jefferson | (504) 834-4938 | rivershacktavern.com
1. Rivershack Tavern is a live music club, sports bar, and neighborhood tavern combined into one charming venue.
2. The restaurant is located on historic River Road alongside the Mississippi River.
3. Try the Grits & Grillades for a real treat that's a New Orleans' classic.
4. Cozy up to the bar and sit on one of Rivershack's famous "bar legs."
5. Rivershack was even featured on Diners, Drive-Ins and Dives.
Stumpy's Hatchet House
1200 Poydras St. | (504) 577-2937 | stumpyshh.com/neworleansla
1. Stumpy's Hatchet House provides a controlled, safe environment for guests to throw hatchets.
2. It's the perfect place to blow off some steam and bond with your co-workers.
3. You can even hold your next birthday or holiday party there.
4. Stumpy's offers a snack area where guests can enjoy hot dogs, popcorn, and nachos.
5. Grab a cold, refreshing beer to recharge after your axe throwing.
The Country Club New Orleans
634 Louisa Street | (504) 945-0742
thecountryclubneworleans.com
1. Features a beautifully designed interior with a backyard with a cabana lounge and pool.
2. Serves food influenced by Italian-French and Creole-Southern heritages.
3. Menu curated by accomplished chef and long-time New Orleans resident Chef Chris Barbato.
4. Open Sunday through Thursday from 10 a.m. to 9 p.m., with hours extending to 10 p.m. on Fridays and Saturdays.
5. Brunch served on weekends from 10 a.m. to 3 p.m.
The Garage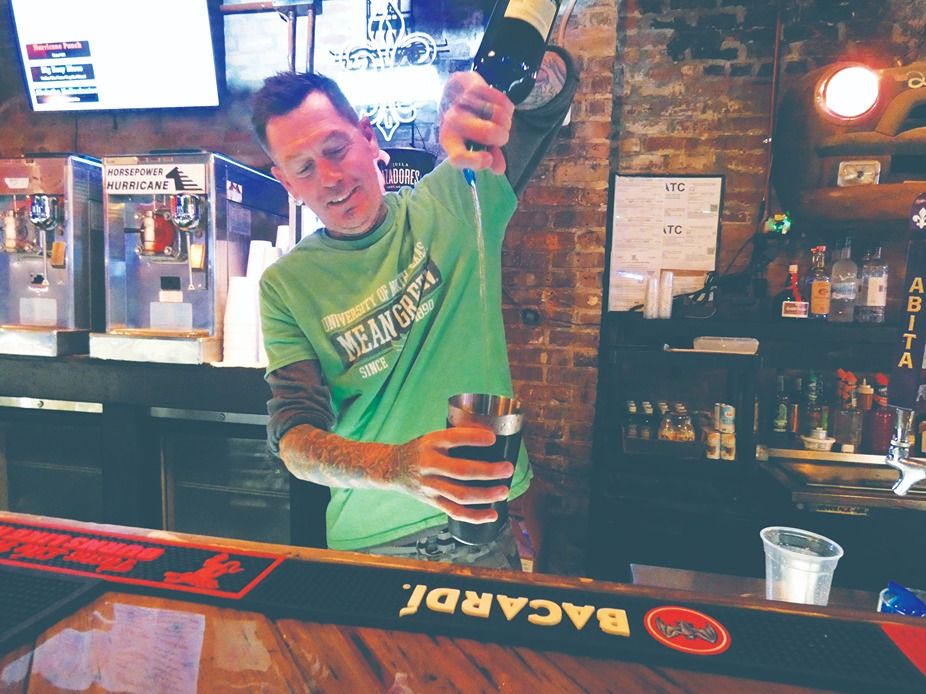 810 Conti St.
thegaragemusicclub.com
1. The Garage is a great place to enjoy live music, rockin' DJs, and tasty food and drink.
2. It's just steps off from New Orleans's famous Bourbon Street.
3. The club regularly has open mic nights, as well as lots of room to dance, so get out there and move.
4. The club can even be rented out for private parties.
5. Be sure to try their Cajun gumbo, fried okra, and other Southern classics.
The Jimani
141 Chartres St. | (504) 524-0493 | thejimani.com
1. The Jimani offers upwards of 100 beers, trivia, a jukebox, pub cuisine, and several TVs.
2. The sports bar has all DIRECTV packages, which include UFC fights.
3. Customers can start off with an appetizer such as fried pickle spears or broccoli bites.
4. The bar has a wide array of beer and Jello shots.
5. Classic entrées include Nikki's ooey gooey grilled cheese, Mama's chicken club, and the classic Hangover Burger.
The Marsh Room
Patio Bar and Grill
4740 Rye St., Metairie | (504) 571-5733 | facebook.com/marshroom
1.This fun bar and grill opens at 11 a.m. from Wednesday through Sunday.
2. Features live music along with their collection of entrees and cocktails.
3. Do you love wings? The restaurant serves specialty 75 cent wings on Sundays.
4. If you love to sing, get ready-they regularly host karaoke nights and a daily happy hour.
5. Be sure to try their delicious Marsh Burger!
Tracey's Original
Irish Channel Bar
2604 Magazine St. | (504) 897-5413 | traceysnola.com
1. Tracey's is the Irish Channel's flagship bar and is a must-visit for St. Patrick's Day.
2. With multiple TVs and plenty of cold beer on tap, Tracey's is one of the city's best sports bars in town.
3. Classic dishes like burgers and red beans & rice are available.
4. It's a great place to catch up with friends over some oysters.
5. Settle in with a filling poboy and enjoy the vibes of this neighborhood hangout.
Cafe
Caffe! Caffe!
Multiple Locations | caffecaffe.com
1. Located throughout Metairie, Caffe! Caffe! is your friendly neighborhood café to enjoy lunch with a cup of coffee (and even a sweet treat).
2. Opened in 1992, it was inspired by gourmet coffee shops that were booming at the time.
3. The café has received awards and honors for their soups, salads, and other yummy bites.
4. It's a great place for kids, students, groups, meetings, and a cute date!
5. We recommend the avocado salad and espressos.
Carmo
527 Julia St. | (504) 875-4132 | cafecarmo.com
1. Carmo is a tropical-based bar and restaurant with flavors from the Caribbean islands to Southeast Asia.
2. They source sustainable, affordable ingredients for their food with flavors of the tropics.
3. You need to try their Burmese tea leaf salad, shima sashimi, and tiradito smothered in aji Amarillo pepper sauce.
4. They have fresh juices made from exotic fruits, including acerola, graviola, and cajá.
5. Their menu also has delicious, healthy options for vegans and vegetarians!
The Vintage
3121 Magazine St. | (504) 324-7144
thevintagenola.com
1. Stop by The Vintage for beignets, coffee, and champagne!
2. There are so many unique sandwiches, flatbreads, and cocktails to choose from.
3. While you're at it, try the fancy Beignet Flight! Who needs plain ol' beignets when you can have raspberry, s'mores, and matcha?
4. Love the beignets and coffee? Make them at home with their signature mixes.
5. With Instagram-worthy decor found in a romance flick, The Vintage is perfect for outings and dates.
Willa Jean
611 O'Keefe Ave. | (504) 509-7334
willajean.com
1. This retro-chic café has Southern fixings, mouthwatering desserts, and piping cups of coffee.
2. Willa Jean was voted the No. 2 as Best Bakery by Southern Living Magazine.
3. Regulars love the griddled banana bread, fried chicken sandwich, and the infamous WJ Milk + Cookies.
4. Want a boozy brunch? WJ's frosés and Bloody Marys are on the house!
5. This Mardi Gras, try their original caramel crunch king cake.
French
Bar Marilou
544 Carondelet St. | (504) 814-7711 barmarilou.com
1. Bar Marilou is nestled in a cute little library space right next to the Maison de la Luz hotel.
2. They're a quiet nook away from the hustle and bustle of city life.
3. The drink menu includes wine, beer, spirits, and signature cocktails such as the Blind Serpent and the Tokyo Record.
4. Don't leave without trying Bar Marilou's mussels and fries.
5. Other French-inspired dishes include the frogs' legs and crispy potatoes with caviar.
Cafe Degas
3127 Esplanade Ave. | (504) 945-5635 cafedegas.com
1. Serves traditional French cuisine with slight Creole influences.
2. The longest running French bistro in New Orleans.
3. The restaurant's owners regularly handpick their collection of wine to be served with their entrees and items.
4. Open for brunch Friday through Sunday from 11 a.m. to 3 p.m., with dinner served Wednesday through Sunday from 5:30-10 p.m.
5. Provides ample outdoor seating as well as the option for curbside pickup.
Café Normandie
1000 Magazine St. | (504) 528-1941
higginshotelnola.com
1. Café Normandie is located in the Higgins Hotel, which is the official hotel of the National WWII Museum.
2. The café captures the U.S.'s affinity for French culture starting from WWII.
3. The menu has options such as Eggs Benedict, breaded Kurobuta pork chops, and signature flat breads.
4. Bring a friend or date and split a beautifully designed charcuterie board.
5. Definitely make sure to order the café's fricassee or the crispy duck.
Italian
Domenica
123 Baronne St. | (504) 648-6020 | domenicarestaurant.com
1. Found inside the beautiful Roosevelt Hotel, Domenica combines local ingredients with sacred cooking techniques to offer delicious dishes that will have you coming back.
2. Choose from a variety of uniquely crafted pasta and Napoletano-style pizzas.
3. Made with pork ragu, pasta verde, mozzarella, and béchamel sauce, their lasagna is the talk of the town!
4. Domenica's pizzas are cooked in their iconic wood-fired oven.
5. Fun fact: Domenica means "Sunday" in Italian!
Josephine Estelle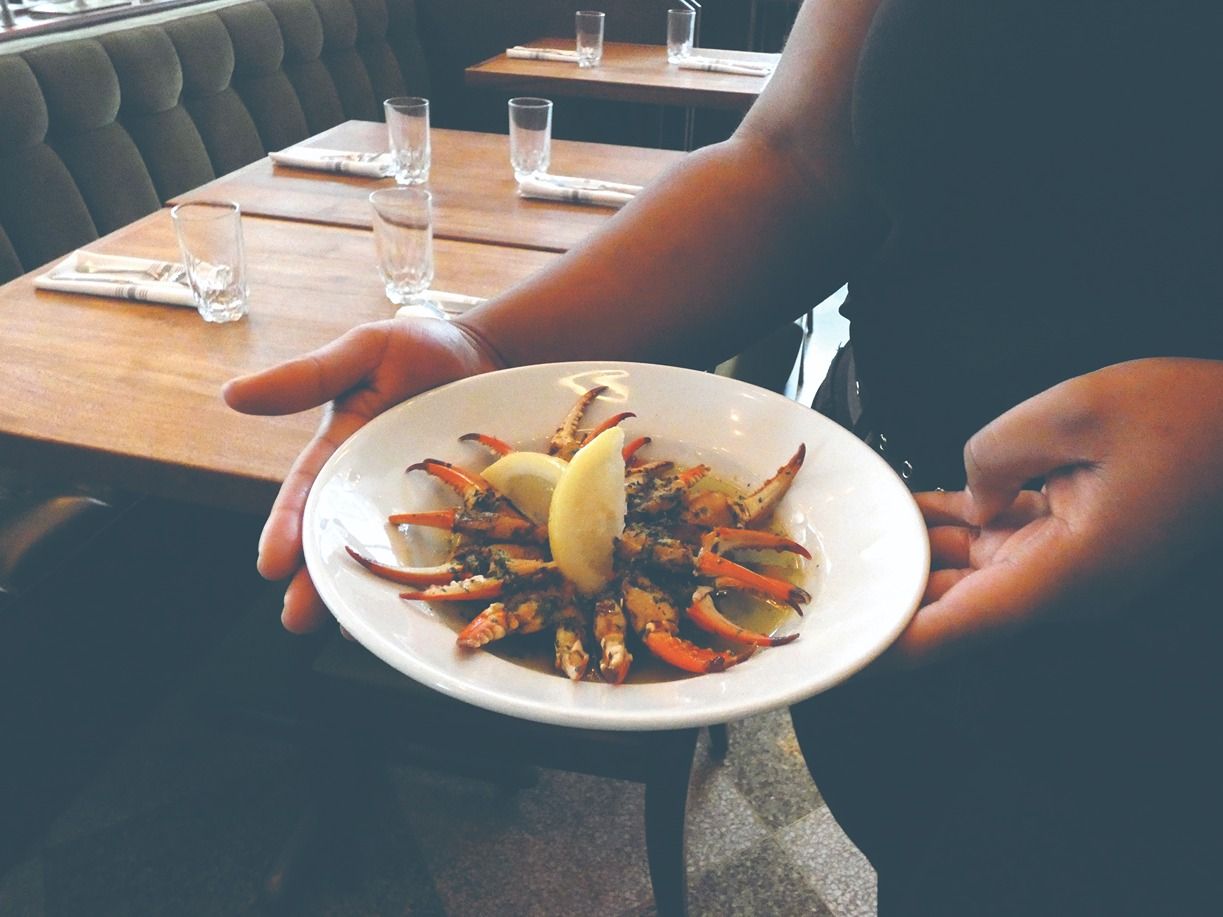 600 Carondelet St. | (504) 930-3070 | josephineestelle.com
1. Josephine Estelle is an elaborately decorated osteria, which is located inside the Ace Hotel.
2. Owned by James Beard Award-nominated chefs Andy Ticer and Michael Hudman, the restaurant is named after each of their daughters.
3. The menu blends Italian cuisine with flavors from the American South.
4. You'll love the rigatoni with "maw maw's gravy!"
5. Ticer and Hudman's dishes are recipes that have been passed down through generations.
Mosca's
4137 US-90 West, Westwego | (504) 436-8950 | moscasrestaurant.com
1. Don't judge a book by its cover—this roadside restaurant is a beloved tradition in Southeast Louisiana.
2. They've served some of the city's best Louisiana Creole-Italian food for over 60 years.
3. From friendly staff to family-style portions, Mosca's will make you feel right at home.
4. Sample the famous Shrimp Mosca, seared with white wine and Italian seasonings.
5. Play oldies on Mosca's jukebox, which adds to its nostalgic charm!
Nephew's Ristorante
4445 W. Metairie Ave., Metairie | (504) 533-9998 | nephewsristorante.com
1. They have fantastic Sicilian and Italian-Creole cuisine, as well as excellent customer service.
2. The restaurant is a legacy of Frank Catalanotto's family and pays homage to his late uncle, Tony Angello.
3. Frank uses his family's recipes from his time as executive chef at Tony Angello's Ristorante as a teenager.
4. Try their fresh mussels, clams, or their Louisiana gulf shrimp with white wine and garlic.
5. Try the tangy icebox pie.
Pascal's Manale
1838 Napoleon Ave. | (504) 895-4877 pascalsmanale.com
1. Pascal's Manale has been serving the New Orleans community for 109 years.
2. Their menu consists of unique Creole-Italian cooking from seafood to oysters.
3. They invented the signature BBQ shrimp that's loved by residents and tourists.
4. They have a selection of exceptional wines that are sure to please your palate. Ask your server for food and wine pairings.
5. The staff is the highlight of the dining experience. Everyone's family at Pascal's!
Pizza Domenica
Multiple Locations
pizzadomenica.com
1. Pizza Domenica offers friendly service, relaxation, and upscale pizza, antipasti, and craft entrées for every palate.
2. All pizzas are cooked in ovens that were custom-made and shipped from Italy.
3. Pizza Domenica puts an inventive spin on American pizza.
4. Their tangy, cheesy Calabrese pizza is one of the best on the menu. Be sure to try it.
5. Their open kitchen embraces the connection between friendly staff and guest interaction.
Tavolino
141 Delaronde St., Algiers
(504) 605-3365
tavolinonola.com
1. Just steps away from the ferry terminal in the historic Old Algiers Pointe, Tavolino offers authentic Italian cuisine in a family-friendly space.
2. Tavolino is known for their delicious, thin crust pizzas.
3. Their drinks menu features signature cocktails, wines, and a selection of local, domestic, and imported beers.
4. If you want a break from the kiddos, there is an adults-only bar.
5. Need fresh air? See if patio dining space is available!
Venezia
134 N. Carrollton Ave. | (504) 488-7991 | venezianeworleans.net
1. Having served Mid-City since 1957, Venezia specializes in pizzas, pasta, and other Italian dishes cooked in a stone oven.
2. It used to be a mob hang out.
3. Pizza is what they're known for, but explore the many other delicious offerings on the menu, including the chicken parmigiana, stuffed shells, and Eggplant Vatican!
4. Grab a seat at the bar for a super cocktail before ordering.
5. Wear whatever you want…but no baseball caps, please.
Mexican
Empanola
Multiple Locations | empanolaempanadas.com
1. With Louisiana-inspired and Latin-influenced flavors, Empanola has the
best empanadas in town. You've got to try these!
2. They make unique empanadas such as Beef Argentina, Chorizo Mexicana, and Gumbo, to name a few.
3. Empanola also has vegetarian options, including mushroom and cheese and yellow curry.
4. They also cater to birthdays, weddings, brunches, and festivals, so order them for your next event.
5. You're welcome to bring your own drinks to Empanola!
Felipe's Mexican Taqueria
Multiple Locations | felipestaqueria.com
1. Located at three different locations, Felipe's offers casual, authentic Mexican food made from scratch.
2. They're known for their award-winning tacos, so be sure to try one of each!
3. Their carnitas burrito, Philly quesadilla, and Baja-style tacos are a plus.
4. Their hand-squeezed margaritas and red sangrias are absolutely delicious.
5. Keep an eye out for special events—they host some of the best Cinco de Mayo parties in town!
Mr. Tequila
5018 Freret St. | (504) 766-9660 | mrtequilanola.com
1. Customers crave Mr. Tequila's tacos, margaritas, and tequilas.
2. Owned by three brothers, Mr. Tequila adds a Tex-Mex twist on authentic Mexican cuisine.
3. Visit Mr. Tequila for Happy Hour Mondays through Fridays for special drinks and eats!
4. If you're in the mood for a giant margarita, go with friends and share the popular 88-ounce margarita.
5. Mr. Tequila is a good walking distance from Loyola and Tulane.
Middle Eastern
Gita Pita
Multiple Locations | facebook.com/GitaPitaCanal
1. Gita Pita offers fast-paced, fan-favorite Middle Eastern food that can't be beat.
2. The restaurant can be found both on Canal Street and Baronne Street.
3. Quality classics like shawarma bowls, fatteh bowls, and pita wraps are all available.
4. If you prefer vegetarian options, go green with the tabbouleh salad, fattoush salad, or the veggie sampler platter.
5. Both locations are on GrubHub for easy pick-up and delivery.
Lebanon's Café
1500 S. Carrollton Ave.
(504) 862-6200 | lebanonscafe.com
1. Lebanon's Café is the No. 1 spot in NOLA for Middle Eastern fare.
2. Try their kabobs, chicken shawarma, rosemary lamb chops, and signature creamy hummus.
3. The café has a beautiful dining room with hand-painted murals and pieces of Middle-Eastern art.
4. With its BYOB policy and view of the oak trees, it's a great spot for romantic outings.
5. To get there, walk, bike, or take the streetcar down Carrollton Avenue!
Shaya
4123 Magazine St. | (504) 891-4213 shayarestaurant.com
1. Shaya features a fantastic mélange of Israeli classics with Southern flavors.
2. The restaurant incorporates contemporary culinary techniques while using locally-sourced ingredients.
3. Shaya's dishes are reminiscent of flavors from North Africa, Eastern Europe, the Middle East, Greece, and Turkey.
4. Don't leave without trying the fried chicken or lamb ragú hummus—both hearty, tasty dishes.
5. The lamb burger and the chicken schnitzel sandwich are to die for.
Tal's Hummus
4800 Magazine St. | (504) 267-7357 talshummus.com
1. Tal's Hummus serves traditional Israeli street food.
2. Their most popular dishes include falafel, hummus, pita sandwiches, kebabs, salads, and more.
3. They offer a wide array of drink options, from iced coffee to their avocado smoothie.
4. The restaurant also accepts requests for private parties and events and will do their best to accommodate the wishes of any private party they host.
5. Tal's Hummus provides catering for those who submit requests on their website.
New Orleans Cuisine
Annunciation
1016 Annunciation St. | (504) 568-0245 | annunciationrestaurant.com
1. This white-tablecloth eatery serves both classic and contemporary Creole and Cajun dishes.
2. Annunciation is inside a rehabilitated turn-of-the-century warehouse in the bustling Warehouse District.
3. Their grilled lamb chops with garlic mashed potatoes, green beans, and lamb sauce is a popular dish.
4. For a beverage, try their blood orange martini.
5. This is a great spot to unwind after work-or bring a client and seal that bus-iness deal.
Apolline
4729 Magazine St. | (504) 894-8881 apollinerestaurant.com
1. Located on Magazine Street, Apolline is a cozy-chic dining room in a renovated double-shotgun cottage.
2. Their delicious dishes range from roasted Gulf fish couvillion to panéed veal medallions.
3. Apolline offers accessibly priced wines, handcrafted cocktails, and exquisite cuisine.
4. The herbs and peppers used in meals are grown fresh in the restaurant's garden.
5. For a real treat, try their seared diver scallops with corn maque choux and San Marzano tomato sauce.
Chef Ron's Gumbo Stop
2309 N. Causeway Blvd., Metairie
(504) 835-2022
gumbostop.com
1. Tucked away in a tiny strip mall on Causeway Boulevard, Chef Ron's Gumbo Stop is home to the original stuffed gumbo.
2. Enjoy Mumbo Gumbo which includes fried oysters, potato salad, and Louisiana-fried catfish.
3. They've also got jambalaya, red beans and rice, and crawfish étouffée.
4. Their seafood gumbo is filled with Louisiana crawfish, shrimp, and crabmeat.
5. If gluten doesn't agree with you, the staff will be happy to accommodate you.
Common Interest
705 Common St. | (504) 595-5605 | commoninterestnola.com
1. Located just inside Hotel Indigo, Common Interest features delicious dishes that reflect New Orleans' rich culture.
2. Fan favorites include the Creole shrimp and grits, New Orleans best gumbo, one-pot jambalaya, and the steak 'n' frites.
3. In addition to their tasty food, the friendly and welcoming staff make guests keep coming back.
4. Grab a coffee while you wait for the St. Charles Streetcar-just outside Common Interest's front door.
5. If you've got a sweet tooth, be sure to try the Jazzy Cinnamon Roll or the Crème Brûlée Waffle for breakfast.
Commons Club New Orleans
550 Baronne St. | virginhotels.com
1. They are part of the New Orleans branch of the Virgin Hotels franchise.
2. They are open daily from 5-10 p.m., with brunch on Saturdays and Sundays from 9 a.m. to 2 p.m.
3. Their bar is open from 4-10 p.m. Sunday through Thursday, and 4-11 p.m. on Fridays and Saturdays.
4. Commons Club boasts an extensive collection of wine.
5. Their menu has been created by Chef Alex, recognized by the James Beard Foundation and Bon Appètit Magazine.
Crescent City Brewhouse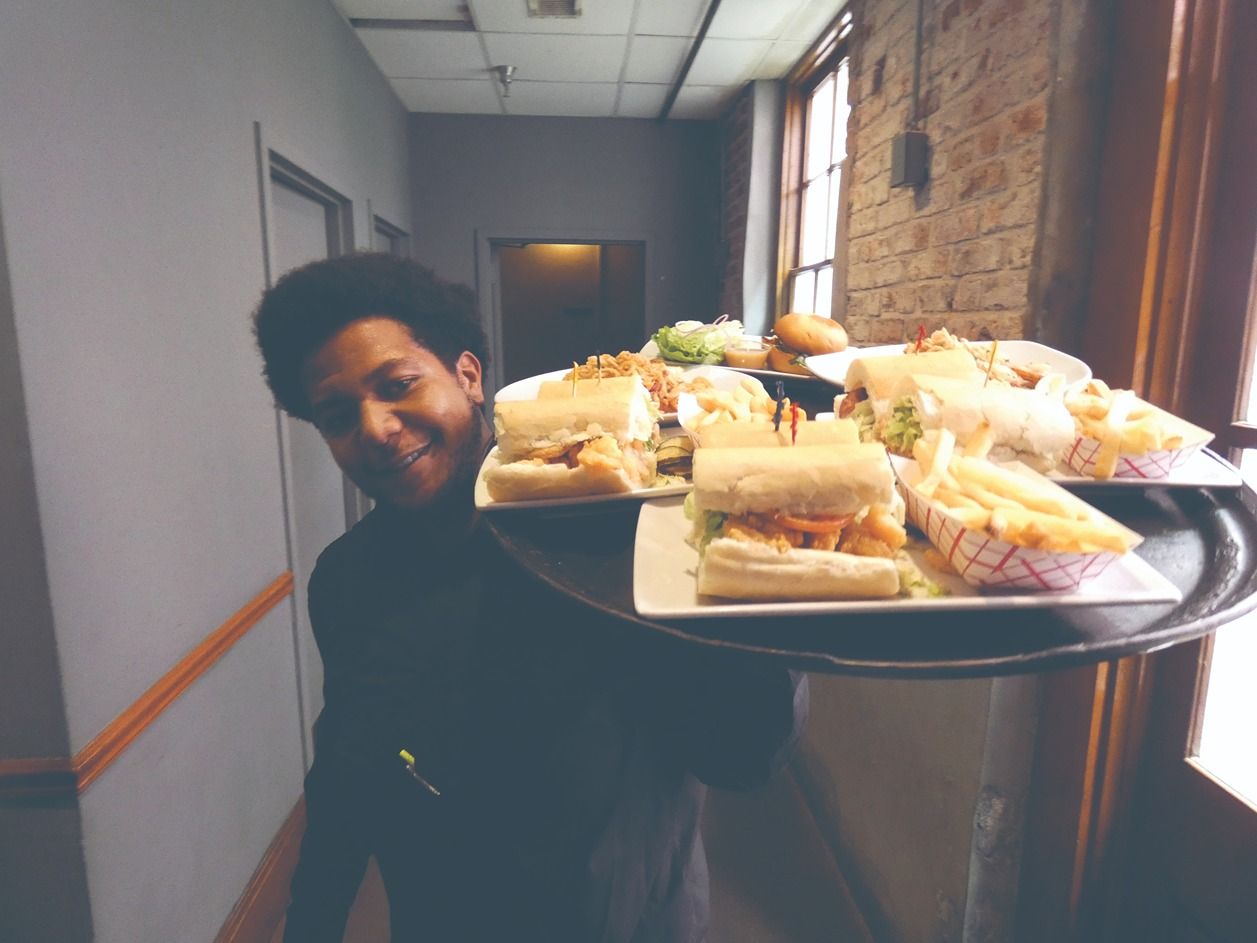 527 Decatur St. | (504) 522-0571 | crescentcitybrewhouse.com
1. Close to Jackson Square, Crescent City Brewhouse is a state-of-the-art brewpub that's the first of its kind in New Orleans.
2. The brewhouse puts a modern twist on New Orleans' classics.
3. They combine Old World values with modern technology to craft their house brews.
4. Visitors should try their freshly—shucked oysters, steak, and hot wings.
5. Ask for balcony seating to get breathtaking views of the French Quarter as you enjoy your meal.
Desire Oyster Bar
300 Bourbon St. | (504) 553-2281
sonesta.com
1. Desire Oyster Bar is in the original Royal Sonesta on Bourbon Street.
2. Nothing screams old-school like chandeliers, black-and-white tiles, and a tin ceiling.
3. Whether chargrilled or on the half shell, their oysters are outstanding, especially during happy hour.
4. Their menu also features delicious items, including shrimp remoulade, poboys, and their award-winning seafood gumbo.
5. Check out the bar for extensive wine, beer, and cocktail options.
Evangeline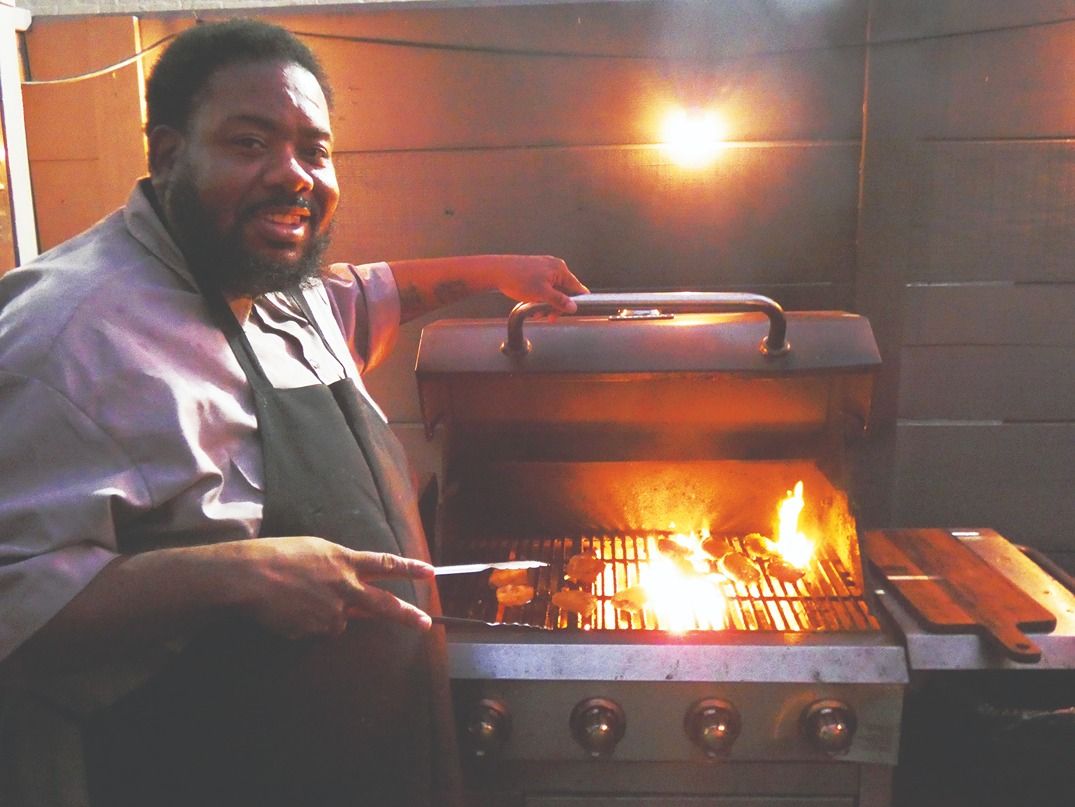 329 Decatur St. | (504) 373-4852 | evangelineneworleans.com
1. Just a few blocks from the French Quarter, Evangeline offers New Orleans' best Cajun cuisine.
2. Their menu specializes in seasonal dishes made from local ingredients purchased from local markets and fishermen.
3. Enjoy your meal while taking in the fresh air and sights in their spacious French Quarter courtyard.
4. Evangeline was featured in Burgers, Brew & 'Que on the Food Network.
5. Try their Acadia crawfish & grits—your palate will thank you!
House of Blues
225 Decatur St. | (504) 310-4999 | houseofblues.com
1. Enjoy lip-smacking Southern cuisine as you wait to see a show at this rock-and-blues joint.
2. House of Blues also has a VIP lounge (Foundation Room), private dining areas, and a covered courtyard (Voodoo Garden).
3. You should try the spicy Voodoo Shrimp—it's the bomb!
4. Celebrities, including Dr. John, $uicideBoy$, and The Neville Brothers, performed at the House of Blues.
5. They also host drag house parties on Sundays.
Kingfish
337 Chartres St. | (504) 598-5005 | kingfishneworleans.com
1. Kingfish puts a new-school twist on classic Creole cuisine such as barbecue scallop fettuccine, crab cakes, and fried green tomatoes with shrimp remoulade.
2. The restaurant pays tribute to Huey P. Long's legacy.
3. Their Pimm's Cup, Blueberry Hill, and Bonnabel cocktails are very popular.
4. Enjoy happy hour on Mondays, Thursdays, and Fridays from 2-5 p.m.
5. Save room for dessert! Try a warm slice of bourbon pecan pie or a piece of Big Brûlée cheesecake.
Mandina's
3800 Canal St. | (504) 482-9179 | mandinasrestaurant.com
1. Mandina's evolved from an Italian grocery store to a pool-hall—and ultimately to a restaurant in 1932.
2. Mid-City neighbors call Mandina's "the pink house."
3. Feast on Creole-Italian cooking from turtle soup au sherry to veal parmesan.
4. Come to Mandina's during the week and try their daily specials such as bruccialone on Tuesdays and Creole eggplant on Fridays.
5. But that's not all—the staff here treat you like family!
Melba's Old School Poboys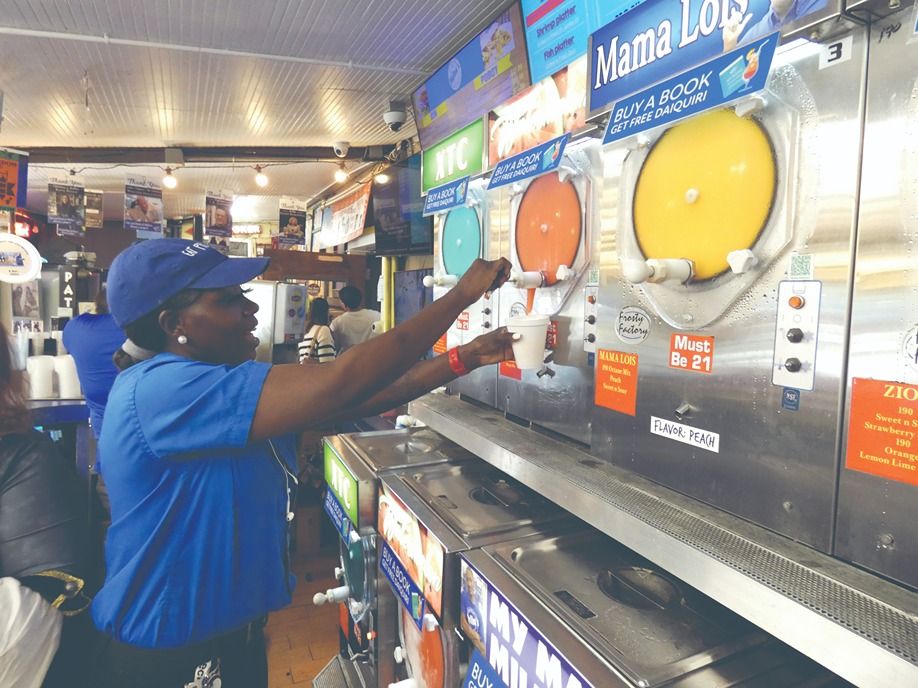 Multiple locations | (504) 267-7765 | melbas.com
1. Melba's is a busy poboy shop that specializes in traditional New Orleans fare cuisine.
2. Try their delicious New Orleans-style poboys, chicken wings, and daiquiris all day long.
3. Visit their new location on Tulane Avenue for the same great pricing.
4. The casual atmosphere, friendly service, and jazz music make this a good place to rewind and enjoy a shrimp poboy.
5. Melba's has some of the best daiquiri flavors in town at reasonable prices.
Mother's Restaurant
401 Poydras St. | (504) 523-9656
mothersrestaurant.net
1. Mother's Restaurant has served cafeteria-style New Orleans' plates since 1938.
2. It's one of the standard family businesses in the city that have withstood the trials of time.
3. We can't get enough of their famous Ferdi Special, savory debris poboy, award-winning Jerry's Jambalaya, and, of course, best-baked ham!
4. We also recommend ordering their crispy fried chicken.
5. And while you're at it, take one of Mother's homemade pies home for Christmas dinner.
New Orleans Creole Cookery
508 Toulouse St. | (504) 524-9632 | neworleanscreolecookery.com
1. Old school Creole cuisine meets new school service at New Orleans Creole Cookery.
2. Enjoy the restaurant's traditional-style menu in a beautiful outdoor and indoor setting.
3. Order the pecan crusted redfish, topped with Creole green beans and heirloom potatoes.
4. Come for Oyster Happy Hour pricing at the bar and in the courtyard during all football games.
5. They offer a traditional Thanksgiving meal in addition to their regular items on Turkey Day.
Neyow's Creole Café
3332 Bienville St. | (504) 827-5472 neyows.com
1. Found in the heart of Mid-City, Neyow's has a huge selection of Southern eats and sweets.
2. You'll love the restaurant's filé gumbo, crawfish balls, and Southern fried chicken.
3. The oysters, which can be served raw, chargrilled, or fried, are a must.
4. Order Neyow's Fruit Punch, strawberry lemonade, or Barq's root beer to quench your thirst.
5. After your delicious meal, make sure to take a selfie with Bigfoot on the way out!
Neyow's XL
3336 Bienville St. | (504) 503-1081xl.neyows.com
1. Neyow's XL provides fine New Orleans cuisine with a focus on seafood and steak.
2. Try the whole fried red snapper, served with lemon and a butter sauce.
3. The restaurant serves Sunday brunches with French toast and more from 11 a.m. to 2 p.m.
4. Neyow's XL is family owned and run by the same folks who own and operate Neyow's Creole Cafe.
5. The amazing art in this restaurant complements the art that is served in the menu.
Nice Guys Bar and Grill
7910 Earhart Blvd. | (504) 302-2402
niceguysnola.com
1. Nice Guys Bar and Grill serves Creole and Cajun cuisine with a twist.
2. The restaurant offers casual dining for patrons to enjoy and brunch on Saturday and Sunday.
3. Enjoy the Lambo stuffed potato, featuring grilled lamb chops and BBQ shrimp.
4. Join their VIP list and gain extra benefits like exclusive events and secret menus.
5. Beautiful shaded outdoor seating is available to enjoy Nice Guys NOLA-inspired nachos.
Nonno's
1940 Dauphine St. | (504) 354-1364
nonnoscajuncuisineandpastries.com
1. Located in the beautiful Faubourg Marigny neighborhood, Nonno's whips up authentic New Orleans meals with homemade pastries that'll make you feel at home.
2. Breakfast is served all day, so you can enjoy eggs and grits any time.
3. You'll fall in love with Nonno's signature Southern Shrimp and Grits.
4. Wine drinkers can get $2 off of wine on Wednesdays from 3-8 p.m.
5. Watch customers sing karaoke while you enjoy a good meal.
Nola's Wings and Things
7906 Earhart Blvd. | (504) 435-8117 facebook.com/nolaswingsandthings
1. Their wings come in 10 different preparations and flavors.
2. The restaurant also features dishes like steak, sandwiches, and salads.
3. It's perfect for lunch or supper because it's open seven days a week from 11:30 a.m. to 9 p.m.
4. Make sure to try out the restaurant's homemade gumbo or the grilled jumbo shrimp.
5. Whatever you decide, Nola's Wings and Things provides comfort with all of the menu options.
Orleans Grapevine
720 Orleans St. | (504) 523-1930
orleansgrapevine.com
1. Located across from the Bourbon Orleans Hotel, they've specialized in fine dining since the 19th century.
2. The brick walls, tin panel ceiling, and 200-year-old cast iron pillars make this place the perfect Valentine's Day spot.
3. We heard through the grapevine that the crab cakes are to die for!
4. Their hand grenade martini comes in a souvenir martini glass with an LED light.
5. If available, request the courtyard for a quaint dining experience.
Parkway Bakery & Tavern
538 Hagan Ave. | (504) 482-3047
parkwaypoorboys.com
1. Parkway opened as a bakery in 1911 and is located right by Bayou St. John.
2. They are known for their famous poboys, inspired by Martin Bros. Restaurant.
3. The menu features a variety of poboys, including shrimp, roast beef, and alligator-smoked sausage.
4. Watch the Saints game at Parkway's large outdoor patio, with two 65-inch TVs!
5. Try their Thanksgiving poboy in November, which is filled with roasted turkey, stuffing, gravy, and cranberry sauce!
Please-U-Restaurant
1751 St. Charles Ave. | (504) 525-9131
pleaseunola.com
1. This little eatery serves homestyle Creole cuisine that were inspired by Greek dishes.
2. As the name suggests, Please-U has pleased locals and visitors for over 40 years.
3. Along with traditional New Orleans classics, they offer Middle-Eastern fare such as gyro and chicken pita sandwiches.
4. Omelets and other breakfast specials are served all day.
5. Their Greek omelet is served with gyro, tomatoes, onions, and feta cheese.
Short Stop Poboys
119 Transcontinental Dr., Metairie
(504) 885-4572
shortstoppoboysno.com
1. Get your poboy and pair it with chicken fries, stuffed artichokes, or Short Stop's house-made gumbo.
2. Short Stop has been serving Metairie since 1966.
3. They have a huge selection of poboys from shrimp to roast beef.
4. Become a VIP to access their secret menu options, along with discounts and loyalty rewards.
5. Call Short Stop Poboys and ask them to cater your party!
Trenasse
444 St. Charles Ave. | (504) 680-7000 trenasse.com
1. You can find Trenasse inside the beautiful Intercontinental Hotel on St. Charles Avenue.
2. The restaurant pays homage to Louisiana fishers and hunters, which can be seen in their hearty dishes.
3. The smoky braised short ribs are a strong recommendation, and oysters are always a safe bet.
4. You can get a bottomless mimosa with an entree purchase for brunch.
5. Try the Out of the Blue martini—it's as delicious as it sounds!
Willie Mae's Scotch House
Multiple Locations
williemaesnola.com
1. Willie Mae's makes the best fried chicken in America.
2. The owner, Ms. Willie Mae Seaton, won the coveted James Beard award for "America's Classic Restaurant for the Southern Region."
3. Try the crispy fried chicken (of course), the butter beans, and mac 'n' cheese.
4. Willie's was originally a bar but later evolved into a restaurant, bar, and barber and beauty salon.
5. The restaurant has been featured on the Travel Channel and the Food Network.
Seafood
Blue Crab
Multiple Locations
thebluecrabnola.com
1. The menu features the finest Louisiana seafood, such as oysters, crawfish, and most importantly, crabs.
2. The Blue Crab is a nod to life on the West End. Facing Lake Pontchartrain, it's the perfect place to watch the yachts sail past as the sun sets.
3. It's also a great place to catch live music on weekends.
4. Customers can't stop raving about the Blue Crab Collins cocktail.
5. Celebrating a birthday, wedding, or anniversary? Book a private party!
Briquette
701 S. Peters St. | (504) 302-7496
briquette-nola.com
1. Located in the former Rodd Bros. Molasses Refinery, Briquette prides itself on its contemporary dining space and open kitchen.
2. Briquette has an 18-inch display filled with fresh seafood such as branzino, Louisiana redfish, and Faroe Island salmon.
3. Fish is cooked to perfection over a red-hot briquette.
4. They have a huge selection of bubbles to choose from.
5. First time? Try the Snapper Pontchartrain with lump crabmeat, hollandaise, and heirloom tomatoes.
Casamento's
4330 Magazine St.
(504) 895-9761
casementosrestaurant.com
1.Established in 1919 and serves traditional New Orleans style seafood, with gluten-free options.
2. Known throughout the city for its acclaimed locally sourced and freshly served oysters.
3. Open for lunch Thursday through Saturday from 11 a.m. to 2 p.m., and 5:30-9 p.m. for dinner.
4. Some of their most popular dishes include their fried soft shell crabs, seafood gumbo, and their infamous Big Easy Platter.
5. Closed during the summer through June, July, and August.
Felix's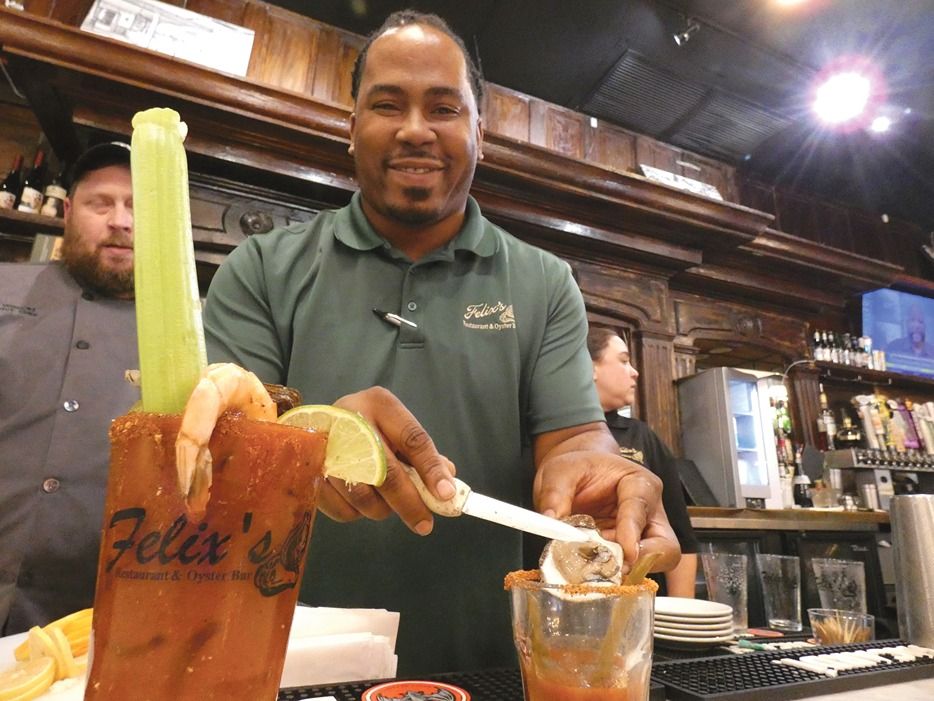 Multiple Locations | felixs.com
1. Their tasty oysters have gained a cult following around the world and must be tasted to be believed.
2. Their flagship location is in the French Quarter, but the Lakeshore Drive location is best for watching sunsets.
3. Oyster lovers have "bellied up" to the oyster bar since 1940.
4. This iconic restaurant sources their oysters exclusively in Louisiana for optimal freshness.
5. Be sure to enjoy New Orleans classic dishes including red beans and rice, gumbo, and jambalaya.
Legacy Kitchen's Tacklebox
817 Common St. | (504) 827-1651 | legacykitchen.com
1. Located in the Renaissance Pere Marquette Hotel, this restaurant features refined American fare cuisine with crafted cocktails.
2. Try the alligator poppers and their famous chargrilled oysters, which are soaked in a garlic herb and parmesan butter.
3. Happy hour specials include Bayou Bites, along with The Southern Yellow Hammer and The Bourbon Smash.
4. Beignets are served all day, every day.
5. Challenge your taste buds with the Bloody Mary Oyster Shooters.
Seaworthy
630 Carondelet St. | (504) 930-3071 | seaworthynola.com
1. The menu is inspired by Gulf Coast waterways, the time-worn traditions of Southern hospitality and the legendary exuberance of the City of New Orleans.
2. The restaurant is located in a Creole cottage that was built in 1832.
3. Seaworthy was opened by the Ace Hotel with help from Grand Banks.
4. Their happy hour deals are available daily from 4-6 p.m.
5. Seaworthy is available for private dining for groups of 16-20 people.
Tito's Ceviche and Pisco
Multiple Locations
titoscevichepisco.com
1. Tito's Ceviche and Pisco is devoted to serving high-quality Peruvian cuisine with a new location on St. Charles Avenue.
2. Their colorful murals combine New Orleans and Peruvian cultures.
3. Their menu has a variety of ceviches along with pisco, and Sunday Brunch from 10:30 a.m. until 3 p.m.
4. The lychee cocktail is dee-licious.
5. Stop by for happy hour every weekday from 3-6 p.m.